16 Best Traveling Jobs for People Who Love to Explore the World
Updated on: by Amy Kennedy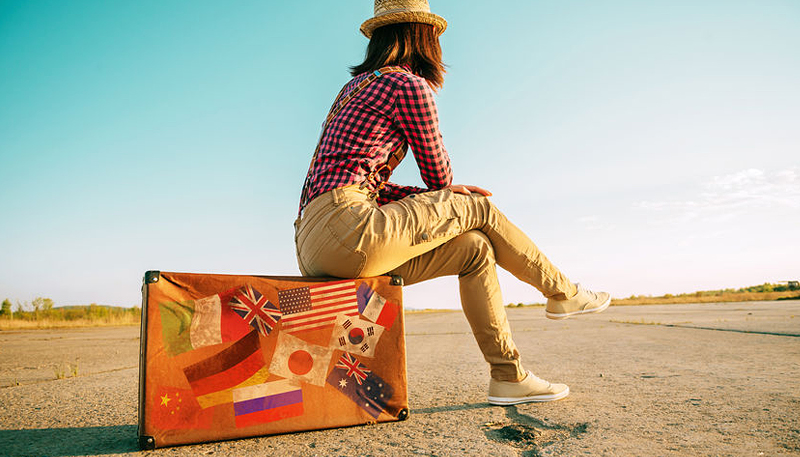 Are you ready to circle the world with exploring jobs?
Perhaps you don't yet have the money to do that, but the following jobs can bring you all over the world as part of your work.
If you're always wondering where the next stop should be on your bucket list, then taking up a travel job can make those dreams realities much faster.
As a bonus, most of these jobs are solid choices for people who want steady income throughout the year with the perk of getting whisked away to a new spot.
With some of these jobs, you might even find yourself in a new destination every week!
Sit back, relax, and enjoy the ride.
What are the Best Traveling Jobs for People Like Me?
Bartender
Forget bartending in your state.
Why not try your hand bartending at a resort in one of the travel destinations you've always dreamed of?
The pay can be good.
Just be sure to have several months of living expenses saved up after you've figured in the costs for traveling until you start getting consistent paychecks.
Alternatively, you can work the bar on a cruise ship and not have to worry about transplanting your life at all.
This can be a good option for those who want a more temporary solution than a permanent one.
Cruise Ship Attendant
Speaking of cruise ship, why not see what cruise ship jobs are available that match your skills?
This job can be a fun way to get to see all kinds of new destinations, depending on the cruise ship company you work with.
If it thrills you to get away, meet new people, and discover new places, then this is the perfect job for you.
There are several roles you might find on a cruise ship, such as guest relations, housekeeping, nurse, cook, entertainment director, and babysitter.
The cool thing about a cruise ship is it's like a little community of its own, so any experience you've had previously may help you find a job on a cruise ship.
You can find this type of work by searching CruiseShipJobs.com, which hosts jobs from various cruise ship companies in tons of categories.
English Teacher
If you want to teach children but also want to travel the world, then this job will give you both.
Become an English teacher for students learning English as a foreign language, also known as a TEFL teacher.
You'll need to commit to living in a foreign country for a specific period of time, depending on your work contract.
But, often these jobs include paid training and some included travel and lodging expenses.
You'll also need to pass a certification for most jobs to become a licensed TEFL teacher.
You can find these types of jobs on Indeed and LanguageCorps.com.
Read Also:
VipKid Review: Is Teaching English Online Right for You?
27 of the Best Online Tutoring Jobs to Make Money from Home
Flight Attendant
A flight attendant is, perhaps, the most obvious choice for people who love to travel, but it won't be the best option for everyone.
Flight attendants work long hours and can be away from their families for weeks at a time.
So, it could be a challenging career for people with kids.
But, if the airline you work with travels to other countries, then you could also have an opportunity to travel the world in just a few months.
And, the career is projected to grow about 10% by 2026 as airlines start switching to larger planes, making it necessary to have more attendants on board each flight.
You'll also meet a lot of people and have a lot of opportunities to be social, making it the perfect job for a social butterfly.
Most flight attendant jobs will require a college degree and intense training, and customer service experience is also a huge bonus.
Geologist
The oil industry is huge right now, pulling in thousands of jobs all over the United States.
But, this industry can also give you the ability to travel to other places as a geologist, or someone who has expert knowledge of the earth, what it does, and what it contains.
Some entry-level positions may allow you to enter the field with a bachelor's degree, but many will want more experience and education.
Even with just a bachelor's degree and no previous experience, it's possible that you can make about $92,000 a year in this job – and­ you get to travel the world.
Member of the Military
It may not be the ideal job for everyone but becoming a member of the United States military can certainly give you an opportunity to travel.
Some military families move all over the United States, whereas others have the opportunity to move to other countries while in active duty.
The militaries of other countries sometimes afford similar opportunities too, so it's a good idea to check with a recruiter about what it takes to join, your responsibilities as a member of the military, and where your job might take you in the future.
Peace Corps Volunteer
Joining the Peace Corps as a volunteer isn't necessarily a paid job, but there are some benefits involved.
You'll get a living allowance, plus health care, assistance with student loans, paid travel expenses, and more.
The Corps also awards you with an $8,000 stipend when you finish to help you cover some of your costs you'll have when you return home.
You can find various types of jobs with the Peace Corps, so you might find something that fits your skills and previous work experience.
You can check out open volunteer opportunities here.
Photographer
Some photographer-loving folks earn a living as travel photographers, moving from place to place taking gorgeous photos and living a life people dream of.
Some of the ways people make money off their travel photography includes:
Selling the photos to stock photography sites or on their own blogs
Creating photography courses on Udemy and other course-creation sites
Selling the photos to marketing and advertising agencies
Taking and selling photographs for books
Creating their own travel photography books and self-publishing them
Becoming a photojournalist for a travel magazine or travel company
This versatile career can lead you a number of ways, and you'll likely have a lot of opportunities to explore new places and make a lot of money doing it.
Read Also: 
21 Best Sites That Let You Make Money Online with Your Photography
Is Photography the Perfect Work-At-Home Job for You? This Six-Figure Photographer Thinks it is
Top 10 Ways to Make Money from Your Beautiful Instagram Photos
Pilot
You'll need an associate or bachelor's degree in aviation or a relevant field to become a pilot for a commercial airline.
Plus, you'll have to log about 250 hours of intense flight training and get your pilot's license, according to Study.com.
But, it's no secret that being a pilot awards you with a lot of opportunities to see the world.
When you land your plane, you can have some time between flights to explore the destination.
Just be sure that you take a job with airlines that let you travel to a wide range of places!
It's also an extremely high-paying job, raking in up to $119,650 per year.
Railroad Employee
Railroad work is intense depending on the type of role you have, but it also affords you the opportunity to travel all over the United States with some companies.
Although the employment rate of railroad workers is expected to decrease a little by 2026, the jobs are still available and can make around $56,000 per year, according to the United States Department of Labor Bureau of Labor Statistics.
There are also a variety of jobs in the industry that range from engineering to accounting.
Ski Instructor
If you love to ski, then becoming a ski instructor could give you the opportunity to travel to different ski resorts all over the world.
Spend a season in Alaska and then switch over to Canada!
Ski instructors can get excellent discounts – or even freebies – for lodging where they work, plus some travel expenses paid.
SeasonWorkers.com has a whole section dedicated to ski instructors finding jobs that match their skills and experience.
Travel Agent
Help others find out where they should travel next and assist them with their trip planning as a travel agent.
You might find that you get travel perks, too, like major discounts on your vacations, depending on the company you work with.
Many travel agents also get discounted or free stays at hotels all over the world.
You can even become a work from home travel agent by starting your own business and connecting with new clients.
Doing so gives you a chance to work remotely, from anywhere you want to in the world!
The average pay for a travel agent is about $36,000 per year, according to PayScale.
Travel Blogger
If you have a blog but don't make money with it, it could seem impossible for a money-making blog to become a reality.
However, it is. Plenty of bloggers are doing it, and some of the ones cashing in the most are travel bloggers.
But, to be realistic, they don't solely make money from their blog.
Most of the time, they have multiple streams of income related to their blog that makes them money.
For example, a post on the Ytravel blog says that travel bloggers make money by selling their own products (like eBooks or photos), getting sponsored post opportunities, participating in paid marketing campaigns that pay for travel expenses, and affiliate marketing by promoting other products.
One couple makes up to $6,000 per month with their income streams related to travel blogging.
Read Also:
16 Best Paid Blogger Opportunities to Make Money Online!
Travel Nurse
Do you already have nursing credentials?
If so, why not move your expertise across the world?
Travel nurses can help others all over the world, sometimes in several countries throughout the year.
These positions are extremely in-demand, especially as developing countries need plenty of healthcare assistance.
You can find traveling nurse jobs on TravelNursing.org.
Read Also: 37 Places That Hire RN Nurses to Work From Home in 2018
Truck Driver
This is another job that may not be the best option for people who have families.
But, some people make a happy living from truck driving, which can take them all over the country, and sometimes into connected countries.
This industry seems to be constantly growing as more businesses develop and look for ways to streamline the shipping process.
Some companies pay by the mile, whereas others pay a salary.
Getting paid by the mile can be beneficial, as Roadmaster Drivers School says that most truck drivers can drive anywhere from 2000 to 3000 miles every week.
Read More: Best Way to Become a Dump Truck Driver and Be Your Own Boss
WWOOFer
WWOOF stands for Worldwide Opportunities on Organic Farms.
This organization makes it possible for you to work in agriculture all over the world.
You won't get paid, technically, for your work, but you'll receive free lodging and living expenses to make up for it.
So, if you're fed up with the 9 to 5 and itching to see other parts of the world, this could be the perfect way to do it – especially if you have an interest in agriculture.
You can find WWOOF destinations around the world, including Australia, Sweden, and Japan.
Conclusion: Get Paid to Travel the World!
Are you ready to travel the world and get paid to do it?
I hope this post helped you realize your potential and that there are so many awesome ways to get paid while also traveling to your dream destinations.
Do you love traveling?
What's your #1 dream destination that you've never been to yet?
Let us know in a comment below!
Related Posts: