13 Ways to Sell Soda Can Tabs for Cash in 2023 (+Tips for Making More Money)
Updated on: by Amy Kennedy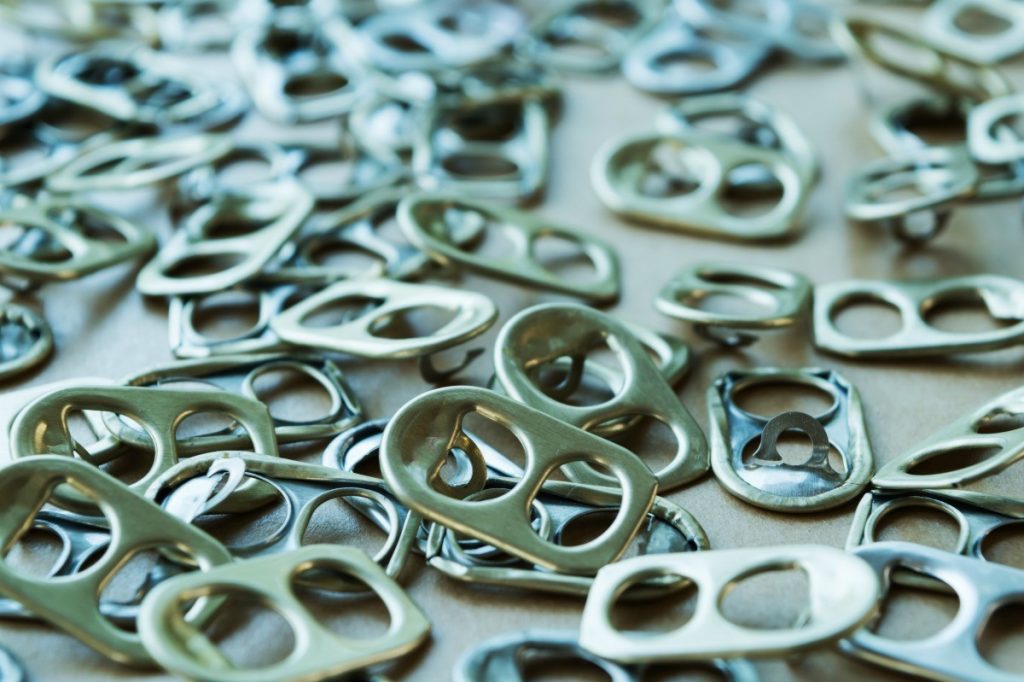 If you drink a lot of beverages from cans—soda, alcohol, sparkling water, etc.—you might have a stockpile of can tabs piling up.
Need Easy Extra $350+/Month For Free?
Or you might be throwing them away after you open your can, unaware that you can actually make some money off those little pieces of metal.
It's true.
Just like you can sell aluminum cans for some extra cash, you can also sell the tabs from them.
Neither one will make you a ton of money, but a little extra here and there helps, right?
If you want to know the details, keep reading to learn where to sell your tabs and how to make the most profit on the ones you have.
Where to Sell Soda Can Tabs for Money
Here are local and online places to sell your soda can tabs for real money:
Local Recycling Centers
If you just want to make a little side cash from your soda can tabs, then look for recycling centers in your area.
They may not pay as much as other places for tabs, but they will usually give you some money for a minimum weight, which is usually about one pound of tabs.
Not sure where recycling centers are near your home?
Use Earth 911, a website that helps you find them.
Go to the Where to Recycle link at the top of the page and input your zip code to find centers in your area.
The site also lists what kind of recyclables the center accepts, so you won't need to call each one to find out if tabs are acceptable.
The iScrap App is like Earth 911 in mobile form.
The app can come in handy if you're away from home and need to find a recycling center on the go.
Just put your city and state or zip code into the app to find a nearby center along with some average prices in your area for different kinds of scrap.
Need Easy Extra Cash?
Pinecone Research, a leading name in online survey panel honesty, absolutely guarantees $3 cash for every survey you complete!
Take advantage of their time limited New Membership drive and register NOW. Join today: 100% free!


You can also use the website if you prefer.
Sell to Crafters
Do you know anyone in your neighborhood or town that likes to craft?
If so, you might try selling your tabs to them to make crafts with.
Interestingly, there are tons of things you can make with pop can tabs, like jewelry, purses, and home decor items.
It just proves that one person's trash is another person's treasure!
Sell on eBay
eBay is one of the most popular places to sell tabs from cans, believe it or not.
You can find a bunch of listings on the site from people selling bunches of bagged can tabs, probably for either collectors or crafters to buy.
Sell on Amazon
Amazon has can tab listings, too!
This one, for example, has 1000 can tabs listed at just under $10.
If you're already a seller on Amazon, you can create listings for your soda can tabs.
If you aren't yet a seller, you can learn more about it and sign up to become one here.
Sell Them on Etsy
Let's not forget about Etsy, too, which is a crafter's paradise.
This place is mostly for handmade stuff, but people sell a lot of craft supplies here, too.
Not surprisingly, pop can tabs are popular for listings.
Local Selling Spots
Use local selling apps, like OfferUp or 5Miles, or sites, like Facebook Marketplace or Craigslist, to sell your collected tabs to people near you.
You never know what people are looking for, and these tabs might be something that sells well in your area.
Look for Collectors
Some people actually collect pop can tabs as a hobby.
In fact, I know of a couple of kids when I was younger who loved to collect them and as adults, they still add to their collection.
These collectors are where you'll probably have luck selling offbeat can tabs, like colored ones or tabs of unusual sizes.
But some people just collect regular tabs, too.
Other people might collect them to do exactly what you're doing: sell them!
But maybe they have more time than you do to go through the process of cleaning them up, bagging them up, and finding places to sell them.
In that case, you might do a more casual collection to sell them to more advanced tab sellers.
Either way, it's money in your pocket.
Metal Scrap Yards
Consider selling your soda can tabs to metal scrap yards.
These facilities specialize in purchasing various types of scrap metal, including aluminum.
While their primary focus may not be on soda can tabs specifically, they often accept them as part of their aluminum scrap purchases.
You can contact local metal scrap yards in your area and inquire about their acceptance of soda can tabs and the current prices they offer.
Online Scrap Metal Marketplaces
Explore online scrap metal marketplaces as a platform to sell your soda can tabs.
Earn Everything… nearly!
Join Opinion Outpost, one of the few faithful and honest survey panels and earn cash and gift cards for your opinion. Stack your points and redeem them: Simple! No hidden fees and completely free!


These platforms connect sellers and buyers of scrap metal, including aluminum.
Websites like ScrapMonster or ScrapRegister provide a convenient way to list your soda can tabs for sale and connect with potential buyers who are interested in purchasing them.
Ensure to specify the quantity and condition of the tabs in your listing for potential buyers to evaluate.
Community Forums and Social Media Groups
Join online community forums and social media groups focused on recycling, scrap metal, or eco-friendly initiatives in your region.
These platforms often have dedicated sections or threads where members can buy, sell, or trade items.
You can create a post offering your soda can tabs for sale and provide relevant details such as the quantity available and your desired price.
Engage with potential buyers who express interest and finalize the transaction through private messages or designated selling platforms recommended by the community.
Nonprofit Organizations
Certain nonprofit organizations, such as Ronald McDonald House Charities, collect soda can tabs as a way to raise funds for their charitable causes.
These organizations typically accept donations of soda can tabs and may offer a small monetary compensation in return.
Reach out to local charities or nonprofit groups in your area to see if they have any ongoing collection programs for soda can tabs.
Collecting Aluminum Pop Tabs
If you decide that you want to sell more than just your own can tabs, you might try to collect them from other places to maximize your earnings.
Some people do this, and they're able to bundle up thousands upon thousands of tabs to sell on eBay, Etsy, Amazon, and elsewhere.
Where can you find these besides on the cans you drink in your household?
First, ask your local parks department if you can sift through the recyclables at local parks.
They might let you add your own recycling container for cans or can tabs that you can collect weekly or monthly.
You can also try the same thing at local events, like sporting events, concerts, and other events that will likely have cans used by guests.
Schools, community centers, movie theaters, and restaurants may be other places to try.
You might also ask people you know to save their tabs for you.
Put out a group text message or post it on Facebook to let people know to save their tabs for you to collect.
Recycling Can Tabs vs Aluminum Cans
You might be wondering if recycling aluminum cans is more profitable than recycling can tabs.
That's a valid question, especially if you know that aluminum can recycling can make you decent money.
Do places pay as much money for can tabs as they do aluminum cans?
Usually, no. And that's because you typically get paid for aluminum by weight.
Obviously, tabs aren't going to weigh as much as a whole can. So selling just one can of aluminum would give you more than one tab.
But it's important to remember that every little bit adds up.
If you have an easier time collecting soda can tabs than full cans, you can still make money off them, so you might as well do it.
It's also noteworthy for me to mention that some recycling centers will ask you to remove the tabs on your soda cans before sending them in.
That doesn't mean that you can't sell the tabs to the center, too.
Some centers just process the tabs differently than they do cans, so they want them separated beforehand.
Then, you can take both the cans and the tabs to the center to sell.
Other recycling centers may not accept soda can tabs, but the other ideas for selling tabs on our list may come in handy as a secondary option.
The point is that can tabs may not make you as much as aluminum cans, but if you find the right way to sell them they could.
And even if they don't, they can still bring in a little money to make the task worthwhile.
Read More: Need More Cash? Recycle Glass Bottles and Jars for Money! 
Things to Know Before You Sell Pop Tabs for Cash
As you prepare to sell your tabs for cash, consider the following tips that could help you make the most on whatever amount you have:
Cleaning Them Up
Just like aluminum cans, it's best if you clean up your soda can tabs before you try to get rid of them, no matter where you're selling them to.
This is especially important if you're packaging them to sell on a site like Amazon, eBay, or Etsy.
But even recycling centers will usually require you to bring your tabs in good shape to sell to them.
They don't want to sift through dirty, sticky tabs any more than you do.
And your cleaning the tabs helps the recycling center save some cleaning on its part, so it's a nice thing to do overall.
Storing Pop Tabs
Pop tabs should be stored without the small part that attaches to the top of the can.
This little piece of metal is not only sharp, but it also snags on other tabs and the baggies you put them in.
Plus, they take up space that you can use for other tabs, which is important when you're shipping pop tabs and want to use the smallest shipping containers possible.
You can remove this piece with a pair of needle-nose pliers.
Also, be sure to sort your tabs clean and dry.
You don't want rust to build up on the tabs or mold to creep up in the baggie.
Let them air dry for a full day, just to make sure all moisture is out of them before you bag them up.
Sorting Tabs Before Selling
Most people that sell pop tabs sort them first.
There are different types of tabs that you can sort by shape, color, size, etc.
Some cans have plain silver tabs while others have colored ones, for example.
And people looking for plain silver tabs don't want to sort them from colored ones when they buy them. They just want the silver ones.
Selling them by type can definitely get you more money than selling them all together without sorting them.
Additionally, it seems that the popular number to sort them by is 1000.
Many pop can tab sellers say that this is the magic number that most people want to buy tabs in, so they sell them in baggies of 1000.
Now, I know you probably don't want to count out 1000 tabs at a time.
A better way to do it might be to weigh 1000 tabs (usually about one pound). Put a bunch of tabs in a bag and stick it on the scale, adjusting the number of tabs until you reach a pound.
It might not be exactly 1000, but it should be very close, and it's much quicker than counting them all manually.
Packaging and Shipping Pop Tabs
If you're selling your tabs to someone that you'll need to ship them to, you'll need to also consider how to ship them.
It's a good idea to use a padded envelope or a box to ship baggies of pop tabs.
Make sure that there are no sharp pieces attached still that could poke through the bag or box.
Luckily, pop can tabs are pretty lightweight, so shipping costs shouldn't be much.
eBay comes in handy for calculating shipping rates when you sell through the platform. You can use its shipping calculator to figure out how much to charge your buyer.
If you're not using eBay, consider making a stop to the local post office to get some quotes on prices for different amounts of pop tabs.
Another Idea for Getting Rid of Pop Tabs
Full disclosure: This idea is not going to make you money.
Still, it's an idea that could put some money in the pockets of a very worthy cause, so it's something to think about if you want to get rid of your soda can tabs.
Ronald McDonald House Charities, the organization that stems from McDonald's, collects donated pop tabs from people.
The money it makes from these donations goes straight toward the charity, which helps house families near children's hospitals when a child needs to stay in the hospital for one or more nights.
The website for the Ronald McDonald House Charities of the Coastal Empire says that pop tab donations bring in an average of $6000 annually to its organization, which goes straight to its operations and helping families in need.
You can find your local branch of the Ronald McDonald House Charities here. Contact it to see if it participates in soda can tab donations.
Conclusion: Making Money with Soda Can Tabs
Now that you know how to get some money from soda can tabs, you can start selling them!
Although this form of making money generally doesn't make you a bunch of money, it could if you get into a groove of knowing where to collect a bunch at a time and where to sell them for the most profit.
It could take a little bit of time to find methods that work best for you, but stick with it, and you just might find your new profitable side gig.
We'd love to know what other creative ideas you have to make money with these tabs, so be sure to let us know in the comments.
Related Posts:
Earn Everything… nearly!
Join Ipsos iSay, one of the few Faithful and Honest survey panels and earn prizes, gift cards and donations. Stack your points and redeem them: Simple! No hidden fees and completely free!