The Ultimate Guide to Profiting from Flea Market Sales
Updated on: by Amy Kennedy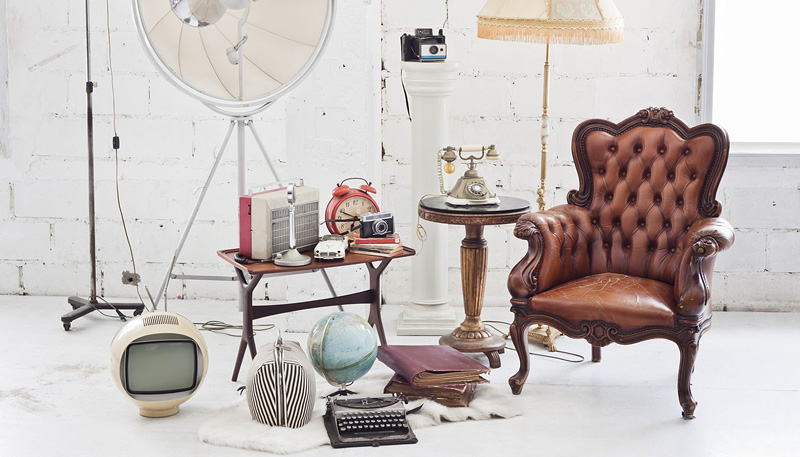 One of my fondest memories as a teenager was spending my weekends with my dad selling things at a local flea market.
Need Easy Extra $350+/Month For Free?
He had a table that he rented monthly there.
We would set out everything from old clothing and knick-knacks to some new items that he'd find on sale and sell for a profit.
The flea market was a busy place on weekends, and I was amazed by how easy it was to sell things there.
You honestly can find a buyer for just about anything at a flea market.
I learned a lot helping him through the years with his little flea market side business, so I want to share some of that with you in this post.
I had a lot of fun doing it, so I think others will too.
Especially once they find out how simple it can be!
How and What to Sell at a Flea Market to Make Money
This guide should get you started with flea markets!
From learning what you need to start (not much) to learning how to rent a table at a flea market (it's easy!), I'm covering it all here.
What You Need to Start
One of the things I love about flea market selling is that you don't actually need anything to get started besides a table rental, which I'll talk about in a bit.
When my dad started spending time at flea markets, he sold his own things.
He had a bunch of dish sets, home decorations, some handmade woodworking projects, and movies that he started his inventory with.
There were no out-of-pocket expenses.
Other people do have a niche for their flea market business to start with, but many start just like he did: by selling stuff they already have and don't need.
Honestly, this is the best way to start if you can't afford to fund a business.
Need Easy Extra Cash?
Pinecone Research, a leading name in online survey panel honesty, absolutely guarantees $3 cash for every survey you complete!
Take advantage of their time limited New Membership drive and register NOW. Join today: 100% free!


Look through your closets, drawers, attic, and basement to find things you don't need.
Start with those.
As you make more money, you can always expand into selling other things.
Aside from that, you might want to invest in a few things that can come in handy, like some display shelves and maybe even a cash register.
Something like Stripe can also come in handy if you want to accept credit or debit cards using your mobile device.
But, you can always keep costs to an absolute minimum by only accepting cash to start.
Renting Your Table
Next comes renting your table.
You'll need to check with the flea market for guidelines here.
Some flea markets have open spaces that you can rent, but you'll need to have your own tables.
Others, like the one my dad and I used, had tables all set up for sellers. You just rented the space.
Some also let you add more tables or shelving if you need more surface area than what they provide.
But, most of the time, they'll have guidelines for the table sizes you're allowed to use, so be sure to find all that out before you commit.
Depending on the flea market, you can rent a space or table either by day, week, or month.
Our flea market offered daily prices, but also had discounts if you rented by the week or month.
You can expect to pay somewhere around $10 per day, on average, or between $50 to $100 per month to rent a space.
What to Sell at Flea Markets
Most flea markets have some rules regarding what you can and can't sell, but the off-limit items are typically a short list.
Some, for example, won't allow the sale of any weapons, like guns or knives.
Others may prohibit the sales of anything flammable, especially if it's an indoor flea market.
Aside from that, you'll find that you can sell almost anything at a flea market, which gives you quite a bit of room to get creative and make a profit.
Once my dad started making his first sales, he began purchasing home décor and jewelry items to resell at the flea market.
Over time, his business evolved from selling our family items to reselling various items he found on sale.
Some of the other flea market sellers there sold things like:
Cookware
Baby clothing and gear
Cosmetics and beauty products
Handmade crafts
Antique furniture
Handmade furniture
Personalized signs
Baked goods
Pet food and gear
There were plenty of other niches in our flea market every weekend, but these were some of the more popular ones.
As you can see, there is a lot of variety in flea markets.
Some sellers even ditch the niche and continue selling whatever odd mix of things they can find around their homes or in yard sales!
Read Also: 30 Best Things to Sell to Make Money (You Have to See Number 26!)
Finding a Niche
Although being niche-less works for many sellers, I do suggest finding a niche eventually if you plan to continue your flea market venture for a while.
Molding your business around a niche can help you market it and expand it in the future.
One concern that people have about niching is that they'll need to spend a lot of time searching for new items within their niche to sell.
Earn Everything… nearly!
Join Opinion Outpost, one of the few faithful and honest survey panels and earn cash and gift cards for your opinion. Stack your points and redeem them: Simple! No hidden fees and completely free!


Not everyone has time to visit stores and yard sales trying to catch a deal.
However, there are plenty of flea market sellers who make all their money purchasing wholesale items to resell.
WholesaleCentral is a helpful website for you to find what you need.
Items are broken down by category so that you can quickly find wholesale distributors for items you need.
Want to create a flea market shop based only on fashion handbags?
Go to that section and find a full list of wholesale distributors that will let you purchase handbags for cheaper than retail prices.
Then, sell them for a profit at the flea market!
If you plan to niche, either now or later, it's a good idea to do your research first.
Pick a few things you're interested in and then look up prices from wholesale distributors.
You might find that some items may be too expensive for you right now or that there isn't as much of a demand for some items as you thought.
Either way, you'll narrow down your list to make finding your niche easier.
Types of Flea Markets to Consider
You might not know that there are different kinds of flea markets.
It's important to know the difference before you sign up to start selling at one!
Some flea markets special in certain kinds of items, like handmade crafts or antique items.
Others host sellers who sell just about anything.
There are also indoor and outdoor flea markets.
That's something you'll want to consider because outdoor flea markets may cancel days due to bad weather.
Other flea markets are only seasonal, whereas some are open all year.
Be prepared with questions when you visit a flea market to determine if it's the right one for you.
The last thing you want is getting set up at one, only to find out it'll be closed in a couple of months because it's seasonal.
Some flea markets also do their own advertising to get more of a crowd, whereas others are only known by word of mouth.
Flea markets that advertise themselves tend to have a lot more business, which could be good for you for sales, but also means you might have to carry more inventory.
Basically, there's a lot to consider before deciding what kind of flea market will suit you and your business the best!
If you have several nearby, make a trip to all of them.
You might get a gut feeling about one over another that can help you narrow your options.
Then, talk to the owner and find out what it's all about before you set up shop.
Read Also: 19 Best Places to Sell Used Items Online (Plus Offline Places to Sell!)
Advertising and Expanding
If you plan to make your flea market selling an actual business down the road, then eventually you'll need to market and expand.
If your flea market already puts out some advertising, then you might have a little less work to do here.
But, it's still a good idea to do some of your own advertising, so people know where you are and what you sell.
Most flea markets that do advertise don't necessarily advertise individual sellers, so that will be on you.
It's not uncommon nowadays to have a small website that shows off some of your items.
Or, at the very least, some social media accounts where you can post some of your items and current promotions.
You can also consider starting up an email newsletter to go out to your subscribers when you have new deals or new items.
You can have people sign up for your email list when they make a purchase if they want to, or hand them a business card with your website link on it so they can do it later.
As for expanding your business, you could start offering some of your items on your website for sale too!
Shopify makes it easy to set up an e-commerce store if you want to go that route.
It can even do some marketing for you.
Or, expand your business to other flea markets.
For example, if your flea market is only open on weekends, maybe you can find one that's open during the week too.
Some people even buy out other flea market vendors!
When you work a flea market, you start to form relationships with the other vendors you see all the time.
So, it's possible that you'll build relationships there and may even have an opportunity to take over someone else's items who doesn't want to do the flea market thing anymore.
You'll obviously need a good chunk of money to buy out someone's inventory, but it's something to consider if you're serious about expanding in the future.
Pros and Cons of Selling at a Flea Market
Pros
Some of the pros include:
Low Start-Up Costs
Starting a business often involves a significant investment.
However, selling at a flea market requires only a small fee for the rental space, making it more accessible for entrepreneurs on a budget.
The lack of need for a physical store also eliminates the expenses associated with owning or leasing a physical storefront.
Flexible Schedule
Many flea market vendors operate on weekends or on a part-time basis, providing a flexible working schedule.
This can make it an appealing side business option.
Depending on the location, some flea markets are seasonal, offering vendors downtime during the off-season.
Direct Customer Interaction
Flea markets allow vendors to interact directly with customers, providing an opportunity to build relationships and loyalty.
This can lead to repeat business and word-of-mouth referrals.
Also, the immediate feedback can be used to improve products or test new ones.
Variety of Products to Sell
Unlike traditional retail stores, flea markets allow for a wide variety of products to be sold.
From vintage clothes to homemade crafts, vendors have the freedom to sell what they are passionate about, or what they believe will have the best market.
Cash-Based Business
Flea markets are primarily cash-based businesses. This allows vendors to avoid the fees and complications associated with credit card transactions.
Cons of Selling at a Flea Market
Uncertain Income
Income from flea markets can be unpredictable due to various factors such as weather, market attendance, and consumer preferences.
This variability can make it challenging to rely on this income for financial stability.
Physical Labor and Time Investment
Operating a booth at a flea market can be physically demanding as it often involves setting up, breaking down, and carrying inventory.
It can also be time-consuming, which may interfere with other business or personal activities.
Limited Growth Potential
The potential for growth may be limited due to factors such as booth space, the number of attendees at the market, and often low-price expectations of flea market shoppers.
Weather Dependency
As most flea markets are outdoor events, they can be affected by adverse weather conditions.
Poor weather can result in lower customer turnout, cancelled markets, and potential damage to merchandise.
Competition
Flea markets can be highly competitive, especially if other vendors are selling similar products.
This may require constant innovation, lower prices, or unique selling propositions to stand out.
Conclusion: Selling at Local Flea Markets
Selling at flea markets is one of the cheapest and easiest business models you can have.
The great thing about it is that you can start from practically nothing and work your way up to a profitable business.
Flea market selling is pretty versatile too.
Don't feel like you have to stick with one niche if you don't love it or it isn't showing the return on investment you hoped for.
You can always switch to something else!
It might be a bit more difficult to that if you've already begun marketing your business.
So, be sure that you are in love with your items and the way your business is going before you spend money and time advertising it.
Once you get going, your flea market business can take off quickly (and we hope it does!).
Do you sell at flea markets?
We want to hear all about what you sell and what your profits look like!
Leave us a comment below with your thoughts.
Related Posts:
Earn Everything… nearly!
Join Ipsos iSay, one of the few Faithful and Honest survey panels and earn prizes, gift cards and donations. Stack your points and redeem them: Simple! No hidden fees and completely free!