The Smart Crowd (KeyForCash) Data Entry: How Much Can You Really Make?
Updated on: by Amy Kennedy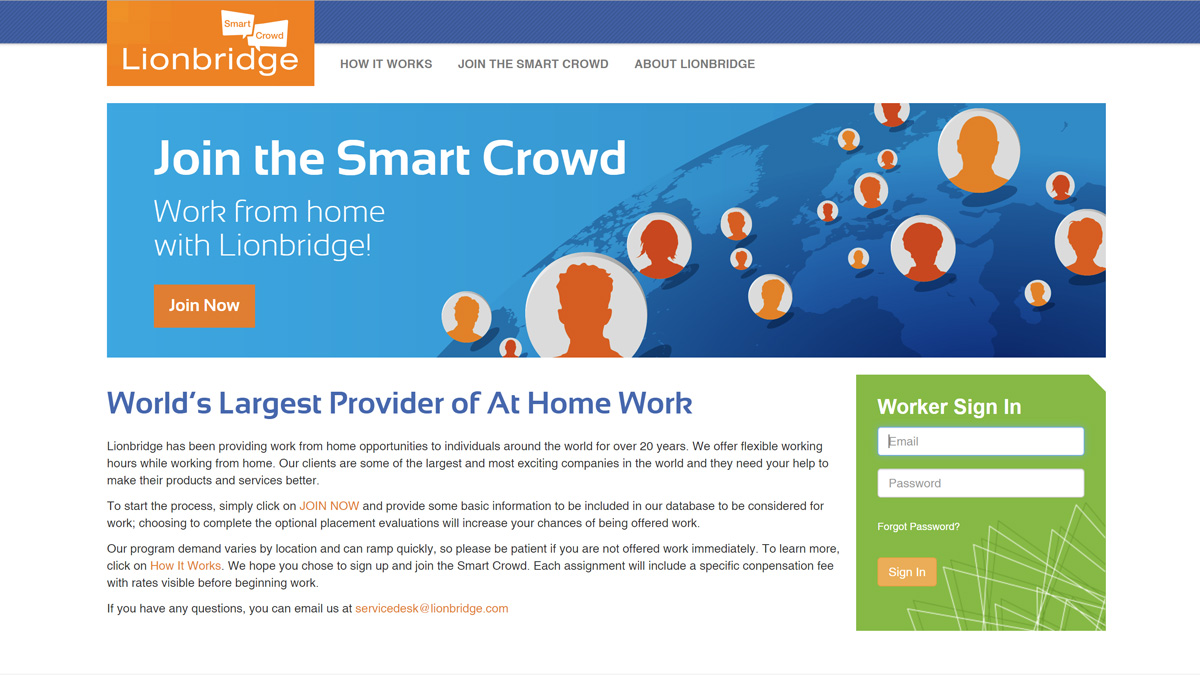 If you've spent time searching for work at home jobs, you've probably come across people pointing you in the direction of data entry.
Need Easy Extra $350+/Month For Free?
Data entry is one of the most common work at home gigs to find because it's something most people can do – or learn to do – without a college degree or special training.
It can also be riddled with scams making big claims, like "Come work for Cash.com and other sites and make loads of money just from typing!" or "Make thousands of dollars a week sitting at your computer!".
That's why we like to review several companies that offer remote jobs for people like you, so that you can separate the real from the fake.
This review is all about what was formerly known as KeyForCash.
The company offered data entry tasks for remote workers to make a little extra money from home on the side.
The company then switched to Virtual Bee and is now known as The Smart Crowd, which is a sub-company of Lionbridge.
Lionbridge is well-known in the remote working world as a company that provides flexible remote jobs to people all over the world, mostly in the data entry space.
Our original review of KeyForCash from 2011 can be found below for reference, but our updated review of The Smart Crowd is above it with the most recent information about the company.
What is The Smart Crowd (formerly KeyForCash)?
The Smart Crowd is a company formed by Lionbridge to give remote workers access to small jobs they can do from wherever they decide to set up their computer.
The Smart Crowd reaches out to workers all over the world but is based in the United States.
It has an impressive list of clients that use its services to connect to people like you for small tasks, like Google, Samsung, and Canon.
The company commissions independent contractors to work on its tasks, which are typically data entry tasks, for its clients.
The work might also fall into the categories of image tagging, research, transcription, translation, writing, and more.
What is the Work Like?
When you work for The Smart Crowd, you'll be an independent contractor.
That means you're not an employee, but instead, someone who is contracted to work with the company and responsible for tracking your income and paying taxes on your own.
Need Easy Extra Cash?
Pinecone Research, a leading name in online survey panel honesty, absolutely guarantees $3 cash for every survey you complete!
Take advantage of their time limited New Membership drive and register NOW. Join today: 100% free!


The plus side of this type of work is that you're free to do other contract work for other companies and you can pick your own schedule.
Once you're signed up as an agent for The Smart Crowd, you'll have access to its database of jobs where you can pick the tasks you want to work on.
It's a similar setup to Amazon Mechanical Turk if you're familiar with that platform.
Some of the tasks you'll be able to find on The Smart Crowd include:
Data research
Entering data into spreadsheets
Translating documents
Transcribing audio
Verifying data
Organizing data
Testing apps and websites
Participating in market research surveys
As you can see, the work will be varied and you may find completely different tasks every time you log in.
How Does it Pay?
The Smart Crowd pays according to the details of each task.
Longer tasks will likely pay more than shorter ones, as will more complex tasks that take more skill.
Translation tasks tend to pay the most and The Smart Crowd is always on the lookout for agents who are bilingual for this reason.
All rates are given by Lionbridge before you start a task and the company bases those rates on what it estimates the task complexity to be.
You might, unfortunately, end up spending much more time on a task than originally estimated, then, which could make your rate suffer in relation to the work you completed.
However, something could also take you much less time than estimated, which can work out in your favor.
The Smart Crowd only pays once per month, so you'll need to wait to get paid for most of your work.
What's Required of Agents for The Smart Crowd?
The primary requirement for agents who want to work with The Smart Crowd is that they're at least 18 years old.
Otherwise, you can work from just about any country you choose, anywhere that has internet access so that you can access and complete the jobs.
Agents should be able to multi-task, work quickly, pay attention to detail, and follow instructions.
It's also crucial that you have good knowledge of computers and basic software and tools, like Microsoft Word, spreadsheets, etc.
Of course, you'll also need a working computer that's up to date with virus protection and internet access.
Being an accurate and fast typist is also a plus, as most of the work you'll do requires good typing skills.
If you're not a fast typist, you might end up spending way more time on tasks – especially data entry tasks – than you hoped for.
Is The Smart Crowd Legit?
Yes!
Although this work isn't everyone's cup of tea, which you'll find if you read through online reviews from other agents, that doesn't mean it's not a legitimate company.
In fact, Lionbridge is consistently listed as a trustworthy company and one of the most remote-friendly companies in the world.
So, it's safe to say that its creation, The Smart Crowd, is also a legitimate, paying company.
To be transparent, though, I do want to address some common complaints by other agents so that you can be well aware of some of the drawbacks of working with The Smart Crowd.
First, a lot of agents say that work is few and far between for them.
This could depend on your specific skillset and whether you have experience with multiple languages.
It seems that bilingual and multilingual agents tend to get much more work than others.
Another complaint is that many of the tasks pay low.
With this type of work, efficiency matters.
Earn Everything… nearly!
Join Opinion Outpost, one of the few faithful and honest survey panels and earn cash and gift cards for your opinion. Stack your points and redeem them: Simple! No hidden fees and completely free!


How quickly you can complete a task will affect your hourly rate, so it's important to only choose tasks that you feel you can complete both accurately and efficiently.
Finally, some agents have said that they've had terminated contracts from The Smart Crowd/Lionbridge without much of an explanation.
Unfortunately, they don't get paid when their contract terminates before completion.
Although there have been a few similar reports like this, I've seen many more saying that people have had no problem getting paid even if the pay is lower than what they'd like.
So, I think it's fair to say that The Smart Crowd is a legitimate place to find paying work as a side gig, but don't expect it to become a full-time job.
How to Get Started Working with The Smart Crowd
You can join The Smart Crowd here.
Once you fill out the form with your basic information, the site will prompt you to fill out a few skill evaluations that ensure you can meet the requirements for its jobs.
These evaluations might be things like English reading comprehension, basic research skills, and transcription.
You can take whatever evaluations you want to take but remember that the more you take – and do well on – the more opportunities you'll have to work on various tasks in The Smart Crowd's database.
You're only required to take at least one evaluation, though, to continue with the application process.
I do highly taking language evaluations if you're bilingual to open up even more opportunities, and some of the highest paying opportunities, on The Smart Crowd.
Once Lionbridge receives your information and verifies that you've passed your required evaluation, the company will contact you via email when work is available.
Read More: Top Legitimate Companies That Offer Work from Home Data Entry Jobs
*Our Original KeyForCash Review from 2011*
What KeyForCash Agents Do
Agents for KeyForCash are able to choose from types of assignments available. Such as entering dates, numbers, letters or a mixture and so on.
You are then given an image of a small portion of a document (think manually filled out dates on an application or a line from a checkbook register) you simply type what you see. Data Entry itself is very simple but does require consistently fast typing speed with little to no errors.
How KeyForCash Pays
KeyForCash is steadily lowering their pay. When they began, it is reported agents made one dollar per 1000 characters typed.
This was a fair rate. However, today I believe new agents are making only 20 cents per 1000 keystrokes. That can mean the minimum $50 payout limit can take quite a while to reach! However, once that minimum has been reached, KeyForCash will mail you a check.
Hiring Process for KeyForCash
Long gone are the days when KeyForCash had a waiting list as long as Ted Williams' rap sheet, now you can simply test in and if you score high enough, you will likely be offered a position as soon as an opening occurs. Often this can happen within weeks, sometimes a month or so.
The test can be taken once a day. However, KeyForCash will go by the most recent test results, not by the highest overall. When taking the evaluation test, keep in mind accuracy is the key, not so much speed. Be sure to study and follow the guidelines given and keep a copy open for reference.
My Personal KeyForCash Review (Originally Written in 2011)
KeyForCash is one of the few legitimate data entry sites with typing jobs found online.
It is a company I have been back and forth on whether I should even take the time to write a review.
While KeyForCash is honest and payouts are faithful, the rate of pay is very low.
It is a personal matter that will decide if KeyForCash is a good fit for your basket of work at home eggs or one you will let pass.
But my story might help others decide if it's right for them, so here it is.
I began with KeyForCash around 2010.
I was fortunate (if you consider it fortunate) to be in at the 40 cents per 1000 keystroke rate.
It is a very simple job that can be completed between other work and can sometimes be therapeutic when doing!
It is one of those things that, when workload is high, you can zone out and just type away.
The only things that deters me from logging into KeyForCash is the limited work (workload usually comes in early morning through week and is gone by later afternoon and weekends) and how slow my balance tends to move.
While at times I seemed to average $5 or more an hour – which isn't a good rate to start with – other times it seemed to be much less.
I don't think I could handle working for the new agent pay, half what I am making now.
If you don't like working for pennies, this isn't a good gig for you, but if you would simply like something extra to do while waiting for a phone call or other work, this may be right up your alley.
Common FAQs about KeyForCash
What is Smart Crowd (KeyForCash) Data Entry?
Smart Crowd, formerly known as KeyForCash, is a data entry platform that provides individuals with the opportunity to earn money by entering data from various sources into online forms. It is a crowdsourcing platform that connects businesses in need of data entry services with a global community of remote workers who can perform these tasks efficiently.
How does Smart Crowd (KeyForCash) Data Entry work?
The process starts with businesses or organizations submitting their data entry tasks to Smart Crowd. These tasks can include transcribing handwritten documents, entering data from scanned images, or inputting information from online sources. The tasks are broken down into smaller units and made available to the crowd of workers registered on the platform.
Workers, also known as "keyers," log into the Smart Crowd website and select available tasks to complete. They follow specific guidelines provided by Smart Crowd to accurately enter the required information into online forms. The completed work is then submitted back to Smart Crowd for review and quality assurance checks.
How do workers earn money through Smart Crowd (KeyForCash) Data Entry?
Workers on the Smart Crowd platform earn money based on the number of tasks they complete and the accuracy of their work. The compensation structure varies depending on the specific project and the complexity of the tasks. Typically, workers are paid per task completed, and the payment rates may differ for different types of tasks.
The platform provides a flexible work environment, allowing workers to choose when and how much they want to work. While Smart Crowd does not guarantee a specific income, workers who are dedicated, efficient, and maintain a high level of accuracy can earn a steady income from data entry tasks.
What are the requirements to become a Smart Crowd (KeyForCash) Data Entry worker?
To become a worker on the Smart Crowd platform, individuals need to meet certain requirements. These requirements may include:
a) Basic computer skills: Workers should have a good understanding of operating computers, using web browsers, and navigating online platforms.
b) Typing proficiency: As data entry involves typing information quickly and accurately, having a good typing speed and accuracy is beneficial.
c) Language skills: Depending on the tasks available, workers may need proficiency in specific languages, particularly English.
d) Internet access: As Smart Crowd is an online platform, workers must have a reliable internet connection to access the tasks and submit their completed work.
e) Attention to detail: Data entry requires a high level of accuracy to ensure the entered information is correct.
f) Compliance with guidelines: Workers must be able to follow the provided guidelines and instructions for each task accurately.
How To Begin Application Process
To sign up and begin the evaluation test visit KeyForCash's registration page.
Have you worked with KeyForCash, Virtual Bee, or The Smart Crowd? We're always interested in hearing what you have to say! Feel free to let us know your opinions of the work down below in the comments.
Related Posts:
Earn Everything… nearly!
Join Ipsos iSay, one of the few Faithful and Honest survey panels and earn prizes, gift cards and donations. Stack your points and redeem them: Simple! No hidden fees and completely free!