15 Best Captcha Entry Sites for Extra Income Each Month
Updated on: by Amy Kennedy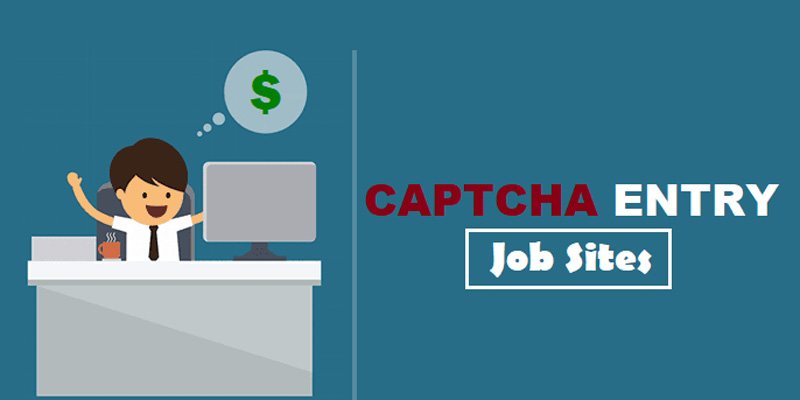 I feel like I know a lot about making money on the internet.
Need Easy Extra $350+/Month For Free?
That's mostly what I write about here because I know about several types of online work and how to find different gigs.
But one I came across more recently is captcha entry.
I had to say to myself, "What is captcha entry and is it a legitimate way to make money online?".
So, as usual, I did my digging to find out everything I could about this seemingly odd online gig and how it works for others.
Of course, I'm giving you all the information right here, so that you can decide if it might be the perfect side gig for you!
What Is Captcha Solving?
Before we delve into the best captcha paying sites, let's talk about what it means to solve captchas and why someone would actually pay for this work.
I'm sure you know what a captcha is.
Those images that show strings of letters and/or numbers that you need to plug in before you can continue whatever it was you were doing online.
Usually, you use them before you opt in for something, like a newsletter, or when you're signing up or logging into a site.
Captchas can be annoying, I'll admit. But they're actually there for a really good purpose: To make sure people don't use the internet in a spammy way.
When you're forced to enter the numbers or letters from a captcha, a site is making sure you're actually trying to enter/sign up/opt in, or whatever you were doing.
Without captchas, hackers could easily gain access to sites.
Captchas keep them out because their hacking methods can't usually maneuver around a captcha (that's exactly why captchas keep evolving; you might even see them as images now instead of letters, numbers, or words).
Some people might need to get through these captchas quickly.
Maybe they need to register for sites in bulk or sign up several accounts for one website.
Need Easy Extra Cash?
Pinecone Research, a leading name in online survey panel honesty, absolutely guarantees $3 cash for every survey you complete!
Take advantage of their time limited New Membership drive and register NOW. Join today: 100% free!


Whatever the reason, they're willing to pay others to solve the captchas for them to make their jobs easier.
This work typically doesn't pay much, but if you can work fast, you can make more than the average captcha solver.
Important Points to Consider About Caption Solving Work
Captcha solving can be a legit gig, but it may not be the right one for everyone.
There are a few important things to know before starting this type of work.
Captcha Solving May Be Used for Illegal Things
Not all Captcha work is for good intentions. Some people may use your skills to hack into sites or spam people.
Unfortunately, you won't really know what the purpose of your solves are because you're just delivering what the requester asks for.
Most legitimate captcha solving sites will make sure this isn't happening with any of their clients, so it's a good idea to stick to the well-known sites on this list.
Captcha Entry Isn't Going to Make You Rich
This isn't like a freelance gig where you can just work more to make more.
The pay for captcha solving is quite low compared to other online opportunities.
If it's all you can find right now, then try it out, but if you have other opportunities, you might want to take advantage of them.
You Might Need to Download Software
Some of these sites require you to download software to begin working.
The software will have all the captchas you need to solve and will allow you to solve them right in the program.
If you're not comfortable downloading something from a site you don't know much about yet, then this work may not be for you.
Where to Find Legit Captcha Online Jobs
This captcha company list is all you'll need to get started with this type of work.
Although I can't guarantee that they'll all work for you, I can at least say that, based on my research, they are legitimate sites for finding captcha entry work.
When I researched for captcha solving work, 2Captcha is the one place that continuously popped out of the mouths of others.
From what I can tell, it's one of the most legit solving sites that workers really trust.
It seems like this site goes to good lengths to weed out clients who want to use the work for negative purposes.
You'll make between $0.20 to $0.80 an hour, which is actually decent considering some other sites pay $0.20 or less for an hour.
Workers need to take a training that lasts a few minutes before they're signed on for work. You'll also, of course, need a reliable internet connection and computer.
2Captcha only requires a $0.50 minimum balance to cash out, which you can redeem with one of several payment methods.
Amazon Mechanical Turk is a popular microtasking site that does a good job weeding out bad clients for you, so there's less for you to worry about.
I've used this site myself and have sometimes seen captcha entry work on it.
Whatever you make with mTurk, you can apply to an Amazon gift card or transfer to your Amazon Payments account.
The site also has several other types of work, including other data entry tasks, image tagging, writing, researching, and more.
If solving captchas doesn't work out for you, you can always make money with another type of task on the site!
Read More: 10 Sites Like Amazon Mechanical Turk That Pay More Money
Captcha Typers is one of the sites that requires you to download software to solve the captchas.
To sign up, you'll just need to complete a quick registration form.
Earn Everything… nearly!
Join Opinion Outpost, one of the few faithful and honest survey panels and earn cash and gift cards for your opinion. Stack your points and redeem them: Simple! No hidden fees and completely free!


After that, you'll be prompted to create a worker account by getting set up with an ID that will allow the company to process your payments.
Currently, the site needs more people to work after 7:00 PM when the most requests come in, and it's looking for about 1500 new workers to sign on.
From what I've read around the web, this site also pays more for your work when you work overnight hours.
Fiverr gives freelancers a different way to make money solving captchas.
If this is the kind of work you're into, you can set up your own gig for online captcha entry. You'll be in total control of your pricing, which could help you get paid much more than the going rate.
All gigs can start at $5, but you can add packages that increase the value of your work.
For example, most sites pay somewhere around $0.20 to $0.50 per 1,000 captchas, but you might say that you can solve 1,000 for $5 and 2,100 for $10.
Fiverr work does take several days for approval before you get paid, which can be a downfall.
But, if you get steady work from your gig, you can expect steady payments.
Freelancer is a freelance marketplace where clients can set up gigs for freelancers to see and respond to.
You can usually find some captcha entry work on here using the Search bar.
Remember to also optimize your profile to let others know that you do this type of work.
When they search for workers for their gig, you may come up in their list!
You can set up milestone payments with your clients to get paid for chunks of work or get paid all at once at the end of the gig.
This is a Get Paid To site that offers various ways for members to make money.
It also partners with other GPT sites to give you even more work.
One of the opportunities it offers is captcha work.
The site pays $0.50 per 1,000 captchas, which most people can do in about an hour.
Get-Paid offers payments from Amazon, Bitcoin, PayPal, and more.
If solving these images doesn't work out for you, don't worry – there are plenty of other ways to earn on this site, like completing offers and taking surveys.
GRiYAAS is an India-based site that doesn't have the best English grammar.
It also seems to be one of the newer ones on the scene for this type of work, so there's not much credible information out there for it yet.
If you try this one, I suggest using your due diligence to decide whether it's one you want to stick with.
The minimum amount you need to withdraw depends on your membership (I don't suggest paying for a membership).
You can get paid via a check or bank account transfer.
This is another name, like 2Captcha, that comes up frequently with this work, so I believe it has some legitimacy.
This site offers an accuracy system that helps you keep track of your accuracy in solving, which can help you improve over time.
The payment is said to be about $1 for 1,000 words, which is high-paying for this work.
The more accurate you are, according to your accuracy tracker, the more you can make.
ProTypers earn TyperCredits for their work with the company. These credits transfer to regular dollars where 1 credit equals $1.
You'll need to be able to type at least 10 words per minute (most kids can even do that!) and have a reliable computer with internet connection.
Payment methods include Payza, checks, PayPal, and more.
The site pays between $0.45 to $1.50 per 1,000 captchas, depending on how well you do.
The Smart Crowd is Lionbridge's microtasking site, similar to Amazon Mechanical Turk.
I've also used this site before, so I can vouch for its legitimacy and ability to pay.
This site does a lot of crowdsourcing work, like data entry, categorization, and research tasks, and one of its occasional gigs is entering captcha numbers and letters.
Payment depends on the task, but you'll be able to see the proposed payment before you begin work.
To apply, you'll need to fill out a quick form, fill out some profile information about your demographics, and then complete a placement evaluation for the work you want to do.
You'll hear back from The Smart Crowd once you're eligible to begin working.
One of the best freelance marketplaces out there is Upwork, even though it's also one of the newer platforms.
This company came from the people who brought you Odesk, another top marketplace in the industry.
You can find just about any type of freelance work here that you can imagine, including data entry tasks, where solving captchas usually falls.
Sign up for Upwork and complete your profile, including naming the type of work you're interested in completing.
Once your profile gets accepted, you'll be able to browse and apply for gigs.
Set up milestones for work or get paid at the end – you can negotiate everything with the client before you begin.
Upwork also offers a few payment methods, like PayPal and bank transfer, so that you can get your cash as quickly as possible.
CaptchaSolver.com is another reliable platform that offers captcha solving opportunities.
It has a user-friendly interface and provides a steady stream of captcha tasks to complete.
To get started, you need to sign up and create an account.
CaptchaSolver.com pays its workers through various payment methods, including PayPal, WebMoney, and Bitcoin.
The payment rates vary depending on the complexity of the captchas, but they generally range from $0.50 to $2.50 per 1,000 solved captchas.
MegaTypers is a popular platform that pays users to solve captchas.
It has been around for several years and is known for its timely payments and reliable captcha tasks. To begin working on MegaTypers, you need to create an account and install their software.
The platform offers flexible working hours, allowing you to solve captchas whenever you have free time.
MegaTypers pays its users through PayPal, Payza, and Western Union, with payment rates ranging from $0.45 to $1.50 per 1,000 captchas.
VirtualBee, which is now part of Lionbridge Smart Crowd, is a reputable platform that offers various microtasking opportunities, including captcha entry work.
To get started, you need to register on the Lionbridge Smart Crowd website and complete an evaluation to determine your eligibility for captcha tasks.
Once accepted, you can begin working on captcha projects.
The payment rates on Lionbridge Smart Crowd vary depending on the task, but captcha solving typically pays between $0.20 and $0.80 per hour.
Captchatypingjob.com is a platform that provides captcha entry work to individuals looking to earn money online.
It offers a straightforward registration process, and once you're signed up, you can start solving captchas immediately.
The website pays its workers through PayPal, Payza, and other payment methods. The exact payment rates may vary, but typically range from $0.30 to $1.50 per 1,000 captchas solved.
Captchatypingjob.com is a reliable option for those seeking captcha entry jobs.
Conclusion: Captcha Entry Jobs to Do from Home
Let's face it: Captcha solving isn't the most lucrative way to earn money online.
You can, if you're lucky, maybe make $1 or so an hour. Is that worth it?
For most people, it's not. However, you could be super-efficient and make a little more.
Even then, it probably won't be enough to support yourself. It could be an okay side gig, though, when you need a little extra.
For more earnings from your time online, I suggest using the top-paying survey sites, like Survey Junkie (review) and MySurvey (review), or the best reward sites, like InboxDollars (review) and Swagbucks (review).
These sites can help you earn as much as possible when you have spare time – much more than you can expect from captcha solving.
Have you tried captcha solving?
Are there any other sites other than those I listed above that helped you earn a lot?
I'd love to hear about them.
Leave a comment below!
Related Posts:
Earn Everything… nearly!
Join Ipsos iSay, one of the few Faithful and Honest survey panels and earn prizes, gift cards and donations. Stack your points and redeem them: Simple! No hidden fees and completely free!