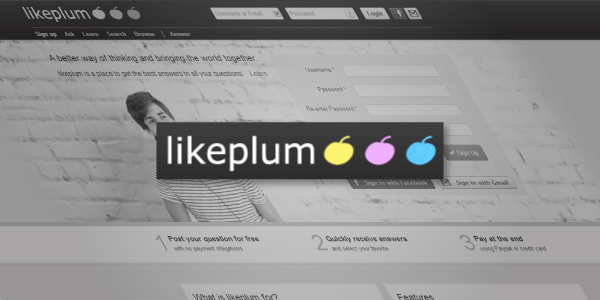 Need Easy Extra $250+/Month For Free?
SurveyJunkie: Make $5-$25 in your spare time from home to take online surveys, participating in a Focus Groups and trying new products. Join SurveyJunkie Now
SwagBucks: Watch videos, take surveys, shop and more to earn real money. Join Swagbucks Now to Get $5 Free
MySurvey: Is known as #1 paid survey site. Take paid surveys anytime and anywhere via PC, Laptop, Tablet, Cell Phone or Mobile App. Join MySurvey Now
LikePlum is a Question and Answer platform similar to Yahoo! Answers and Facebook Questions.  With LikePlum, you can be paid to answer questions that others post from your work or life experience.  Of course, you only get paid for "good" answers.
So how does that work?
How LikePlum Works
"Askers" post questions and pledge a certain payment amount.  This is the amount they are willing to pay for a good answer.  Basic questions have pledges below $10 and are available to be answered by anyone.  The asker gets to choose the best answer, and the answer-er that answered that question gets the amount pledged.
Premium questions have a pledge above $10.  Askers must submit a request to answer these questions.  If chosen, the answer-er is given the exclusive right to answer and can request a 50% down payment (to be held by LikePlum.)
Once the answer is accepted in full, the remainder of the payment will be made and the down payment will be released regardless. Unless, however, the asker withdraws due to a legitimate bad answer.
LikePlum is the judge of this and it remains to be seen how well they back up their answer-ers. (If you have experience with this please let us know.)
Also, there is no mention of whether a pledge of $10 even is considered a basic or a premium question.
How Do You Get Your Money?
You can withdraw earnings via check or PayPal, and there is no mention of a minimum.  Again, if you answer for LikePlum and know there is a minimum amount required for withdrawal please let us know.
What Else Do I Need to Know
There is a repeat client system as well as a reputation and rank system that can increase your chances of being chosen to answer high pledge premium questions.  It likely takes some time to build up reputation and rank, but if you like answering questions it could really pay off.  There is also a transfer system in which you can earn rank points by transferring your experience from other online question and answer sites. This means you do not have to spend the time starting from scratch at LikePlum if you already have an established reputation as an answer-er elsewhere.
LikePlum Conclusion
If you are good at offering quality and informative answers to random questions, and you have the time to building up rank and reputation, you could make money online at LikePlum.
You could make money even faster if you already have an established reputation as an answer-er elsewhere on the web.  Making some extra pocket change by just poking around and answering basic questions and hoping your answer gets chosen is also a definite possibility.
There is always the potential, however, that your answer will not be chosen and you will not be paid.  This appears to be a legitimate way to make money, and it could be built into a steady income stream with time and work, but should not be counted on as a steady source of income on the front end, or in the absence of time to build a reputation with the potential for little pay while doing so.
Related Posts:
Watch Videos, Earn Hard Cash!

The ever trusty InboxDollars has so far paid its members over $40 Million. Watch videos, take surveys, shop and more while InboxDollars pays you cash. Real money! Totally free to join!