How to Make Money Online with JustAnswer.com
Updated on: by Amy Kennedy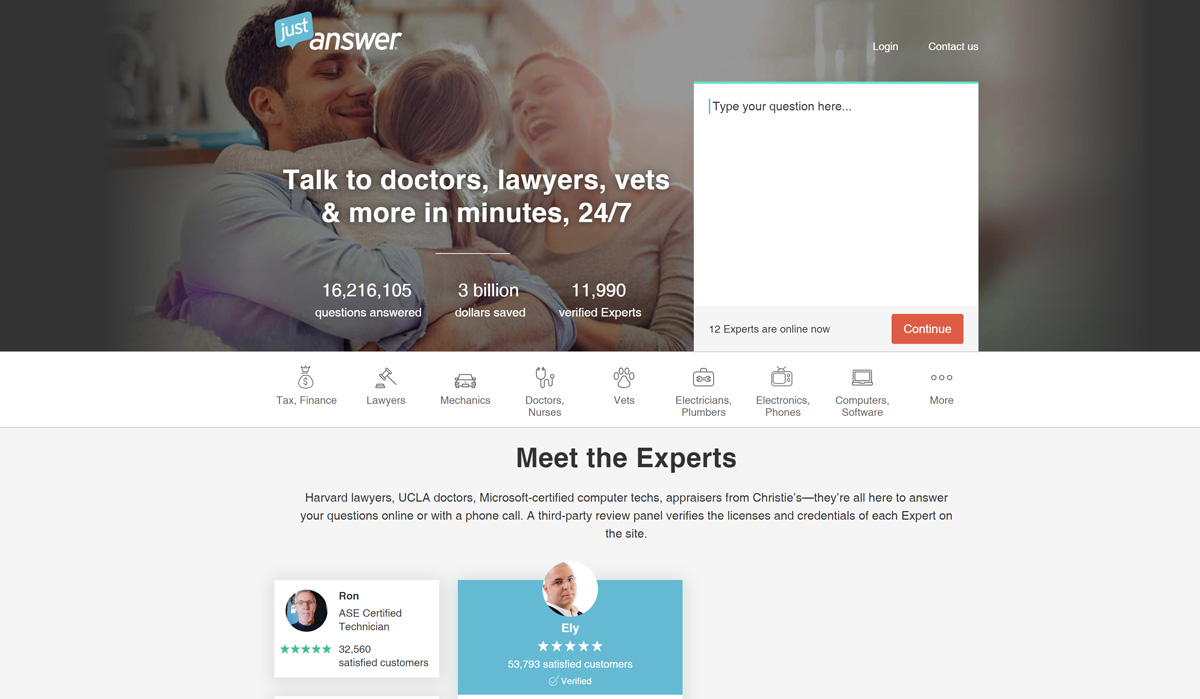 There are a lot of avenues you can choose if you want to work from home and earn money online.
Need Easy Extra $350+/Month For Free?
Some people write content, like articles and blogs, for businesses.
Others design websites for businesses or entrepreneurs.
Other people create apps, answer phone calls, transcribe audio files, or coach people.
One excellent way to make money that you might not have thought of is by answering questions people ask as an expert.
Just Answer is a site that lets you get paid to do just that: Answer various questions posted by online users.
We first wrote this article back in 2012 and, understandably, Just Answer has changed quite a bit since then.
That's why we're bringing you this updated version that explains how to get started with Just Answer as an expert, what you'll do, and what you can expect to make.
Ready to dive in? Great!
What is Just Answer?
Justanswer.com is a website where you can go and ask a question to have answered by an expert.
Anyone around the world can use the site to ask questions in a variety of categories, like:
Medical
Legal
Veterinary
Phones
Computers
Mechanics
Electrical
Plumbing
Tax and Finance
People need to pay to ask questions, though, so it helps the site weed out people who are just there to ask random questions.
Of course, the site needs people who know what they're talking about in their fields of expertise to answer those questions people pay money to ask.
That's where you come from.
The work at home job opportunity here is to become an expert for Just Answer and therefore eligible to answer questions.
Basically, as an expert, you log on and select a question you would like to answer.
Need Easy Extra Cash?
Pinecone Research, a leading name in online survey panel honesty, absolutely guarantees $3 cash for every survey you complete!
Take advantage of their time limited New Membership drive and register NOW. Join today: 100% free!


You will be able to see the question, how many have already answered, and the amount the person asking the question is willing to pay for the answer.
Just Answer takes a portion of the payment askers pay before you get paid, which is how it makes its money.
The rest of it goes to you, the expert, for answering the question.
That's the gist of the site, but there's a lot more to dig into.
How Does it Work for Experts?
To become an expert for Just Answer, you do need to possess certain qualities and a level of expertise in your chosen fields.
It's not necessarily an easy process to become an expert for the company.
You can apply for various categories, but you'll need to meet the qualifications for each to be able to answer questions.
Just Answer requires its experts to prove that they know what they're talking about before they can be accepted into the program.
This means that you'll need to show proof of your degree, certification, licensure, or something else that proves your expertise, along with completing an application.
A resume is optional, but it might get you approved by the company faster, especially if you already have relevant experience in your field.
You'll also need a driver's license or photo ID to confirm that it's really you who's applying.
Just Answer notes that it typically takes between 5 and 10 days for applicants in the USA and Canada to hear back, but it could take up to 20 days for other people to get approved or declined.
Some people do have an issue giving all this information away over the internet, but the document uploading software is secure.
Unfortunately, there's no other way to verify your information, so if you're not comfortable sharing the information online, then this isn't the right opportunity for you.
Benefits of Becoming a Just Answer Expert
Just Answer experts get to work wherever they want.
The work you do is all online, so there's no need to have a quiet place to work as long as you can answer questions with focus and accuracy.
You also won't need a phone or video software for this job.
It's simply typing to answer questions, so it's great for more introverted people or those with young kids or pets in the home who can't be on the phone all day.
Additionally, you can set your own hours as an expert.
You'll never have a set schedule, a minimum number of hours to work each week, or any restrictions about how much you can work.
Just log into your dashboard, respond to questions posted there, and get paid.
Rating Systems
Every question you answer will get rated.
The customer who asks the question is allowed to rate every answer they get with either a positive or negative rating.
If the answer doesn't include helpful information for the asker, the asker can rate it negative.
If this happens, you won't get paid.
However, a positive rating will release the payment for the question to you.
This system is not only used for payment purposes, but also to ensure that experts are fulfilling their duties by answering questions with thought and care.
There's also a peer-to-peer review system for this purpose.
With this system, experts can monitor other experts.
Earn Everything… nearly!
Join Opinion Outpost, one of the few faithful and honest survey panels and earn cash and gift cards for your opinion. Stack your points and redeem them: Simple! No hidden fees and completely free!


If you see an answer from an expert who you think didn't fully answer a question or provided incorrect information, you can flag that answer.
You can then answer that question for possible payment.
Experts who repeatedly get flagged by other experts may be removed from the system.
Just Answer also has other systems for quality checking experts, like secret "shoppers" who monitor answers for effectiveness and accuracy and an advisory board filled with scholars in various fields who keep track of experts and their answers.
In other words, there's always someone watching you as an expert, but it helps to make sure that you're doing your best work.
How Does Payment Work for Experts? Is Payment Guaranteed?
Since you're looking into Just Answer as a way to make money at home, it's important that we go over all the payment details.
This is actually one of the biggest complaints of experts who have used the site and continue to use it for side income.
The short answer is no. You will get paid for each answer that is accepted.
That means you could write answers that you never get paid for.
The way payment works here is that you get paid when someone asks a question and picks your answer as helpful, you'll get paid.
However, an asker can always decline your answer if it sees another one as a better answer.
If that's the case, you don't get paid at all.
There's a chance that you spend two hours a day answering questions and not get paid for any of that time, so it can be tough to figure out what you'll make.
How Will I Be Paid?
Pay really can vary from expert to expert.
Your final pay will be determined by how many questions you answer, how frequently you answer questions, and how many of your answers get accepted by clients.
Just Answer doesn't offer a lot of information about its pay for experts on the website.
However, you will reportedly start out earning 20% of what the person is willing to pay for the answer if it is accepted.
You can work up to earning 50% eventually.
Most questions cost between $15 and $30, depending on the category it's asked in.
Highly technical categories, like medical and legal questions, usually cost more than questions asked in other categories.
Once you have $25 in your account, you can cash out to your PayPal account.
Other Ways to Make Money as an Expert
Interestingly, there are a couple of other ways you can get paid as an expert for Just Answer besides just answering questions.
However, you'll still need to remain active on the platform to get somewhat steady pay.
These other methods are simply more ways to earn a little extra from your time on Just Answer:
Referring Other Experts
If you know other experts in a field that's covered by Just Answer, then you can refer them to become experts, too, and get paid for it!
Use the form on the website to send emails to your friends, family, or colleagues.
Just Answer will send them invitations for you.
Depending on the category they become experts in, you'll earn an amount between $20 and $100.
This bonus amount is subject to change depending on how badly the site needs experts in those fields.
Currently, some of the higher paying bonuses are for referrals in categories like UK cars, heavy and industrial equipment, farm equipment, and autism.
If you're already an expert, you'll also get bonus wheel spins to earn cash and prizes in Just Answer contests.
Becoming an Affiliate
You can also become an affiliate for Just Answer.
This is a little different than referring people you know to the platform because you can share your affiliate link anywhere it makes sense, like in emails, on your blog, or in social media posts.
You'll also use affiliate links to attract askers to the site rather than experts.
When someone uses your link and pays to ask a question, you can earn a portion of that payment.
You'll get 40% of what a customer pays. On a $20 question, that means $8 for you.
Just Answer even offers widgets that you can place on your website where customers can ask questions for experts directly in the widget.
You'll get paid when they pay!
Read More: Get Paid to Answer Questions with These 31 Websites and Apps!
What Do Other Experts Say?
A good place to learn more about the Just Answer job for experts is to check Glassdoor.
Glassdoor has several reviews from real people who have, or are currently doing, the job.
You can learn more about what they think the pros and cons of the job are, what they think management can do better, and what their experience was like.
I've researched the reviews on Glassdoor, Reddit, and other helpful sites to learn what most experts think about the job.
Here are a few of the common complaints and praise for the gig:
Pros
Several reviews state that Just Answer is easy money as long as experts spend time writing thoughtful answers to questions that people want to give positive ratings.
It's also a plus that experts can get paid to literally answer questions in subjects they love!
Basically, you get to talk about what you love and earn money.
Also, the gig is flexible, allowing you to work wherever and whenever you want.
Finally, a lot of experts like the fact that they can get paid via PayPal, which simplifies the payment process and gets them paid fast.
Cons
One common complaint for Just Answer experts is that clients don't have to rate anyone's answers if they don't want to.
If they don't rate your answer as helpful, then you don't get paid.
In this case, it would be nice if Just Answer would make ratings mandatory to ensure that more experts get paid for their hard work.
Another issue is the application process.
Many legitimate experts say that they have sent all the required documentation but either don't hear back from the company or don't get a positive response.
It seems like Just Answer is very selective, or that there might be an issue with the application process that declines people who might be excellent experts.
Is it Legit?
I have seen people posting about working for Just Answer since 2006.
No one has complained about not getting paid money they are owed, and it looks like if you write consistently great answers you could make some fair pocket change.
Some say they have even been able to make a substantial income.
I am sure it depends on workload and number of available questions in specific areas of expertise.
In short, this is a legitimate way to make some extra money from home, but it should not be counted on as a sole source of income until you try it out and see how it will work for you.
Think of it more like a side gig than a full-time income, spend time crafting thoughtful answers, and be active on the platform.
You probably won't be disappointed if you're serious about your time on the platform.
How Do I Apply?
On the website, you can click on the "Become an Expert" link down in the footer of the site.
This will lead you to choose areas of expertise you would like to be certified to answer questions about.
You will be able to view the credentials required for each area, and they use a third party service to verify these credentials.
You must either have a bachelor's degree, licensure, or at least two years of employment experience in the selected area, and you will likely have to pass a short test in your area of expertise.
The tests really are short, four or five questions each, and fairly easy if you think you know anything about the subject at all.
If you do not see an area you are able to provide credentials in as an expert, you can add that area and you do not have to provide credentials right then.
However, you may not hear a response back until you can verify your credentials.
Common FAQs about JustAnswer.com
How does JustAnswer.com work?
JustAnswer.com works on a simple question-and-answer model.
Users visit the website and ask their questions in specific categories such as law, medicine, tech support, veterinary care, and more.
Once a question is posted, it is made available to a network of experts in the relevant field. These experts, who have been verified and approved by JustAnswer.com, review the question and provide a response.
Users can receive answers through different formats, such as written responses, phone calls, or even live chat sessions, depending on the nature of the question and the preference of the user.
The user then has the opportunity to rate and review the expert's response based on their satisfaction with the answer provided.
How trustworthy are the experts on JustAnswer.com?
JustAnswer.com takes the selection and verification of experts very seriously.
Before an expert can start providing answers on the platform, they must go through a rigorous application process.
This includes verifying their credentials, qualifications, and experience in their respective fields.
JustAnswer.com has a team dedicated to reviewing and approving experts, ensuring that they meet the platform's high standards.
Additionally, the platform encourages experts to provide accurate and helpful information by allowing users to rate and review their responses. This feedback mechanism helps maintain the quality and trustworthiness of the experts on the platform.
How much does JustAnswer.com cost?
JustAnswer.com operates on a paid model. Users are charged a fee for accessing the expertise and advice provided by the platform's experts.
The cost of using JustAnswer.com varies depending on factors such as the complexity of the question and the urgency of the response.
Before receiving an answer, users are presented with the estimated cost of the response. This allows users to make an informed decision about whether they want to proceed with their question.
The platform uses a transparent pricing structure, and users are only charged once they confirm that they are willing to pay for the expert's response.
What if I'm not satisfied with the answer I receive on JustAnswer.com?
JustAnswer.com recognizes that users may not always be completely satisfied with the answers they receive.
In such cases, the platform offers a satisfaction guarantee. If a user is not satisfied with an expert's response, they can request a refund.
To initiate a refund, users can contact JustAnswer.com's customer support team and explain the reason for their dissatisfaction.
The platform's support team will review the case and, if deemed appropriate, provide a refund or other suitable resolution.
Is Just Answer Right for Me?
Only you can decide if this way to earn money is the best way for you.
You might want to sign up and try it so you can get a real feel for how it works and your potential for getting good ratings for your answers.
Ready to test it out?
Visit JustAnswer.com to Learn More and Sign Up
If you've had the opportunity to work with Just Answer, we'd love for you to come back here and leave a comment telling me what you thought of it.
Related Posts:
Earn Everything… nearly!
Join Ipsos iSay, one of the few Faithful and Honest survey panels and earn prizes, gift cards and donations. Stack your points and redeem them: Simple! No hidden fees and completely free!