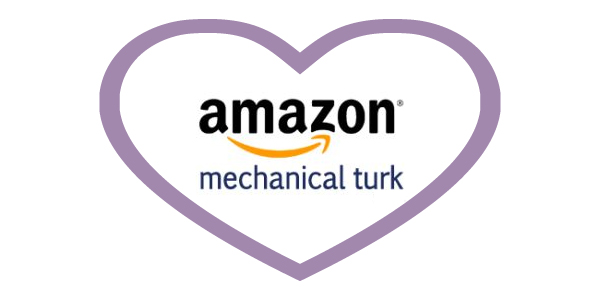 Need Easy Extra Cash?

Renowned Swagbucks delivers what you need: More rewards, more money! Watch videos, take surveys, shop and more to earn Extra Cash. 100% free to join!


A while back I wrote a post about Mturk, a site that's affiliated with Amazon.com where requesters post different jobs (called HITS) that workers can complete for varying amounts of money.  The money you earn can then be deposited in your bank account or applied to an Amazon giftcard if you shop on Amazon.com.  This post will focus on my top five favorite types of Mturk hits.
1. Transcription HITS –
These HITS are offered by requesters such as Castingwords (review) and Speechink, and can vary in price from as little as .40 cents for some of the shorter Castingwords hits on up to several dollars for some of the longer Speechink hits – however those hits usually require that you have a higher rating with SpeechInk.    If you're new to transcription, I suggest starting with SpeechInk transcription HITS, because there are usually only two speakers involved, and they're usually easier to understand. SpeechInk posts audios of many different things, such as interviews with insurance claims adjusters, as well as business presentations and voicemails.  Voicemail and insurance claim interviews are generally verbatim transcriptions, where as business presentations are usually nonverbatim. CastingWords HITS on the other hand can be more than two speakers, and there's sometimes a lot of crosstalk in CastingWords hits, which makes it more difficult to transcribe these HITS if you're new to transcription. Castingwords hits can be verbatim or nonverbatim, so again make sure you read the guidelines carefully. In addition, some new requesters have started posting short audios of medical school lectures. No matter wich requester you choose to do transcription for, be sure you follow the guidelines or your hits will be rejected.
2. Surveys –
I like doing these because they're easy and can add up quickly. It can be difficult to find legitimate survey hits on Mturk, though there do seem to be more legitimate survey opportunities being posted. In general, if the survey HIT asks for information such as my address and/or phone number, I stay away from it.  Most survey HITS will tell  you how much time you should plan on spending on the survey, so be sure you have that much time to spend on the survey before accepting the HIT.
3. Oscar Smith data entry hits –
These HITS involve typing information from business cards – the fields provided are name, title, company, email, website, address line 1, city, state, zip code, work, fax and cell phone numbers. In addition, you have the option to add additional lines to the address if needed, and there's a link you can click on if the phone number is not a US phone number. You also have to crop the company logo or image from the business card. These hits are only worth 2 cents each, but once you get used to them they go very quickly.
4. Determine the correct part-of-speech tags –
This is a new HIT that I've seen posted lately by a requester called rzhetsky.lab.  You have decide from the choices provided which part of speech the highlighted word is, or if you're not certain there's a link that brings up the dictionary.com entry for the word, which shows the part (or parts) of speech the word can be used as.  If you think the word is being used as a part of speech other than the ones listed in the hit, you can type in the part of speech you think it's being used as in one of the blanks that follow the parts of speech provided by the requester.
5. Article writing –
There are many requesters that post HITS asking for articles on different subjects.  The pay for these HITS, as well as the length of the articles, varies from one requester to the next.  Just like with transcription hits, be sure you follow the requester's instructions about how long the article  needs to be, and if any keywords need to be mentioned a certain number of times.
These are just some of the different types of HITS that are posted on Mturk – there are many others.
Tip: If you have a question about how to do a hit, the best thing to do is contact the requester.  If you have a question about whether a hit is legitimate, you can check out their FAQs for samples of hits that violate Mturk's policies.  If you're still unsure about a hit, the next best thing to do is contact Mturk via their "contact us" link, and provide as much information as you can about the hit, including the name of the hit and the requester's name.
Related Posts:
Watch Videos, Earn Hard Cash!

The ever trusty InboxDollars has so far paid its members over $40 Million. Watch videos, take surveys, shop and more while InboxDollars pays you cash. Real money! Totally free to join!


Earn Everything… nearly!

Join Ipsos iSay, one of the few Faithful and Honest survey panels and earn prizes, gift cards and donations. Stack your points and redeem them: Simple! No hidden fees and completely free!