15 Best Places You Can Legally Find Gold in the United States
Updated on: by Amy Kennedy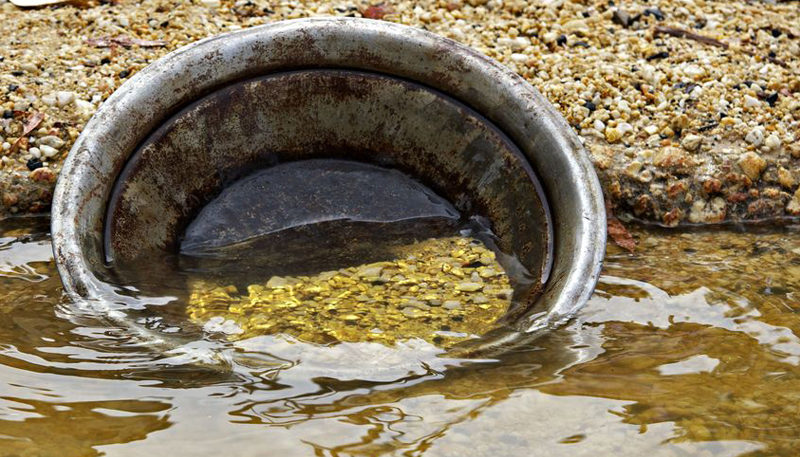 Add this money-making opportunity to your list of fun and interesting side gigs!
Need Easy Extra $350+/Month For Free?
Panning for gold sounds like a thing of the past.
But, it's still a thing that adventurists like to do.
You might be surprised to know that there are several places throughout the United States that allow you to pan for gold!
It might be time to embark on a gold panning vacation with the family after you find a spot near you where it's 100% legal to search for gold to keep.
What is Panning for Gold?
Panning for gold is one of the easiest ways to search for gold.
There are no tools involved. You just need the right type of pan – hence the name, panning – and a piece of land where there's known to be some gold.
Most gold panners work in streams and creeks where gold concentrates after storms and flooding.
Using your pan, you can either scoop some of the material from the bottom of the creek (it'll look like sludge or wet dirt) or use your hands to place it in your pan.
Then you gently sift the pan from side to side, which will work heavy gold material to the bottom of the pan.
The non-gold material floats toward the top because of its lighter weight.
What your left with is real gold.
You can repeat the process for as long as you want to continue collecting gold.
Some people do make a living from gold panning, but it's not usual.
Those who do tend to be people who are very experienced and know the perfect spots to hit to get the most out of each trip.
Still, it's a possibility, especially if you live near one of the spots I'm going to talk about on this list.
Need Easy Extra Cash?
Pinecone Research, a leading name in online survey panel honesty, absolutely guarantees $3 cash for every survey you complete!
Take advantage of their time limited New Membership drive and register NOW. Join today: 100% free!


It's important not to pan for gold just anywhere.
It's illegal in some places, so it's a good idea to know where it's allowed, so you don't run into any legal trouble.
Join the American Mining Rights Association
One of the ways you can make sure you're mining legally is to join the American Mining Rights Association.
This nonprofit organization fights for the rights of people to mine and pan on public lands.
You can join for either an annual or a lifetime membership and receive access to its valuable resources.
The association can also guide you as far as all the legalities go to make sure you're not breaking any laws and that the laws uphold your individual rights.
What Places Allow Gold Mining Near Me?
I know you came here to find out where in the United States you can pan for gold, so let's get to it.
This list isn't exhaustive, so you may find some other public lands near you that allow gold mining and panning.
The important thing to do is get in contact with the owners of that land and ask!
That way, you'll be doing your due diligence to make sure you don't end up in a scary legal situation.
Some state-owned or city-owned land will have specific spots where it's okay to pan for gold, while other spots are off-limits.
So, call and ask and get all the details first to keep yourself in the clear.
Alabama Gold Camp, AL
Alabama Gold Camp is a great spot for your next vacation if you want to have a place to stay for a few days while you take off on your panning adventure.
You can stay in a "prospecting shack" for $75 a night, which is cheaper than most hotels you can find!
Each shack has two beds, a microwave, a mini-fridge, and its own toilet.
You can also bring your camper to hook up at one of the campsites.
If you just want to try your hand at gold panning for a day, you can get admission to the camp for $5 per adult.
Alta Ranch, MT
Alta Ranch in Montana isn't just a perfect spot for gold panning, but it's also a beautiful spot to take a relaxing vacation in the Montana mountains.
Alta Montana used to be a popular gold mining town, so the ranch still keeps that history in place by allowing its guests to gold pan.
A few miles away from the ranch, you can pan for gold along the stream.
Your cabin will even include pans for you and other guests along with your stay!
Big Thunder Gold Mine, SD
Big Thunder Gold Mine is one of the most popular gold places in the country.
In fact, it's been featured on The History Channel, Travel Channel, Discovery Channel, and more.
If you're looking for a full-out gold-searching adventure, then this place has it in store for you.
You can do on-site gold panning which teaches you all the basics of how to pan for gold.
Or, if you want a day-long adventure, you can head out with some experts for claim panning.
When you embark on the claim panning adventure, you'll get to keep any gold you find.
You'll also be panning in the Black Hills itself from some of the richest gold-filled streams around.
Colorado Goldstrike Adventures, CO
Colorado's Goldstrike Adventures is a great place to go if you're completely new to panning for gold.
Earn Everything… nearly!
Join Opinion Outpost, one of the few faithful and honest survey panels and earn cash and gift cards for your opinion. Stack your points and redeem them: Simple! No hidden fees and completely free!


This company teaches you how to do it correctly with the help of expert tour guides who accompany you on your journey.
The experts will teach you how to find the best streams for prospecting, how to use your pan correctly, and more.
There are several packages to choose from, including a half-day adventure and ranging up to a 2-day package that includes camping and catered meals.
Consolidated Gold Mine, GA
The Consolidated Gold Mine in Georgia is an interesting place that lets you grab some gold in a real mine!
The underground mine offers both gold and gem mining, and you'll get to see what a real mine looks like and learn about some of the history on a guided tour.
You can also pan for gold seven days a week here with the family.
Purchase a regular pan or a high-grade pan for a few more dollars and set off on your own adventure.
Experts will walk you through the process so even beginners can catch on quickly.
Once you've grabbed some gold, you can place it in a bottle as a souvenir from your fun adventure.
Crow Creek Gold Mine, AK
You've probably heard of the Gold Rush in Alaska.
This amazing part of history still lives on today in the state, especially in places like the Crow Creek Gold Mine.
Much of the areas around this resort are rich with gold prospecting opportunities.
You can pan for gold on your own by renting a package with all the equipment you need to get started and find some gold.
There are even gold mining tours available here which will show you some of the area's history with gold and get you and your family finding your own with the help of experts.
Gold Bug Park & Mine, CA
The Gold Bug Mine is a real mine left from the days of the historic Gold Rush.
This park offers visitors a chance to tour the Gold Bug Mine and Priest Mine, either on a self-guided tour or guided tour.
There's also a gold mine museum here that would be perfect to learn more about the history of gold in the United States.
There's a gem and gold panning trough located within the mines that gives visitors a chance to find some gold for themselves.
Jamestown, CA
Gold Prospecting Adventures makes its home in Jamestown, California, an area of the country known for its rich history in the Gold Rush.
The company helps tourists and locals alike get the most out of their panning adventures in Jamestown by providing field trips for schools, family tours, prospecting training, and travel packages to the area.
Jamestown is filled with gold-hunting opportunities though, making it a great place to stay if you want to spend several days panning for gold throughout the area.
In fact, many streams and creeks in Jamestown are 100% open to the public to pan for gold without restrictions.
For some help planning your trip, check out the travel packages Gold Prospecting Adventures provides.
The experts there can guide you in the right direction for your vacation and will let you know the best spots to bring your pan to.
Libby Creek Recreational Gold Panning Area, MT
The Libby Creek Recreational Gold Panning Area in Montana is another excellent spot to find some gold in the U.S.
This spot is 100% open to the public to pan for gold, and you're allowed to keep anything you find.
The only catch is that you're only allowed to use manual tools, like a regular gold pan, rather than electric machinery or anything that would give you an unfair advantage over other panners.
The recreational area offers a lot of other great things to do, too, like hiking, fishing, boating, and camping, so this could be a great area to bring the family to for a summer vacation.
Marshall Gold Discovery State Historic Park, CA
The Marshall Gold Discovery State Historic Park in California is a place where you can find out more about the history of gold and mining in the area and purchase some fun souvenirs from your trip.
The park also offers gold panning lessons for people of all ages, so even the kids can learn to pan for gold with you.
The lessons are about 15 minutes long, and you can spend another 30 minutes panning for gold after you learn how to do it.
The park has its own association, too, that helps plan events throughout the year, create new tours, and more, so there's always something fun and exciting happening here.
Reed Gold Mine, NC
The Reed Gold Mine in North Carolina is where the very first documented piece of gold was ever found in the United States!
If you visit here, you're visiting a huge piece of the country's history.
Since then, the mine has become a popular spot for locals and tourists interested in gold panning.
There's no admission fee to visit or to partake in any of the tours!
If you want to gold pan, you'll only need to pay $3 for the pan.
Crisson Gold Mine, GA
Crisson Gold Mine in Georgia offers visitors the opportunity to pan for gold and gemstones.
They offer all the necessary equipment, including gold pans and instructions on how to pan effectively.
You can also explore the underground mine and learn about the history of gold mining in the area.
Vein Mountain Gold Camp, NC
Vein Mountain Gold Camp in North Carolina is a family-owned campground that offers gold mining and prospecting activities.
They provide mining equipment, instruction, and access to a stream where you can pan for gold.
It's a great place for beginners and experienced prospectors alike.
Chicken Gold Camp, AK
Chicken Gold Camp in Alaska is located in the famous Chicken Gold Rush area.
This location offers gold panning and prospecting opportunities for visitors.
They also provide gold pans and instructions, and you can also rent additional equipment like sluice boxes and metal detectors.
The camp is situated in a scenic area surrounded by mountains and rivers.
Rogue River, OR
The Rogue River in Oregon is one of the largest producers of gold in the United States.
If you don't want to spend hours searching, then this place may be one of the top contenders for a quick gold panning adventure.
There are three sites along the river that allow the public to prospect for gold.
You're only allowed to use a manual gold pan here – no fancy equipment.
Check out this article on Gold Rush Nuggets to find out more about the perfect spots along the Rogue River to pan for gold.
Conclusion: Where to Pan for Gold on Your Next Vacation
I think this could be a perfectly unique twist on a traditional vacation or family outing.
Skip the usual day at the movies, weekend camping trip, or vacation to the nearest beach town and give the family something completely new that they'll remember forever.
Although you may not walk away with tons of gold, you'll have plenty of memories from learning a new skill, bonding with the family, and immersing yourself in the fun history of the U.S.'s Gold Rush.
Have you ever panned for gold?
We'd love to hear about your experiences!
Where have you gone, and what areas are your favorite?
Leave us a comment below.
Related Posts:
Earn Everything… nearly!
Join Ipsos iSay, one of the few Faithful and Honest survey panels and earn prizes, gift cards and donations. Stack your points and redeem them: Simple! No hidden fees and completely free!