26 Places Where to Refill or Buy CO2 Tanks Near Me and Online
Updated on: by Amy Kennedy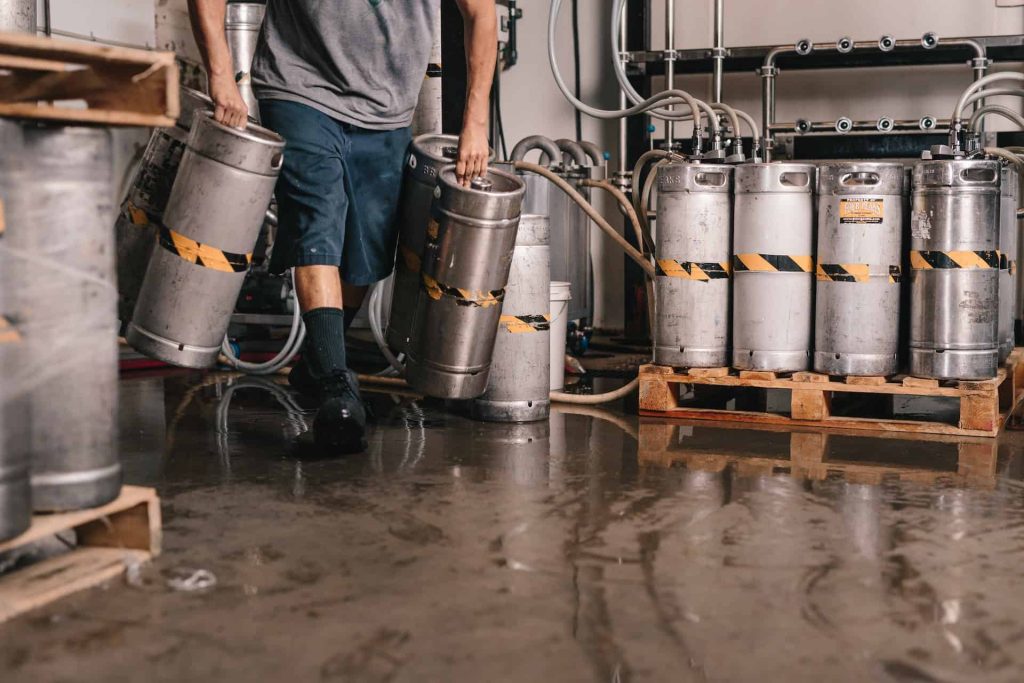 If you are a brewer or make carbonated drinks, CO2 tanks are definitely a critical part of your business. Luckily these are readily available in multiple places online and offline.
Ideally, CO2 tanks are steel cylinders or bottles that contain a liquefied, colorless, odorless, non-flammable, and mildly acidic gas known as carbon dioxide or carbon (ii) oxide (CO2), which has a variety of uses. While the most popular uses are in carbonated drinks and brewing beer, it can also be used in:
Medicinal applications

Metal production

Food preservation

Fire Extinguishers

Kegerators

Hydroponics

Paintball

soda-streaming devices

Cycle tires

Aquariums for freshwater fish and live plants

Inflating sporting gear
Where To Buy A CO2 Tank 
You can refill your CO2 tanks in several places. You can visit a welding store, any company that deals with welding machinery and air tools, or even businesses specializing in CO2 goods. You can then contact them to have the tanks delivered to your location or choose to go pick them up yourself at their premises.
However, before you settle on a source, it is always advisable to engage several establishments to compare prices. Here are several places where you can get CO2 tanks and refills:
1. Airgas
Airgas has a retail network of over 900 locations across the US. It supplies tanks that come in five-pound, ten-pound, twenty-pound, 35-pound, forty-pound, 55-pound, sixty-pound, and bigger sizes. The weight of the cylinders comes when they are empty.
Tanks may range in price from $100 to $500 or more for bigger ones. On the other hand, refills range from $15 for a five-pound tank swap to $12 to $50 or more for bigger refills. You can purchase these items at any of the store outlets or online.
2. Ace Hardware INC.
Ace Hardware is a major player in the home improvement industry in the United States. It is the biggest hardware retail cooperative in the world and the second largest dealer-owned cooperative in the United States. Ace has almost 5,200 hardware shops in all 50 states, and CO2 tanks and refills are among their numerous goods.
To begin with, they sell 12-gram paintball cartridges in-store. Ace Hardware is also the best source to get CO2 for your gas-powered machinery. It costs between $5 and $22 to replenish your tank, depending on the cartridge size.
While they are well-known for their many physical shops, and you are sure to locate one near you, you can also purchase their items via their online website.
3. Walmart
Walmart is one of the most famous stores in the US for selling its items at a reasonable price. The store also refills CO2 tanks, and you can request these refills using their website or Walmart's mobile app.
When you want to swap empty paintball cartridges for refills or soda-stream cylinders, Walmart is one of the greatest locations to purchase CO2 tanks and refills near you. They offer tanks ranging in weight from 8 to 90 grams. You may also get paintball cartridges and 60-liter soda-stream cylinders, and 20-ounce tanks for prices ranging from $13 to $30, depending on their size.
However, you should be aware that Walmart does not have the necessary equipment to refill the CO2 tanks at its shops. Instead, you may swap your old cartridge for a new one. Nonetheless, you will be charged for the CO2 in the cartridge rather than the cylinder.
4. Blain's Farm and Fleet
Blain's Farm & Fleet has 43 retail locations in Wisconsin, Illinois, Iowa, and Michigan. It specializes in 12-grams, 88-grams, 20 cubic feet, 40 cubic feet, 80 cubic feet, and 125 cubic foot tanks and cylinders.
The price ranges from $5 to $390, depending on the size. You can purchase it at retail outlets or order it online.
5. REI
REI has 174 retail outlets in 41 states and the District of Columbia. In the stores, you can purchase pre-filled cartridges in 16-gram, 20-gram, 24-gram, and 38-gram sizes or order online. The price differs with the brand, from around $3 to $19. However, they do not offer refills.
6. Dick's Sporting Goods 
Dick's Sporting Goods is one of the biggest sporting goods shops in the United States, famous for paintball accessories and fitness exercise equipment, including CO2 tanks. Thus, if you need to buy a new CO2 tank or get your CO2 tank refilled, a Dick's Sporting Goods shop near you is an ideal place to visit.
These tanks and cartridges typically cost 4–5 dollars and come in 12-oz and 20-oz sizes. It's worth noting that Dick's Sporting Goods offers a free first fill with the purchase of a new tank.
Purchasing CO2 Tanks from Online Stores
With the advancement in technology, many things have changed, and you can now order anything online. You can now purchase CO2 tanks from online vendors. However, buying these items online comes with a service and delivery fee.
You can order your CO2 tank online from online sources such as:
7. Amazon 
Amazon sells almost everything, so it stands to reason that CO2 tanks may be purchased there. Unfilled tanks of different sizes are available on Amazon, as well as paintball CO2 cartridges and SodaStream tanks.
Amazon supplies unfilled CO2 tanks ranging from 20 ounces to 50 pounds, including paintball CO2 cartridges and SodaStream 60-liter tanks. The price ranges from $7 to $270, depending on the size and brand.
8. Gas Cylinder Source 
As the name suggests, Gas Cylinder Source supplies CO2 cylinders and cartridges. The sizes of the cylinders range from 5 to 50 pounds, from $30 to $385. But again, it depends on the size and brand.
9. Rapids Wholesale 
Rapids Wholesale is an online supply shop that deals with almost all commodities and supplies 5-pound, 10-pound, and 20-pound tanks and cylinders. The price ranges from $59 to $140, depending on the size.
10. Keg Outlet
Keg Outlet is an internet store that specializes in homebrewing supplies. Furthermore, it is famous for supplying CO2 tanks for kegerators for home brewing.
It supplies tanks from 1.5 to 50 pounds and may cost from $55 to $400 and cartridges from $10 to $13.
CO2
Tank Refill Near Me
Some companies do not deal with CO2 tanks and supplies but may sometimes offer refill services and sell tanks or cylinders. These stores are locally based, and they include the following:
11. Home Improvement Hardware 
Some local home improvement businesses sell and replenish CO2 tanks. Search for "Home Improvement Store near me" on Google and contact shops to check whether they provide tanks and refills.
12. Paintball Stores
Because CO2 cartridges are used in paintball, paintball retailers and paintball fields are ideal places to acquire refills.
13. Welding and Gas Supply Shops 
Many welding hardware and shops use COS regularly and may offer services such as refilling and selling cylinders. You can locate the nearest supply shop and see if they can fill or sell you a CO2 cylinder.
14. Dry Ice Supplier 
Some dry ice suppliers may provide a CO2 tank refill. Google "dry ice supplier near me," and then contact local businesses to see whether they provide CO2 tank refills.
15. Food Products Supplier 
Large food suppliers have to have CO2 to allow them to preserve foodstuffs. As a result, some may offer various services, especially refills, as they may use CO2 on a large scale.
16. Homebrew Supply Shop 
Homebrewing shops are an ideal alternative since some will interchange CO2 tanks. You may discover a homebrew store near you using the American Homebrewers Association directory. Alternatively, you may open Google and type in "homebrew supplies shop near me."
17. Sporting Goods Store
CO2 is used when inflating tires, balloons, balls, air-pressured gear, and equipment. Big sporting stores may have refill services, and you can locate a nearby sporting goods shop for more information.
18. Pet store
Since pet stores deal with things like fish and aquariums, they can help you purchase or refill a CO2 tank that will accompany your fish aquarium. You can locate a nearby pet store and inquire if they may refill your CO2 tank.
19. Electronics Retailers
Some electronics stores sell SodaStream bottles, replenish CO2 tanks, and provide other CO2 services. SodaStream 60-liter exchange carbonators, for example, are available at Best Buy. You can search on the internet for any retailers that offer these services.
20. Fire Protection Equipment Supplier
Some vendors of fire prevention equipment refill CO2 tanks. You may identify fire protection equipment dealers near you by visiting the National Association of Fire Equipment Distributors. You may also use Google to search. Contact them to see whether they provide CO2 refills.
21. Hydroponics Supply Stores 
Hydroponics mainly deals with plant growth, and plants require CO2 to grow. In return, this means that the organizations and companies that deal with hydroponics, especially the supply shops, have CO2 refill pumps and may sell these tanks to new clients.
You can contact a hydroponics supply store near you to inquire if they offer any refill services or supply CO2 tanks.
22. Large Aquariums
Large aquariums use a lot of CO2 and some refill stations for their tanks, especially those dealing with freshwater fish. You can visit the nearest fresh fish aquariums and check whether they do refill services.
23. Fruits Processing Industries
When preserving fruits and canning them, many of these industries must use CO2 to ensure that these fruits do not spoil. You can check with your local fruit processing firm to see whether they can refill your CO2 tank.
24. Tanks Exchange Program
This a program that is available almost nationwide and provided by CO2 dealers. Here, they bring you the filled CO2 tank and take the empty one; you don't even have to pay for transportation.
25. Beverage Supply Companies
Companies that supply beverages, such as those in the restaurant, bar, and brewery industries, often deal with CO2 for carbonating drinks. These establishments require a steady supply of CO2 and may provide refilling services or direct you to a supplier who can help.
Contacting local beverage supply companies can help you find places that offer CO2 refills or sell CO2 tanks.
26. Scuba Diving Shops
Scuba diving shops often provide tank refills for divers, including tanks filled with compressed air or enriched air nitrox. Some scuba diving shops may also offer CO2 tank refills or be able to direct you to a supplier who can assist you.
Paintball Tank Refill Near Me
To find a paintball tank refill station near you, you can search online in various ways, such as:
Google Search 
Try looking for "refill CO2 tanks" on your preferred search engines. You may also try googling for "CO2 refill" to see what comes up. If you're unsure what kind of product you want to purchase, look into the many companies offering tanks and cartridges to understand how they function.
Yelp Search 
You can also use Yelp's search engine to search "CO2 tank refill near me". You may discover the closest shops or dealers by following these steps:
Moreover, Yelp also displays user reviews for each CO2 company outlet or location.
Stores Locator
Shop Locators are another fantastic method to discover a CO2 store near you and are available on most official store chain websites. These platforms may be used in various ways, but the basic concept is to search for a place by zip code and obtain instructions.
Tips for handling your CO2 tank
Although CO2 is noncombustible, you must take specific safety measures while using your CO2 tank. For instance:
Never toss or let a CO2 tank fall or store it in direct sunlight

Always keep the tank upright while securing it.

Keep your CO2 tank as cold as possible, preferably in a space with a temperature of around 70 degrees Fahrenheit. However, if you make them very cold, they turn into liquid. Even colder temperatures will cause them to solidify and become more concentrated or thick.

Pay attention to the fill date marked on the canister's top. If the date is five years or older, it is best to avoid using the tank. Use reliable CO2 regulators and prevent your tank from heating up rapidly.

If there has been a leak from the tank, be careful to ventilate after it has been stopped, and then remove the tank right away to a Department of Transportation

(DOT) -approved testing center

.
Besides, using, testing, discharging, or replenishing CO2 tanks should be handled carefully; failure to do that is quite harmful.
Conclusion
For whatever reason, you intend to use your CO2, refills or places of purchase are readily available. The above-covered sources are some common establishments selling or refilling these tanks.
However, you must consider various things when purchasing the ideal CO2 tank for your needs. This may involve mobility, efficiency, and available space before deciding. Again, you should know that the material used to make the CO2 may alter the results of the project you are undertaking using the CO2. For instance, the kind of CO2 tank you have may affect the taste of your beer if you are dealing with brewing.
You can purchase CO2 tanks from shops, hardware stores, and online. Some of these enterprises also offer additional benefits, such as gas vouchers. Consequently, you can also check for free gas near me to save on the cost of purchasing and transporting your CO2 tanks.
Related Posts: