8 Basic Rules Of Promoting Amazon Affiliate Products Successfully
Updated on: by Amy Kennedy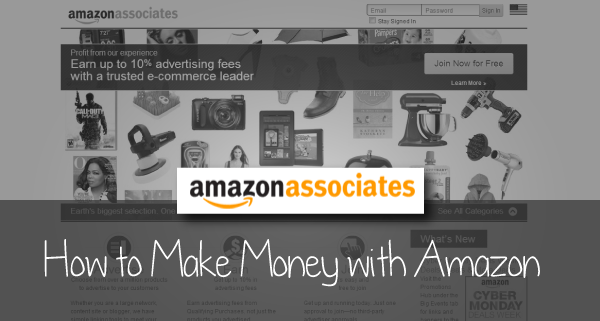 Need Easy Extra $350+/Month For Free?
This is a guest post submitted by Alan Lucas of a Make-A-Web-Site.com
Getting involved with Amazon's affiliate program can be a pretty fun and exciting experience for anyone that has the time and patience to see it through. A lot of people who join affiliate programs are just looking for a quick and easy way to get some fast cash, this should not be the case. So, if you are getting involved with Amazon, take a look at these 8 basic rules to get a head start.
Know How to Get Steady Traffic
The hard part of any online business getting enough traffic to your site to even attempt to convert them into buying. This especially goes for affiliate promoting. You need to know how to attract large amounts of people before you ever actually start trying to promote a product. The reason-  if you don't know how to attract people, then how do you expect to sell products? There are so many ways and strategies to get large amounts of steady traffic, so pick one and get started before you try to sell those products.
Have an Active Blog
Building a website or a blog is an essential part to promoting products and getting people to buy them. With a blog, you can provide people with valuable information other than the product, then once you gain their loyalty and trust, you can throw a product at them and watch as they buy it.
One thing you have to make sure when running a blog is that you don't try to oversell products or promote to many in a short amount of time. If people catch on to you that all your trying to do is to make money, then they won't respect your blog as much. You will also be risking how valuable the original content is as well. So just make sure to keep your audience happy and then convert them into customers.
Use Social Media to Your Advantage
Everywhere you go on the internet there is some type of social media aspect. This is great news for marketers because it opens our marketing potential by a limitless amount. You will have access to billions of people and can use your marketing strategies to try and convert them into buying your products. You will obviously not be able to convert every single person, but even the smallest fraction will make a massive difference in your sales.
Try to Win People's Trust, Not Only Their Wallets
A big mistake that a lot of affiliate marketers make is that they end up trying to only focus on getting people to buy a product, when their real goal should be to try and win their trust. Once someone trusts you, it is much easier to get them to buy something that you recommend. If you are just trying to push products on people, your conversion rates are going to be extremely low. Instead, try and figure out a way to gain your target demographics trust first, and then offer them the product. You will see much better results.
Keep Products Relevant
Your overall strategy should revolve around a particular niche or topic. By doing this, you are attracting more and more people that will not only be interested in the product you offer them now, but will also be interested in products that you offer them in the future. Trying to sell different types of products will require you to attract multiple different audiences and will make you have multiple different strategies. So instead, just focus on one niche and then offer relevant products to your audience.
Understand That Once Someone Goes to Amazon.com, Your Work Is Done
Amazon is pretty amazing because it gives you credit for anything that is bought through your affiliate ID. Let's say that you convince someone to go buy some cookware through your link, and they end up spending $2000 on other stuff not even related to cooking, you will receive credit. It is easy to get lost on Amazon.com and end up buying more than you need, so let Amazon do its job once you get someone to their site. Getting them there is the hard part, once they are there, your chances at commission checks are much higher.
Pick a Good Strategy and Stick to It
A big mistake that you may make is to try a strategy, only to see if fail after a short amount of time, and then move onto another one. Getting a good strategy to work takes time and a lot of effort, so don't give up at the first sign of failure.
If you keep quitting new strategies prematurely, you will start to see a cycle of trying something new and then switching to something else. This is a bad cycle to get into. Just understand that it takes time to see amazing results, because sticking to a strategy longer will be your best option.
Promotions and Discounts Will Help You
Amazon promotions and discounts are a great way to attract new people and get them interested in buying. Use them to your advantage and promote great sales. Everyone loves to save money, so be the first to link them to the discount, and watch as your sales skyrocket. Although there is usually some type of sale on different products, you will still want to keep all products that you offer, relevant to your niche.
Essential Don'ts When Promoting Amazon Affiliate Products
When utilizing Amazon's affiliate program to earn revenue, it's crucial to be aware of common pitfalls that could compromise your effectiveness or even violate program rules. Here are five things to avoid:
1. Avoid Violating Amazon's Affiliate Program Policies
One of the biggest mistakes affiliates make is violating Amazon's program policies. Amazon has strict rules that affiliates need to follow, such as not sending Amazon affiliate links via email, not using link shorteners, not mentioning price information in promotions unless it's automatically updated, and more. Always read and understand Amazon's terms of service to make sure your promotional methods are in
compliance.
Need Easy Extra Cash?
Pinecone Research, a leading name in online survey panel honesty, absolutely guarantees $3 cash for every survey you complete!
Take advantage of their time limited New Membership drive and register NOW. Join today: 100% free!


2. Don't Promote Irrelevant Products
Promoting irrelevant products to your audience can undermine your credibility and trustworthiness. Always ensure that the products you're promoting are relevant to your audience's interests and needs. Understand your audience, their preferences, and what problems they are trying to solve, and choose products that fit these criteria.
3. Avoid Over-Promotion
While it's essential to promote the products to generate sales, over-promotion can deter your audience. If your content seems too salesy or if every interaction is an attempt to sell something, your audience may feel overwhelmed or exploited and may stop engaging with your content. Instead, focus on providing value to your audience, and weave product promotions naturally into your valuable content.
4. Don't Ignore Product Reviews
Ignoring product reviews is a common mistake affiliates make. It's crucial to promote products with positive reviews as they are more likely to convert visitors into buyers. Reviews provide social proof and reassure customers about the quality of the product. If you're promoting a product with poor reviews, it may reflect negatively on your credibility and the trust your audience has in you.
5. Avoid Ignoring SEO
Ignoring Search Engine Optimization (SEO) can be a fatal mistake when promoting Amazon affiliate products. SEO increases the visibility of your content on search engines. By not optimizing your content with relevant keywords, you miss out on a lot of potential traffic that could convert into sales. So, make sure to incorporate SEO strategies like keyword optimization, quality backlinks, and regularly updating your content to improve your site's visibility and rankings.
Overall, there are plenty of ways to become a successful Amazon affiliate marketer, but these 8 basic tips will definitely help you get started.
Related Posts:
Earn Everything… nearly!
Join Ipsos iSay, one of the few Faithful and Honest survey panels and earn prizes, gift cards and donations. Stack your points and redeem them: Simple! No hidden fees and completely free!