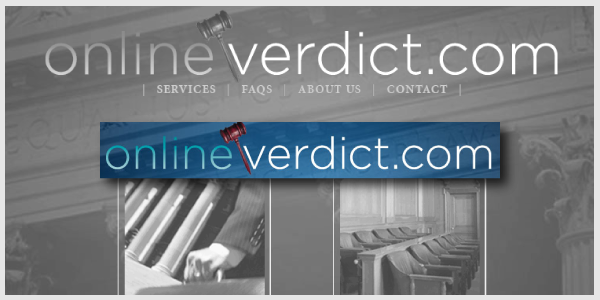 Need Easy Extra $350+/Month For Free?
One thing for certain, you know that you are truly working at home when you can serve "jury duty" online from the comfort of your home. And the best part is, you get paid to serve while being at home!
The company is OnlineVerdict.com (www.onlineverdict.com) where attorneys post their cases and ask for feedback based on a panel of between 25 to 50 qualified jurors in the attorney's local area.
Attorneys use this valuable feedback to discover the strengths and weaknesses of their case, possible case settlement value, and general overall attitudes and opinions about the case facts. All of this information will help the attorneys improve or make better decisions about trying, mediating, and settling future legal disputes.
In the past, attorneys would create focus groups or mock trials to collect this same information. These focus groups and mock trials proved costly and time consuming.
Is OnlineVerdict legitimate?
A responding "yes" it is. OnlineVerdict made Clark Howard's List of Legitimate Work at Home Companies for 2012. That's the same Clark Howard who is the nationally syndicated consumer expert and host of The Clark Howard Show. Hopefully, he will be publishing his 2013 list soon.
While there are other companies out there such as JuryTalk, JuryTest, and SignUpDirect — OnlineVerdict did make Clark Howard's list.
How does OnlineVerdict work?
Once you sign up with an account at OnlineVerdict, your information and email address will then be verified. You will receive an email verification informing you that you have been added to the juror database.
When a case in your county becomes available, you will be sent an email invitation. You are welcome to accept or decline the invitation.
How can you get started with OnlineVerdict?
The only prerequisite to sign up for OnlineVerdict is that you must be 18 or older and a U.S. citizen. Simply go to their web site and create an account with using one of your legitimate email addresses and a password, which you create.
As far as computer equipment, any laptop or PC will do. You may have to install Java, and you will need your own email account to get started.
Professionals from all industries, students, housewives, and the self-employed are all welcome to sign up with an account.
How is pay handled at OnlineVerdict?
OnelineVerdict.com pays once a month by check, which is mailed to the address that you provided upon signing up with them. Payment will vary depending upon the length and complexity of the case, but cases generally pay between $20 to $60 a case. The number of cases you are asked to review may vary as to the number of attorneys in your area using the service.
You will be expected to spend 20 minutes to 1 hour on each case with the time expectation mentioned in your email invitation. There are no right or wrong answers, just give your honest reaction to the information that is presented. There is no limit to the number of cases you can review, and there is no long-term commitment on your part.
However, you will be considered an independent contractor and responsible for your own taxes.
What is my overall opinion of OnlineVerdict.com?
While I don't think OnlineVerdict.com is something that you can do full-time at home, I think it could become something to do for extra money. I think it could also be something personally enjoyable as well as a welcome change to doing something different and getting paid for it.
Need Easy Extra Cash?

Pinecone Research, a leading name in online survey panel honesty, absolutely guarantees $3 cash for every survey you complete!
Take advantage of their time limited New Membership drive and register NOW. Join today: 100% free!


As we say in the work-at-home (WAH) world, it can be a good extra WAH egg to have in your WAH basket.
How can you apply to OnlineVerdict?
Go to https://onlineverdict.com/jurorssignup.php and fill out the information there one time only. It will be stored in your online juror file from that time forth. Then you will receive an email verification upon signing up to verify your email address.
Your information will not be shared with the attorneys using the information and/or any third parties.
Good luck to all of those who apply.
Related Posts:
Want more money?

Easy Extra Cash! Join the famed Nielsen Computer and Mobile Panel site, install the app and earn rewards just for using the Internet as you do today! Nielsen gives away $10,000 each month.
Guaranteed 100% free membership.