OnlineVerdict Review 2023: Get Paid $60 or More as an Online Juror
Updated on: by Amy Kennedy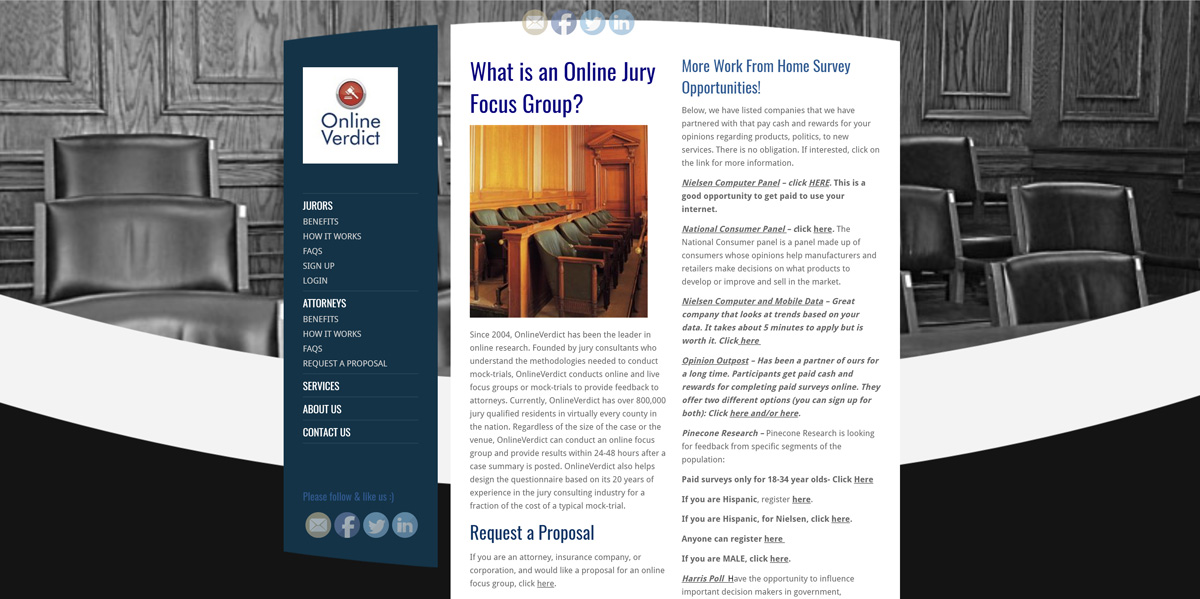 One thing is for certain: You know that you are truly working at home when you can serve "jury duty" online from the comfort of your home office.
Need Easy Extra $350+/Month For Free?
And the best part is, you get paid to serve while being at home!
A company that lets this happen is OnlineVerdict.com.
This company has a website where attorneys post their cases and ask for feedback based on a panel of between 25 to 50 qualified jurors in the attorney's local area.
It's like a mock jury trial blended with an online survey.
Attorneys use this valuable feedback given by the jury to discover the strengths and weaknesses of their case, possible case settlement value, and general overall attitudes and opinions about the case facts.
All of this information will help the attorneys improve or make better decisions about trying, mediating, and settling future legal disputes.
In the past, attorneys would create focus groups or mock trials to collect this same information.
These focus groups and mock trials proved costly and time-consuming.
The model for this company is to gather much of the same information but in a more convenient and efficient way, asking members to give their feedback in a survey-like way.
If you like taking online surveys and sharing your opinions, then this could be a great opportunity for you to do what you love, but in a slightly different way.
Our OnlineVerdict review goes over everything about the company, including your most important questions, like "What does it pay?" and "Is Online Verdict legit?".
Let's go!
Is OnlineVerdict Legitimate?
In a nutshell, yes, it is.
OnlineVerdict has made numerous lists of legitimate survey panel sites that pay.
It's also been reviewed several times on trustworthy websites that talk about work at home jobs and gigs, most of which give it decent praise.
Need Easy Extra Cash?
Pinecone Research, a leading name in online survey panel honesty, absolutely guarantees $3 cash for every survey you complete!
Take advantage of their time limited New Membership drive and register NOW. Join today: 100% free!


I have yet to see anything label it as a scam.
There are several similar companies out there that are also legitimate, but OnlineVerdict does seem to be one of the more talked about sites.
OnlineVerdict is not actually accredited by the BBB.
That just means that it hasn't sought to get accreditation.
However, it still has an A+ rating with no complaints and more than 10 years in business, so that's always an excellent sign.
How Does Online Verdict Work?
Once you sign up with an account at OnlineVerdict, your information and email address will then be verified.
You will receive an email verification informing you that you have been added to the juror database.
You'll actually be added to a local database for cases in your actual county, so it's much like ending up on a jury at your local courthouse, but all online.
When a case in your county becomes available, you will be sent an email invitation.
You are welcome to accept or decline the invitation, so you'll never be obligated to go ahead with a case that doesn't interest you.
You're also able to answer questions about the case when you have time available.
If you can't get to one right away, that's okay.
Save it for when you can and try again.
However, it's important to note that once a case has enough responses – that could be 25 or 50, depending on the case – then it will close.
How fast cases close depends on how many people try to participate, so if there are a lot of people in your area signed up, then you might have a tough time getting to a case before it closes.
It's best to always respond to cases as soon as possible.
The best part is that all your responses should be your own opinion.
There are no right or wrong answers, and there won't be any consequences from answering differently than other people.
The point of this work is to gather real opinions from people just like you so that attorneys can better shape their cases to prepare for the real trial.
Everything you say will be confidential (no personal information is given to any attorney or their team) and the parties involved will also have their privacy protected.
Once you complete the case, you'll get paid for your time, so there's no waiting around to accumulate a minimum amount to cash out.
How to Get Started with Online Verdict
The only prerequisite to sign up for OnlineVerdict is that you must be 18 or older and a U.S. citizen.
Simply go to their web site and create an account with using one of your legitimate email addresses and a password, which you create.
I often suggest that you make a dedicated email address for all survey invitations so that you can easily find them and not have them clutter up your inbox.
You can use that email address for signing up to OnlineVerdict, too, to keep everything together and tidy.
Just don't forget to check it daily!
As far as computer equipment, any laptop or PC will do.
You may have to install Java for some cases, and you will need your own email account to get started.
Professionals from all industries, students, housewives, and the self-employed are all welcome to sign up with an account.
Earn Everything… nearly!
Join Opinion Outpost, one of the few faithful and honest survey panels and earn cash and gift cards for your opinion. Stack your points and redeem them: Simple! No hidden fees and completely free!


How is Pay Handled at OnlineVerdict?
OnlineVerdict.com pays once a month by check, which is mailed to the address that you provided upon signing up with them.
The company pays via check only to ensure that you are who you say you are and live in the area you specified upon signing up (this helps prevent fraud).
Payment will vary depending upon the length and complexity of the case, but cases generally pay between $20 to $60 a case, which works out to about $1 per minute (most cases range between 20 and 60 minutes).
There's no minimum payment amount for you to request a cash-out.
OnlineVerdict handles everything itself, sending out payments upon completion of each case.
The number of cases you are asked to review may vary as to the number of attorneys in your area using the service.
Smaller areas may not have as many opportunities available as larger towns and cities.
You will be expected to spend 20 minutes to 1 hour on each case with the time expectation mentioned in your email invitation.
There are no right or wrong answers, just give your honest reaction to the information that is presented.
There is no limit to the number of cases you can review, and there is no long-term commitment on your part.
However, you will be considered an independent contractor and responsible for your own taxes.
If you make $600 or more during a tax year, OnlineVerdict will send you a 1099 form for you to complete your taxes with.
It will send this by January 31st of the following year, so be sure to wait to complete your taxes until you receive it.
If you didn't make at least $600 with OnlineVerdict, you'll still be responsible for documenting anything you did make with the company.
Our Overall Opinion of OnlineVerdict.com
While I don't think OnlineVerdict.com is something that you can do full-time at home, I think it could become something to do for extra money.
I think it could also be something personally enjoyable as well as a welcome change to doing something different and getting paid for it.
As we say in the work-at-home (WAH) world, it can be a good extra WAH egg to have in your WAH basket.
OnlineVerdict is definitely a legitimate place to earn money online.
Numerous reviews have noted that people get paid without an issue.
The site is clean, user-friendly, and offers a lot of helpful information, unlike some similar sites that fail to provide much information at all about what to expect and how to get paid.
I like that there's no commitment ever to review cases or even remain a member.
You're free to leave as you please and decline any invitation sent to you that doesn't strike a chord with your interests.
Overall, I think this can be an excellent, flexible way to earn some money in your spare time.
The cases don't typically take as long to complete as a focus group, and some may even pay the same amount of cash for less time.
And, you'll undoubtedly make more from one case than you would from one online survey.
Combine this opportunity with your regular survey taking routine, and you could end up with extra cash every month.
How Can You Apply to Online Verdict?
Are you interested in applying to become a member of OnlineVerdict?
Go to https://onlineverdict.com/jurorssignup.php and fill out the information there one time only.
It will be stored in your online juror file from that time forth.
Then you will receive an email verification upon signing up to verify your email address.
You won't be able to do anything on the site or receive invites until you do so.
Be sure to also complete your profile with any missing information as soon as possible so OnlineVerdict can match you with cases that are relevant to you.
If you're a US citizen living abroad (such as a member of the military), you can still request to join if you have a valid US mailing address and are registered to vote and/or have a valid driver's license.
Your information will not be shared with the attorneys using the information and/or any third parties.
Good luck to all of those who apply!
Looking for Other Mock Jury Sites?
Since you'll be an independent contractor for OnlineVerdict, you are free to sign up with other similar companies too.
Although OnlineVerdict is undoubtedly one of the best, you might want a few others in your toolkit to fall back on when cases are slow.
Here are a few of our favorites:
eJury is one of the most well-known mock jury companies for people who wish to participate online.
Members must be at least 18 years old and U.S. citizens.
They also must never have been convicted of a felony or misdemeanor.
When you sign up, you'll get asked your basic information and some information that help explain your demographics, which allows eJury to match you with relevant cases in your area.
Cases will involve an attorney presenting facts about the case you're working on, jury questions he or she plans to use at trial, and additional questions that allow you to share your opinions on what's been presented.
You'll also have a chance to give your verdict based on the facts of the case, just like you would in a real trial.
Depending on the length of the case, you'll typically make between $5 and $10 per case.
These cases usually only take a few minutes to get through all the information, though, to allow you to answer questions and reach your verdict.
eJury says that, on average, a case takes about 35 minutes from start to completion, so it may be possible to earn a rate that works out to $20 or more per hour.
This company is a little different than the others in that it holds a database of jurors like yourself and randomly selects ones in your area when a case becomes available.
You also won't be participating solely online, although you might sometimes.
Most cases will require you to appear, in person, to discuss details of real cases and act as an arbitrator for the case to help them get settled.
You can voice your opinions regarding the facts of the case and the way in which attorneys present their cases.
Jurors can make up to $100 a day for their participation!
You can apply online using the form on the website, which should take just a few minutes to fill out.
Those who are selected may be contacted via email or phone.
This site is an online focus group site for people interested in helping attorneys resolve their cases by sharing their opinions.
You can register with your personal information and indicate where you live.
When cases become available in your area, Virtual Jury will contact you to help.
You'll then receive information about the case and how much you'll get paid.
After you complete a case, you'll get mailed a check by the company within two weeks.
JuryTest is an online mock jury and focus group research company, where lawyers practice trial arguments and get juror feedback on their cases before they go to court.
You'll need to be 18 years old and a U.S. citizen to qualify. Once registered, you'll be notified about relevant cases for you to review.
Typically, cases take 1-2 hours to review, and jurors are paid between $20 to $50 depending on the length and complexity of the case.
Resolution Research is a research panel that provides a platform for mock jury research as well.
Jurors provide feedback on legal cases, helping attorneys to gather data and opinions. After registration, you'll be notified when there is a case study that fits your profile.
Payments vary based on the project and the time involved, but you can expect to earn around $5-$100 per project.
It's worth noting that Resolution Research offers a wide variety of research projects, not just mock jury cases.
Trial Practices Inc. specializes in civil litigation consulting and offers opportunities for individuals to participate in mock trials.
These trials help attorneys develop strategies for real cases. Registration is available online, and selected jurors will be contacted by phone or email.
The payment for each project varies, but it's generally higher than other sites as you'll be participating in in-depth mock trials which may take up half or a full day.
Payments range from $100 to $150 for half a day to $200-$300 for a full day.
Have you completed online mock jury work?
Have you worked with OnlineVerdict, specifically?
We'd like to hear your thoughts – leave us a comment below!
Related Posts:
Earn Everything… nearly!
Join Ipsos iSay, one of the few Faithful and Honest survey panels and earn prizes, gift cards and donations. Stack your points and redeem them: Simple! No hidden fees and completely free!