Earn $10 or More an Hour as a SiteStaff Chat Agent
Updated on: by Samuel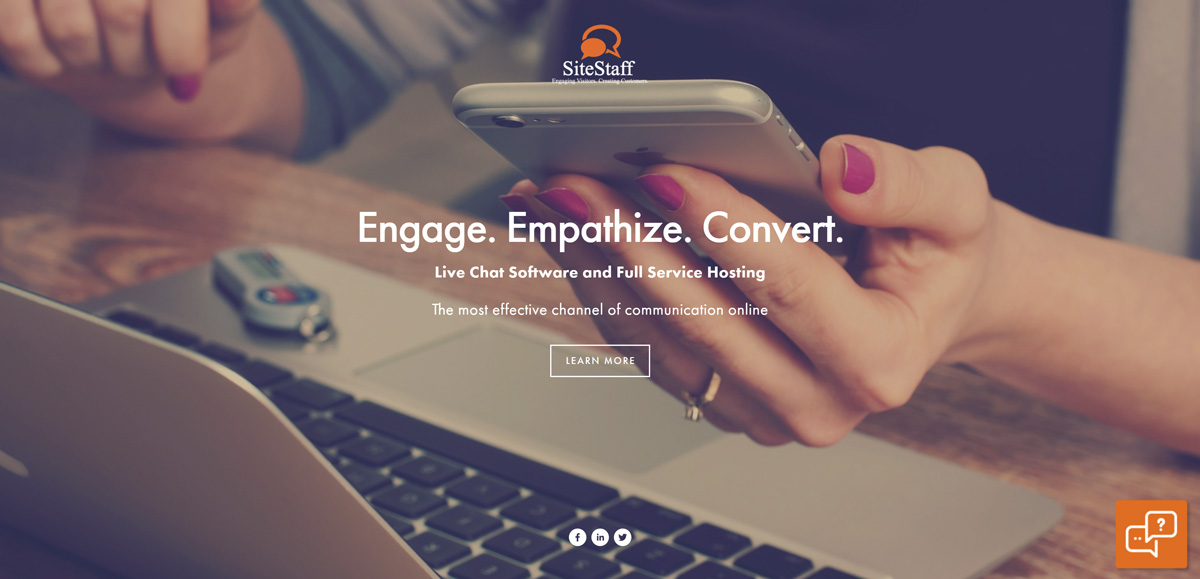 We know that live chat jobs are some of the most coveted for people who want to work from home.
Need Easy Extra $350+/Month For Free?
They're typically flexible and offer people with young children or pets in the home, or those without a separate office area, the ability to provide customer service without needing to talk on the phone.
Chat jobs often fill up quickly because there are a lot of applicants.
That, unfortunately, means a lot of competition!
Only the best applicants will get picked for most jobs.
That's why we love when we learn about new chat jobs available for remote workers.
The downside is that many of the ones we hear about end up being a scam that insists on targeting people who want to work from home.
Others are 100% legit.
One of the seemingly legit companies is SiteStaff, a company that's been offering live chat positions for several years now.
We first reviewed this company way back in 2012, so it's definitely due for an update!
If you're curious about SiteStaff's chat jobs, how much they pay, and what they require from you, then continue reading this review to get the information you need.
What is SiteStaff?
SiteStaff offers chat hosting for businesses' websites.
It allows businesses of all sizes and resources to have the option to utilize online web receptionists via chat to assist online customers.
SiteStaff hires virtual chat hosts to work from home.
I am always a bit un-trusting of any of these Chat Based jobs as it seems every time I have found one in the past, I get excited knowing how many of you readers are looking for chat-based work.
Then, I am sourly disappointed by the lack of pay or legitimacy of the company.
Need Easy Extra Cash?
Pinecone Research, a leading name in online survey panel honesty, absolutely guarantees $3 cash for every survey you complete!
Take advantage of their time limited New Membership drive and register NOW. Join today: 100% free!


So I took a closer look at SiteStaff to create this SiteStaff work from home review and let you know a little more about the chat job it offers.
SiteStaff's website was just created in May of 2011, or at least that's when the domain was purchased.
The company works to create and maintain chat software for companies who want to use live chat services, as well as provide those companies with chat host staffing services.
That's where you come in!
You can become a SiteStaff – Chat Host while working from home with a flexible schedule to help out SiteStaff's clients.
What Exactly Do Chat Hosts for SiteStaff Do?
SiteStaff chat hosts will be working with SiteStaff clients to provide live chat services for their websites.
It is safe to assume, then, that each client SiteStaff works with will have different needs.
Therefore, the work will vary depending on the project.
Some clients may need you to work virtually via chat to set appointments or answer basic questions about the company and their products or services.
Others might need you to answer customers in detail about product questions.
Other jobs might focus more on helping customers navigate the site itself or their member accounts.
No matter what, it's crucial that you have an excellent ability and desire to help people in some way, shape, or form.
What are the Requirements to Work for SiteStaff?
According to reports online and some website information, applicants should have the following prerequisites to become a Chat Host for SiteStaff:
Type 60+ wpm
• Own a reliable computer with speakers
• Have a reliable Internet source
• Grammar/spelling proficient
• Have no distractions during work hours
• Able to use chat software or instant messaging software
• Have comfort surfing the Internet quickly
• Possess a fun personality and able to chat with web visitors online regarding products and services
• Must be able to work at least one-weekend shift
• Be able to work shifts that consist of 4 to 5 hours at a time
Although it's not required, SiteStaff does give preference to people who are bilingual so the company can help as many clients as possible.
You also must be able to multitask, as you could be running 3 to 4 chats at one time.
SiteStaff also prides itself on being a close-knit team that stays in communication with its other team members.
Therefore, it's crucial that you're a team player who doesn't have an issue occasionally jumping on a team chat to discuss important information.
Finally, it could also help you to have prior customer service experience, although, again, it's not a requirement.
Read More: Top 45 Email & Online Chat Jobs from Home
Will I Be an Independent Contractor or Employee?
SiteStaff reportedly hires Chat Hosts as independent contractors.
This is a bonus for those of you who want to have more control over when and how you work.
Rather than being stuck to a given schedule and told exactly how to do your job, you, as an independent contractor, can take the reins.
You'll still need to adhere to some scheduling restrictions, like scheduling yourself during certain blocks of time, but you'll have more flexibility in general than an employee.
Remember that independent contractors are responsible for paying taxes from their income, though, since you won't have an employer to do it for you.
Just keep that in mind, and you might want to consult an accountant just to make sure you're doing it all correctly.
How Much Does the Chat Host Position Pay?
Research shows that SiteStaff pays about $10 an hour, although I haven't found anything on the website itself that explains more about the pay rate or when or how SiteStaff pays (how often, with PayPal, etc.)
However, most companies that offer similar jobs usually pay based on the client and project.
Every client is different and each project you'll work on will be different, so it's possible that you can make different rates for each client.
Some reports also note that SiteStaff has more sales-focused positions that also offer commission in addition to an hourly rate, so it's possible that you make more for those positions than you would as a chat host.
Earn Everything… nearly!
Join Opinion Outpost, one of the few faithful and honest survey panels and earn cash and gift cards for your opinion. Stack your points and redeem them: Simple! No hidden fees and completely free!


Is SiteStaff Currently Hiring?
SiteStaff doesn't typically post on its site when it has open positions.
Instead, you'll need to fill out the form on this page if you're interested in working as a Chat Host.
The site says that it will give each applicant "immediate consideration" after filling out the form, but there's no clear evidence that SiteStaff will get back to you quickly.
And, once it does, there's no guarantee you'll be offered a job as a Chat Host.
Instead, it seems as though this application form is a way to keep your details on file should SiteStaff have more staffing needs arise with its clients.
Then, it'll pull applicants that it feels best fit the needs of the clients that need help and contact them with further information.
If you do make the cut, you may have to move into a more detailed application and interview process, but I, unfortunately, couldn't find much information about that.
I did, however, see that SiteStaff does provide training to candidates before they move onto client work, but it's unclear whether that training is paid or not.
In other words, it looks like there are a few questions you'll need to ask SiteStaff recruiters if you do get to move forward!
Is SiteStaff Legit?
From what I can tell, SiteStaff is a legitimate place to find chat host jobs online.
The main problem I see is that there is such a lack of information on SiteStaff's website and around the web about what these jobs are really like.
The website has just a bit of information about the job and its requirements.
Usually, I can find out more by browsing the web, like on review sites and work at home forums.
Unfortunately, my search for SiteStaff information turned up limited.
I did see a few reviewers praise the company for offering flexible work for people who work from home and decent pay.
It seems like most of the complaints from chat hosts stem from them wishing the company would expand a little more.
They'd like to see more opportunities to work with clients and more positions open up for those who want to work with SiteStaff.
It's important to remember, though, that SiteStaff is still relatively new at only a few years old and it takes time to grow a strong client base.
Once it's able to do so, it seems like SiteStaff could really take off in the live chat industry.
SiteStaff Alternatives
If you really want a chat job you can work from home but SiteStaff isn't getting back to you or you just don't think it's a good fit, then I encourage you to look into the following companies that might be more suitable for you:
Formerly Convergys, Concentrix is one of the most well-known companies for offering chat jobs to remote workers.
This company works with clients in various areas, so its positions may vary greatly.
However, Concentrix will do its best to match you with projects that fit your needs, interests, and skills.
When you apply for Concentrix, I suggest noting that you're interested only in chat support work.
OutPlex is a company that offers various services to clients, such as call center services, social media management, and chat help.
You can sign up for open positions as they arise, which typically coincide with client needs.
The company does occasionally have openings for chat agents when the need arises.
You can find all the work at home positions by heading to the Careers page and clicking on Work at Home Positions before hitting Search.
The work at home opportunities are currently only offered to United States residents.
Who wouldn't want to work for Apple, possibly one of the most well-known tech companies in the world?
Apple At Home Advisor positions can be either phone-based, chat-based, or a combination of the two.
Chat Advisors typically handle customer complaints, questions, and requests via live chat and email.
The company hires people with customer service experience to provide customer support or tech support to its customers, so it's important that you have at least a basic knowledge of Apple products.
As its name suggests, The Chat Job is all about live chatting.
The company connects its clients with chat agents who'll provide their services for customers.
Depending on your clients, you might be providing tech support or customer support.
You'll need to live in either the US (only people in specific states are eligible) or UK to apply and you should be able to type at least 65 WPM.
You can apply online to get the process started.
Then, a recruiter will let you know if you've moved on in the process, which entails a phone interview, live chat interview, and an assessment.
You should have references available when you apply.
Arise is a customer call center outsourcing service.
The company provides its clients with customer support staff that work all over the world from remote locations.
Not all jobs the company offers are chat-based, but some may be depending on the client's needs.
Arise is known to be one of the fastest companies for getting applicants into a paying job with a client as soon as possible, so it could be a great opportunity for you to start making money quickly.
LivePerson is a company that provides real-time customer chat solutions for businesses of all sizes.
The company's platform offers features such as automatic routing, analytics, chatbots, and many more, enabling businesses to optimize their customer service operations.
The company hires remote employees and offers a range of job positions that include roles for live chat operators.
While it's a global company, location requirements may vary depending on the position.
LiveChat is another alternative for individuals looking for remote chat job opportunities.
The company provides a software solution for online customer service and support, used by businesses to manage communications with customers.
It employs remote workers in positions like customer service agents and technical support specialists.
The company is globally recognized, but availability of roles may depend on location and specific job requirements.
Zendesk is a customer service software company that offers a suite of tools designed to improve customer relationships.
It offers products for support, sales, and customer engagement. It's well-known for its robust chat support system.
Zendesk often has job listings for positions related to chat support or customer service.
The company has a global presence and offers remote work opportunities, but the specifics may depend on the job listing.
Support.com is a company that provides tech support solutions for businesses and consumers.
This includes offering a remote workforce of tech support specialists that can assist customers over the phone or through online chat.
The company frequently hires for remote positions, including roles as chat support specialists. As with the other companies, the availability of these roles can vary based on location and other factors.
I hope that you find the chat job of your dreams, whether it's with SiteStaff or one of the other excellent companies I mentioned here.
Have you worked with SIteStaff?
If so, we'd love to hear from you.
In the comments, let us know what the application and interview process was like, what the job itself is like, and what you thought about it.
Related Posts:
Earn Everything… nearly!
Join Ipsos iSay, one of the few Faithful and Honest survey panels and earn prizes, gift cards and donations. Stack your points and redeem them: Simple! No hidden fees and completely free!