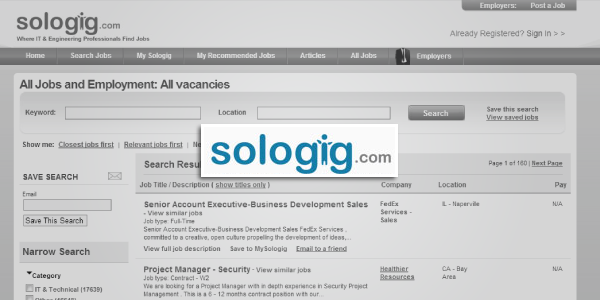 Need Easy Extra $250+/Month For Free?
Do you ever long for your former corporate salary while working at home?
Have you ever considered trying a freelance position where you would leave the house a few times a month then work from home the remainder of the month?
If you have answered "yes" to either of these questions, then SoloGig.com might have the perfect opportunity for you.
What is SoloGig.com?
SoloGig is a professional online career site, which is a division of CareerBuilder. Many of you will recognize CareerBuilder as being one of the largest and best-known US online career sites. SoloGig largely—but not exclusively—caters to the IT profession and those who work in it. SoloGig offers jobs ranging from IT engineers and software developers to bookkeepers, clerical workers, and web designers all needed for the IT profession.
These jobs are both traditional full-time/part-time jobs as well as telecommuting and freelance positions.
Some of these freelance positions can even become long-term WAH positions after the initial meeting. While other freelance positions only require one or two onsite meetings per month, the requirements will vary from company to company.
SoloGigs is FREE to join and set up a profile there. Employers pay, but applicants do not.
How do you get started with SoloGig?
Go to SoloGig.com and create an account with your email and a password. The account will include your contact information, and then you will be prompted to add a resume and a profile. Once completed SoloGig will send you a welcome email with links to the job search management tools, resume posting tools, and job recommendations. You will also be set up with job alerts for the types of jobs that you are interested in and have SologGig send them directly to your email account.
SoloGig will also continue to send you their newsletter with job search and career advice, career/job fair announcements, and product and sponsor information including educational opportunities.
When I clicked on a career fair, there was even a link there on how I could even start my own bookkeeping business. So, there are some great WAH resources as well.
What are some of the features of SoloGig's web site?
On the navigation bar, there will be a Home page where you will sign up and create your account. The Search Jobs feature will allow you to search any type of job by either closest jobs, relevant jobs or newest jobs first.
My Sologig helps you manage the jobs that you have already applied to or are considering applying. It also allows you to follow companies much like you would on Facebook. My Recommended Jobs is Sologig's search engine that will remember your searches, scan your resume, and collect details from jobs to which you have applied.
How do freelancers bid on jobs?
Actually with SoloGig, you won't be bidding on jobs but applying to jobs. This would be done just as if you were applying to a regular Brick and Mortar job. Again, the majority of the jobs are traditional jobs, with some telecommuting jobs and some freelance jobs added to the mix.
Once you are officially set up at SoloGig.com, you will be able to start searching for jobs by using the navigation bar described above.
What types of freelance jobs can be found on SoloGig?
Again, these are jobs in the IT field ranging from IT engineer to clerical. Companies such as Cisco, Verizon, and Fruit of the Loom are all companies that post on SoloGig.
However like Monster.com, the "pickings" may be limited as far as freelance jobs are concerned. However the freelance jobs that are listed are in the "high-end" pay range of $40 to $80 an hour. At these higher salaries, it would make sense for a company/client to want to "see" you more often. Most freelance jobs, which my one friend has used, required her to show up 4 to 6 times per month with the rest of the communication being done by phone or email out of her home.
As you can imagine at $40 to $80 an hour, there must be more accountability. So while it is a "freelance position", it can also mean that it is NOT a 100% WAH job. There will be some face-to-face contact with the company. Unfortunately, you will also be limited to your area or closer proximity to where you live.
For example, I typed in http://www.sologig.com/jobs/keyword/freelance+marketing and found that most of the jobs as a freelance marketing consultant were around $55 to $80 an hour.
What are some of the "WAH perks" that go with a FREE membership to SoloGig?
There are great tools at the bottom of the SoloGig' web site. One tool is a salary calculator to figure your earning potential based on education, experience, profession, and location.
There are also free career tests, which score job satisfaction and career advice. There is also a resume critique service that will critique your resume for your job and offer you assistance for rewriting it.
Lastly, there are certifications to earn. The CareerBuilders Institute's Top 5 Certificates are:
Project Management
Customer Service
Change Management
Business Etiquette
Linux Certification
How is pay handled at SoloGig?
The pay will depend upon the client/employers at SoloGig. Some clients pay weekly and some pay bi-weekly. You would need to verify that once you have applied.
How can I use SoloGig in searching for a WAH job?
Again, if you don't mind leaving the house a few times a month and being limited to working in your area, then apply for a freelance position of your choice. If the job seems to be working out, you may be able to request more time from home and less time in their facilities.
One thing you can always try with career sites like SoloGig and Monster, is to write a persuasive email or letter to the potential employer explaining why it would be to their advantage to hire a freelancer. You could explain how they can save time, money, and office space by hiring an experienced freelancer—like yourself.  You could actually do this with any job and not just the freelance jobs. Use this as an opportunity to educate others about the work-at-home community.
What is my overall impression of SoloGig as a resource for WAHers?
I think SoloGigs can become a good tool for WAHers. It can be used as either a resource for WAH advice and seminars or a tool to find those high-paying WAH freelance jobs.
While the freelance jobs do require a couple of face-to-face meetings per month and you are limited to your area or whatever distance you are willing to drive, start applying to the freelance jobs. These freelance jobs could also lead into a permanent job should you ever decide you want to pursue that option.
How can I apply to SoloGig?
Simply go to www.SologGig.com and create an account by selecting your current email address and a strong password of your choice. Attach a resume and fill out your contact information. You can also create a portfolio with samples of your work.
Good luck to those who apply.
Related Posts:
Teach English via Video-Conferencing for $14-$22 Per Hour

VIPKID is currently looking for online teachers to teach young students in China via video-conferencing. Teachers will earn on average between $14-$22 usd per hour. This opportunity is ideal for teachers looking to supplement their income.
Requirements:
- One (1) school year of traditional teaching experience or the equivalent in mentoring, tutoring, or alternative education
- Bachelor's degree in any field
- Eligibility to work in the US or Canada