22+ of the BEST Places to Find Work at Home Job Openings!
Updated on: by Amy Kennedy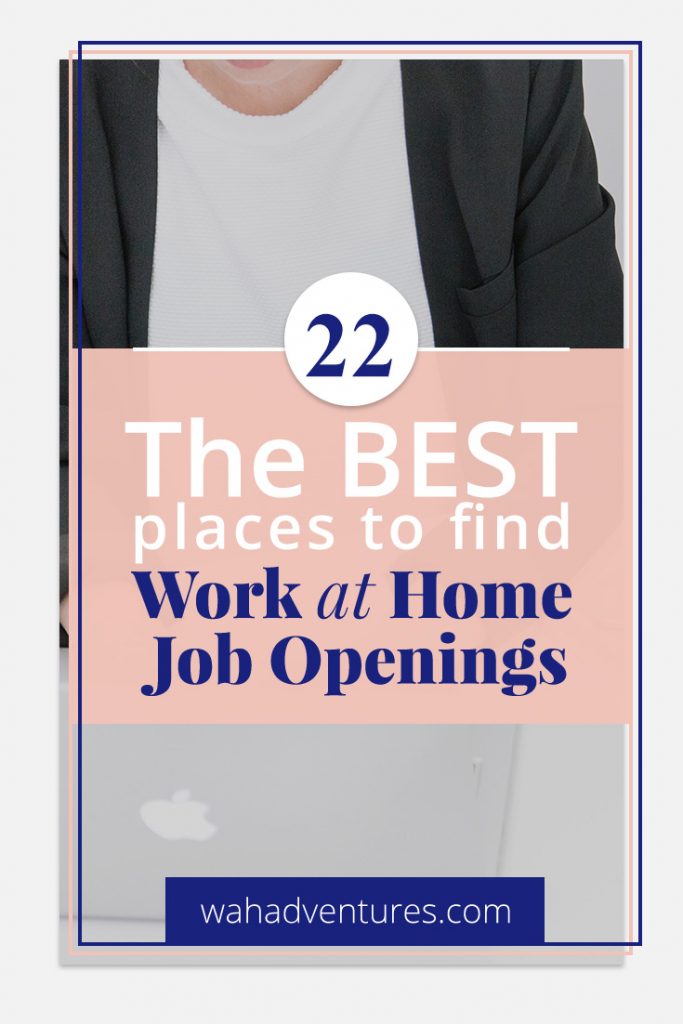 I've heard it time and time again.
Need Easy Extra $350+/Month For Free?
So many people want to work from home but many of them seem to have trouble finding legitimate work at home jobs.
The problem is that many listings seem legitimate but often lead to scams that try to swindle you out of your money by making you feel like you're getting a great job.
Trust me – there are plenty of REAL remote opportunities out there, but they come down to finding them using legitimate job boards.
A job board that vets its postings is the best type of board to use.
This means that someone personally browses for jobs and posts them, checking each listing to ensure it's legit before posting them.
However, there are some other job boards that have been around a long time and are very trustworthy even though they don't vet each listing individually.
We've compiled a list of some of the best places on the web to find real work at home jobs.
Keep them bookmarked and check them often.
You might be surprised by how fast you find your dream job!
Where to Find Legitimate Work at Home Job Openings
That's right – our very own baby, Work at Home Adventures, features a job board specifically geared toward helping you find a work from home job.
The board updates several times each week with new listings in a variety of categories, so there's a little something for everyone.
If you're looking for a phone-based job, you can head to our Phone Jobs section to read all our articles and guides related to this work (we list a lot of companies in our posts!).
We also have non-phone job listings because we know many of you have kids and pets at home, or no dedicated office space, which aren't ideal situations for phone work.
If you do happen to land a WAH job from one of our listings, we would love for you to share about it in the comments and tag us on social media!
Work Place Like Home
(Updated 2023: WorkPlaceLikeHome is no longer a working site)
Need Easy Extra Cash?
Pinecone Research, a leading name in online survey panel honesty, absolutely guarantees $3 cash for every survey you complete!
Take advantage of their time limited New Membership drive and register NOW. Join today: 100% free!


There are many helpful people at Work Place Like Home who post leads they find while doing their own research.
Also, businesses will occasionally announce their need for people on the board and they even sometimes hang out to answer any questions people have!
Workplacelikehome.com is a closed forum that requires you to register in order to view or post a message.
It is free and although some find it burdensome to register, the process helps keep the site from being spammed as much as other similar open forums.
This is a section of the WAHM.com site that posts daily job leads!
I like how steady they are about posting leads and I have found some of the best home-based job openings there.
Just keep in mind that many of the postings are for telecommute jobs that sometimes require you to visit the office or are only partially telecommute.
So, just keep an eye on whether the job is at home all the time or not and you will be fine.
The WorkAtHome forum is another section of WAHM.com where members discuss work at home jobs, which is perfect if you're trying to weed out the low payers or scams to find legit jobs that are worth applying for.
People are generous enough to share job leads and companies they know of that are hiring.
I do not visit this one regularly just because it is messy, it is an open forum and so people like to post links to things that are not quality leads.
But it is a good place and I have found a lot of value with it in not just finding out about job openings but also in learning more about the jobs themselves.
This is one of the first places I began looking, years back.
The site as a whole is great for Work at Home job seekers but the Daily Leads are the most valuable!
Some things to keep in mind, many times the jobs listed are for specific areas, so keep an eye beside each listing.
Usually, there will be a city or state listed in parenthesis if it restricts its hiring to certain areas.
Also, the top listings, the ones that are indented and listed under Featured Jobs from Screened Advertisers are paying to be listed.
But I have never noticed Rat Race selling out to any kind of scammy or low-quality home based job lead just to make money for listing.
The site is a genuine service, they have costs to maintain and they spend a lot of time giving free leads, so I hope they make enough from their paid listings to keep it going and keep it free to us!
This site posts daily, featuring a home-based job lead.
The owner of the site, Lisa, is a good friend I met online thanks to us both working in this field.
She is good at providing a range of different types of job leads.
Although you will often see that many of the listings have specific job skills or experience, it also lists general work at home jobs that many people qualify for.
I suggest signing up for her newsletter to get her daily featured home based job post sent to your email box!
The job listings here are really geared more toward freelance writers, especially blog-style writers.
However, I realize that a big chunk of people working from home have turned to writing.
The market is flooded with sites and people who need articles of all types written!
Even if you are not an experienced writer, you may have a specialty or an area of interest that someone needs written about!
If you have passion for something, your writing will show it.
Earn Everything… nearly!
Join Opinion Outpost, one of the few faithful and honest survey panels and earn cash and gift cards for your opinion. Stack your points and redeem them: Simple! No hidden fees and completely free!


Very similar to ProBlogger except that they don't only list telecommuting jobs.
You will have to sift through each and look toward the top for the location they list.
Look for words like "Anywhere, Remote, Telecommute" to stay home and work for any of the writing jobs posted at BloggingPro.com.
Work from Home by Demi
(Updated 2023: This is no longer a working site)
Another place that lists daily job leads.
She usually has a good variety of work and she is consistent at posting daily.
Many times I find unique listings on this site, ones that everyone else has not listed.
So I try to visit this site regularly to find any diamonds!
…Or any other mainstream job boards.
It can be difficult to find home based job leads on these boards because it is flooded with so many jobs and many spammy type of jobs that really are not of interest to anyone looking for a genuine home based job.
But with the right keyword search and a good eye you can find some great job leads- especially if you are fine with phone work and customer service based jobs. (Keyword suggestions: telecommute, remote, work at home, home based)
I mentioned that many job board sites can be great spots for finding work at home jobs, but I wanted to mention one of my favorites: Indeed.
This place has so many jobs available in every industry, but it's also one of the best I've found for finding remote work.
Although there's no specific Remote category, you can simply type "Remote" or "Home-Based" in the location search bar along with a keyword of the type of job you're looking for.
This will pull up anything that matches, leaving you with several work from home jobs to browse through.
The system isn't perfect, so you might find a non-remote job or two in your results, but you can look at the location description to quickly see what is and isn't remote-friendly.
I have mixed feelings about this site but there is enough value to it to list here.
Genuine Jobs keeps their home based job boards up to date and active. However, it will require a good eye to sift through the jobs listed to find the good ones.
I see a lot of scam type jobs posted but I have also found many solid job leads.
If you do not have a trained eye to spot a scam right away, it may be a good idea to avoid this site or you will need to do a good job at researching to be sure to avoid losing money, your personal information or a lot of time.
(Updated 2023: Although the job board no longer appears to be updated regularly, this is still a good resource for people who want to work from home!)
This is another site where I know the owner on a personal level. I know she spends a lot of time and puts a lot of heart into her site.
She lists job leads weekly, which is why I had to put it down to number 11. I don't visit it as regularly as the daily posted sites.
Also, she mostly lists Craigslist listings.
But my fear of Craigslist is really not warranted as there is spam and scam on every board.
Craigslist does have a tremendous amount of quality job listings and if you have a good eye, like Traci from All Stay at Home has, you can find good home based job openings!
I have never noticed a bad listing on her site, I think she does a fantastic job of only posting quality telecommuting leads.
Speaking of Craigslist, you can go directly there to find remote work.
However, as previously mentioned, you just have to keep a keen eye out for anything that looks fishy.
Craigslist can be a great place to find jobs of all types, but not everyone is as honest as they seem.
Since it's usually free to post on Craigslist, there's nothing that really keeps junk postings out of the system.
You can always contact the poster and ask questions relating to the job to see if it's something you want to continue with.
Just be sure to remain alert and never give out financial or personal information to the job poster.
If you have a LinkedIn account, don't forget that you can browse jobs for free!
I would say that most jobs on LinkedIn are on-site jobs, but by using the search bar, you can look specifically for remote ones.
Make sure you keep your profile updated with your contact information and work experience so recruiters can check it out.
Also, let recruiters know you're looking for work by marking it in your profile!
This way, others can find you via search if you're a good match for their jobs.
This is another job search board that caters to the work at home crowd.
Remote.com is free to sign up for and use, and others can find you if your profile matches with their needs.
One of my favorite things about this website is its design, which makes it so easy to find what you're looking for and sift through jobs.
You can sign up for a personalized newsletter for the type of work you're looking for that gets delivered right to your email.
This site is updated daily with a curated list of remote-friendly jobs from around the web.
You can search by keyword and location (the site offers jobs for people all over the world) to narrow your search.
Help Welp also offers emailed job alerts based on your chosen keywords for jobs.
The Mom Project is devoted to finding moms jobs.
There are both on-site and remote jobs listed here, but you can create a profile that outlines what type of work you're looking for.
Then, The Mom Project will email you when you've been identified as a potential candidate for any new job postings.
The companies that list jobs on the site are all family-friendly, meaning that they pride themselves on promoting a healthy balance between work and life for their employees.
The roles here are professional and competitive, so make sure your profile really stands out and you showcase your best!
This job board has remote jobs for marketers, customer support workers, designers, and other professionals who don't want to be confined to an office.
It's $299 to post a job here, which is good for you.
That means that each one is likely to be a quality job if someone's willing to pay that price just to get their listing out in the open.
Even better: It's free for job seekers to use!
FlexJobs is a leading online job board that specializes in flexible and remote work opportunities. 
With its establishment in 2007, FlexJobs has gained a solid reputation for providing legitimate job listings and connecting job seekers with remote-friendly positions. 
They meticulously screen each job posting to ensure they are free from scams and remote-friendly, saving job seekers time and effort in their search.
 FlexJobs offers a wide range of job categories, including freelance, part-time, and full-time remote positions across various industries. 
While a subscription is required to access their full database, FlexJobs offers a 30-day money-back guarantee to ensure user satisfaction. 
It is a trusted platform for individuals seeking flexible work arrangements or remote career opportunities.
Jobspresso is a curated job board that focuses exclusively on remote job opportunities. 
It serves as a central hub for remote job seekers to find relevant positions across different industries. 
The platform handpicks remote job listings from companies worldwide and presents them in a well-organized manner. 
Jobspresso covers diverse sectors such as technology, marketing, design, customer support, and more. 
With its user-friendly interface, job seekers can easily navigate through the available positions and apply directly through the company's website. 
Jobspresso caters specifically to those seeking remote work and provides a streamlined experience for job seekers to find remote positions that align with their skills and interests.
Pangian is a platform dedicated to connecting remote job seekers with remote job opportunities worldwide. 
It offers a wide array of remote job listings across industries such as technology, marketing, design, customer support, and more. 
Pangian aims to create a global remote work ecosystem and supports individuals in finding meaningful remote job opportunities. 
In addition to job listings, Pangian provides a community aspect where users can connect with like-minded professionals, access valuable resources, and participate in virtual events. 
Through its community, Pangian fosters collaboration, networking, and knowledge sharing among remote workers. 
The platform strives to empower individuals to embrace remote work and discover fulfilling remote career paths.
NODESK is another site that caters to the remote working world.
Sign up for free to have access to the job board and emailed job alerts based on your job preferences.
You can also sign up for a free newsletter to get news about the latest jobs.
Upwork is a place you'll want to be if you're a freelancer, particularly if you have one specific set of skills you'd like to offer clients.
Here, you'll create a profile tailored around that skill.
You can then search for gigs clients post and apply to those you want to work on.
Upwork uses a bid system where you'll use Connects to apply for jobs, send a proposal, and wait to hear back from the client.
In your proposal, you can outline the scope of work and your desired rate.
Upwork recently started charging for Connects, but they're really cheap.
As long as you're only applying to jobs that interest you, you shouldn't have to worry about spending a bunch of money on Connects.
Be careful, though, because although most jobs on Upwork are remote, not all will be.
Just be sure to fully check each job posting description before applying.
The Penny Hoarder is a site dedicated to helping people make and save money.
Not only is there a work from home job board here that lists all kinds of remote jobs, but you can also browse the site's huge database of company reviews, articles, and other resources to help you make money at home.
The thing I love about its job board is that you don't even have to click the link to a job posting to see what states a job requires its applicants to be from.
Some remote jobs, even though the work is remote, still require applicants to be from certain states, so this is helpful for weeding out those jobs that don't apply to you without wasting time.
Social Media
I've used my own social media accounts before to look for freelance writing work, so I know it can work for others!
Believe it or not, Facebook and Twitter can be perfect places to gather work at home job leads.
On Facebook, I join groups related to remote work in general, and then more specific ones relating to freelance writing work.
There is likely a Facebook group for almost any type of remote work you want to do!
You can also search on Twitter using hashtags like #remotejob, #workathome, or #hiring.
Use more specific hashtags to find the work you're looking for, like #remotedesigner or #remotetranscription.
Don't forget to follow your favorite work at home websites, too, like Work at Home Adventures!
They'll often use social media to post new job leads as they get them, so you can stay on top of the latest postings.
Google
Some people don't know this, but Google has rolled out a feature that helps you in your job search.
All you need to do is type the kind of job you're looking for in the search bar, like "remote jobs".
Then, Google works its magic and will pull up a box with a list of jobs that match your criteria.
In this case, it'll pull up a bunch of remote jobs in various categories.
From there, you can click on a category to narrow your search, or just browse through the list of jobs to find something that interests you.
You can also search with narrower criteria, like "translation remote jobs" or "graphic design work at home jobs" for Google to find you more of what you're looking for.
Read through the job listing and click the link Google provides to be taken to the place to apply.
Read More: 62 Work at Home Jobs That Do Not Require Background Checks
Finding Your Perfect Work from Home Job
There you have it – a bunch of places to find legitimate work at home jobs that can get you on your way to landing your dream career.
You can also Google industry-specific job boards or forums to help you in your search.
If you are looking for a specific job type, such as Medical Transcription for example, then look for forums that are based on that line of work and you will likely find valuable resources, people listing jobs or you will find out where others are finding work within your category.
For example, a freelance writer might Google "freelance writing job boards" to find job boards that specifically list writing gigs.
And always, ALWAYS do your research.
It takes about 5 minutes, usually, to find information about a company online, whether it's a review, on the BBB, or on a message board.
It could save you a lot of hassle applying to something only to find out it's not a legitimate job that's worth your time.
Take these steps and you'll be on your way to working from home and being your own boss.
Know of some other places to find work at home job leads that we didn't mention here?
Please share them with us in the comments!
Related Posts:
Earn Everything… nearly!
Join Ipsos iSay, one of the few Faithful and Honest survey panels and earn prizes, gift cards and donations. Stack your points and redeem them: Simple! No hidden fees and completely free!