Get It Free Review: Is This Coupon and Freebie Site Legit?
Updated on: by Amy Kennedy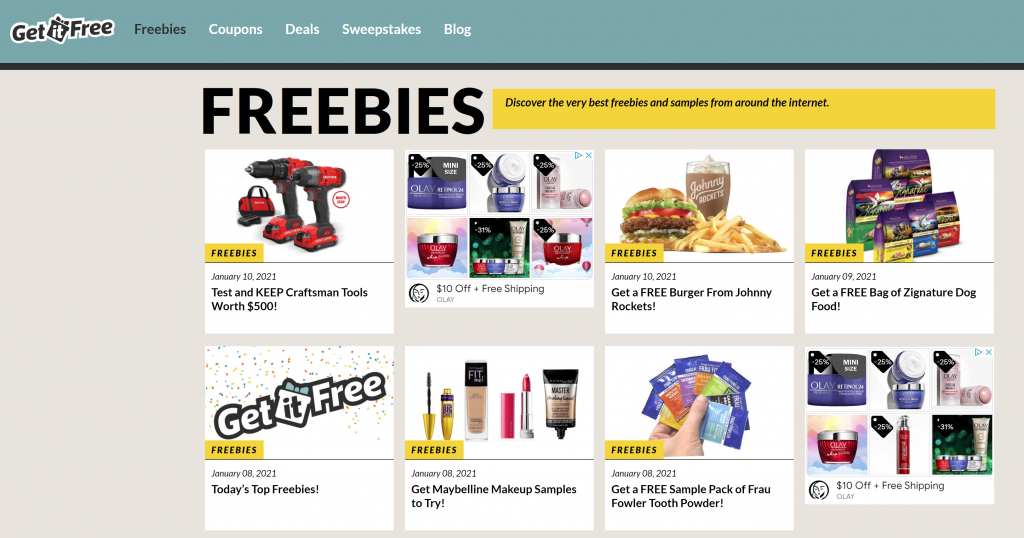 There are tons of deal sites online.
Need Easy Extra $350+/Month For Free?
Literally, it feels like millions.
But not all of them are equal – or even legitimate.
One I came across more recently is Get It Free, a site that claims to offer free stuff, coupons, and deals to its audience.
Because this one hadn't been on my radar yet, I dug into it to learn more about how it works and whether it's a legit website for finding samples and other freebies.
What Is Get It Free?
Get It Free is a site that looks much like other deal and coupon sites on the web.
In addition to giving out coupons and promo codes, though, this site also has freebies for you to take advantage of.
In other words – you can get stuff for free!
I tried to find out more about this site, like who made it and what company, if any, it's associate with, but our search didn't turn up anything.
Look on the website, and you won't find out any more than I did, either.
There's no company name or address, and even the About Us section doesn't say much.
According to the company's page on the Better Business Bureau (BBB) website, it's about 10 years old.
How Does Get It Free Work?
Get It Free is very similar to other coupon and deal sites.
When you visit, you'll see a bunch of deals right on the homepage.
Click on a deal, and you'll go to another page that lists the details of the deal and what you need to do to get it.
Some deals will require you to fill out a form, others might take you to a website, and some might have you fill out a survey to get them. It all just depends on the specifics of each offer.
Need Easy Extra Cash?
Pinecone Research, a leading name in online survey panel honesty, absolutely guarantees $3 cash for every survey you complete!
Take advantage of their time limited New Membership drive and register NOW. Join today: 100% free!


Users of the site must be at least 13 years old so that the site can comply with internet privacy laws for children.
If you're under 18, you'll need a parent's permission to use any part of the site.
Otherwise, you're free to browse, sign up for whatever offers you want, and enter sweepstakes.
Here's what the site offers:
Freebies
The Freebies section is where you can find free stuff to get shipped to your home, free downloads, etc.
Get It Free also has a new post each day that lists all the new freebies for that day.
This will be the first post on the homepage and in the Freebies section.
You can click there to see what's new or simply browse the Freebies section to see what's been posted recently.
When you find a freebie you want to take advantage of, click on it to go to its page with more details about how to claim it.
Click on the Redeem Now button to find out what to do to get your freebie.
Remember, these are freebies, so you shouldn't need to buy anything to be able to claim them.
Coupons
The coupons on this page are digital or print coupons that you can use for online or in-store shopping trips, depending on the details of the coupon.
The site actually works with Coupons.com to provide the coupons to its audience, so you'll essentially be using that service when you utilize the coupon section.
Basically, Get It Free uses affiliate links to Coupons.com, so any time you click those links and get coupons from Coupons.com, Get It Free earns a commission.
To use a coupon you find on Get It Free, just click the link to find it on Coupons.com.
Deals
The Deals section is where you'll find discounted products and services to buy.
Again, Get It Free uses affiliate links to link to these products and services on the sites on which they're offered.
For example, you might click on a deal for a toy you want to buy that redirects you to Amazon where you can purchase it.
When you buy it, Get It Free may earn a commission on the sale.
Sweepstakes
The Sweepstakes section has a bunch of offers you can click on to enter sweepstakes to win products, services, gift cards, and more.
This section is also not directly through Get It Free.
Instead, the site links to other sites and companies that are offering the sweepstakes.
Click on a sweepstakes you want to enter and continue clicking through the page until you reach the site where you can enter the sweepstakes.
Guides and Resources
The Blog section of the site is where you'll find buying guides and other resources to help you save money.
There's a lot of information here and the site publishes new articles a few times each week.
You'll find videos for recipe tutorials, making GIFs, and other fun stuff to do.
There are also articles about saving money on food, saving money for the holidays, getting paid more at work, etc.
Plus, you'll find product guides for specific types of products to help you know what to buy when you're looking for something in a specific category.
The Blog section can be a fun area to browse if you're looking for some inspiration, fun activities, and new ways to keep some money in your wallet.
Earn Everything… nearly!
Join Opinion Outpost, one of the few faithful and honest survey panels and earn cash and gift cards for your opinion. Stack your points and redeem them: Simple! No hidden fees and completely free!


Get It Free Review: Here's What Others Say
I went through several review sites and forums that talk about Get It Free to find out what real users say about it.
Some of the sites I looked at were the BBB, Consumer Affairs, TrustPilot, SiteJabber, and Reddit.
Here's a summary of some of the pros and cons I found:
Pros
The reviews for Get It Free were overwhelmingly negative, but there were a few good points:
Some Get What They Sign Up For
Although this isn't a common statement to see about Get It Free, some users really do end up getting the freebies that they signed up for.
Most of the reviews said exactly the opposite, so it's difficult to tell if these few positive reviews are legitimate or if they're paid by Get It Free to make the site seem legitimate.
Still, there are some positive reviews out there, so it's only fair to mention them.
The Blog is Helpful
This is one that I do agree with.
I really enjoy the blog on Get It Free.
There's a lot of fun, informative, and helpful content here in the form of videos and articles.
The articles and videos have useful tips for saving money on your grocery shopping, bills, holiday shopping, and so much more.
If there's one thing to enjoy when you visit the site, it's the blog.
The best part is that you can access any article for free without signing up or filling out anything.
Cons
There are a lot of negative reviews floating around about Get It Free, and I've listed the four most common complaints here:
Lots of Emails
I don't know anyone who wants to get their email inboxes attacked by emails several times a day by one company.
But it seems that's what Get It Free does when you sign up for a freebie.
Not only do people say that they end up getting tons of daily emails from Get It Free, but they also end up with tons of emails from other companies after signing up for a freebie.
There's a good chance, then, that Get It Free might be collecting your information to give to its advertisers for them to market to you, too.
The worst part is that many people who've had this issue can't seem to find a way to stop Get It Free from emailing them.
The emails do have an Unsubscribe link in them, as required by law, but when people try to unsubscribe, they still get tons of emails.
Some People Even Get Phone Calls
I also read that some people get their phones attacked by advertisers after trying to sign up for freebies at Get It Free.
Some freebies require you to enter your phone number when you fill out the form for them, which could get you into a slippery slope of marketers calling your personal number.
If you do want to try out some freebies on the site, I'd recommend avoiding any that ask for a phone number.
And, while you're at it, you might want to set yourself up with a throwaway email address just to use on Get It Free, so you can keep your primary inbox spam-free.
Tons of Offers, But No Guarantees
Take one look at Get It Free and you'll see plenty of freebie offers to sign up for.
The problem is that there's no guarantee you'll get what you sign up for.
You could spend 30 minutes taking a survey to get the freebie only to get nothing.
Most of the complaints about this site is that people have spent hours filling out forms, completing surveys, and doing other tasks for freebies that they never get.
Many Offers Require Surveys
Speaking of surveys, the fact that you may have to take them to get the freebies you want is another common complaint from Get It Free users.
If online surveys aren't something you enjoy doing, especially with no guaranteed reward at the end, then Get It Free probably isn't the place for you.
Is Get It Free a Scam or Not?
Putting together all of the information I found when using the site and what others say about Get It Free, it's safe to say that I wouldn't recommend it as a top place to use to get freebies, samples, and other goodies.
The primary reason that I wouldn't recommend Get It Free is that so many people have mentioned not receiving the freebies they sign up for.
Although I haven't personally tried to get freebies, I wouldn't want to after reading the many reviews from people saying the same thing.
It seems that the site just has you fill out form after form and survey after survey to sign up for these freebies.
Then, it saves your information to continue to market to you with its partnered advertisers, but it doesn't actually give you the freebies you wanted to begin with.
You can see plenty of stories about this on the company's BBB profile, TrustPilot, Consumer Affairs, and other similar sites.
I'm also not a fan of the fact that the site makes you click a few times before getting to an actual deal or coupon.
When sites do this, it's a tactic to drive up the site's engagement rate, pageviews, and ad revenue.
As you can see when you click on a deal, you end up on another page with ads before you can click through to the deal.
This is kind of a scammy tactic to use to benefit the site rather than the viewer.
Overall, I'd personally stay far away from this one.
Get It Free Alternatives
Because Get It Free is certainly not the best place to find freebies online, here are a few alternatives that have good reviews and are legit:
Swagbucks isn't just a site for freebies, but you definitely can find them here.
You just need to look!
Swagbucks gets updated frequently and there are always new games, offers, and other stuff to take advantage of.
Go to the Discover area to find offers for discounted and free stuff that you can also earn SBs (points) on.
Also, watch for Swagbucks emails and check out the blog, The Daily Swag, to stay up to date on everything new with the site.
This place features a curation of links to freebies from all over the web.
You can click the ones you want to get and head to their websites to learn what to do to get the freebies.
I've used this site to find freebies in the past, and it's one of my favorites.
Just sign up for free, pick out the samples and freebies you want, and wait for them to come in the mail.
Freeflys is another freebie site that updates daily with new freebies and offers ways so save money and make money.
You can also subscribe to the free newsletter to get updates when new stuff gets posted.
Try this place to find discounted products at some of the most popular retailers, like Amazon.
There are also sections for coupons, sweepstakes, and of course, free samples!
SampleSource is a platform that offers free product samples in a variety of categories.
You create a free account, fill out your profile with your preferences, and you'll receive an email when sample boxes are available.
You can then choose the samples you are interested in, and they will be mailed to you free of charge.
Influenster is a unique site where you can find free products in exchange for reviews.
After signing up, you'll fill out a profile that helps them match you with relevant products.
They send out boxes of freebies in exchange for reviews on their site and social media posts.
BzzAgent is similar to Influenster in that it provides free products in exchange for reviews.
After creating a profile, they will send you free products that match your interests.
All you have to do is try them out and provide feedback.
I Crave Freebies is a comprehensive site that compiles all the freebies available online in one place.
The site includes categories for free books, stickers, beauty products, food samples, and more.
The site is updated frequently, so it's a good idea to check back regularly for new freebies.
Freaky Freddies is another long-established site that lists various freebies available on the internet.
It's updated daily and categorizes freebies in different sections, including baby freebies, food samples, beauty products, and more.
Like I Crave Freebies, it's a handy one-stop-shop for finding a wide range of free stuff online.
Is Get It Free Legit?
Get It Free may be legit in some ways, as some people have had luck receiving their samples.
Plus, you can use the site to find legitimate deals and coupons to use on shopping trips online or in-store.
Where it falls short is with its freebies, which is the main focus of the site.
If you're looking for freebies, this isn't the place to go.
There's a good chance you'll spend a bunch of time signing up for a freebie that you never get, and you might wind up with tons of emails you don't want instead.
Stick with one of the alternatives to find your freebies, and let us know if there are any other freebie sites you love using.
Related Posts:
Earn Everything… nearly!
Join Ipsos iSay, one of the few Faithful and Honest survey panels and earn prizes, gift cards and donations. Stack your points and redeem them: Simple! No hidden fees and completely free!