GMR Transcription Review – Worthwhile Place For Your Work Needs
Updated on: by Amy Kennedy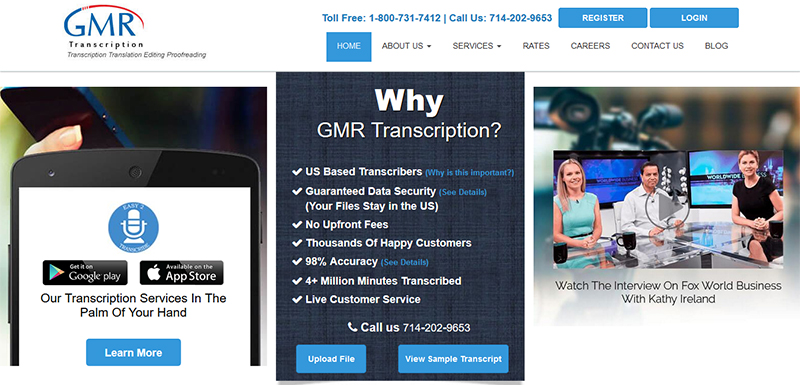 As I was looking around for transcription companies around the country, I found GMR Transcription to be an interesting place.
Need Easy Extra $350+/Month For Free?
The site does well with offering legal transcription projects.
You could benefit from taking in one of these jobs but at the same time you should probably contact them for more information about what's available.
Also, you're more likely to enjoy working here if you understand medical terms and concepts.
About the Company
I saw that GMR Transcription is based out of Tustin, California.
The business is dedicated to helping people to transcribe all sorts of audio files.
They hire at least a hundred typists around the country so it's clear that they are pretty selective in terms of who they hire.
I saw that most of the reviews people are leaving for this site are rather positive.
They love how the site offers plenty of flexibility and lots of different types of jobs.
I was pleased to see that this site offers so many choices for work.
An Interesting Discovery
I did find something rather interesting about GMR Transcription.
I found that it had two different FTC complaints against it in 2014.
Ironically, these FTC reports are the spots where I found a good deal of information about the company from.
Apparently the site has exposed the personal information on different consumers online.
This includes medical histories of people.
That is, the site has been found to have exposed many private details of people through transcription projects.
Need Easy Extra Cash?
Pinecone Research, a leading name in online survey panel honesty, absolutely guarantees $3 cash for every survey you complete!
Take advantage of their time limited New Membership drive and register NOW. Join today: 100% free!


As a result, the site has had to adjust its plans for how it offers transcription jobs.
I found this interesting in that it shows that the site does quite a bit of work with technical information on people.
The fact that such information has had to be censored with projects altered here and there only suggests that the site has had to make some changes.
I'd probably contact the site first to get information from it about the types of jobs you can get into.
This is just to ensure that you know what is expected of you here and that you're not going to get into any kind of trouble.
What Types of Jobs Are There?
When I looked for information on the jobs at GMR, I noticed that there's a good variety of options to choose from.
While at GMR, you can work with medical background tasks.
You'll work on tasks that entail medical interviews and reports.
I assume that many confidential bits of information relating to identities have been censored, what with some FTC complaints from the past.
I'd recommend you take a look at how well you know your medical terms.
You'll enjoy working here more if you understand such terms.
You won't be likely to get lost when trying to work on a project here if you at least know what jobs are available.
You can also work in translation jobs.
Spanish is the most popular language that you can work with on this site although the place does offer plenty of other languages.
The good news is that you will have full control over the specific tasks that you will complete while working here.
The Pros and Cons
Transcribing for GMR comes with some ups and downs such as the following:
Pros
1. Flexibility
One major advantage of working as a transcriptionist for GMR Transcription is the flexibility.
Transcribers can generally choose when and where they want to work, making it a good option for people seeking a flexible schedule or remote work opportunities.
2. Diverse Range of Work
GMR Transcription serves clients from a variety of industries, which can result in a wide range of transcription topics.
This can keep the work interesting and provide opportunities to learn about different subjects.
3. Skill Development
Transcribing for GMR Transcription can help improve skills like typing speed, listening, grammar, and attention to detail.
These skills can be valuable in many other jobs and industries.
Cons
1. Pay Rate
As with many transcription services, the pay is often per audio minute, not the time it takes to transcribe.
Depending on the audio quality, speakers' accents, or number of speakers, it might take significantly longer to transcribe, which could reduce the effective hourly wage.
2. Inconsistent Work Flow
The availability of work can be unpredictable and may not be consistent.
There might be times when there is plenty of work and other times when there is very little, making it difficult to rely on as a consistent income source.
3. Potential for Challenging Audio
At times, transcriptionists might have to deal with poor audio quality, heavy accents, or multiple speakers talking at once, making the transcription process more challenging and time-consuming.
How to Apply
If you're going to apply for a position at GMR Transcription then you should know that it won't be too hard to do if you simply take a look at the site.
You can apply through the site by preparing an appropriate application for the site.
Earn Everything… nearly!
Join Opinion Outpost, one of the few faithful and honest survey panels and earn cash and gift cards for your opinion. Stack your points and redeem them: Simple! No hidden fees and completely free!


You'll have to get a Gmail or Facebook account so you can take the proper quiz for determining if you're a good fit as well.
After completing the quiz and application, you will be subjected to a transcription test.
You'll need to transcribe a brief entry to show how well you can complete a task.
It takes a bit for the task to be analyzed but it should not be all that hard to handle if used right.
What Will You Be Paid?
GMR Transcription doesn't list information on how much it pays its employees.
I tried contacting them myself and even they wouldn't say anything.
I could not even find any information on how you'd be paid or how you would get money off of a project.
They also say that you should get about four hours of audio work each month.
Fortunately, it's easy to get there when you consider how much work is open.
The site's setup for assigning tasks is easy to follow and offers a good variety of jobs for you to check out.
Also, you will be subjected to a probation period before you can actually get paid.
You have to complete at least two hours of work to get out of that period.
At this juncture, you are being placed under some extremely tight rules for how you are completing different forms of work.
Your work will be proofed properly to see if you're actually doing everything like you are supposed to.
Conclusion
You're definitely going to enjoy working for GMR Transcription if you work hard with an attention to detail in mind.
You'll especially enjoy this if you know about the world of medical stuff.
Do be cautious though as you don't want to bear with lots of complicated stuff or things that you clearly might not have much of an idea about how they work.
Apply to GMR Transcription Here
Related Posts:
Earn Everything… nearly!
Join Ipsos iSay, one of the few Faithful and Honest survey panels and earn prizes, gift cards and donations. Stack your points and redeem them: Simple! No hidden fees and completely free!