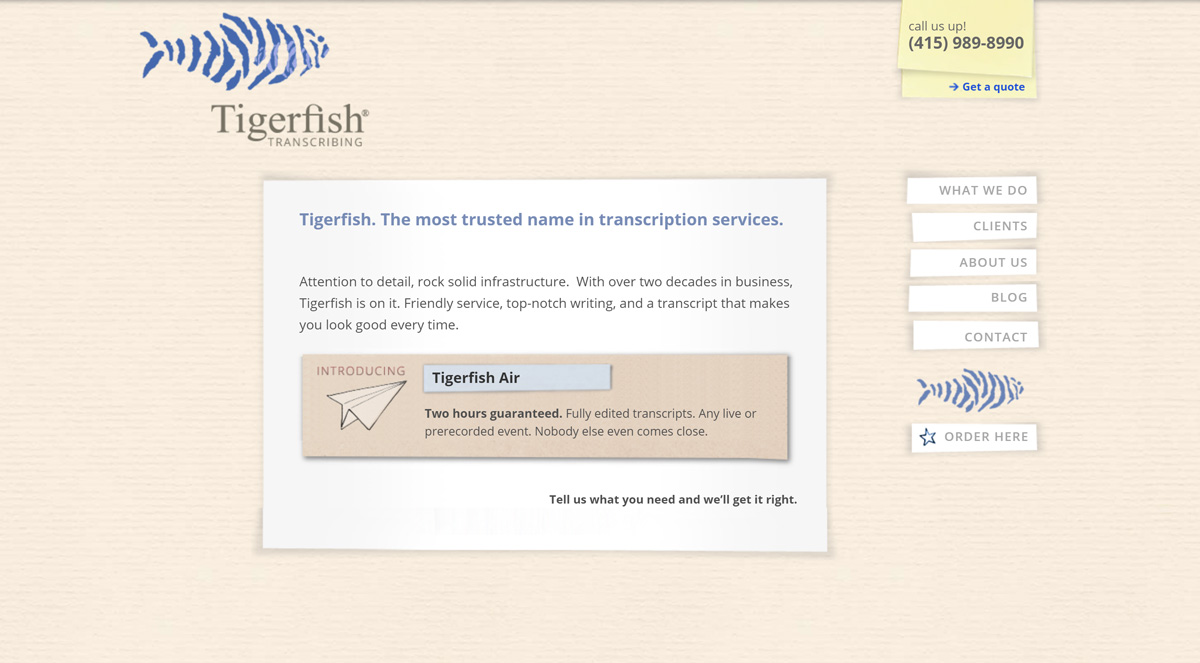 One of the most desired work at home job types is transcription.
Need Easy Extra $350+/Month For Free?
Transcription is work that you receive on an audio file and have to type it (or transcribe) it into the format that the client requests.
However, most people find themselves at a dead-end search if they have little or no experience with transcription jobs.
Even an official, and expensive, certification in transcription often cannot land you that perfect work at home job as a transcriber.
Often, these "certifications" are nothing more than scams targeting people like you who are interested in transcription work anyway.
They can't guarantee you a transcription job from home.
However, if you dig deep enough, or find yourself searching the right places you might run into information about companies like Tigerfish.
Tigerfish hires people with little to no experience in transcription.
Still, that doesn't mean that just anyone can work as a transcriptionist.
Contrary to popular belief, this work isn't easy, and not everyone can just pick it up in a day.
Tigerfish is one of a few companies, though, that offers work to entry-level transcribers who are serious about building a successful transcription career.
If that sounds like you, then continue reading to learn more about the company, how it works, and what you'll do.
What is Tigerfish Transcription?
Tigerfish has been providing transcription, proofreading, and editing services since 1989!
It currently has a transcription service that promises to give fully edited transcripts to clients within a two-hour turnaround time.
Tigerfish uses a combination of transcription technology and transcribers like you to complete its services.
Clients can also choose from other services that aren't quite as quick but also won't cost as much, like a one-day turnaround or a three to five business day service.
Need Easy Extra Cash?

Pinecone Research, a leading name in online survey panel honesty, absolutely guarantees $3 cash for every survey you complete!
Take advantage of their time limited New Membership drive and register NOW. Join today: 100% free!


Tigerfish also works with clients in a wide range of industries, including healthcare, natural sciences, non-profit, and legal.
Some of its clients include big industry names like USA Today, Airbnb, and Gap.
The company hires freelance contractors to complete transcription tasks while working from home.
Tigerfish is one of a few companies that will contract transcribers with no experience.
There does not seem to be anything fancy or confusing about Tigerfish and the process to apply is straightforward for most transcriptionists.
They are direct and to the point with their website, which is something I have a great appreciation for- especially when researching work at home companies.
What is Required of Tigerfish Contractors?
Tigerfish Transcription does not require transcription experience, but they do have some other requirements of their freelance contractors.
Some examples of the qualities Tigerfish Transcription looks for includes:
Good ear of language
Strong sense of written English
Ability to write well
Accurate and fast typing speed (generally at least 65 wpm, if not higher)
Close attention to detail
The ability to pass the application process
These skills are going to be expected of nearly any transcriber, experienced or not.
If you do not feel you have these qualities, then it may be a good idea to look into other avenues of work from home.
There seems to be a misunderstanding of transcription work in which many people seem to believe it is a simple and mindless job.
The fact is, it is very difficult and does require a lot of focus, skill, speed, and accuracy.
Tigerfish does also require its transcribers to be at least 18 years old and a U.S. citizen with native English experience.
Are There Any Costs or Equipment Required to Transcribe for Tigerfish?
There are no fees or costs to become a Tigerfish Transcriber.
However, there are some computer requirements and software needed.  The following are necessary to apply and work for Tigerfish:
High-speed Internet
Telephone where you can be reached regularly
Windows computer (Macs are not compatible)
Express Scribe Software (Free download) – for test and evaluation period
Purchase of Power Play for Windows Media if you continue to transcribe with Tigerfish
What is the Application Process Like?
Applying for Tigerfish requires providing some sample work.
The application process may take a bit longer than some other companies but remember that you don't need to have previous transcribing experience, so the application is how Tigerfish determines if you have the skills necessary for its work.
After reading a style guide provided by Tigerfish, which can be found on their application page, you will then download audio files and provide 3 samples.
You'll need to adhere to the style guide without fail as you transcribe and format your work.
This is basically a test not only to see if you have the right skills but also to see if you can follow the company's instructions for their work.
The Express Scribe software mentioned earlier will be required for the application process.
Thankfully the software is free to download.
(UPDATE 2019: This software is still free to download like it was at the original time this post was written, but it does cost money to purchase the full version which gives you access to all of its features.
You can find it on places like Amazon and eBay, sometimes at a discount, but it will still cost you between $100 and $200, which is a steep cost if you're just starting out and want to start making money without upfront costs.)
In addition to your sample work, you will need to provide a brief description of yourself, your writing abilities, education, and background, including any relevant experience.
All the details can be found on their employment page.
Make sure you also note whether you have understanding of specific technology used in the health, law, finance, or technology industries.
If you were a paralegal at a previous job, for example, you'll want to indicate that in your application because it can help you with legal transcription work.
Those working in medical offices might also have a good understanding of medical terminology that can help them transcribe for medical clients.
Earn Everything… nearly!

Join Opinion Outpost, one of the few faithful and honest survey panels and earn cash and gift cards for your opinion. Stack your points and redeem them: Simple! No hidden fees and completely free!


Tigerfish also lets you fill out a calendar with your availability every week.
The company notes that it will give its best effort to find work that meets your scheduling needs, but be aware that if you have very limited availability, it'll probably be challenging for work to coincide with your schedule.
How Much Does Tigerfish Pay and How?
I have had a difficult time with this question because there's no information about it on the site.
Other companies are quite clear in the application process what they're willing to pay transcribers, but Tigerfish isn't as transparent, unfortunately.
So, I had to use the help of the internet to figure out what Tigerfish tends to pay and what I found is that it could vary depending on the type of file, its complexity, and the industry in which you're transcribing work for.
After hours of searching and asking around, I did find one person's claim from April of 2011 that Tigerfish paid 3-4 cents per line.
Many transcription companies do not pay hourly rates but instead per line (called CPL).
Your speed, work available, and specific projects can heavily effect your average pay rate.
However, from what I understand, an industry standard is 5-7 cents per line.
This would mean, obviously, that Tigerfish pays fairly low, which is probably why they accept entry-level applicants.
However, this is not a confirmed rate, and any new information will be updated as soon as I uncover more details.
Even if Tigerfish's pay is lower than the average company, they are one of a few places where you can gain true transcription experience and then move up into higher paying jobs.
Transcription is one work at home career field that can certainly pay well.
UPDATE 2019
There's a lot more information about Tigerfish's pay rates on the web now, although the company itself still doesn't confirm any pay rates on its site.
From the information I've gathered from reviews and forums, it seems that Tigerfish now pays per word instead of per line, which typically ends up at a better hourly rate.
Several people state that they get paid $0.005 per word for most jobs, although rush jobs can pay higher because the company makes more money from them.
On average, it seems like people tend to make between $8 and $11 an hour, depending on how fast and accurate they are with transcription work.
That's not a bad rate, but there are companies out there that pay more than that.
Overall, it does seem possible that you can make a full-time income here, but it may not be enough to surpass a traditional job's salary.
Remember that, as an independent contractor, you'll be responsible for paying taxes on your own, which will come out of that $8 to $11 an hour you make.
You also pay more in taxes when you're self-employed than you do when you have an employer, and you won't have access to any benefits you might have at a traditional job.
Just a few points to consider about the pay rate!
I still have yet to find any information about how the company pays (check, PayPal, etc.).
Tigerfish Transcription Reviews
There's a lot of information about Tigerfish on the web, so I spend some time browsing reviews and forums to get an idea of what real transcribers for the site had to say.
Below are some of the common complaints and praises.
Pro: Great Place for Beginners to Get Experience
The most common pro I see for Tigerfish is that people of all skill levels can join.
This is great news for people who have no prior experience with transcription but still want to get into the field because they know they have the skills for it.
As long as you can pass the application process with flying colors, you can likely become a transcriptionist for Tigerfish regardless of not having prior experience.
The company works with clients in a variety of industries, too, which is great news for people who don't want to be pigeon-holed into one type of transcription work or who want to see what kind really interests them.
If you're looking for a good place to springboard your transcription career, Tigerfish could be the place for you.
Con: Required Software is Costly
Tigerfish mentions that Express Scribe software is required to complete the sample files in the application process and will be necessary for future work with the company.
Although you can download a free version of the software, that free version isn't likely going to be enough for you if you plan on continuing with this work.
It'll become necessary to purchase the full software, which ranges anywhere from $100 to $200, depending on where you buy it and whether you find a deal.
Add that to the cost of a foot pedal and headset (not required but highly recommended), and you're looking at a relatively high startup fee just to start making money from Tigerfish.
Tigerfish itself doesn't charge anything for you to begin working there, but the additional costs for required equipment can add up quickly.
Con: The Amount of Work Varies
This common complaint is actually typical of many transcription companies, so I can't really place blame on Tigerfish for it.
However, I think it's a legit con to consider as there are some companies out there who seem to always have a steady stream of work for its transcribers.
Several people have said that files can come and go here.
Sometimes there's tons of work available while other times are really slow.
Of course, your schedule will also come into play here.
Those with open schedules will probably have much more work available than people with strict schedules because they're available to take the quick turnaround jobs when Tigerfish has them.
If you have a lot of work one week, though, don't expect to have the same amount of work the next.
It's unpredictable at best.
We have a full article dedicated to these types of transcription jobs that don't require you to have any experience. Check it out here!
Is Tigerfish Legit?
Yes, Tigerfish is a legitimate place to earn money with transcription work.
There's nothing in my research that implies that the company doesn't pay its workers or has shady business practices.
It's quite straightforward on its website, too, about what it requires from its transcribers and the quality of work it expects.
The only thing it's missing is important information about its pay rate and policies, but I suppose you can always ask questions about it during the recruiting process.
Tigerfish has been in the business for years, and it doesn't show any signs of slowing down.
It's partnered with several big-name clients in a range of industries, which is a good sign that other companies trust them with their needs.
All signs point to Tigerfish being a legitimate transcription company for you to find work.
How Do I Learn More and Apply?
To learn more about entry-level transcription for Tigerfish, visit their Employment page for directions to apply.
This review of Tigerfish does not necessarily mean they are currently hiring, but it instead here to help you learn more about the company and how it works.
It seems that the Tigerfish application is always available to complete and the company will store applications until it needs another person on board.
It could, therefore, be several weeks or even months before you hear anything back.
Have you tried Tigerfish for transcription work? How did it work out for you? Drop us a comment below and let us know!
Related Posts:
Earn Everything… nearly!

Join Ipsos iSay, one of the few Faithful and Honest survey panels and earn prizes, gift cards and donations. Stack your points and redeem them: Simple! No hidden fees and completely free!