12 High-Yield Checking and Savings Account for Free Cash
Updated on: by Amy Kennedy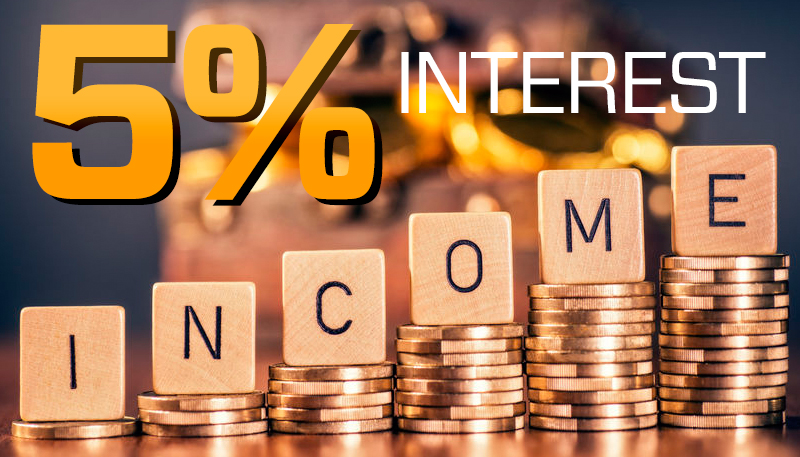 Some checking and savings accounts are there just to hold your money.
Need Easy Extra $350+/Month For Free?
They don't offer any bells and whistles, and instead just act like a safe place for your cash.
But what if your checking or savings account could make you money?
Sure, most savings accounts at least offer some interest.
However, most of the time, the interest rate is so low that it could take you several months just to earn a dollar or two.
It's almost not even worth it to have the savings account!
According to ValuePenguin, it's most common to have an interest rate of a whopping 0.01% on a savings account in 2018.
If you deposit $1,000 into an account with 0.01% interest, you'll only make 10 cents for a full year. What's the point?
Some accounts offer more, but even then, you're lucky to get up to 0.05%, which would give you 50 cents interest instead.
You can't really expect to earn 8 percent interest, unfortunately.
To get the most bang for your buck, you'll want to look for a high-yield savings account.
Fortunately, some banks know that the best way to get more people in their doors and opening up accounts is to offer an excellent interest rate that beats the competition by a landslide.
It's in your best interest to look for an account with an interest rate of at least 1%, but even higher is better.
And, did you know that you can sometimes even get a checking account that piles on interest?
Keep reading to find out more about some of the best checking and savings accounts to open for some free cash based on your investments.
Best Banks to Open a Savings Account With
Savings accounts undoubtedly are the best way to go if you want excellent interest rates.
Need Easy Extra Cash?
Pinecone Research, a leading name in online survey panel honesty, absolutely guarantees $3 cash for every survey you complete!
Take advantage of their time limited New Membership drive and register NOW. Join today: 100% free!


But, finding one with an excellent interest rate can sometimes feel like searching for a needle in a haystack!
If you're going to save money, finding a bank that's willing to offer you an excellent return on your investment is the key to building savings with the nest egg you have.
Here are some of the best savings accounts you can get right now that will offer you the highest interest rates possible (one even offers 5%!).
One of the only savings accounts to offer a whopping 5% interest rate, it's no wonder that the NetSpend savings account is one of the most popular ones right now.
To be eligible for this account, you'll need to apply for the NetSpend Prepaid Debit Card.
What's good about this is that you'll get an easy $20 just for applying for the card!
You can then set up your savings account, which will link up to your card.
You're allowed to transfer money between your card and savings account up to six times each month, so it's not a problem if you need to use some of your savings.
One of the best features of this account is that you can set up automatic savings transfers to make saving a no-thought process.
You can choose how much to save every time you get a direct deposit to your card and NetSpend will automatically transfer it over for you.
There's no minimum deposit for your savings account.
There are some reports that the 5% interest rate is only good for the first $2,000 in your account, but that's still such an awesome rate to get you started.
You can get all the details from NetSpend when you apply.
If you have friends or family that you think could benefit from this savings account and a NetSpend card (who wouldn't?), you can refer them to NetSpend and get a $20 bonus when they load $40 onto their card.
In second place is Northpointe Bank, which has a savings account that pays 2.05% in interest, which is definitely one of the highest you'll find nowadays.
This account has a $0 minimum balance, so you don't need anything to open it – although you won't make any money that way either!
You'll have up to six transfers in or out of the account every month, so you're free to use your money as needed.
Although Northpointe Bank is located in only a few states, you can apply for an account online and use the mobile banking system to take care of all your banking needs.
Live Oak Bank is a North Carolina banking system, but you're welcome to open an online account and bank online.
The bank offers a free savings account with no monthly fees or online banking fees, so you can keep your money where it belongs – in your account!
You'll have six monthly transfers available and a $10 fee for each transaction after that.
There are no minimum deposits technically, but if your account has less than $10.01 in it for 24 consecutive months, you'll get hit with a fee and your account will be closed.
This account has a 1.70% interest rate, which equals $17 with a $1,000 account balance in a year. That's a lot better than the 10 cents most other savings accounts will pay!
Synchrony Bank is known for offering some great interest rates for its savings account customers.
Its current rate is 1.65%.
This is one of the easiest accounts to open and maintain, too, because you can do it all online.
There are no account opening fees, minimum deposits, or minimum balances required.
You won't even get hit with a fee if you need to go over your six withdrawals or transfers during a statement cycle.
However, Synchrony Bank can close your account if you continuously do this, so be careful about using more than your six allotted transfers.
Earn Everything… nearly!
Join Opinion Outpost, one of the few faithful and honest survey panels and earn cash and gift cards for your opinion. Stack your points and redeem them: Simple! No hidden fees and completely free!


You can request an ATM card for your savings account to use at any ATM that accepts that card.
Rewarding Checking Accounts
Most people think of checking accounts as a place to hold money without many other benefits.
To be truthful, most of them are just places to hold money safely.
However, others act as somewhat of a savings account, too, offering high-interest yields or other rewards that can help you make more money than you put in the account, to begin with.
The following checking accounts fit this bill, providing extra rewards to help you grow your money stash quicker than you will with your paycheck.
First, Let's Talk About Kasasa!
When you search for high-yield checking accounts, one word you'll probably see pop up a lot is Kasasa.
What the heck is Kasasa?
Kasasa is a type of checking account that's free to open and use, but pays you interest much like a savings account would.
Banks all over the nation can adopt their own versions of a Kasasa account, which is why you'll typically see several banks with an account named "Kasasa Checking."
Kasasa is actually its own banking company that partners with banks and credit unions to provide high-yield checking accounts for their customers.
To get the absolute highest rates possible for your checking account, you'll want to see if your financial institution has a Kasasa account.
Most of the time, the bank will list it on its website, but you can also call in and ask your local branch or take advantage of online customer service.
Kasasa also makes it easy for you to find banks near you that offer Kasasa accounts by using its financial institution locator.
You can also check out Kasasa Cash Back accounts, which offer some of the best cash back rewards you'll find in checking accounts.
Or, browse through the Kasasa Saver options, which can give you some excellent interest rates for a savings account.
Can you believe that there are checking accounts out there that are willing to pay you 2.65% in interest?
Well, believe it!
Coulee Bank is one of them.
Coulee Bank's Kasasa account offers 2.65% interest up to your first $10,000.
It will then bump down to 0.10% interest up to $15,000, which is still higher than many other checking accounts offer (which is usually 0%!).
You'll need an initial deposit of $50 to open the account, but then there's no minimum balance or monthly service fees to keep everything going.
Coulee Bank also has a Kasasa Cash Back account that offers 3% cash back on combined purchases with your debit card of over $300.
You can apply for an account with Coulee Bank online and can take care of all your banking needs online with the mobile banking system.
BTH Bank – 2.25% up to $7,000
For a balance of up to $7,000, you can get a 2.25% interest rate on your checking account cash with a Kasasa account from BTH Bank.
The APY drops to 0.05% after that amount, which is still a respectable interest rate for a checking account.
You'll need $50 to open your account, but there are no minimums to meet to keep it open.
You'll also get a free debit card to use for purchases and ATM withdrawals, as well as free online banking, to take care of your account from anywhere with an internet connection.
The only requirements is that you have at least 10 debit card transactions and one ACH payment or direct deposit during each billing cycle to maintain your interest rate.
Main Street Bank is one of the best options for a Kasasa checking account.
The initial interest rate is a bit lower than Coulee's account, but it's also good for up to $25,000!
Furthermore, balances over that amount can still get a respectable 0.25% interest rate as long as they meet requirements.
Even if you don't meet the requirements for a billing cycle, you'll still get 0.05% interest, which is higher than the usual 0.01% these accounts drop to.
To maintain this awesome rate for your checking account, you'll need to have at least 12 transactions from your debit card and 1 bill pay, ACH payment, or direct deposit in a monthly cycle.
You'll also need to sign up for eStatements to qualify.
As long as you use your debit card regularly and set up direct deposits from your employer to go straight to your account, you should have no problem taking advantage of the awesome interest rate!
Northpointe Bank not only has one of the best savings accounts around, but it also has a high-yield checking account available for its members.
This isn't a Kasasa account, which is why it's not quite as high.
However, you'll be locked into a 1.50% interest rate for at least your first 12 months with the Ultimate Money Market account, regardless of how often you make purchases or how many deposits you get in a month.
This can be a great option for people who may not use their debit cards much because you can still take advantage of a great interest rate.
Although this is a money market account, which is technically more of a savings account, it acts a lot like a checking account.
You'll have access to your cash like you would with a checking account, plus Northpointe Bank will give you a debit card for purchases.
Offering competitive interest rates and no minimum deposit or transaction fees, Goldman Sachs Online Savings Account, operating under the Marcus by Goldman Sachs brand, is one to consider.
This digital-first bank makes account management a breeze with its simple online access.
So, whether you're a tech-savvy saver or just love the convenience of banking on the go, this account might just be your new favorite.
Ally Bank Online Savings Account is another attractive option for savers, especially if high yields are what you're after.
With daily compound interest, your savings have the potential to grow faster, giving you more bang for your buck.
Plus, there's no minimum deposit or monthly maintenance fee to worry about, making it a solid choice for both big and small savers alike.
From a basic savings account to higher-yield options, Chase Bank has it all. But here's the kicker: you might need to maintain a minimum daily balance or link it to a Chase checking account to avoid the monthly service fee.
Nevertheless, their robust online and mobile banking tools can make managing your savings so much easier.
Last but not least, the Citi Bank Savings Account is an option worth considering.
With various interest tiers based on the account balance, you have the potential to earn more as you save more.
The account might come with a monthly service fee, but meeting certain conditions like maintaining a specific minimum balance can waive it.
With Citi Bank's comprehensive online and mobile banking tools, you can manage your savings from the palm of your hand.
Read More: 20 Best Tips to Bump Up the Bank Account (Make 10000 Dollars Fast!)
Conclusion: 5% Interest Savings Accounts & High-Interest Checking Accounts
There are a lot of options when it comes to getting a good return on your investment in a savings or checking account.
You just need to know where to look!
Remember that the accounts I outlined above may change often, so the interest rates I detailed may not always be the same.
It's a good idea to know how to find the best accounts for yourself, too, so that you can always get the highest rates.
I suggest using Nerdwallet, which is an excellent resource for saving money and learning how to get the most money back from your financial products.
You can check out the banking category for the most updated information for checking and savings accounts.
Where do you currently bank?
Are you thinking of switching to one of these high-yield accounts?
Let us know your thoughts in a comment!
Related Posts:
Earn Everything… nearly!
Join Ipsos iSay, one of the few Faithful and Honest survey panels and earn prizes, gift cards and donations. Stack your points and redeem them: Simple! No hidden fees and completely free!