Clickworker Review: How to Make Money with Quick Online Tasks
Updated on: by Amy Kennedy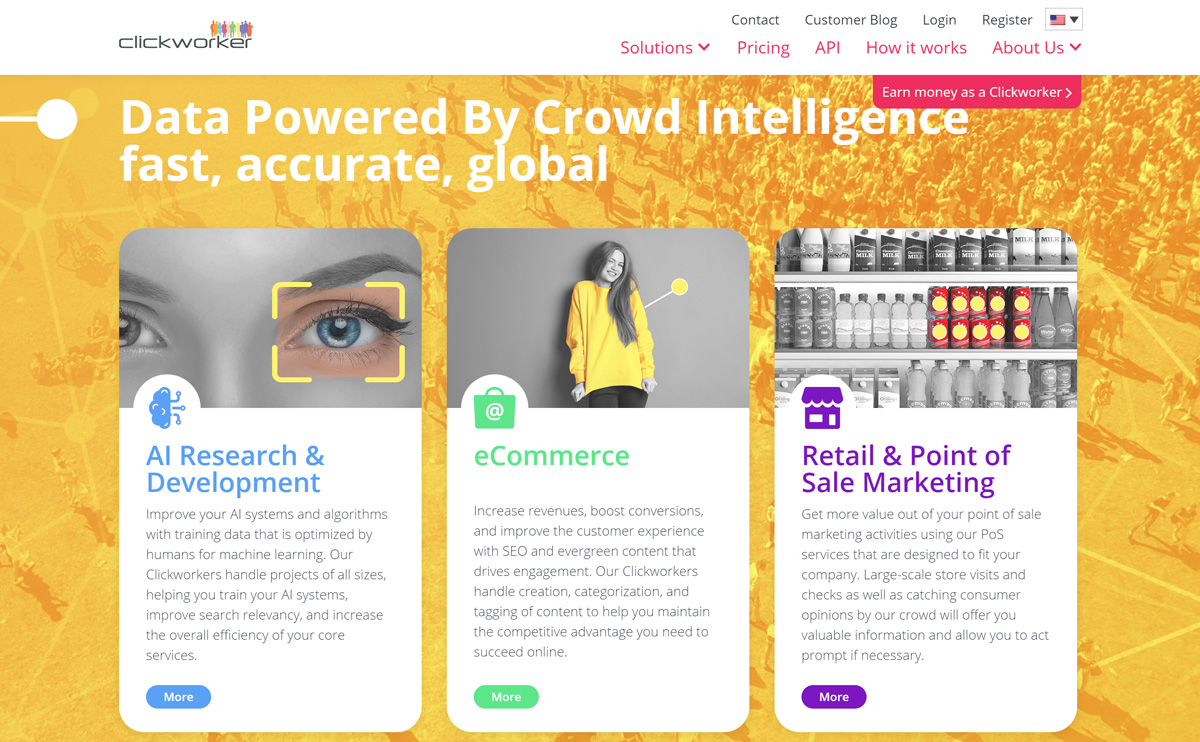 If you're reading this review right now, it means that you've probably already spent some time looking for real online jobs that can help you make some money in your spare time.
But even the jobs that look legit aren't always safe, especially when it comes to the world of working online.
This tends to be where scammers hang out most.
So, how do you know when a job is real and safe to start with?
By doing your research, of course!
That's why, at Work at Home Adventures, we try to help you weed out the crappy jobs from the real ones that actually work with our in-depth reviews of several online companies that claim to pay you.
The one we're talking about today is one you may have heard of before: Clickworker.
If you're familiar with microtasking, which is basically completing small tasks online to make money, then you'll understand how Clickworker works, to an extent.
If not, continue reading to learn what the site offers and whether it's worth your time.
What is Clickworker?
Clickworker was first incorporated in 2005, making it one of the oldest sites of its kind on the internet.
The company first worked on a smaller scale directly with clients but has since expanded into utilizing crowdworkers to complete tasks for clients on a much larger scale.
Crowdworkers are basically people all over the world that have skills in a few areas and complete small tasks for these clients.
By utilizing a crowdsourcing process, the company can take on more clients with more projects and get them completed in small chunks.
As a worker for Clickworker, you can choose from a variety of quick tasks on the site whenever they're available for you.
That means that you can work flexibly without worrying about a set schedule. All you need to do is meet deadlines for each task.
Clickworker is similar to sites like Amazon Mechanical Turk and Microworkers, so if you're familiar with how they work, then learning the platform here won't be too much different.
Making Money on Clickworker
Here is where you'll learn exactly what to expect from Clickworker and how to make money on the platform:
How to Join Clickworker
Let's start with joining the site.
Clickworker is based in Germany, but that doesn't mean only people who live in the country can join.
Generally, the company accepts workers from all over the world, including the United States, United Kingdom, and Canada.
However, your country needs to be one that works with PayPal or Transferwise, or is a country that participates in SEPA (Single Euro Payment Area) for bank transfers.
If your country doesn't work with any of these payment methods, then you won't be able to get paid for your time.
The only other requirements for Clickworkers is that you're of legal age in your country and you're able to legally work in your country.
To join, just hit the "Earn money as a Clickworker" button on the front page and fill out the registration form.
You'll need to complete your profile, including entering your PayPal email or other preferred payment method, validate your email address, and fill in your contact information, including your telephone number.
Although you aren't required to provide and verify your phone number, it's a good idea to do so because it'll help you get more tasks that require user verification (this is to prevent fraudulent accounts from completing high-level tasks).
Types of Tasks on Clickworker
No matter what skills you have, you can find something that fits them on Clickworker.
One of the best things about this type of site is that the tasks vary so much each day that you can almost always find something that interests you and fits your skills.
Some days, of course, will have more tasks and more variety than others, but here are some ideas of what you can find on the site at any given time:
Data entry tasks
Translation and transcription tasks
Writing or editing tasks
Research tasks
Surveys
Video taking and editing
Picture-taking tasks
Artificial intelligence training
Product reviews
Website reviews
Product or image categorization tasks
You might find that you don't have many tasks available to you.
This could be for several reasons but most commonly because of where you live, you didn't verify your information, you didn't complete your profile, or you haven't taken any assessments.
It's not required to take assessments on the site, but they can definitely help you gain more opportunities.
When you successfully pass an assessment, you'll qualify to complete tasks that require those assessments to be completed first.
Be careful about taking assessments because Clickworker usually won't let you repeat them if you do poorly unless you experience some sort of technical difficulty while taking one.
Quality Assurance and Ratings
To make sure that each worker is fulfilling their duties for providing quality work, Clickworker has a team of quality assurance specialists who manually check over your assessments and tasks.
Writing and transcription jobs, for example, go through proofreaders first to make sure they adhere to each requirement for the job and don't contain errors.
If you fail to complete the assignment as needed, then your pay for it may get revoked.
You'll also get a rating for every job you complete.
After every 25 jobs, you might notice a rise or drop in your rating because this is when the company re-calculates your overall rating.
The lower your rating, the more difficult it will be for you to get jobs, which is why it's incredibly important to read everything in detail and make sure you've done it all correctly before submitting a task.
Making Money with Referrals
Clickworker allows you to make money by referring people to the platform in addition to completing tasks for clients.
You can see the information about your referrals in your dashboard, but Clickworker also displays a task with referral information in your list of available jobs.
Basically, when you refer a new worker to the platform, you can be eligible for a $5 bonus.
The only catch is that your referral needs to earn $10 before you can earn your $5, so be sure to gently remind each referral to stay active and pick up some tasks.
This can be a good way for you to earn some passive income just by promoting the site.
How Does the Site Pay?
Clickworker's main form of payment is PayPal, so the company prefers its members to have an account set up.
However, those who are in countries without PayPal can use Transferwise or a bank transfer if their country participates in SEPA.
For a PayPal payment, you need at least 5 euro in your account; for other methods, 10 euro is the minimum.
Once you have that, you can request your payment from your dashboard whenever you'd like.
In most cases, you should see your money in your account within a week or so.
Remember that only processed payments are eligible for payment to your account.
This means that any task that has been manually checked and accepted for payment is one that will count toward your payment minimum.
You can see how much of your balance is eligible to be paid out by looking at the top right side of your dashboard and checking the amount by "Payable".
Some tasks get checked and processed quickly while others can take 30 days or more.
As far as how much you can make on Clickworker, there's no way to give you an estimate because this varies greatly with each worker.
Your results will depend on what country you live in, what tasks are available to you, your rating, and how quickly you can complete each task.
You can always see how much a task pays, though, before beginning work on it by looking at the information given on your available task list.
You'll see how long it'll take for the task to be payable, how many of those tasks are available, what your time limit is for the job, and how much it pays.
Currently, I'm seeing quick survey tasks for about $0.07, short video tasks for around $1, and longer video tasks for around $6, just to give you an idea of how much pay can vary.
Clickworker Review: Is Clickworker Legitimate or a Scam?
You're not going to find much about Clickworker from the BBB because the company is Germany based and its page is currently being "updated" anyway.
But there's plenty of information you can find online about the company and what its members think about it.
As someone who's used Clickworker in the past, I am confident in saying it's a legitimate site.
I've made money with it and have gotten paid reliably for my time.
However, in more recent years, the site hasn't offered a lot of tasks when I sign on, so I've moved onto other platforms and forms of earning money online.
That's not to say that this site can't work for others; it's just not working for me right now.
Here are what other members have had to say about the platform:
Pro: Open Worldwide
I know there are a lot of survey, get-paid-to, and microtasking sites that are limited to members in specific countries, so I like when a site opens its doors to people from all over the world to give them a chance to earn too.
Clickworker is one of those sites.
Basically, as long as you can get paid by one of the payment methods it accepts, you can register to become a member.
Pro: Very Responsive to Reviews
If you take some time to read through online reviews about this site, you'll see that Clickworker representatives are very responsive to them – even the harshly negative ones.
I like when I see companies take the time to correct their mistakes and ensure customers that they're willing to work with them.
Pro & Con: There are Sometimes a Lot of Steps to Verify
I'm listing this as a pro and a con because it is a little of both.
On the plus side, this site asks some people for a lot of information to verify their identities before beginning work.
This tends to happen in international countries where fraud is prevalent online, but anyone who gets flagged for any reason when they register will need to fill out some additional information.
This is good because it shows that the site is committed to keeping a strong workforce of reliable people on board.
On the downside, it does create more work for you to register.
Some people don't like sharing personal information like their phone number or ID card, either.
However, Clickworker says that if you do need to take a picture with your ID to verify yourself, you can block out any personal information you don't want displayed (like your social security number or address).
Con: Some Don't Get Paid
I didn't have this issue when I worked for the site, but I do see several complaints about members not getting paid.
Unfortunately, we don't know the whole story behind these complaints.
It's possible that workers didn't follow instructions or haven't correctly verified their accounts as required to get paid.
But, I still feel it's worth a mention here since I've seen this come up multiple times in various reviews.
Tips to Help You Thrive on Clickworker
If you're looking to maximize your earnings and efficiency on Clickworker, it's important to adopt strategies that align with the platform's system and dynamics.
Here are six tips to help you thrive on Clickworker:
Understand the System
Before diving in, make sure you fully understand how Clickworker operates.
Spend some time exploring the platform, its various types of tasks, payment methods, and conditions.
This foundational understanding will guide you in making smart decisions about which jobs to take and how to effectively execute them.
Reading their FAQs and guidelines will provide insights into how the system works, reducing potential misunderstandings and frustrations later on.
Pass UHRS (Universal Human Relevance System) Qualification Tests
UHRS, a partner company to Clickworker, offers tasks that usually pay better than the traditional Clickworker tasks.
To access these, you'll need to pass qualification tests to prove your competency. Prepare for these tests and take them seriously.
Not only can they provide you with higher-paying tasks, but they can also give you a larger pool of work from which to choose.
Prioritize Higher Paying Tasks
In the interest of efficiency, try to identify and prioritize tasks that pay more.
Remember, though, that higher-paying tasks might require more complex skills or a greater time commitment.
Weigh the time-to-payment ratio to ensure that you're using your time most effectively.
Improve Your Speed and Accuracy
Many tasks on Clickworker are paid by the piece rather than by the hour, so the faster and more accurately you can complete tasks, the more you'll earn.
Improving your speed and accuracy can take time and practice, but it's a worthy investment.
Consistently Check for New Tasks
Jobs on Clickworker are first-come, first-served.
Consistently checking the platform for new tasks ensures that you have access to as many opportunities as possible.
Depending on the availability and your personal schedule, you might find it beneficial to check in several times throughout the day.
Offer Quality Work
While speed is important, quality should not be compromised.
Poor-quality work can lead to task rejections and negatively impact your reputation on the platform.
Always ensure that you understand the requirements of each task before you start, and maintain high standards of work.
This will help you avoid rejections and build a positive reputation on Clickworker, which could lead to more job opportunities.
Should You Try Clickworker for Yourself?
Clickworker is free to register, so you have nothing to lose when you try it out.
The site was one that I once used for a little extra pocket money, but it's not as active for me as it once was.
However, it could be for you.
I suggest signing up and seeing what assessments and tasks are available to you.
Try out a couple of the quick, lower-paying ones just to get a feel for how it all works and wait for your first payment just to make sure you will get paid.
Then, come back here and let us know how it went!
Related Posts: