59 of the Best Online Tutoring Jobs to Make Money from Home
Updated on: by Amy Kennedy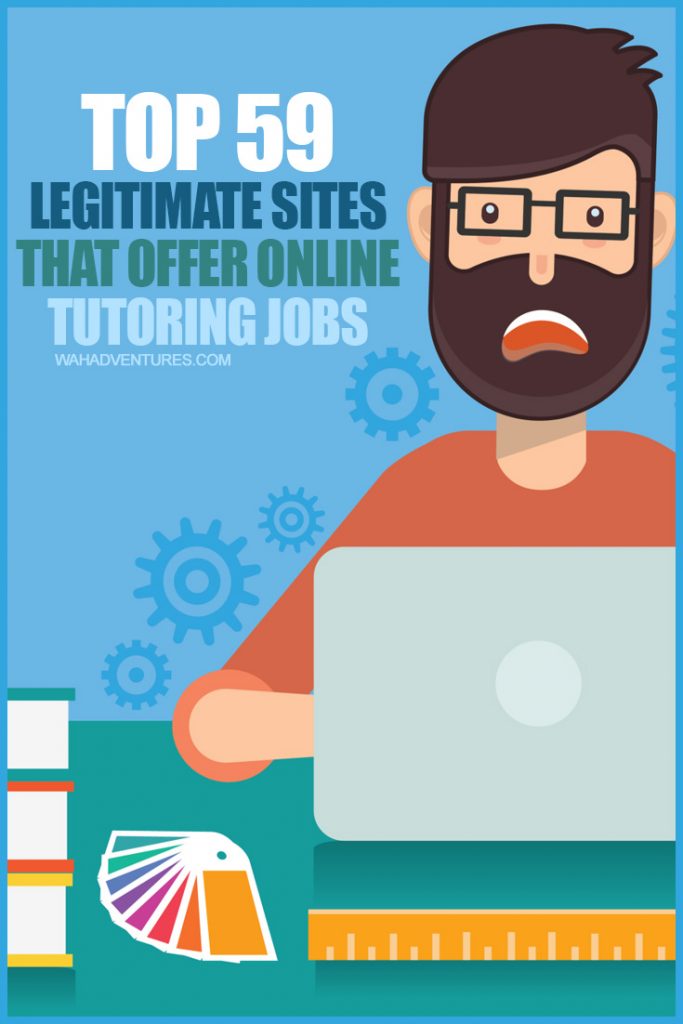 Making money online in the education field is totally possible with online tutoring websites.
Need Easy Extra $350+/Month For Free?
Whether you're an expert with professional teaching experience or currently attending college, you can earn money by tutoring!
The best part about online tutoring jobs is that you can find a job that perfectly matches your skills.
Love English?
Tutor ESL students through Skype.
Or, search for online math tutoring jobs if you're a math whiz or a current math teacher.
How Do the Best Online Tutoring Jobs Work?
Most online tutoring jobs will require you to interact with students through tutoring sessions via a webcam or phone.
Others only require your written responses, which you can enter via the website interface.
Most tutoring websites require a college degree or teaching experience.
However, if you're a college student, don't worry.
There are a few entry-level tutoring websites that will hire you, too!
You'll be an independent contractor for most tutoring websites, rather than an employee.
Still, you may be required to be available during specific hours, or work a certain number of hours, each day or week to remain active.
To be a successful tutor, you'll need a working, updated PC with high-speed internet access.
Depending on the website, you may also be required to have a webcam. Most tutoring websites that require video sessions use Skype.
These Companies Provide Online Tutoring Jobs for College Students or Entry Level Tutors
Cambly – As an English tutor for Cambly, you'll talk to other students around the world using your smartphone's video. Cambly tracks your time through its app and pays you 17 cents per minute of tutoring time.
Need Easy Extra Cash?
Pinecone Research, a leading name in online survey panel honesty, absolutely guarantees $3 cash for every survey you complete!
Take advantage of their time limited New Membership drive and register NOW. Join today: 100% free!


Cambridge Network – Cambridge Network focuses on helping international students improve their English language skills.
As a tutor for the network, you can offer one-on-one tutoring sessions for ACT/test prep help, homework skills, English language tutoring, and tutoring for other subject areas.
Chegg – Chegg is a marketplace for tutors to get matched to students. You can sign in whenever you're available for work.
You must be at least currently enrolled in a college degree program to sign up. Once accepted, you'll be able to choose from thousands of subjects you want to tutor in. Tutors are paid weekly.
Course Hero – Top tutors with Course Hero earn $500 or more per week.
You can choose your hours to work and find tutoring jobs in a variety of subject areas, like Biology, History, Finance, and Management.
Elevate K12 – Elevate K12 looks for virtual instructors to provide one-on-one instruction to students in grades kindergarten through 12th. You must be able to work between 8 am and 4 pm EST, and you'll have a set schedule.
Enroll – Enroll provides tutoring around the clock, matching students to available tutors. If you're 15, you can become a tutor. The interesting thing about this website is that parents can track their children's progress with your tutoring.
Your credentials, performance, and teaching subjects determine your pay. Read our full Enroll review.
First Future – First Future is an educational company that partners with schools to help students learn English.
This job does require a set schedule, so there won't be flexibility like there is with similar offerings.
Tutors will work a week with a guaranteed minimum number of hours, and you can apply for other classes if you have more room in your schedule.
On average, tutors make between $16 to $20 for a 45-minute session.
Larson Texts – Larson Texts is a math curriculum company that looks for online math tutors for grades six and up.
You must have proficiency in all math areas up to, and including, Calculus.
Tutors earn $12.50 per hour and must be able to work between 12 and 24 hours each week.
MyPeerTutors – Rather than look for experienced teachers, MyPeerTutors works with the understanding that, sometimes, students learn better from their own peers.
To sign up to tutor students in English, you'll need to be a student yourself.
You can earn Amazon, Google Play, Visa and Apple gift cards for your work!
Preply – Tutors for Preply earn up to $550 a week.
The website helps you manage your tutoring business by searching for students, creating your tutoring profile, keeping track of sessions, and more.
You even set your hourly rate!
Student Tutor – Student Tutor has openings for Private Online Tutors for different subjects and age groups. The company doesn't require a degree or experience, but you must have excellent knowledge of the subject(s) for which you're applying.
Student Tutor mentions that it would like tutors who can tutor for at least a year. You'll need to be available at least two days per week for three consecutive hours on those days.
Pay is $16 per hour for academic subjects or $23 per hour for SAT/ACT prep.
Studypool – Studypool is a tutoring marketplace that matches tutors to students who need questions answered. Students post questions on a variety of subjects and tutors can bid on the questions they want to answer.
This job is very flexible, allowing you to log in and work when you're able. But, you'll have a specific timeframe in which to complete a question once you're chosen to answer it, so make sure you are good with deadlines.
Tutor.com –  To work with Tutor.com, you just need a strong knowledge in your area of expertise and to currently be enrolled in a college as a sophomore or higher. You'll need to complete tests that prove your expertise before you're accepted to tutor in that subject.
Tutor.com requires a minimum of 5 hours per week and allows only residents of Canada or the U.S. Rate of pay is hourly but depends on the subjects you teach. Read our full review of Tutor.com.
Earn Everything… nearly!
Join Opinion Outpost, one of the few faithful and honest survey panels and earn cash and gift cards for your opinion. Stack your points and redeem them: Simple! No hidden fees and completely free!


TwoSigmas – Teach English lessons online with TwoSigmas.
You can apply online, and the company will match you with schools that need your help with tutoring.
After an interview, you can start teaching by creating your own schedule and using the lesson plans and resources TwoSigmas provides you.
Yup – If you're currently a college student, you can tutor online with Yup. You'll need to prove your skills with subject tests before you're accepted.
Yup pays monthly with PayPal or direct deposit. Your experience and performance determine your rate of pay.
Read more: 100 Legit Online Jobs for College Students Online
Best Online Tutoring Companies to Work For – Experience Needed!
24/7 Learning Academy – Advisors can provide online instruction for students with 24/7 Learning Academy, an online educational platform.
You'll be responsible for shaping lessons, providing instruction, creating and implementing student goals, and more, so teaching experience is required.
Experience with special education, or a certificate, is also a requirement.
Academy Tutors – Academy tutors work with 6th through 12th graders in Math, English, Science, and History.
At least two years of teaching experience is necessary and you must have at least one year of a BA or BS program under your belt.
Acclaim Academic Institute – This company offers flexible tutoring opportunities for work at home teachers.
You can fill out the form with your information and relevant experience, and Acclaim Academic Institute will match you with opportunities as they become available.
Aim-For-A – You can become a part-time or full-time tutor with this company in several subjects and grade levels. You must have a Bachelor's degree, at least, in the subjects you want to teach, and some teaching experience.
As We Grow – As We Grow offers a unique tutoring job for those who are well-versed in technology: You can teach digital skills to both students AND other teachers!
You get $25 for every tutorial you offer on the platform.
You'll need to complete a 30-minute interview along with your application to join.
Brainfuse – Brainfuse offers online tutoring for college students. You can submit your resume to the e-mail on the website and, if you meet the qualifications, Brainfuse will send you a registration code to move further in the application process.
Brainmass – Brainmass works a bit differently than other tutoring websites. The website focuses on downloadable guides, question and answers, and custom help solutions for students.
You can apply to write academic content in the form of questions and solutions or eBooks, or provide custom help solutions to students on demand. You must have, or are working on, a graduate degree. You'll receive approximately 25% of revenue generated by your content.
BuddySchool – Experienced teachers can sign up for free with BuddySchool and get matched with students who need their help.
The site has several tutoring categories, like the Arts, Humanities, and Science.
DaDa – DaDa is both a website and app where tutors can help non-native English speakers learn the language.
Choose your own hours and sign on whenever you're available for work.
Edgenuity – Edgenuity provides virtual instruction to students, K-12. As a Virtual Instructor, you'll need a state certification in at least one core subject and three years of teaching experience is preferred, but at least one is required.
You'll communicate via live chat, phone, e-mail, or video conference while also utilizing virtual whiteboard systems. Positions with 5 to 40 hours per week are available.
EF Education First – Education First has several available jobs for those with teaching experience, including researchers and trainers.
You can also teach English online to students all over the world.
Englishunt – You'll need an ESL certificate or at least 48 college credit hours to tutor students in English with Englishunt.
You'll work with adult learners, making conversations with them to help them learn the language.
You'll need to be available on specific days and hours for this job.
Geovisions – Earn $20 per 40-minute tutoring session at Geovisions, a company that lets tutors select the hours in which they want to work.
GlobalEnglish – The GlobalEnglish Talk With Teacher (TWT) program lets you provide online conversational English classes with adults.
You'll need a Master's degree or equivalent in TESL or TEFL and five or more years of relevant experience.
GoFLUENT – GoFLUENT provides virtual English language training to students and professionals. The company occasionally has openings for both academic and corporate English trainers.
Depending on the one you apply for, you'll need either business or academic teaching experience, and some college is required.
GoGoKid – GoGoKid is a very popular platform in which tutors can earn up to $25 an hour.
The company provides all lesson plans to help you.
GVE Online Education – Golden Voice English (GVE) Online Education looks for English tutors for Chinese students.
You get free training and a flexible schedule, plus automatic student-teacher matches based on your skills and profile.
HAWO American Academy – Earn up to $22 per hour teaching K-12 students online.
U.S. and Canadian teachers are welcome to apply.
Teaching education or experience is preferable, but not required, but you must have a Bachelor degree.
Instructional Connections – Instructional Connections has openings for independent contractors to assist students in several subjects for college degree programs. You'll be an Online Academic Coach and the students' first point of contact for assistance.
You'll need a graduate degree in specific studies, depending on the position for which you apply.
John Hopkins Center for Talented Youth – John Hopkins Center for Talented Youth helps advanced students meet their full potential.
You'll be responsible for aiding them in that goal by teaching them online.
The company offers world language, humanities, computer science, and other subject areas for instructors.
Kaplan – Kaplan offers test prep, degree certifications, and other academic solutions. The company occasionally has openings for instructors to work from home. These positions are very specific, so you'll need certain certifications and experience for them.
Landi English – Online ESL teachers can work from home for Landi English for a minimum of 12 hours a week and four days.
You'll work with kids ages 4 to 12.
Learnivore – Learnivore looks for experienced language tutors to work with its private clients.
You can earn between $30 and $100 an hour, depending on your experience and the client's needs.
LearnLight –  LearnLight provides online language training services. As an independent contractor with LearnLight, you'll have a flexible schedule and ongoing training. You'll need to commit to 10 hours per week, but you can choose blocks of time that work with your schedule.
Qualified applicants will have foreign language certification and at least two years teaching experience.
Magic Ears – Magic Ears is an online platform for kids ages 4 to 12 to learn English.
You get a base pay of up to $11 per class, plus incentives for showing up early to classes, scheduling classes during peak hours, and performing well.
Tutors can make up to $26 an hour with incentives.
MathElf – MathElf provides online math tutoring via its iPhone and iPad application. You'll need at least a Bachelor's degree and at least one year of math teaching or tutoring experience.
You can earn up to $20 per hour, and the company pays weekly. The company is currently seeking international applicants but begins accepting North American applicants at times throughout the year.
Nurturing Wisdom – This company provides test prep and academic help to students.
You can sign up to match with students in your chosen areas.
Parliament Tutors – Fill out the online form to become a Parliament Tutors teacher, offering services for elementary, middle, high school, and college students.
Read our full review of Parliament Tutors here.
Pearson – Pearson is a global education company that allows instructors and tutors to work from home in several subject areas. Most positions require a graduate degree and relevant teaching experience.
Hours vary through the year, but you'll typically need to be available between 8 to 19 hours per week.
PrepNow – PrepNow offers tutoring in math, SAT prep, and ACT prep. You'll need to meet minimum ACT or SAT scores, have at least a Bachelor's degree and have at least two years' experience teaching or tutoring. Tutors must have six hours of availability each week and be available for evening and weekend hours.
Preply – Preply.com helps you easily connect with students and learners from across the world. The tutors can choose their own rates and working hours based on their convenience.
Preply's tutor rating system and filters make it super easy for a student to find their perfect tutor. The platform doesn't only focus on English teaching but also includes a huge variety of Global languages such as Japanese, Russian, Spanish, Portuguese, Italian etc.
You can even learn/teach Music, Arts and other skills on Preply.
Qkids – Teach online English learners up to age 12 on Qkids, which gives you a fun and organized curriculum to base your lessons on, cutting out most of the work for you!
You'll need at least a Bachelor's degree to apply.
Revolution Prep – Revolution Prep uses full-time, virtual tutors for its online instruction. You'll need at least a Bachelor's degree, plus teaching experience and experience creating lesson plans.
You'll average about 30 hours per week annually and will need to be available for some weekend and evening hours.
Rosetta Stone – The famous language coaching service allows language coaches to work from home providing one-on-one tutoring in their languages of expertise. The position is part-time for at least six hours per week.
Applicants are required to have at least a four-year degree.
Skooli – Skooli offers tutoring services in several subjects. You'll need at least a Bachelor's degree and teaching certification to sign up as a tutor.
Superprof – Sign up on the Superprof platform and match with students in-person or online.
You set your prices and keep 100% of the profits, up to $3k per month.
Trilogy Mentors – Work one-on-one with Trilogy Mentors students as an academic mentor in your chosen subject area(s).
You'll use the platform to create a profile and match with students who need your help.
TutaPoint – TutaPoint offers online math and science tutoring. Applicants must have at least two years of teaching experience and be a certified or retired teacher or teacher's assistant.
You'll interact with students via webcam, phone, e-mail, or whiteboard. Read our full TutaPoint review.
TutorABC – TutorABC is part of iTutorGroup. Its application process can take about an hour, so be prepared to spend some time on it. You'll also need to create a video so the company can determine if you have a good teaching presence for its students.
Tutor Extra – You can sign up as a tutor with Tutor Extra to provide various coaching and academic resources to others.
You can choose to meet online or locally with the students you match with.
Tutorhub – UK tutors can work with Tutorhub to provide help to its students.
Set your own hourly rate and the company will pay you per-minute according to that rate and how long your session lasts.
TutorMe – TutorMe has over 300 subjects to teach. The website matches tutors with students in need of help in their areas of expertise. Your performance, based on student feedback, largely determines your pay and amount of work.
Tutor Ocean – You can teach kids all over the world with Tutor Ocean.
Set your own rates that match your experience and skills and get paid conveniently with direct deposit.
TutorVista – TutorVista looks for tutors who specialize in Math, English, Physics, Statistics, Chemistry, and Biology, but occasionally has openings for other subjects. You'll need a Master's degree to tutor.
TutorVista recruits only committed tutors who can work evening and weekend hours, with a minimum of four hours required per day. Each session is usually about 45 minutes.
VIPKID – VIPKID is one of the most talked-about tutoring platforms around, especially by moms who want to work from home.
You can earn up to $22 per hour, have a flexible schedule, and teach with the materials provided to you.
Most tutors say that the job is super fun and easy, and you can even get bonuses by referring other eligible tutors and students to the platform!
Read our full VIPKID review.
How Else Can I Make Money with My Knowledge?
If you don't want to become a tutor online due to flexibility issues with scheduling, or don't meet the qualifications for the above jobs, try something a little more flexible and maybe even a little less demanding:
Become a Freelance Tutor
Instead of applying for jobs that govern how much you earn, like most of the ones I listed above, why not start your own tutoring business and be in charge of what you make?
As a freelance tutor, you can find your own students and adults to tutor online.
You won't have to sign up for any tutoring platforms and go through a rigid hiring process.
You won't have any specific hours to work or commitments to make.
And, you'll get to decide what your hourly or per-session rate is.
How can you go about becoming a freelance tutor?
The first step you need to make is creating a website for your business. This is where people can find out more about your tutoring services, what ages you cater to, your experience, how to contact you, and more.
There are two main ways you can then search for clients:
Use a freelance platform like Upwork to create a profile that lists the same details about yourself and your experience that you'd have on your website.
You can then use the platform's bids to apply for tutoring gigs you find.
Clients will set proposed budgets, but you can always apply with your rates and see what happens.
Seek out clients yourself, or have them come to you, by marketing yourself on social media, LinkedIn, and other platforms.
You'll use your website as the main hub for people to learn more about you, but you'll need to market it by driving people from other places to your site.
You might want to check with local schools and after-school programs to see if they'll let you post a flyer about your services in their lobby for parents and students to see.
Or, leverage platforms like Craigslist and Facebook Marketplace to advertise your services!
Get Paid to Answer Questions
Another way that you can "tutor" students online is to use your experience to provide helpful, detailed answers to people who need your help.
You won't necessarily be tutoring in the way you would using the websites I listed above, but it's still a similar idea I thought was worth mentioning.
JustAnswer, for example, seeks the help of experienced lawyers, doctors, mechanics, teachers, and more to provide answers to people who use the platform to ask questions.
You'll get paid according to how much you answer, your credentials, and more.
There are plenty of other websites that work similarly and help you use your teaching or subject matter expertise to aid others.
This list of websites will help you get paid to answer questions online! You'll still be able to use your knowledge of certain subjects to help others, but most of the websites are extremely flexible, allowing you only to work when you can.
Write Educational Materials
If writing is more your style, you can also sign up to write lesson plans, curriculum, and other academic content for these academic websites:
Websites like these let you use the subject experience you have, except you'll deliver your knowledge via various types of writing instead of through an online video tutoring session.
You can also look for these types of tutoring gigs on Upwork and other freelance sites.
And, if you have a few relevant pieces that you can add to a portfolio, you might even consider emailing educational companies who may need help creating lesson plans and other academic materials, like elementary curriculum companies or educational magazines.
Use Flexible Tutoring Apps
Did you know that there are also apps that let you make some extra side cash by sharing your knowledge or tutoring other students?
NiceTalk and Palfish are two examples of tutoring apps that allow you to help others learn English by speaking with them using your smartphone.
What's fun about these apps is you don't have to do much more than just have a regular conversation with the person on the other end.
The idea behind them is to aid others in learning English by using it regularly, so by having a normal conversation with you, they can learn more about grammar, pronunciation, and other facets of the English language.
There are several other tutoring apps, too, that don't just focus on teaching English to non-English speakers.
MyTutorLab is one of them that you can use to create a tutor profile and find students to teach via the app.
Wyzant is another popular app that's available on Google Play and the App Store.
Wyzant lets you apply for open jobs for tutors, book sessions, keep track of your students, and even text or call students safely.
Also, some of the websites I listed above have connected apps that can help you search for students, track your sessions and income, and even host sessions, so be sure to look for that when you visit them if it's an important feature for you.
Become a Blogger or Coach
The last suggestion I have for people who want to tutor online is another one that will let you provide tutoring in a unique way.
You can share your expertise for your particular subject(s) as a blogger or online coach!
These jobs are especially helpful for you if you're experienced in a subject that adults might find interesting, like crafting, auto mechanics, or gardening.
Of course, you can still provide help to young students by offering one-on-one coaching sessions in a subject area, creating online coursework in your area of expertise, or blogging about helpful resources kids can use to help them learn.
Blogging is an excellent avenue for sharing what you know and exploring what interests you while still making money.
You can use affiliate links, offer printable materials for parents to buy, and place ads on your site to generate revenue.
As a coach, you might charge per session or charge a flat fee for your tutoring course.
How to Choose the Best Online Tutoring Jobs to Make Money from Home
1. Identify Your Strengths and Expertise
Firstly, it's important to assess your own skills and knowledge.
Are you an expert in a certain field?
Do you excel at a particular subject?
What age group or level of understanding can you cater to effectively?
You should choose a subject or area of expertise that you are comfortable with and have a good understanding of.
This can range from academic subjects like Mathematics, English, or Science, to music, art, coding, and so on.
2. Research and Select Reliable Platforms
Next, research various online tutoring platforms. Look for sites that are well established and have a good reputation.
Read reviews from both tutors and students to get a sense of the platform's reliability and the satisfaction of its users.
Consider factors like the platform's commission, payment methods, and how they protect tutors' rights.
Some popular online tutoring platforms include Chegg, Wyzant, Tutor.com, VIPKid, and QKids.
3. Consider the Pay Structure
Different platforms offer different pay structures.
Some pay by the hour, others per lesson, and some offer a flat rate.
Some platforms set the price, while others let you set your own rates.
Make sure you understand the pay structure before signing up to tutor on a platform.
Also, consider your own financial needs and select a platform that allows you to meet them.
4. Check the Tutoring Methods and Tools
Different platforms also use different tools and methods for tutoring.
Some use video chat, others use chat-based tutoring, and some use a mix of tools.
Check if the platform provides a virtual whiteboard, the ability to share and edit documents, etc.
Choose a platform whose tools and methods you are comfortable with and which facilitate effective tutoring.
5. Assess the Time Commitment
Lastly, consider the time commitment. Some platforms require you to work a minimum number of hours per week or at specific times, while others are more flexible.
Consider your own schedule and availability. Be sure to choose a platform that fits in with your lifestyle and other commitments.
There are a lot of ways you can utilize these businesses to your advantage as a tutor, so now's the time to start brainstorming!
Have you tutored online with any of these websites?
Have you had success building a tutoring business of your own?
Let us know in a comment!
Related Posts:
Earn Everything… nearly!
Join Ipsos iSay, one of the few Faithful and Honest survey panels and earn prizes, gift cards and donations. Stack your points and redeem them: Simple! No hidden fees and completely free!