Can I work a Phone Job with Young Kids at Home?
Updated on: by Amy Kennedy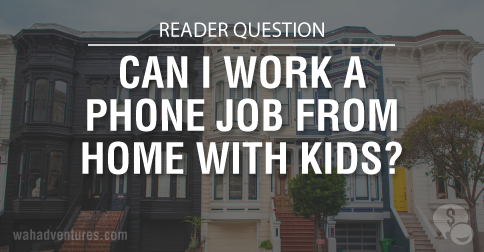 Often times I receive questions from readers wondering if there is any possible way to manage working from home on the phone with young children around. This is a unique question, as each person's situation varies. I have had personal experience working a call center job from home while having a one year old and a three year old at home. It didn't work out for me, but it was because of personal reasons that you will see in my response to this reader question, which I received the okay to share with you all.
Need Easy Extra $350+/Month For Free?
Do you know of any people who have one to two year olds, and held their job as call center agents from home? If so what tips do you have?
My Response: I did it. But I found I had to put my office in my garage and could only work when my husband was home to care for the kids. It was hard because he would fall asleep while I had a 1 and 3 year old!!!!
Which, ultimately caused me to find other work. I just couldnt comfortably "got to work" not knowing if they are even being watched….but that is my personal situation with a husband who was working third shift and seemed to always be tired at the time. I know of some other people who have been able to pull it off, but they had to work very part-time.
Some of them would work late at night after the kids went to sleep while others who work early in the morning before their kids woke up. But that would require knowing your own kids and if the noise would wake them, or if they have odd sleeping patterns.
This type of thing also requires that you find a call center job with VERY flexible scheduling. Here is a recent article of 9 virtual call centers with flexible scheduling. I worked for LiveOps, which was very flexible.
I believe my situation could have worked out, had my husband been able to handle it better. But I am glad it didnt because it forced me to find a non-phone job and it also led me to start my blog. I hope this helps in some way.
I believe Anna from RealWaystoEarn.com has an article on this subject that may be worth reading over for her tips as well.
The Bottomline
Understand that if you want to manage working from home with young kids around, you need to find a way that you can work in a quiet environment, without distractions. Which will mean someone has to care for your kids.
It is possible that working with young kids around is not possible for your situation. Or, it may just be very stressful trying to manage. If that is the case, there are non-phone work at home options and writing jobs. While there aren't as many and it can be harder to find a non-phone job that fits your needs, it may be your best option.
Alternatives and Navigation Strategies
Working from home with young children can indeed be a challenge, especially if your job involves a lot of phone calls. However, there are here are some alternatives and strategies that you can consider:
Shift Your Work Hours: Depending on the flexibility of your job, you could work early in the morning or late at night when your children are asleep.
Work Around Nap Times: If your children still take naps, try to schedule your most important calls during this time.
Create a Dedicated Workspace: Have a dedicated, child-free zone where you can focus on your work without interruptions.
Hire Help: Consider hiring a babysitter, nanny, or enrolling your children in daycare. Even if it's for a few hours a day, it could provide you with a quiet time to work.
Set Boundaries: If your children are old enough, explain to them that you need quiet times during the day for work. Establish some rules around when and why they can interrupt you.
Alternatives to Phone Calls: Explore whether you can use other communication methods for your work, such as emails, instant messaging, or asynchronous video messages.
Noise-Canceling Headphones: These can be a lifesaver when you need to focus on a call but there's background noise in your home.
Job Sharing: If your job allows, you can share your job with someone else. This means you both work part-time, providing you more flexibility.
Remote Jobs Not Involving Phone Calls: Consider switching to a job that doesn't involve as many phone calls. This could be something like data entry, programming, writing, graphic design, or social media management, which often can be done entirely via email or other non-verbal communication methods.
Job Sharing with Your Partner: If you have a partner, consider sharing the responsibilities of childcare and work. For example, you may work in the morning while your partner cares for the kids, and then you switch in the afternoon.
Related Posts:
Earn Everything… nearly!
Join Ipsos iSay, one of the few Faithful and Honest survey panels and earn prizes, gift cards and donations. Stack your points and redeem them: Simple! No hidden fees and completely free!