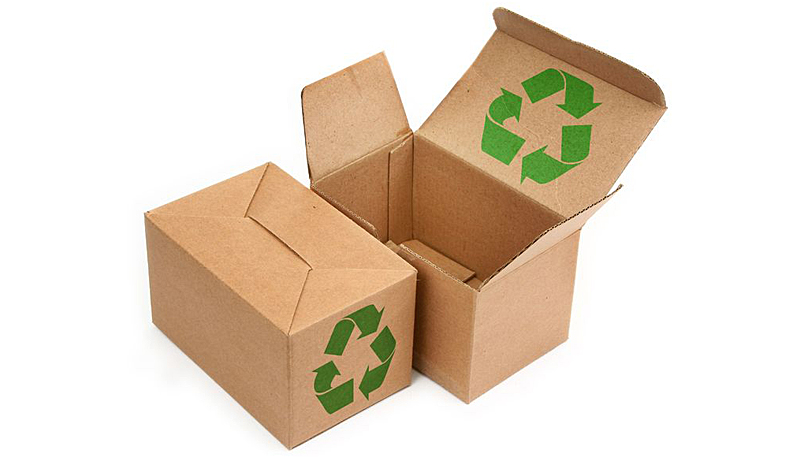 Do you have a bunch of extra cardboard boxes lying around your home that you don't know what to do with?
Need Easy Extra $350+/Month For Free?
Did you just move and have extra cardboard?
Or maybe you have leftover cardboard boxes after buying lots of beer for a party?
Well guess what?
You can profit from cardboard boxes recycling for money programs!
You will gain money and all you need to do is invest some time in collecting cardboard.
The first step is to collect cardboard boxes and then look for ways to resell and recycle the cardboard for profit.
Did you know that approximately 36 million Americans moved between 2012 and 2013?
This is based on numbers from the Census Bureau.
Think about all the cardboard boxes that were used!
People who are looking to move often purchase cardboard boxes from Uhaul or UPS in order to store all their belongings for the move.
Once they have unpacked all their stuff, the cardboard boxes are often thrown out or recycled at the local city recycling center.
Throwing out these boxes after moving is a waste since you could be picking up some extra cash instead.
There are companies that pay anywhere from 50 cents to two dollars per box depending on the size.
These companies then profit by selling the cardboard boxes to people who are moving to a new residence.
Keep reading to learn how you yourself can profit by recycling used cardboard boxes.
How You Can Start Your Own Cardboard Boxes Recycling for Money Program
There are multiple ways you can begin a paid cardboard box recycling program.
A number of different places allow you to collect boxes so that you can make enough money on recycling.
You'll need to take part in some legwork before making any money on this project.
So be sure to follow a great strategy for collecting cardboard boxes.
Need Easy Extra Cash?

Easy Extra Cash! Join PointClub and get access to the best paid online survey opportunities. Take Online Surveys, Make Money, It's That Easy! No hidden fees and completely free!


1. Check Out Your Own House
You can start this process by looking around your own home.
Try to find the biggest boxes.
These are easier to resell and recycle.
Keep small or tiny boxes for your own storage purposes.
If you find a wardrobe box with a metal rod, you can resell this for more than two dollars.
Take a look in your attic, your basement, or your garage.
You'll be sure to find a few extra boxes collecting space for little reason.
The boxes can have writing on them but make sure they are not damaged and are in good condition.
This makes it much simpler to resell.
2. Talk to Friends and Family to Find Boxes
You'll want to ask your friends and family to see if anyone has any extra cardboard boxes lying around.
Once again, make sure these boxes are in good condition before taking them.
You'll find most people are happy to help especially if it means they'll get rid of large, unwanted boxes.
3. Take a Look at Craigslist's Free Section
If you spend some time browsing through your local Craigslist website, you'll find lots of people who want to get rid of cardboard boxes taking up space in their home.
Look through the Free Section of your local Craigslist site and you'll find people giving away their moving boxes for free.
You'll find a free section in your city.
Search through it and then you can go pick up cardboard boxes right by the curb.
4. U-haul Box Exchange Program
You can find the U-haul Box Exchange Program through an online forum developed by the U-haul moving company.
The online forum allows people to exchange cardboard boxes with each other especially when they're moving.
There are people who give boxes for free on the forum as well.
So check it out! It may be a great choice for you to get free cardboard boxes.
5. Freecycle.org
Another great idea is to check out the website Freecycle.org.
This particular website gives people a chance to give away some of their belongings for free.
Take a look at the site and see whether anyone is giving away free cardboard boxes.
6. Grocery Stores
Another great place to find some free cardboard boxes is your local grocery store.
These stores often have a bunch of boxes they no longer need.
Do you have a Savers or some type of cheap grocery store in your area?
Many places in the Northeast have a Price Chopper.
These stores tend to have plenty of cardboard boxes you can pick up for free.
In fact, store managers are happy to have these boxes taken off their hands.
7. Liquor Stores
We all have a local liquor store in our town or city.
The best part is that these stores often have extra cardboard boxes that were used to store wine, beer, and other alcoholic products.
A lot of these boxes are thrown in the trash after the beer, liquor and wine bottles are unpacked.
You can ask your local liquor store owner if you can pick up the cardboard boxes instead.
I'm sure they'll be happy to let you take them off their hands and recycle them somewhere else.
8. Starbucks
Coffee shops like Starbucks receive their products and shipments via cardboard boxes.
Several shipments come in every week.
The vast majority of their coffee products and food are packaged in cardboard boxes.
Ask the owner or manager of Starbucks if they're willing to donate these boxes to you.
It might be an easy way to recycle cardboard boxes and make some extra cash!
9. Bookstores
Do you have a few bookstores in your area?
Maybe there's a bookstore at a college nearby?
If so, you'll find that a lot of books are delivered to relevant stores in cardboard boxes.
Bookstores are a great place to find boxes in good condition.
Ask the managers if they can donate their boxes once in a while.
10. Local Businesses and Stores
There are lots and lots of businesses that often have extra cardboard boxes lying around.
These businesses are a great source to find some cardboard boxes to recycle.
Many businesses need office supplies and other products.
Some sell their products and need regular shipments.
These shipments often come in large and sturdy cardboard boxes.
These are great to recycle easily and make some money on the side.
Check out if any businesses are getting rid of their boxes on Craigslist through the Free Section.
You can also try calling up some local businesses on the phone to see if any have extra cardboard boxes they're willing to part with for free.
Be sure to call up businesses in your local region because there's no need to drive far distances to pick up cardboard boxes.
The math is on your side.
If you can collect up to 200 cardboard boxes, you can make anywhere from $200 to $400.
You can then go onto find companies and places that are looking to buy used cardboard boxes.
Reselling these boxes will leave your wallet full of extra cash.
If you're looking to take your significant other out on a fancy date or you just need a little extra cash to cover your monthly rent, reselling cardboard boxes is one good solution.
Where to Sell Cardboard Boxes
Now that you know where you can collect cardboard boxes, you're probably wondering, 'Who buys used moving boxes?'
After collecting these boxes, you can make some extra money by selling the boxes through Craigslist.
Check out the "For Sale" section and find people who are looking for boxes in order to move.
The fastest ways to get paid for your cardboard boxes, however, is through certain websites.
There are five specific websites you should check out.
If you want to get paid well for your large cardboard boxes, take a look at these five major websites:
Through these websites, you will make at least 50 cents per box and as much as $1.50 for every large cardboard box.
You could also look to taking your cardboard boxes to a recycling center.
How to Find Cardboard Recycling Centers that Pay Near Me
Try to call up your local recycling centers.
Take a look at a phone book in your area to find their phone numbers.
Ask those recycling centers if they can pay you for recycling cardboard boxes.
One or two will likely say yes.
Recycling centers often recycle paper, plastic, cans, and more.
So some cardboard boxes are definitely recyclable with these centers.
So take those boxes to the recycling centers and you will get paid in return.
How much do recycling centers pay for cardboard boxes?
Unfortunately, these centers won't pay you as much as moving companies like UPS or some other businesses.
They may pay anywhere from 10 cents to a quarter per box.
Selling boxes to people looking to move or as storage through the websites above may be a better idea.
You'll likely get paid more.
Conclusion: Keep Looking for New Avenues
Once you've gotten an idea of where to find these cardboard boxes and having a place to resell the boxes, you can begin to look for different avenues where you can recycle cardboard.
Get creative and think of new strategies.
The more boxes you can collect and resell, the more money you'll have in your pocket.
So remember – recycling cardboard boxes is a great way to make some extra income!
Related Posts:
Want more money?

Join Surveyo 24 #1 paid survey site. It's easy - complete a survey and receive payment. No hidden fees and completely free!