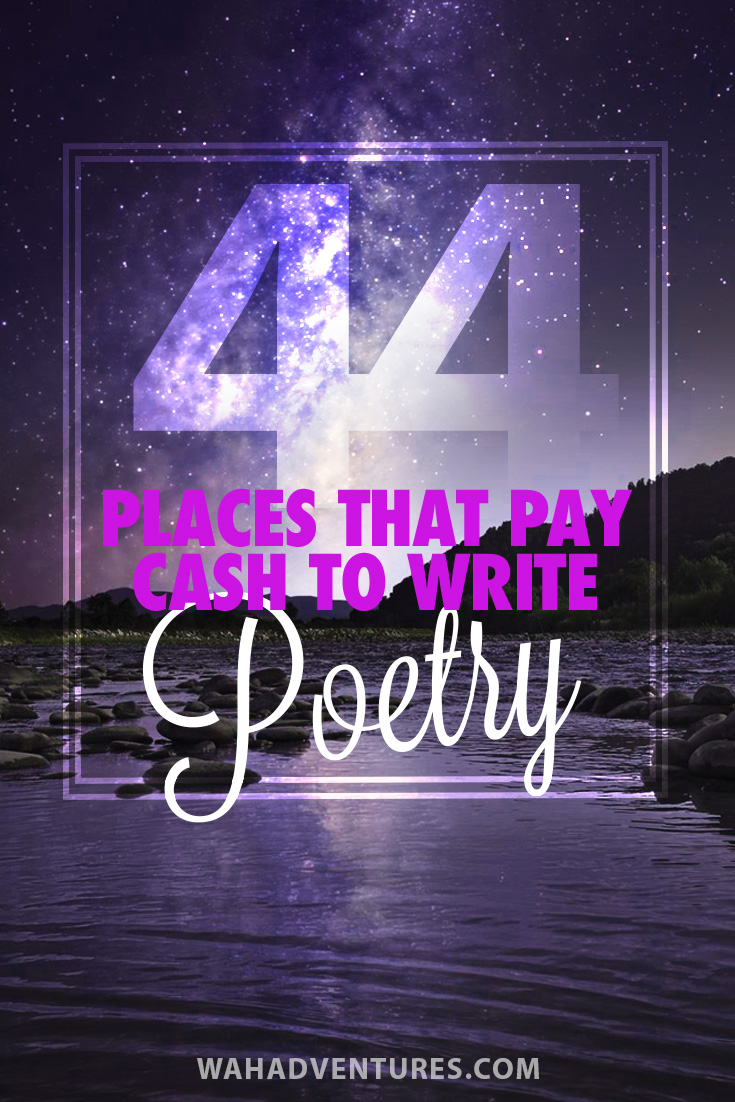 Are you a great writer who has a flair for making great poems?
Need Easy Extra $250+/Month For Free?
I'd like you to know that there are lots of places online where you can get paid cash to write poetry.
But in order to make the most out of your writing skills, you have to look around.
The process for how to publish poems and earn money can vary based on where you go.
Also, some places focus on more specific types of poems for you to enjoy writing.
Poems In Big Publications
Many of the top publications around allow you to write poems and get them published in their works.
You can get money for getting your work published and exposed to a larger number of people.
These places include such options as the following that work in print and online formats for the most part:
Get from $100 to $200 for each accepted poem.
It may take weeks for you to hear back though, what with the Sun getting thousands of submissions each month.
Have your work published in Poetry Magazine for $10 per line with a minimum payment of $300.
You can get $150 per page of prose as well.
Get $50 per poem that is accepted or $100 for each that is published in the next print edition of Rattle.
You could earn a $1,000 award if your poem is considered to be the best of the year.
Another place devoted to unique and original fictional work, this place pays $20 to $200 for each poem.
The popular magazine gets about 5,000 submissions a year and is very competitive.
You can still get at least $15 for each poem you submit and have accepted.
Earn $10 to $50 for an accepted poem on this journal that is promoted as being a leading voice in the world of prose and fiction.
Earn $200 for each accepted poem you submit.
You must send in your poem by mail as emails are not accepted.
Send up to five poems at a time and earn $25 to $250 for each one that is accepted.
A 200-line limit has been imposed.
Light verse is not accepted.
Operated by Cornell, this is a place that rewards those who have the best poetry and fiction talents.
Earn at least $50 for each submission that is accepted here.
This Canadian publication pays $40 to $70 for each poem it accepts for its issues.
Earn $30 for each poem that you write that is accepted on the popular publication.
This Canadian magazine accepts all sorts of poems and even has an annual themed issue.
Earn $15 for each poem accepted but remember that you can only submit up to three of them and that you can only send your work out once in a calendar year.
The famed series of inspirational books and works is always taking in inspirational poems and other fictional works.
Earn up to $200 for any submission you bring in.
This is a Brooklyn-based magazine that takes in submissions through Submittable.
The magazine focuses on contemporary and post-modern work for the most part.
The publication pays $75 for each poem it gets.
Academic Groups
Many academic groups will take in your poems and pay you for them although you would often have to pay something just to get a poem reviewed first:
Operated by the University of Alabama, this publication takes in many poems in various forms.
I found that they do give you a lump sum payment for any poems that are accepted but it does cost $3 to get a work submitted.
Another academic publication, this is run by the University of Iowa.
The publication especially works well for new writers.
You can get $1.50 per line for your poem with a minimum of $40 but you will have to spend $4 to submit your work.
This is a literary publication operated by Colorado State University.
It accepts all kinds of poems and will pay out at least $30 for works it accepts. It costs $3 to submit a single entry.
Texas Tech University operates this publication that highlights new writers.
The work pays $50 for each poem although different themes are used in each publication so make sure you write based on a particular theme.
Also, a $5 submission fee is required for each work.
Get Paid Cash to Write Poetry for Online Groups
Some of the places that will pay you are online groups:
I could not find any real info on this place except that it pays $20 to $150 for each poem it accepts.
All types of poetry is accepted by VQR Online.
There are no length requirements either.
You can get $200 for any poem that you send in that is accepted.
Earn up to $30 for your work on this popular online publication site.
This place only accepts one submission at a time so don't flood anything that the site has.
This place is a rather intriguing online publication site.
They pay 3 cents per word but I wasn't able to figure out what the maximum length of a poem can be.
Operated by Emerson College, this is a place that offers unique fictional works online.
Designed with emerging writers in mind, it pays $25 to $250 for each poem it gets.
Niche-Oriented Places
Some spots that accept poems are ones that work with certain niches in mind.
These are places where you can be paid for your work in various special forms.
This place focuses on more fantasy-oriented poetry works and other forms of prose.
Earn $10 or more for each accepted submission.
This place is interested in science fiction and fantasy work.
Payments go from $5 to $20.
A popular place for fantasy writing, this is great if you are interested in all sorts of fantastic and unique forms of poetry.
Get $12 for each poem posted plus two copies of the magazine that features your work.
About 15 to 20 poems are published in each magazine.
This online magazine focuses on speculative poetry.
Get $40 for each poem that is published.
Experimental poetry is the focus on this publication.
Each $50 for each published page of poetry with a maximum of $150.
A poem can be up to 600 words in length.
You should only make one submission for each coming issue.
Also, you would have to send your work through Submittable as it's the only place they accept submissions from.
Orion Magazine concentrates on environmental issues for the most part.
The place accepts poems with $100 for each that is published.
This is a rather selective publication though.
Earn Money by Writing Poems Online For Kids
Do you have kids that enjoy writing their own poems?
If so then you should check out some of the places where they can get their work published.
These include places where people can earn money for their submissions.
Of course, these are also spots where people who write for kids can get their work published at just as well.
Earn $10 for each poem published.
Get from $50 to $100 for each poem.
I could not find details on what makes some people get more for their poems though although I bet it involves length.
Earn $35 or more for each poem that is accepted.
Jack and Jill, a more prominent publication offered by US Kids, pays from $25 to $50 for accepted poems.
Check Out Contests
Some specific contests are available throughout the year.
These are places that offer "can I sell my poems for money" competitions where you could earn more off of your work.
But you will put up with plenty of competition among other people who want to get their work published just as well.
These contests of interest include the following:
Receive $1,500 and a full publication of your poem in this contest run by the literary and political publication.
Another high-value contest, this offers $1,000 to the winner.
The poetry work particularly focuses on health-related issues.
You can send as many as three poems at a time for review but they must be in the same document.
The noteworthy poetry site has various contests where you can win prizes for having the best-quality poems.
These poems are typically judged by experts in the field who run these contests.
You could get $25 in a daily contest or $250 in a monthly event.
An annual prize for the best poem is $5,000 for the best work that was released in the entire year.
FanStory has a number of contests throughout the year dedicated to specific types of poems in a variety of fields.
The site offers many contests with different themes but the totals that they give out vary by each one.
Submit to Greeting Card Companies
Another choice you have is to submit your poetry to greeting card companies.
There are many places that take in such poems:
This greeting card company cares about sentimental work and is not aiming for humor, rhyme or religion.
It focuses on the emotional aspects that come with many values.
You will get $300 for each poem published on a card or $50 for what is published in a book.
This next place focuses on humorous cards for all sorts of special occasions.
These are ideal for birthdays and holidays alike. Earn $100 for each submission you have that is accepted.
One of the top greeting card companies in the country, American Greetings is always taking in submissions for cards in a variety of styles and formats.
The pay will vary by each project so be sure you look at how well you are producing something before you submit it.
I could not find details on what they pay although I have found totals from $100 to $200 depending on the kind of card you submit something for.
Papyrus focuses on uplifting and positive messages in all of its cards.
You can submit many poems to them by mail for consideration for their cards.
I could not find details on what they will pay for each submission that is accepted though although those submissions are open throughout much of the year.
Alternate Options
There are a few other alternative options that deserve to be mentioned here:
Offer your writing services to people who need poems.
You can sell services for about $5 each and then get paid even more for your successful work.
By promoting your writing work, you will get more money from a variety of people interested in sharing your work.
Post your poems on a variety of things like home décor or apparel items.
You can make money selling items on them.
Design shirts and other products like home décor items with your poetry works on them.
The totals you can earn will vary based on what you sell with your designs on it.
Publish your poem on cards, posters, wall art and other items that can be printed through Zazzle.
This place pays its writers well for the items that they sell.
Related Posts:
Teach English via Video-Conferencing for $14-$22 Per Hour

VIPKID is currently looking for online teachers to teach young students in China via video-conferencing. Teachers will earn on average between $14-$22 usd per hour. This opportunity is ideal for teachers looking to supplement their income.
Requirements:
- One (1) school year of traditional teaching experience or the equivalent in mentoring, tutoring, or alternative education
- Bachelor's degree in any field
- Eligibility to work in the US or Canada