Top 68+ Places That Pay Cash to Write Poetry Online
Updated on: by Amy Kennedy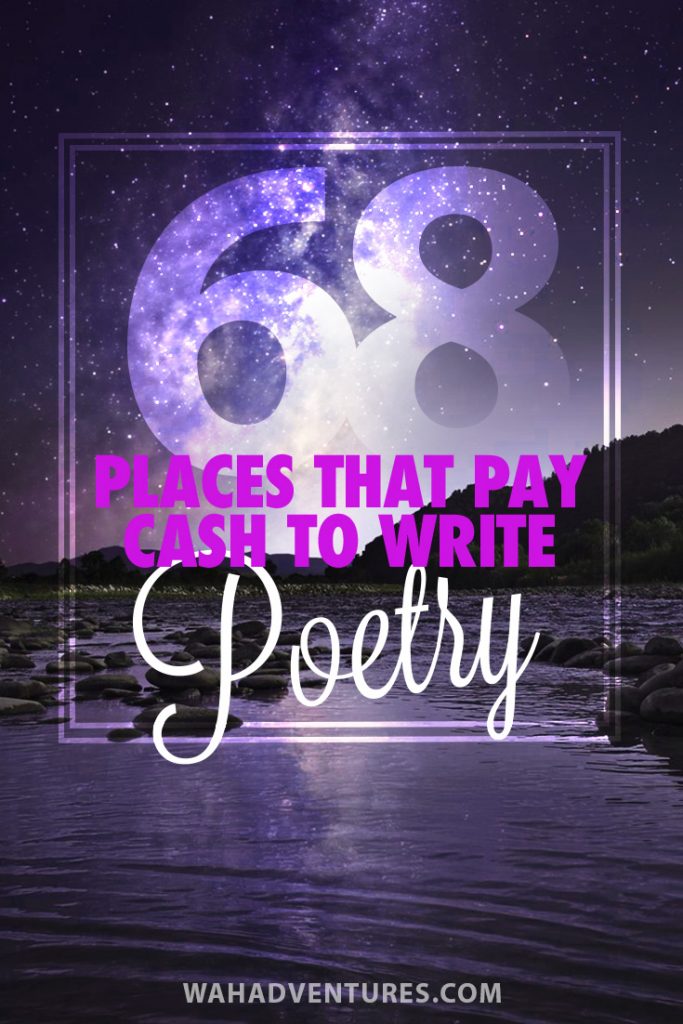 Are you a great writer who has a flair for making great poems?
Need Easy Extra $350+/Month For Free?
I'd like you to know that there are lots of places online where you can get paid cash to write poetry.
But in order to make the most out of your writing skills, you have to look around.
The process for how to publish poems and earn money can vary based on where you go.
Also, some places focus on more specific types of poems for you to enjoy writing.
Regardless, it's 100% possible to make a living just by writing poetry, your favorite hobby!
This article offers several different paths you can take to sell your poetry and start earning the enjoyable living you've always dreamed of.
Before You Pitch Your Poetry…
There are some important tips you might want to take along with you.
If you're new to the pitching process (which just refers to sending an editor of a journal, magazine, etc. your idea for submission) then it's best to go in with a few expert tips that can guide you along.
First, be sure to read the publication to which you're submitting.
This is the absolute most important thing you can do to win over an editor.
Editors want to see that you're familiar with the publication.
Maybe a specific poem or an author really interested you – be sure to note that in your pitch!
Most importantly, reading the publication will help you understand what kind of poetry that publication typically likes to see, which can help you create poems that fit perfectly for that publication (or show you that you might want to publish elsewhere that's a better fit).
You should also be sure to read the submission guidelines.
Every publication will have a set of rules for submissions, such as length of poetry, how to send your poem, and who you should address.
Need Easy Extra Cash?
Pinecone Research, a leading name in online survey panel honesty, absolutely guarantees $3 cash for every survey you complete!
Take advantage of their time limited New Membership drive and register NOW. Join today: 100% free!


These instructions are gold; if you don't follow them, you likely won't ever hear back.
Finally, unless otherwise stated by the publication, make sure the poems you pitch are originals.
In other words, don't pitch poems that you've written for another publication or have published in a book or on your blog.
Most publications will want to know that they're getting an original work written just for them. If that's not a requirement for a particular publication, it'll let you know in the submission guidelines.
Now, let's find places to send your poetry!
Poems In Big Publications
Many of the top publications around allow you to write poems and get them published in their works.
You can get money for getting your work published and exposed to a larger number of people.
These places include such options as the following that work in print and online formats for the most part:
Get from $100 to $200 for each accepted poem.
It may take weeks for you to hear back though, what with the Sun getting thousands of submissions each month.
Have your work published in Poetry Magazine for $10 per line with a minimum payment of $300.
You can get $150 per page of prose as well.
Get $50 per poem that is accepted or $100 for each that is published in the next print edition of Rattle.
You could earn a $1,000 award if your poem is considered to be the best of the year.
Another place devoted to unique and original fictional work, this place pays $20 to $200 for each poem.
The popular magazine gets about 5,000 submissions a year and is very competitive.
You can still get at least $15 for each poem you submit and have accepted.
Earn $10 to $50 for an accepted poem on this journal that is promoted as being a leading voice in the world of prose and fiction.
Earn $200 for each accepted poem you submit.
You must send in your poem by mail as emails are not accepted.
Send up to five poems at a time and earn $25 to $250 for each one that is accepted.
A 200-line limit has been imposed.
Light verse is not accepted.
Operated by Cornell, this is a place that rewards those who have the best poetry and fiction talents.
Earn at least $50 for each submission that is accepted here.
This Canadian publication pays $40 to $70 for each poem it accepts for its issues.
Earn $30 for each poem that you write that is accepted on the popular publication.
This Canadian magazine accepts all sorts of poems and even has an annual themed issue.
Earn $15 for each poem accepted but remember that you can only submit up to three of them and that you can only send your work out once in a calendar year.
Earn Everything… nearly!
Join Opinion Outpost, one of the few faithful and honest survey panels and earn cash and gift cards for your opinion. Stack your points and redeem them: Simple! No hidden fees and completely free!


The famed series of inspirational books and works is always taking in inspirational poems and other fictional works.
Earn up to $200 for any submission you bring in.
This is a Brooklyn-based magazine that takes in submissions through Submittable.
The magazine focuses on contemporary and post-modern work for the most part.
The publication pays $75 for each poem it gets.
The Atlantic is one of the largest publications of our time, so imagine how cool it would be to get published there?
Yes, you can even submit your poetry and fiction here.
Although the prices for poems aren't listed on the site, other reports show that it typically pays between $0.05 and $0.20 per word.
You can submit up to five poems at a time here.
The Christian Science Monitor specifically states not to send in poems that relate to dying, aging, illness, or anything violent, sexual, or too religious.
You can mail in submissions or send them online to this publication via Submittable.
There are only two open submission periods per year, but they are 3 months long.
Tupelo Quarterly is a respected literary magazine that publishes poetry, fiction, and nonfiction. 
While they don't specify payment rates on their website, literary magazines like Tupelo Quarterly typically offer compensation ranging from $25 to $250 per accepted piece, depending on factors such as length and quality.
Poetry Super Highway is an online community and platform that promotes poetry and supports poets. 
They provide opportunities for poets to submit their work for publication in their annual print anthology. 
Accepted poets receive one free copy of the anthology, but there is no direct cash payment for publication.
Academic and Literary Journals
Many academic groups will take in your poems and pay you for them.
These can be an excellent springboard for poets who haven't yet been published to get their names out there in the poetry world:
50 Haikus is a journal that publishes both new and experienced poets in each issue.
In addition to getting paid for accepted submissions, all contributors will receive a free one-year subscription to 50 Haikus Online.
Eunoia Review is an online literary journal that publishes poetry, fiction, and creative nonfiction. 
They don't mention specific payment rates on their website, but similar journals often offer compensation in the range of $5 to $50 per accepted piece.
Rogue Agent is a poetry journal that focuses on work by self-identifying women, femmes, and non-binary poets. 
While they don't disclose payment details on their website, poetry journals typically provide compensation ranging from $5 to $50 per accepted poem.
Send up to six poems per submission. It will cost $3 to submit via the online platform to help sustain the cost of the platform.
You'll get $10 per printed page or a minimum of $50, plus a contributor copy and a free one-year subscription to Arts & Letters.
You can send up to six poems at a time through mail or via the online platform to Blackbird.
You'll get paid after the poems get published.
Operated by the University of Alabama, this publication takes in many poems in various forms.
I found that they do give you a lump sum payment for any poems that are accepted but it does cost $3 to get a work submitted.
Another academic publication, this is run by the University of Iowa.
The publication especially works well for new writers.
You can get $1.50 per line for your poem with a minimum of $40 but you will have to spend $4 to submit your work.
This is a literary publication operated by Colorado State University.
It accepts all kinds of poems and will pay out at least $30 for works it accepts. It costs $3 to submit a single entry.
Texas Tech University operates this publication that highlights new writers.
The work pays $50 for each poem although different themes are used in each publication so make sure you write based on a particular theme.
Also, a $5 submission fee is required for each work.
You can get your poems published in the printed edition of Kenyon Review or on its online publication (all submissions will be considered for both).
Your work must not have been published anywhere else in print or online.
This publication comes from the Queens University of Charlotte and pays $100 for prose and $50 for poems.
The University of Florida publishes this literary journal.
You do have to pay $3 per submission, but if yours is accepted, you'll get $100.
You can also submit short stories and essays for a flat fee of $1,000.
Interestingly, The American Journal of Nursing accepts poetry and artwork as well as papers, case studies, and other forms of content.
You can head to the website to get a detailed overview of submissions policies.
Send up to 3 or 4 submissions at a time to this creative writing journal.
Twice a year, submissions open for those who wish to contribute to The Baltimore Review.
You should hear back within four months and are advised not to send anymore submissions to the publication until you do hear back.
You'll get $40 via PayPal or an Amazon gift card.
This publication accepts up to five poetry submissions at a time through its online form.
Get Paid Cash to Write Poetry for Online Publications
Some of the places that will pay you are online groups:
I could not find any real info on this place except that it pays $20 to $150 for each poem it accepts.
All types of poetry is accepted by VQR Online.
There are no length requirements either.
You can get $200 for any poem that you send in that is accepted.
Earn up to $30 for your work on this popular online publication site.
This place only accepts one submission at a time so don't flood anything that the site has.
This place is a rather intriguing online publication site.
They pay 3 cents per word but I wasn't able to figure out what the maximum length of a poem can be.
This online publication publishes nonfiction, fiction, and poetry.
It's even published works by John Steinbeck, Arthur Miller, and other famous writers.
The submissions page is currently not working, but you can email the magazine using the address listed on the site.
Operated by Emerson College, this is a place that offers unique fictional works online.
Designed with emerging writers in mind, it pays $25 to $250 for each poem it gets.
Niche-Oriented Places
Some spots that accept poems are ones that work with certain niches in mind.
These are places where you can be paid for your work in various special forms.
This place focuses on more fantasy-oriented poetry works and other forms of prose.
Earn $10 or more for each accepted submission.
This place is interested in science fiction and fantasy work.
Payments go from $5 to $20.
A popular place for fantasy writing, this is great if you are interested in all sorts of fantastic and unique forms of poetry.
Get $12 for each poem posted plus two copies of the magazine that features your work.
About 15 to 20 poems are published in each magazine.
This online magazine focuses on speculative poetry.
Get $40 for each poem that is published.
Experimental poetry is the focus on this publication.
Each $50 for each published page of poetry with a maximum of $150.
A poem can be up to 600 words in length.
You should only make one submission for each coming issue.
Also, you would have to send your work through Submittable as it's the only place they accept submissions from.
Orion Magazine concentrates on environmental issues for the most part.
The place accepts poems with $100 for each that is published.
This is a rather selective publication though.
Strange Horizons seeks speculative, high-quality, and slipstream poetry.
Confessional, formal, and science fiction poetry is all welcome here.
Contributors get $40 per accepted poem.
Three Line Poetry is a site dedicated to – you guessed it – three line poems!
You can submit your poems via the online form.
Willow Springs is a poetry-focused publication that seeks contributions from freelancers.
Contributors get $100 for long-form prose, $40 for short prose, and $20 for a poem.
Earn Money by Writing Poems Online For Kids
Do you have kids that enjoy writing their own poems?
If so then you should check out some of the places where they can get their work published.
These include places where people can earn money for their submissions.
Of course, these are also spots where people who write for kids can get their work published at just as well.
Cricket Media is responsible for several child-focused publications, like LADYBUG and BABYBUG.
Writers of any level can contribute to the publication of their choice.
Click on the name of the publication on the website to be taken to specific submission guidelines for each.
Earn $10 for each poem published.
Get from $50 to $100 for each poem.
I could not find details on what makes some people get more for their poems though although I bet it involves length.
Earn $35 or more for each poem that is accepted.
Jack and Jill, a more prominent publication offered by US Kids, pays from $25 to $50 for accepted poems.
Check Out Contests
Some specific contests are available throughout the year.
These are places that offer "can I sell my poems for money" competitions where you could earn more off of your work.
But you will put up with plenty of competition among other people who want to get their work published just as well.
These contests of interest include the following:
Receive $1,500 and a full publication of your poem in this contest run by the literary and political publication.
Another high-value contest, this offers $1,000 to the winner.
The poetry work particularly focuses on health-related issues.
You can send as many as three poems at a time for review but they must be in the same document.
The noteworthy poetry site has various contests where you can win prizes for having the best-quality poems.
These poems are typically judged by experts in the field who run these contests.
You could get $25 in a daily contest or $250 in a monthly event.
An annual prize for the best poem is $5,000 for the best work that was released in the entire year.
Enter your favorite poems via this site for a chance to win up to $2,000 in cash and prizes.
Contests are monthly and the themes will vary.
FanStory has a number of contests throughout the year dedicated to specific types of poems in a variety of fields.
The site offers many contests with different themes but the totals that they give out vary by each one.
This site accepts submissions for its seasonal poetry contests.
The winner gets $300 and publication in its magazine, F(r)iction.
It does cost $8 per entry, but you can enter three for a discounted rate of $12.
Submit to Greeting Card Companies
Another choice you have is to submit your poetry to greeting card companies.
There are many places that take in such poems:
This greeting card company cares about sentimental work and is not aiming for humor, rhyme or religion.
It focuses on the emotional aspects that come with many values.
You will get $300 for each poem published on a card or $50 for what is published in a book.
This next place focuses on humorous cards for all sorts of special occasions.
These are ideal for birthdays and holidays alike. Earn $100 for each submission you have that is accepted.
One of the top greeting card companies in the country, American Greetings is always taking in submissions for cards in a variety of styles and formats.
The pay will vary by each project so be sure you look at how well you are producing something before you submit it.
I could not find details on what they pay although I have found totals from $100 to $200 depending on the kind of card you submit something for.
Papyrus focuses on uplifting and positive messages in all of its cards.
You can submit many poems to them by mail for consideration for their cards.
I could not find details on what they will pay for each submission that is accepted though although those submissions are open throughout much of the year.
Calypso creates various lines of cards for different occasions.
The company reviews submissions for writing and artistry several times per year.
This company doesn't always accept submissions, but it will place a notice on its page when it opens them back up.
RSVP looks for creative, succinct, and original writing for its cards.
You can submit poetry to Viabella, another greeting card company, which takes up to six weeks to respond to submissions.
Alternate Options for Poetry Writers
There are a few other alternative options that deserve to be mentioned here:
Offer your writing services to people who need poems.
You can sell services for about $5 each and then get paid even more for your successful work.
By promoting your writing work, you will get more money from a variety of people interested in sharing your work.
Post your poems on a variety of things like home décor or apparel items.
You can make money selling items on them.
Design shirts and other products like home décor items with your poetry works on them.
The totals you can earn will vary based on what you sell with your designs on it.
Publish your poem on cards, posters, wall art and other items that can be printed through Zazzle.
This place pays its writers well for the items that they sell.
Upwork is a marketplace for freelancers to connect with clients and use their skills to complete projects.
You can look specifically for writing gigs or use the search bar to seek out poetry-related jobs.
You might find clients who are looking for someone who's skilled with poetry to publish new poems on their blogs or write a poem collection for an eBook.
You Can Also Start Your Own Business as a Poetry Writer!
Submitting multiple poems to sites all across the web isn't really the best way to earn a consistent income as a writer of poetry.
They do come in handy for some extra cash, though.
The real way to make money with your love of poetry is to start a business based on your poems.
How do you do that?
I'm so glad you asked because I have several ideas for you:
Start a Poetry Blog
Can you imagine how fun it would be to write a whole blog full of poetry and things related to poetry?
Not only would it be fun for you to feature your poems, but it would also be fun for your readers to enjoy your poems and learn more about creating poetry.
It works well for blogs like Frontier Poetry and Eat This Poem.
The great thing about blogs is that you can make money with them through things like sponsorships or using it to help sell products, like printed poetry or a poetry eBook.
You can also place ads and affiliate links to relevant products to make some cash.
Edit Poetry
When writing becomes stale, there's always editing work that you can fall back on.
Editing poems can be a great way to still delve into poetry but do so on the other side by critiquing and guiding the work of others.
You can find poetry editing gigs on any freelance marketplace or reach out to your favorite poetry publications to see if they're in need of a freelance editor.
Tutor Students in Writing Poetry
Another way to still be involved with poetry in a more indirect way is by tutoring students in poetry.
Your local school districts might be open to you sending out flyers to students for one-on-one or group tutoring sessions, but you can also find this work online.
Check out online tutoring companies that allow tutors to teach students in writing subjects.
It's very likely you'll find that poetry tutors are needed for high schoolers and college students.
Browse this list of online tutoring companies to find a company that needs poetry tutors!
Coach Budding Poets
Online coaching is a very popular career to get into now, and you've probably seen a lot of bloggers start coaching in their niches.
In fact, online coaching is one of the most common ways for bloggers to make money with their blogs!
Offering a coaching service to help people become more skilled at writing poetry not only moves you up into authority figure status, but also gives you a pathway to create courses, eBooks, and other materials that people will want to buy from you.
You can start creating courses with Udemy, which can be completely free, or you can opt for its paid marketing plan in which it even markets your course for you.
Write a Poetry Book or Book About Poetry Writing
Have you ever thought about turning your poems into a collection?
Now may be a good time to do it!
Selling an eBook can give you consistent income over time and you can create one for minimal costs, especially if you use a service like Amazon Kindle Direct Publishing.
It's a self-publishing platform that creates your book for you, publishes, and sells it on its platform.
You'll get up to 70% in royalties every time your book sells on Amazon!
If you don't think you have enough poems yet to turn into a collection, why not write a book about writing poetry?
You can gear it toward students, perhaps, who might want to boost their poetry writing skills.
You might even create a poetry writing curriculum for middle or high school students or colleges.
Become a Greeting Card Writer
Did you know that you can become a greeting card writer with your own business and shop?
Neither did I until I discovered Card Gnome.
This interesting business model lets you create your own greeting cards to sell using the Card Gnome online platform.
You'll need to have some artistry skills, too (or know someone who does) to create a full card, but you'll then be able to put your unique poems inside of them.
For every card you sell, you get 10% of the price and you can cash out when you have at least $10 in your account.
People can buy your card multiple times giving you consistent profits and you'll never have to hold any inventory or worry about shipping costs!
Make Money Writing Poetry
Poetry is an amazing outlet for your thoughts and feelings, and it's even better when you can find a home for your poems that pays!
The giant list above should have plenty of places for you to sell your poems to, but I also recommend considering one of the business ideas I mentioned.
Not only will you get to keep full copyrights of your poems when you use them for your own business, but you can also make a sustainable living with any of those ideas.
Have you sold poems online before? Where and how have you had luck doing so? We'd love to hear your thoughts in a comment below.
Related Posts:
Earn Everything… nearly!
Join Ipsos iSay, one of the few Faithful and Honest survey panels and earn prizes, gift cards and donations. Stack your points and redeem them: Simple! No hidden fees and completely free!