30 Places to Find Freelance Sports Writing Jobs Online and Off
Updated on: by Amy Kennedy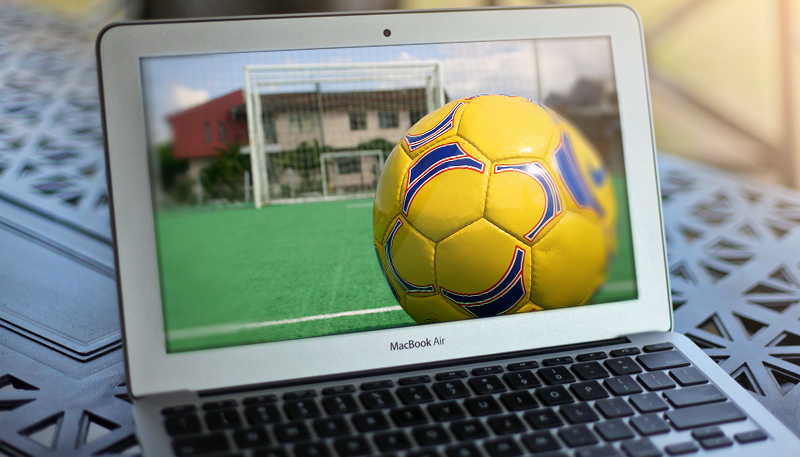 Need Easy Extra $350+/Month For Free?
Calling all sports fanatics!
Have you ever wondered not just how to write about sports, but also how to get paid to do it?
Of course, if you really love sports and writing, you'll enjoy writing about your favorite athletes, games, and more even if you don't get paid.
But getting paid to do it is even better.
This post is going to show you exactly where to go to get paid for writing about your favorite sports and everything they entail, both in print magazines and online publications.
Where to Find Freelance Sports Writing Jobs Online
12UP is an online publication dedicated to sports, from coverage of sporting events to game predictions, and everything in between.
The site relies on sports writers just like you to fill its pages with sports-related materials.
When you contribute articles, you won't get paid directly for them.
Instead, you can use it as a platform for sharing your expertise and establishing yourself as an authority in the sports world (you can even link back to your own blog, if you have one).
But that doesn't mean you can't make money writing here.
12UP has an affiliate program that pays you to send visitors to the site.
You can write articles, share them, and make money every time someone reads them!
Athlon Sports comes from Athlon Media Group, the same people who publish Parade and Relish.
Although Athlon Sports doesn't mention anything about how much it pays its writers to talk about football and related topics, it does mention that it looks for paid contributors to join its team of writers.
Just fill out the online form and the company will sift through applications to find the most qualified football enthusiasts for the team.
Need Easy Extra Cash?
Pinecone Research, a leading name in online survey panel honesty, absolutely guarantees $3 cash for every survey you complete!
Take advantage of their time limited New Membership drive and register NOW. Join today: 100% free!


Black Belt Mag is a go-to publication for all things martial arts.
The site covers topics like interviews with trainers, new techniques, and other news relating to the martial arts.
Black Belt Mag doesn't list its requirements or pay structure on its site, but it reportedly pays about $300 for 3,000-word articles.
Dirt Rag is a magazine dedicated to mountain biking.
It covers topics like reviews of new bikes and parts, opinions and essays, trail information, and fun events.
Freelancers can submit photos and articles to the magazine for payment.
You can send in a query for a print or web article.
The website pays about $50 for web articles but doesn't state how much a print article will run (although these are typically more).
FanSided is an online publication about basketball.
Basketball writers can get paid to write about their favorite sport if they have a passion and high-level experience with NBA-level basketball.
You must be at least 18 years old to become a contributor and be willing to submit at least eight articles per month.
These are paid employee positions that offer your choice of flat-rate pay or revenue sharing (getting paid per article views).
Gray's Sporting Journal covers various hunting and fishing topics.
The publication looks for writers to enhance the site with unique posts of almost any length.
Pay will depend on the length and complexity of each article, but typically ranges between $100 and $1250.
You can also submit travel pieces, poems, essays, and more.
Gripped is an online magazine for climbers who want to stay up-to-date on the latest products, news, events, trails, and more.
Articles typically pay between $150 and $250 for between 500 and 2500 words.
Last Word on Baseball is a part of the Last Word on Sports (LWOS) network.
It focuses on in-depth commentary and news about professional baseball.
The site currently uses a team of about 50 expert writers but continues to look for more to keep growing its database of articles.
Specifically, the publication wants writers who are willing to contribute a weekly article.
The site pays according to traffic, but also hires writers to become on-staff writers if they excel at what they do.
You'll need to write a sample article before becoming a part of the LWOS Baseball team.
RantSports has a team of over 300 writers from the US and Canada to help write its articles!
You must be at least 18 years old and have at least one sports-related writing sample to be considered.
All pieces that meet the quality standards for the site will get paid, although RantSports doesn't list a specific amount.
Some writers even have their work featured on other sports sites, like ESPN.com!
Runner's World is a print and online magazine for running enthusiasts.
Earn Everything… nearly!
Join Opinion Outpost, one of the few faithful and honest survey panels and earn cash and gift cards for your opinion. Stack your points and redeem them: Simple! No hidden fees and completely free!


Although most of the magazine's articles are written by staff members, the publication does enlist the help of freelancers for some content, especially essays.
SBNation is like a one-stop online shop for all things sports!
This site covers topics in UFC, baseball, basketball, football, hockey, and women's and college sports.
You can visit the SBNation publisher's website here to pitch a story idea.
Hunting enthusiasts might be able to get paid to publish their work on Sports Afield.
This magazine has been in existence for more than 100 years, so it's definitely a leader in the industry.
Sports Afield articles are typically written by regular contributors, but freelancers can always pitch new article ideas for consideration.
Features should be under 2500 words, while shorter pieces can be between 500 and 1000.
Pay will depend on the length and complexity of each submission.
This print magazine is the go-to source for collectors of sports items, like cards and autographed pictures.
You can submit ideas for features, essays, profiles, news, and event coverage.
Payment is on a per-story basis and will depend on the length and type of content.
The Athletic is one of the more sophisticated sports publications on the web that covers both local and national sports news.
The site doesn't detail anything about contributing articles, but it does have a link for writing inquiries in the footer of the page that brings you to a contact email to use for inquiries.
According to this article, if you're lucky enough to score a spot on the team, you could end up with a higher-than-average salary for the industry plus benefits.
TheSportster comes from Valnet, a publisher that's responsible for several high-ranking websites on the web, like TheThings.com and ScreenRant.
This one is all about sports and you could become a regular contributor with a byline.
Valnet typically pays a flat fee per article plus extra cash for pageviews, so if your article goes viral, you could end up with a decent paycheck.
Triathlete is a magazine established in 1983 that covers everything in the world of triathlons.
You can submit queries online for consideration for a spot in the magazine.
Once your accepted piece publishes, you'll receive payment.
Freelance Marketplaces and Job Boards
Finally, there are freelance marketplaces and online job boards dedicated to helping freelance writers find gigs.
If the above places aren't working out for you, or you'd rather find more consistent blogging or writing work, then you might want to try out this idea instead.
Freelance marketplaces (like Upwork) have more than just writing jobs, but you can also find plenty of writing gigs on them.
Just search in writing-related categories, and then further narrow your search by looking specifically for sports writing jobs.
You might have more luck on sites dedicated to writing jobs, though, like ProBlogger.
You'll find new writing jobs every day (or close to it) on these sites to apply for, and I've seen some sports writing gigs pop up now and then.
Here are some of the best places to check out:
Read More: These 37 Freelance Online Writing Jobs are Perfect for Beginners
Other Ways to Get Paid to Write a Sports Article
There are some other ways to get paid to write about all things sports without having to submit articles to publications.
Here are a few other ideas to try:
Write a Sports Blog
Writing your own sports blog gives you total control of what you write, when you publish, and how you make money.
Blogs are excellent for making money if you know how to use them correctly.
Think of your blog as a platform for various other income-earning opportunities, like sponsorships, promoting eBooks, or even selling products.
You can promote just about anything else you sell or do with your blog, so if you have any other form of sports-related income, you can use your blog as an advertising hub.
Of course, you can also make money off just posting about sports, games, and athletes – or even just your own sporting adventures – by placing affiliate links and advertisements within your blog posts.
Not sure how to get started with a blog?
Check out our Blogging 101 series that details everything from setting up your blog to grabbing the right plug-ins to getting started with affiliate links.
Read More: 16 Best Paid Blogger Opportunities to Make Money Online!
Manage Sports-Related Social Media Accounts
If social media is more your thing than blogging, then you can make money there too.
Social media managers take control over their clients' social media accounts.
They'll post new content, be responsible for sourcing images, and respond to comments from their audiences.
You might be able to do this for other sports content writers, authority figures in the biz, or even top publications who need some help managing the social media aspect of business.
You'll still be writing about sports, but in a different way than the traditional article writing.
Aside from finding jobs like this on freelance marketplaces, you can also reach out directly to companies or individuals (like sports journalists) to see if they need help with your services.
This is an excellent industry to get into now because it just seems to be growing as social media becomes one of the most popular communication methods for people all over the world.
Become a Video or Podcast Script Writer
Plenty of sports enthusiasts and journalists talk about games, sporting events, and more on podcasts or YouTube videos.
Use your love for sports writing to write scripts for them!
Again, freelance marketplaces are good for finding scriptwriting jobs, but you can always reach out to people you follow to see if they need help.
Depending on the length and depth of the script, you could make somewhere between $100 to $500 per page of a script!
Contract with the Local Newspaper
Were you into campus journalism in college?
Then this option might be the best one for you.
See if your local newspaper works with freelance writers for articles, columns, essays, or other pieces of writing (many do).
Be armed with several ideas for topics or columns you'd like to write before you pitch yourself to the paper.
Or, you might even consider snatching a regular contributor role with the newspaper if you're looking for something more consistent.
Who knows? You could end up your local paper's go-to sports fanatic for sports-related news and opinions!
Copywrite for Sporting Goods Companies
Another way to write about sports is to venture into copywriting instead of typical articles or blogs.
Copywriting is more salesy, so it's better for people who have a way with words that can convince others to buy stuff.
You could become a copywriter for sports-related products, like products sold by sporting goods companies.
Some of the things copywriters do are write website copy, write copy for social media ads, write marketing materials, and write newsletter emails.
Again, the best way to start in this business is by pitching your services directly to companies you're interested in working with.
Try contacting the marketing department, if possible.
Most companies already have a marketing team but might also be willing to have a freelancer onboard who can take on extra side projects.
Freelance for Sports Magazines or Websites
Many sports magazines and websites hire freelance writers to contribute articles on various sports topics.
This can be a great way to get paid for your sports writing skills while gaining exposure and building your portfolio.
Research sports magazines and websites that align with your interests and writing style, and reach out to them with your writing samples and pitches for article ideas.
Some publications may have specific guidelines or submission processes, so make sure to follow their instructions carefully.
Freelancing for sports magazines or websites allows you to explore different sports topics, showcase your expertise, and potentially establish ongoing working relationships.
Create and Sell Sports eBooks
If you have in-depth knowledge or expertise in a particular sports niche, creating and selling sports eBooks can be a lucrative option.
eBooks provide a platform for you to share your insights, analysis, training guides, or any other valuable sports-related content.
Platforms like Amazon Kindle Direct Publishing (KDP) make it easy to self-publish eBooks and reach a wide audience.
You can monetize your eBooks by selling them directly on platforms like Amazon or your own website.
Marketing your eBook effectively, leveraging social media, and utilizing email marketing strategies can help generate sales and maximize your earnings.
Creating and selling sports eBooks allows you to monetize your expertise and potentially generate passive income from your written work.
Making Money as a Sports Writer
Wouldn't it be awesome to combine your enthusiasm for sports with a passion for writing – and get paid to do it?
As a sports writer, there are several opportunities available for you to make money, as I've listed above.
I hope you find the one that's right for you!
Feel free to let us know in the comments if you know of other sports publications that pay writers, or you have other ideas for making money by writing about sports.
Related Posts:
Earn Everything… nearly!
Join Ipsos iSay, one of the few Faithful and Honest survey panels and earn prizes, gift cards and donations. Stack your points and redeem them: Simple! No hidden fees and completely free!