Top 33 Places to Sell a Broken TV for Cash Near You!
Updated on: by Amy Kennedy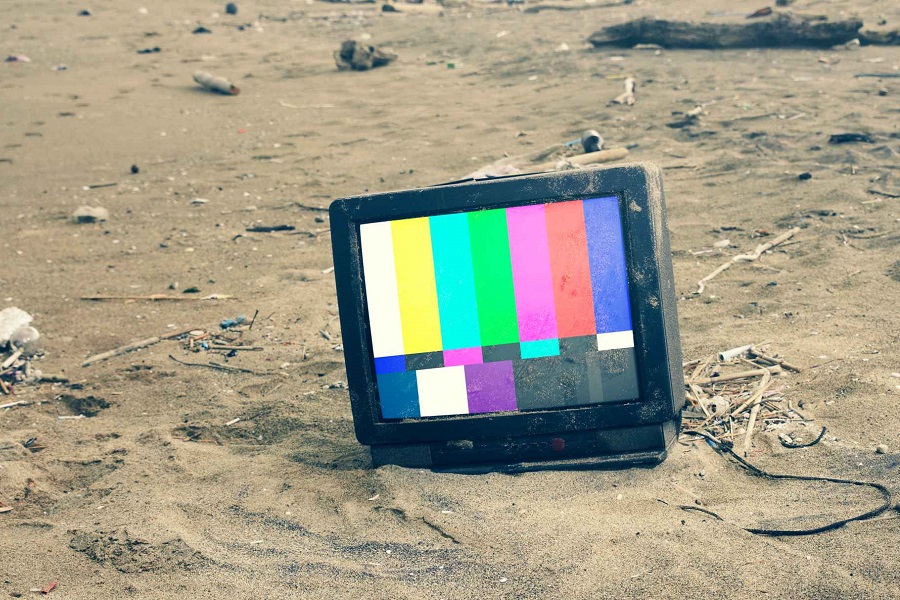 Television, just like other electronics, can break, crack, or get damaged by several factors. Therefore, you need to know what to do when it breaks. Do you send it to a landfill, or would you rather make some cash while selling it to those who can use it? 
Need Easy Extra $350+/Month For Free?
When you break or crack your TV, you can either repair or replace it. Depending on the extent of the damage, replacing the TV can sometimes prevail as the best alternative due to the high repair cost.
Broken or cracked TVs can still fetch you some cents when you sell them. The TV might fail to turn on, the screen might be cracked, or the speakers may be damaged.  Sometimes you may be unable to enjoy watching the telly because the screen is shattered or it has a defective LCD. Nevertheless, dealers buy these television sets, so don't panic if you damage yours. All you have to do is create a product description and properly explain the defect on the television. 
When selling a broken TV or recycling it, you're supposed to provide a correct description of the condition of the television to the person or shop you're selling to.
Modern televisions are not easy to recycle. As a result, companies that used to recycle TVs reject no longer purchase the TVs or only recycle at a fee. This has made it challenging for those planning to sell their broken TVs. 
Luckily, a few companies still buy these broken TVs, as highlighted in the text.
Can My Broken TV Fetch Me Some Cash?
Don't throw away that broken TV you have! If you break your TV, that's not the end; you can sell it and make some money.
Selling broken televisions is not a simple task, but if you get a dealer near you, count yourself lucky. Recycling modern televisions is challenging; making many companies reject buying broken TVs. Selling a broken TV is not as easy as it used to be.
Rather than repairing, which is an expensive venture, you can sell the TV to a recycling company and purchase a new one because purchasing new televisions nowadays is affordable.
There are multiple options near you that you can choose to sell to, as highlighted in this text.
How to Describe the Condition of your Broken TV
When selling a broken TV, you'll need to describe its condition accurately to the person you're selling it to.
You'll have to state:
If the Tv switches on
If the screen is broken or it has just failed to work
If the microphone is working
If the speaker is working
How does the TV respond when turned on
Where to Sell a Broken TV for Cash Near Me
It doesn't matter whether your television is a flat-screen TV, LCD, LED, curved, smart, or digital. Televisions of all types can be sold when broken and get you some cash.
Here is a list of places you can sell your TV if it gets broken.
1.    eBid
eBid is an online platform that allows you to sell anything you have over a wide range of categories. It's almost similar to eBay in its operations.
Despite eBid's unpopular nature in the marketing field, it is well-reviewed. It's a site where you can conveniently sell your old broken TV.
Need Easy Extra Cash?
Pinecone Research, a leading name in online survey panel honesty, absolutely guarantees $3 cash for every survey you complete!
Take advantage of their time limited New Membership drive and register NOW. Join today: 100% free!


However, eBid distinguishes itself from other marketing sites in the way it carries out its operations. The platform has membership-level categories. The casual seller falls under the basic seller account, which is a free account.
The only cost you'll need to incur if you fall under the basic seller level is the final value fee, which is usually a small percentage of the amount you get from your sales.
2.    TV Repair Shops
I'm quite sure there are several TV repair shops in your locality. These TV repair shops make profits from broken televisions; they buy the broken TV from you, refurbish them, and sell them at a profit.
So they will be more than willing to purchase the broken TV from you.
Finding a TV repair shop near you is not a big deal. You only need to key in the words "TV repair shop near me." to google, and you'll have a list of all TV repair shops near your location.
You can also use phrases like "who buys broken TVs for parts near me" or "places that buy broken TVs near me." This search will feed you on all electronics (TV) repair shops and pawn shops around you.
After getting the google results, make sure you call the shop to confirm if they purchase broken TVs. Be sure to describe your broken TV's condition.
3.    eBay
eBay is a marketing platform that allows you to list unlimited items for sale, up to 50 items for free. eBay has more than 182 million active users. When you list your old broken TV on this platform, the chances of selling it within a short period is high due to its huge membership.
You're free to set your price for the broken TV, and you can also specify that your TV is for local pickup if you want to avoid shipping costs.
Ensure the price you set is competitive; otherwise, you might fail to get a seller for your broken TV. Compared with other similar products other sellers offer at that particular time to arrive at a competitive price for your TV.
4.    Facebook Marketplace
Facebook marketplace is an online program offered by Facebook where you can buy or sell items online locally.
If you have a broken TV and consider selling it, you can use this marketplace to find a buyer.
What you need to do is to list your TV by uploading a few pictures of it, its specifications, the nature and extent of damage, and lastly, your location. You, of course, need to state the price you're selling the TV at.
5.    Yard Sale
A yard sale (also called a garage sale, tag sale, or rummage sale) allows you to buy or sell any item in person and get paid instantly. You need to inform the buyer whether your television is broken. 
The potential market for your broken TV are individuals operating TV refurbishment and recycling businesses, which you can find in the yard sales.
The advantage of selling in a yard sale is that it eliminates the need for shipping costs as you meet with the buyer in person and complete all the transactions right away.
Although it's not a guarantee to find a buyer at the yard sale, it's worth giving it a shot.
6.    GreenBuyback
GreenBuyback is an online marketing site that allows you to sell old electronics, broken flat-screen TVs, and other electronic devices. They have an official website, which, when you log in, allows you to select the type of item you want to sell.
After selecting the type of product you're selling, you need to give a detailed description of the product's condition. The site will then give you a quote of a proposed price they are willing to buy your broken TV.
Craigslist is another option you can opt for if you want to sell your broken TV. The site gives you a chance to find potential buyers for your broken television near you.
A lot of people have testified of buying broken TVs and other electronics on Craigslist. So, if you list your television here, you are likely to find a buyer.
Selling at craigslist is advantageous as it is free; you don't have to pay anything as other sites do.
You will have to provide a clear description of the condition of the television when you list it on this site; after that, you'll receive a quote.
Backflip is a platform that allows its users to sell all sorts of electronics with ease quickly; you can sell your laptop, phones, laptops, tablets, and television.
This is how this site works: you're supposed to state what you're selling on the site. Backflip will then make an offer for the product you state. After accepting the offer, backflip will pay your amount right away and cater to the shipping cost themselves.
The site ensures all transactions are done and completed within a week.
5miles online marketing site provides its users with a wide range of categories to sell used or broken TVs and other items for free.
This is a place you can list your broken TV for sale. With 5miles, you get 100% of the value your TV sells as they don't charge anything on your sales.
SellCell.com is considered to be the largest price comparison site in the U.S that allows you to sell old and broken TVs, phones, and tablets.
Earn Everything… nearly!
Join Opinion Outpost, one of the few faithful and honest survey panels and earn cash and gift cards for your opinion. Stack your points and redeem them: Simple! No hidden fees and completely free!


The site compares all sites that buy old and used items. This will save you the time you could have used to visit various sites manually to get the best deal for your TV.
Sellcell.com ensures you get the best deal for your TV so you can get as much as possible from the sale.
If you sell your TV to sellcell.com and realize a higher price for the same item on a different site, they give you double the difference in the TV price.
The site also shows the user ratings of other companies buying used items.
Shpock is a mobile application that allows you to sell your broken TV for free. You have the chance to buy or sell any item you wish.
Shpock doesn't charge any fee on transactions or sales you make on its platform. You, therefore, get all the money your broken TV sells at.
Gizmodo is an online platform that buys nearly all electronic items you may wish to sell. They buy mobile phones, laptops, tablets, cameras, TVs, and many more.
Gizmodo offers competitive prices for all items sold on their platform, so you're sure of getting a great deal for your broken TV. They also give free shipping; you'll not need to pay the shipping cost whatsoever.
When you sell to Gizmodo, they'll erase your data on the TV and pay you fast, usually within the same day of the transaction.
Buyback Boss is an online site that allows you to sell old electronics. With Buyback Boss, you can sell any electronics, including that broken TV you have.
Buyback Boss is an excellent site with an established reputation for buying used devices. It has an A + rating on Better Business Bureau and a 4.8 stars rating on reviews on Trustpilot.
Selling at this site is a really easy task.
This is how the site works:
Log in to the Buyback Boss website and describe your product on sale. The site will make an offer for your TV, which you can either accept or reject.
If you accept the offer, you'll then ship your TV to Buyback Boss as directed by the shipping label on the checkout.
You can track your device as it's shipped for security concerns.
Buyback Boss will then make payments on the same material day they receive the TV. You can receive the payment in your PayPal account or any other payment option of your choice.
Do you know you can sell any item on Amazon? Well, if you have a broken TV and want to sell it, you can consider selling it on Amazon.
You can sell anything, not necessarily electronics only. Amazon can give you gift cards in return, or you can choose to receive cash.
When you list your TV for sale on Amazon, you'll need to search for it and click on the "sell on Amazon" button. When the TV sells out, you will pay for the listing fee, and a certain percentage of the sales amount is also deducted as part of the charges.
ClassifiedAds.com is another online site that allows you to list your broken TV if you want to sell it.
ClassifiedAds.com is a classified ads site that you can use to list a wide range of electronics and other items for sale for free.
You have the freedom to set your price, but you'll want to set a competitive price to sell the TV; otherwise, you may not get a buyer.
It is almost similar to Craigslist in the way they carry out operations.
Walmart is a marketing platform that partners with Gazelle to enable you to sell used-up items to them.
They have a trade-in program that facilitates the buying and selling of items on the platform.
VarageSale is an online user platform that you can use to buy or sell items within your locality.
You're given a choice to sell any item, including your broken TV.
You can probably list your broken TV at Garage Sale and sell it there.
Target Stores is a site powered by NextWorth. It allows you to list and sell devices on the site.
You will list your TV there and wait for someone to bid for it. There are chances to get similar bids to yours because it has multiple users.
OfferUp merged with the LetGo application to give you the best experience when selling used items online.
You can list your damaged tv here and sell it to people within your locality.
20.    Decluttr
Decluttr allows you to sell any electronic device.
You can list your TV here. You will then need to key in the barcode of the TV, after which Decluttr will make an offer.
If the deal is good and you accept the offer, you will be directed to mail the TV, after which you will receive payments.
21.   

OLX 
OLX is an online listing company based in the Netherlands, available in 30 countries globally, including the USA. The products are listed on the platform through a mobile app available on the google play store and Apple play store. Unfortunately, not all broken TV can be listed on service.  
There are many stringent conditions that a Television has to meet before it can be listed and sold through the platform. That means you cannot get sell scrap and should at least be repairable.  Signing up on OLX is free, and listing products is straightforward. Simply snap the broken TV, post the Picture with a clear description and wait for a call from your prospective buyer. 
22.    Antique Shops
Do you believe you have a unique TV set? You can cash in on that old TV set if it could prove to be a sort-after antique item. Most Antique shops are after buying TV sets that they can repair and sell to their customers at a profit and will be willing to cough up a great amount of money to unburden you of your broken TV. 
Antique shops often target TVs that are no longer in production or imported set that can broadly be classed as antiques. You must have an uncommon TV model to sell in an antique shop.
23.    Sell it as Scrap
Not all TVs can be salvaged and sold at a reasonable price. But irrespective of the TV brand and model, there is always something that can be sold as scrap. You are likely to receive very little from selling your TV as scrap as the component in a TV set does not have much scrap value. 
Selling scrap TV requires a dealer specializing in broken TVs and similar electronics to get a good price for the TV. Always sell the broken TVs in cash and ensure it taken off from your premises.
VarageSale is a virtual garage sale that lets you buy and sell different items online.  VarageSale is available in many countries, including the USA, Canada, and Australia. Anyone can list items on VarageSale at no extra cost. However, the platform charges two to three percent of the payment, making it cost-effective. 
Setting up an account on the platform is relatively easy. Search for a local community you live or work in, connect your account with Facebook and wait for an admin to review your request. Start buying and selling items. Ensure you add clear photographs in your listing to attract prospective buyers.
SellShark is a service that allows anyone in the US to sell used or broken apple devices. As you have noted, this implies that you may not sell any other TV model on this website apart from an apple TV. SellShark has set up a series of questions to help you know whether your broken TV can be sold to them. The device has to be taken through a quality check to ensure it is working and repairable before you can ship. 
The company has a prepaid shipping label that lets you bring in the packaging materials. They also ensure you TV completely without exceptions. The sales process is very simple. Head to the website and select the type of Apple Tv you want to sell and the Model. Box up the device and ship it for free with a prepaid shipping label. Select a payment method and get paid immediately after the device is delivered and inspected.
Sometimes making money on Amazon does not necessarily mean listing and selling an item on the official marketplace. The Amazon Trade-in Program allows customers to exchange thousands of electronics and other eligible items for Amazon Gift cards. Some of the trade-ins have limited promotions. 
Amazon Trade-in is convenient as it offers free shipping and may let you use the gift card to purchase other items in the store you love. Trading-in a TV on Amazon requires you to create a clear description of the TV to receive a quote. There are even particular items that qualify for instant payments. Once the trade-in is accepted, a gift card equal to the appraised value of the TV is applied to your account.
Best Buy is a large retailer in the US selling different products in different stores. While listing your product on their US site is not easy, you use the trade-in platform to get rid of your broken TV. All you need is to go to the trade-in estimator to get the price of your old TV. You will ship it in for free and get a gift card if satisfied. 
You can trade in products bought from BestBuy and outside the store. Like the Amazon Trade-In Program, don't expect too much from your broken TV. Best Buy gets your fund promptly and is a good avenue to sell other old items apart from the TV. 
It is easy to tell that this site allows you to sell broken or used items from the name. SellBroke is a platform with a website and app that allows you to sell different used electronic devices. The platform features a simple interface and an easy-to-list platform to sell your TV easily. 
They offer fast quotes, free shipping, and 24-hour payment for your broken TV. SellBroke is available in different countries but works best in the US. 
29.  GameStop
GameStop is a popular retailer specializing in video games, consoles, and electronics. They have a trade-in program that allows you to sell your broken TV for cash or store credit. While the acceptance of broken TVs may vary by location, it's worth checking with your local GameStop store to see if they accept broken TVs for trade-in. Visit the GameStop website to find a store near you and inquire about their trade-in policies.
30.  Letgo
Letgo is a mobile marketplace that enables local buying and selling of various items, including electronics. You can easily list your broken TV on Letgo's app or website and connect with potential buyers in your area. Take clear photos of your broken TV, provide a detailed description of its condition, and set a competitive price. Interested buyers can message you through the app or website to negotiate and arrange the sale. Download the Letgo app from the App Store or Google Play or visit their website to get started.
31.  OfferBox
OfferBox is an online platform that specializes in buying used and broken electronics, including TVs. They provide a simple and streamlined process for selling your broken TV. Visit their website and provide details about your broken TV, such as its brand, model, and condition. OfferBox will then present you with an offer for your TV. If you accept the offer, they will provide a prepaid shipping label, and once they receive and verify your TV, they will send you the payment.
32. Pawn Shops
Pawn shops are establishments where you can sell or pawn items for cash. Many pawn shops are interested in buying broken TVs for parts or to refurbish and resell. It's recommended to visit local pawn shops in your area and inquire about their policies for buying broken electronics. You can use an online directory like PawnGuru to find pawn shops near you and contact them to discuss selling your broken TV.
33. Local Electronic Recycling Centers
Electronic recycling centers or e-waste recycling facilities specialize in properly disposing of electronic devices and salvaging usable components. Some of these centers may also be interested in purchasing broken TVs for recycling purposes. Contact local electronic recycling centers in your area and inquire if they buy broken TVs. Earth911 is a helpful resource that provides a search tool to find recycling centers near you. You can use their website to locate nearby electronic recycling centers and contact them for more information.
How Much is Your Broken TV Worth?
Broken TVs have a lot of issues that need to be addressed. You can sell, donate, or recycle it.
The question you'll most likely ask yourself is how much you'll get from selling the damaged TV.
The worth of a damaged TV depends on the model and the condition of the TV. Depending on the extent of damage, a broken TV is most likely to fetch very little cash.
How can I sell My Broken TV and get Maximum Cash from It?
If you want to get the maximum out of your broken TV sales, follow the steps below:
Determine if the TV is worth selling
Small TVs are cheap to buy, so it would be unworthy of selling a used older model. In this scenario, you can decide to donate the TV.
Just because a TV is broken doesn't mean you ought to sell it yet. Sometimes the broken device may still be in warranty, meaning you can take it to a service center for repair or exchange. There are also some insurance covers and extended warranties that you qualify for using specific consumer services. 
Warranties do not typically cover the same kind of damage to your TV. Remember to read the fine print to understand the components and the reasons you can claim a warranty before selling your TV at a throwaway price because it is broken. If the TV has outlived its warranty is probably best to just sell it and recoup some value for what is left of it. 
However, if the TV is a newer model and just a few years old, it will be worth selling.
Find out who buys TVs near me
Having gone through all the places, you can sell broken or damaged TVs; it will be easier to find where you will sell your TV.
Create a detailed listing
Give details on:
Where and when you bought the TV
How often do you use the TV
The technical issues it has
Selling price
The last time you updated the firmware
Don't copy-paste features from the manufacturer.
Take clear photos of the TV
Photos serve to confirm to the potential buyer that the deal is not a scam and that the provided listings are true.
Take the pictures with the TV turned on. Also, take a photo of the input jacks and the remote control.
Log out from all the apps you've been using.
You can also reset the factory settings to erase all settings and logins.
Final Word
Broken TVs are still worth it, so you shouldn't throw away or dump them. Consider recycling or selling them.
Selling the broken TV can present its challenges. But with the tips discussed, you can find it easier to sell your broken TV.
Finally, each place where you can sell your broken TV has its terms of use and benefits; it would be best to be aware of them to get the best out of your sale.
Related Posts:
Earn Everything… nearly!
Join Ipsos iSay, one of the few Faithful and Honest survey panels and earn prizes, gift cards and donations. Stack your points and redeem them: Simple! No hidden fees and completely free!