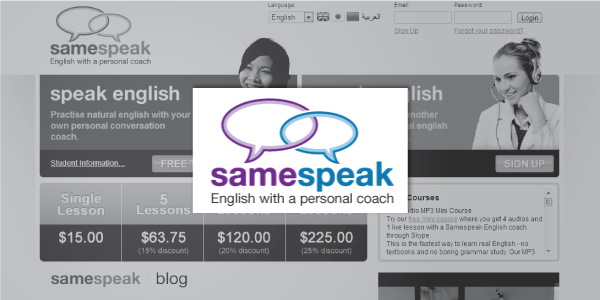 Need Easy Extra $350+/Month For Free?
SameSpeak connects students learning the English language with coaches via Skype.  Coaches are not necessarily certified English language teachers, but their first language is English.  Coaches are paid to work from home, and SameSpeak.com provides them with lessons and support to help them be a successful coach.  This leads to repeat bookings, positive feedback, and more work.   The program is designed to supplement formal language training, and coaches are only to focus on teaching conversational, naturally spoken English.  The idea is to give those learning the language a real life opportunity to practice what they have learned and are still learning.
Who Can Sign Up As a Coach at SameSpeak?
Anyone that speaks English as their first language and is age 16 or older can sign up as a coach with SameSpeak.com.  Once signed up, training is provided to become a verified coach that receives payment.  The website states that verification is dependent on student demand, and to not contact them regarding verification.  This means once you sign up you could wait awhile before being verified and thus eligible to be paid.  However, they do state that you can use the system to coach for free as a non-certified coach, and that it is possible to become automatically verified after three free sessions with positive feedback.  Even when coaching for free, you still have access to all the support materials and lessons they provide.   You could also get negative feedback however, and hurt your chances of being booked by students even if you become verified, so be sure to use all the tools for success offered.
Do I Need Special Equipment?
It is necessary to have a computer with high speed broadband.  Dial up will not work.  It is also necessary to have a Skype account.
What About the Money?
Verified coaches are paid $10 for each successfully completed 30 minute coaching session.  Payment is made via PayPal every Friday if there is at least $100 dollars in your account, but payment can be requested for lesser amounts by simply clicking "request payment."
What Do Coaches Actually Do?
Lesson plans provide coaches with guidance to interact with students in dialogue, role plays, and meaningful activities that help them learn the language via real live communication.
Can I Make A Living at SameSpeak?
Sure you can, but you probably won't.  If you actually get verified and have great feedback, and there are tons of students that keep you busy every day, you could make a decent living.  However, the more likely scenario is that if you get verified, you may get a session now and again and make a little money on the side.  There is not much "web chatter" out there about this site recently, but what is there is from 2010 and 2011. It seemed to indicate that work was not steady.  There was no information indicating that coaches did not get paid for work completed however, so there is no reason to think that SameSpeak is not a totally legit way to make money from home.  As always, just be sure you have plenty of other eggs in your basket too.
Related Posts:
Want more money?

Easy Extra Cash! Join the famed Nielsen Computer and Mobile Panel site, install the app and earn rewards just for using the Internet as you do today! Nielsen gives away $10,000 each month.
Guaranteed 100% free membership.


Need Easy Extra Cash?

Pinecone Research, a leading name in online survey panel honesty, absolutely guarantees $3 cash for every survey you complete!
Take advantage of their time limited New Membership drive and register NOW. Join today: 100% free!