SameSpeak Review 2023: Is This Tutoring Company a Legit Place for Work?
Updated on: by Amy Kennedy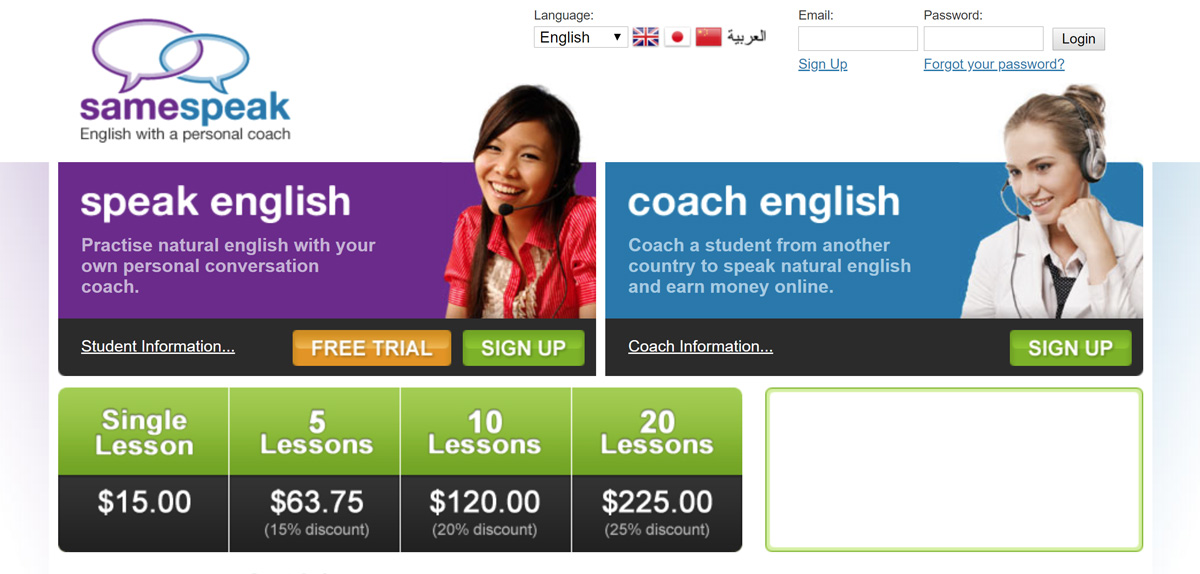 We've reviewed several companies on Work at Home Adventures that provide English language learning help to non-English speakers.
Need Easy Extra $350+/Month For Free?
This type of job is one of the most popular ways for people to make money from home right now because it's generally flexible and fun to do.
You get to work out of your home office with children and students all over the world to help them learn English.
One of the companies that's been around a long time is SameSpeak.
We first reviewed this company back in 2013, so we thought it was important to bring you an updated SameSpeak review, as most companies tend to change a lot within a few years.
What I found, though, is that not much has changed with the company since it first became popular around 2010 or 2011.
That's not always a bad thing, but you can tell by its website alone that it's somewhat outdated.
However, the below review will have all of the most updated information about SameSpeak so that you can decide if it's a good place for you to try to earn some money in your spare time.
What is SameSpeak?
SameSpeak connects students learning the English language with coaches via Skype.
The company was formed by Rowan Brickell, who's taught English since 1986.
Coaches for SameSpeak are not necessarily certified English language teachers, but their first language is English.
Coaches are paid to work from home, and SameSpeak.com provides them with lessons and support to help them be a successful coach.
This leads to repeat bookings, positive feedback, and more work.
The program is designed to supplement formal language training, and coaches are only to focus on teaching conversational, naturally spoken English.
The idea is to give those learning the language a real-life opportunity to practice what they have learned and are still learning.
Who Can Sign Up as a Coach at SameSpeak?
Same Speak jobs are known as "Coaching" jobs because you'll basically be coaching non-English speakers in English.
Need Easy Extra Cash?
Pinecone Research, a leading name in online survey panel honesty, absolutely guarantees $3 cash for every survey you complete!
Take advantage of their time limited New Membership drive and register NOW. Join today: 100% free!


Anyone that speaks English as their first language and is age 16 or older can sign up as a coach with SameSpeak.com.
The good news about this company is that no experience is necessary to start coaching.
You don't need to work as a teacher or tutor or have any type of tutoring experience to get started here, which is much different than most other tutoring companies that require education or work experience.
What Do Coaches Actually Do?
As a coach for SameSpeak, you'll be "coaching" non-English speakers with their English skills.
SameSpeak leans heavily on conversational English, so it's okay to use slang (to an extent) and other types of speech you'd use in regular conversations with your friends.
Lesson plans provide coaches with guidance to interact with students in dialogue, role plays, and meaningful activities that help them learn the language via real live communication.
The lesson plans are all regular stuff you'd usually talk about with people you know, too, like fashion, entertainment, and hobbies.
There are elementary, intermediate, and advanced lessons that students can choose from.
Once signed up, training is provided to become a verified coach that receives payment.
The website states that verification is dependent on student demand, and to not contact them regarding verification.
This means once you sign up you could wait awhile before being verified and thus eligible to be paid.
However, they do state that you can use the system to coach for free as a non-certified coach, and that it is possible to become automatically verified after three free sessions with positive feedback.
Even when coaching for free, you still have access to all the support materials and lessons they provide to help you stay ahead of the game and gain experience until it's time to get verified.
You could also get negative feedback, however, and hurt your chances of being booked by students even if you become verified, so be sure to use all the tools for success offered.
Coaching sessions usually last about 30 minutes and you'll get paid for each session.
Do I Need Special Equipment?
It is necessary to have a computer with high-speed broadband.
Dial-up will not work because it has a tendency of not being as reliable as broadband.
It is also necessary to have a Skype account, as this is how you'll be chatting with students over the web.
Skype is completely free to sign up for and use, and you can get yourself signed up before you even apply to SameSpeak.
Additionally, SameSpeak recommends a headset, preferably a noise-canceling set, that will make it easier for you to drown out any background noise and hear your student perfectly (and make sure they can hear you!).
What About the Money?
Verified coaches are paid $10 for each successfully completed 30-minute coaching session, which makes it possible for you to make $20 an hour.
However, this will only happen if you can frequently pick up coaching sessions, one right after another, which doesn't happen often.
Usually, there are gaps in between sessions, so it's likelier that you'll make closer to $10 an hour.
Payment is made via PayPal every Friday if there is at least $100 dollars in your account, but payment can be requested for lesser amounts by simply clicking "request payment."
Those who are verified and do an excellent job in their coaching sessions have a higher chance of getting rebooked directly by students who have already used them.
Be sure to do your best with every coaching session and you'll be able to earn more than other coaches.
Will I Be an Independent Contractor or an Employee?
SameSpeak hires you as an independent contractor, not an employee.
This means that you'll be responsible for tracking your income and paying taxes on whatever you earn.
On a positive note, you're also free to schedule yourself when you please.
Earn Everything… nearly!
Join Opinion Outpost, one of the few faithful and honest survey panels and earn cash and gift cards for your opinion. Stack your points and redeem them: Simple! No hidden fees and completely free!


When you're ready to work, just sign into your account to indicate that you're available for coaching sessions.
There's no set schedule or minimum hours you'll need to work each week, so the job is flexible.
However, it's a good idea to be available at least a few hours per week or the system might flag you as inactive eventually and you'll lose your status as a coach.
The downside of being an independent contractor is that you pay more taxes when you're self-employed because you don't have an employer to pay some for you.
So, while the $10 to $20 an hour rate doesn't sound too bad, it's actually much lower for an independent contractor than it would be an employee.
Just something to consider as you move forward with the SameSpeak coaching process.
Can I Make A Living at SameSpeak?
Sure you can, but you probably won't really earn enough to live on.
I've checked a lot of reviews from real coaches and I haven't read one yet that's noted that SameSpeak is that person's only form of income.
Most people use SameSpeak in conjunction with other tutoring sites or other work from home gigs to make a living.
If you actually get verified and have great feedback, and there are tons of students that keep you busy every day, you could make a decent living.
However, the more likely scenario is that if you get verified, you may get a session now and again and make a little money on the side.
There is not much "web chatter" out there about this site recently, but what is there is from 2010 and 2011 and most of those reviews seemed to indicate that work was not steady.
As always, just be sure you have plenty of other eggs in your basket too.
Is SameSpeak a Legitimate Way to Make Money Online?
Most signs point to SameSpeak as being a legit way to earn some cash online.
From the reviews I read, I saw a lot of positive stories of SameSpeak being a good, fun side gig for people who like helping others learn English.
There was no information indicating that coaches did not get paid for work completed, so there is no reason to think that SameSpeak is not a totally legit way to make money from home.
That doesn't mean it's the best way for you, though.
If you're looking for just one solid gig to make all your money, then SameSpeak isn't it.
It just doesn't have a consistent enough flow of students available for coaches to rely on for a full-time income, nor does it pay enough for most people to live on comfortably.
However, spending some time to get verified, getting several coaching sessions under your belt, and becoming a popular coach that keeps getting rebooked can definitely up your money-making game on the platform.
One thing I don't love about SameSpeak is that its website is very outdated.
In fact, it's the same as it was when we first reviewed the site over six years ago.
Although that's not necessarily a sign of a scam, I do prefer updated, clean websites to work with.
I'd appreciate if there were more information about the company and maybe an FAQ section for people interested in becoming coaches so that they had plenty of information at their fingertips before deciding to join.
SameSpeak Alternatives
If SameSpeak doesn't seem like the right place for you, then you might want to consider these other alternatives for teaching English to students online:
I've heard so many great things about VIPKID that I've almost wanted to sign up myself!
I'm in a lot of Facebook groups for people who work from home and one of the companies that gets brought up constantly is VIPKID.
I have yet to see a negative review from someone who works as a VIPKID teacher.
In fact, they praise the company often, usually saying things like it's the best company they've ever worked with.
With VIPKID, you'll be teaching English to Chinese students, much like SameSpeak.
However, this company does require that you have at least a bachelor's degree and some teaching experience, so this isn't going to work for entry-level tutors.
The application process is also very in-depth for VIPKID and involved five stages.
You'll first fill out the application form.
Then, you'll have your first interview for 30 minutes with a recruiter.
The next part involves watching videos about the teaching process with VIPKID.
Next, you'll need to host a mock class with a recruiter to prove you have what it takes to teach your students.
Finally, if you've passed all the other parts, you can sign your contracts and get ready to roll.
You can make up to $22 per hour teaching here based on the 30-minute maximum payment rate of $11.
Another bonus is that if a student cancels a lesson with you, you can still be eligible for up to 50% of what you would have earned for that class, which is something a lot of other companies don't do.
GoGoKid is another place similar to VIPKID that pays up to $25 per hour to teach English to students in China.
GoGoKid hires teachers from anywhere in the world as long as they have proper English skills and a reliable computer and internet connection.
Applicants must have at least a bachelor's degree here, too, so it's not a good place for those without experience.
The company also has a similar in-depth process for applying like VIPKID that includes the application, an online interview, an orientation and training, paperwork, and contract signing.
Your contract here will be for six months, minimum, with the option to renew based on your work performance.
All sessions with GoGoKid are one-on-one with your students, so you'll get a lot of focused interaction to help them learn.
GoGoKid provides necessary teaching materials, like lesson plans, but tutors are encouraged to have some props to help.
GoGoKid pays once per month via PayPal.
With SayABC, you'll also be teaching students English from the comfort of your own home, but you can earn $19 per each 40-minute session, which is one of the best rates I've seen for this type of work.
SayABC uses a curriculum made, in partnership, with National Geographic, which keeps things fun and engaging for the students you teach.
The kids you'll teach range between the ages of 5 and 12 and you'll be provided with the materials and lessons you'll need for classes.
This company has only been in existence for about two years – less time than many of the others on the web – but it seems to be growing fast in popularity with more than 1,000 certified teachers and 5,000 students on the platform.
Qkids is one of the few companies, like SameSpeak, that doesn't require its English language tutors to hold a special degree to get started.
However, if you don't have a bachelor's degree, you must be working toward an associate's degree or your TESOL/TEFL certificate.
This company works with 4 to 12-year-old Chinese students who are learning English as their second language.
There's no lesson planning necessary because Qkids takes care of all that for you.
All you need to do is sit down and teach when you have a class!
The Qkids platform uses engaging stories, games, and characters that kids will love, which makes your job about as easy as it could possibly get.
Although you can choose the hours in which you want to work, you must commit to at least 6 hours per week with Qkids.
To apply, you'll need to fill out the initial screener application, complete two demo interviews, complete trial classes, pass a background check, and then sign your contract if you're eligible.
Tutors in the U.S. and Canada are able to apply.
Cambly is a language learning platform that connects English learners with native English speakers for conversation practice. What sets Cambly apart is its accessibility – learners can connect with tutors on demand, meaning they can start practicing their English skills whenever they're ready.
Tutors on Cambly come from a variety of backgrounds, and there's no requirement to have any formal teaching experience. This creates a diverse pool of tutors and allows for more informal, conversational learning. Tutors can set their own hours, making it a flexible option for those looking to earn an income from English tutoring.
italki is an online language learning platform that offers one-on-one language lessons from professional teachers as well as informal tutoring from community tutors. Unlike SameSpeak, which focuses exclusively on English, italki covers a broad range of languages.
It's a very flexible platform for both learners and tutors. Learners can choose a teacher that suits their budget and schedule, while tutors can set their own prices and hours. It's a popular platform with a large, international user base, offering ample opportunity for learners to practice and for tutors to gain students.
Preply is another language learning platform that connects students with tutors. Like italki, it covers a wide range of languages, not just English. Tutors on Preply come from all over the world and are able to set their own prices and schedules, allowing for a high degree of flexibility.
Preply has a strong focus on personalized learning, with tutors typically tailoring their lessons to meet the specific needs and goals of each student. This makes it a great platform for learners looking for a more customized learning experience.
What's your experience with SameSpeak been like?
Have you used other platforms you've like better?
Feel free to leave your thoughts down below in the comments.
Related Posts:
Earn Everything… nearly!
Join Ipsos iSay, one of the few Faithful and Honest survey panels and earn prizes, gift cards and donations. Stack your points and redeem them: Simple! No hidden fees and completely free!