Speechpad Review 2023: Is This Work at Home Transcription Company Right for You?
Updated on: by Amy Kennedy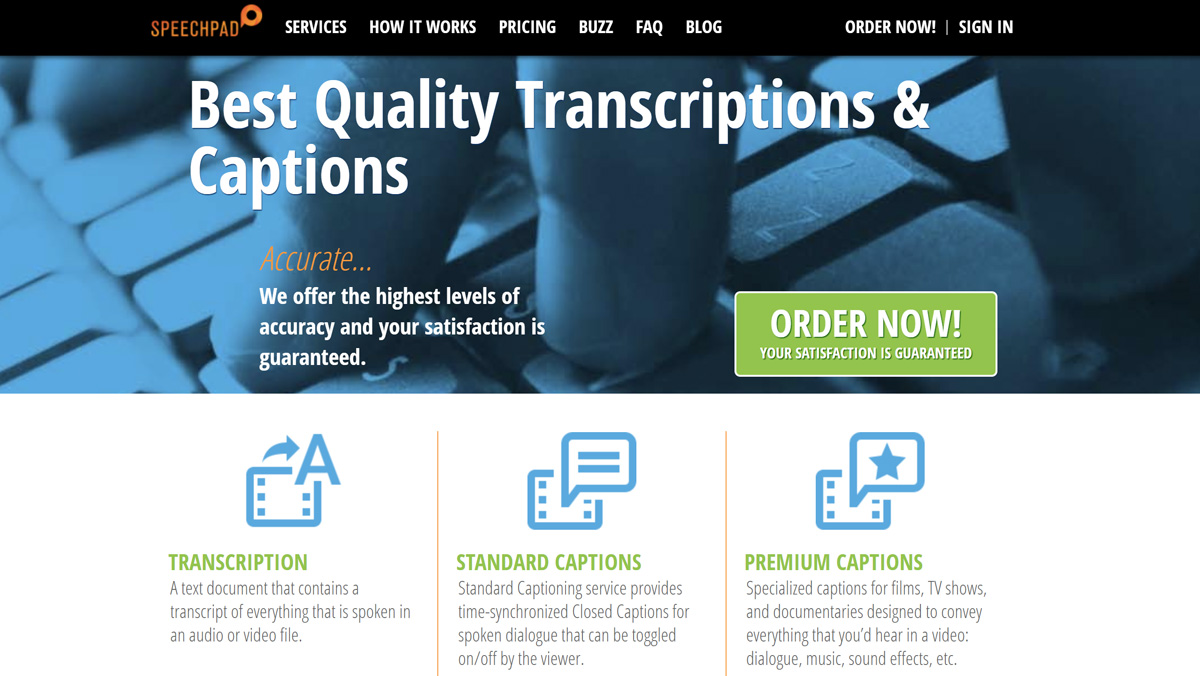 There's a reason you hear so much about transcription work when you research work at home jobs: They're flexible, and almost anyone with excellent typing skills can learn to transcribe.
Need Easy Extra $350+/Month For Free?
If you're looking for a job that lets you work from home on a schedule you choose, then transcription work could be perfect for you.
There are several companies that offer these types of jobs, which is another reason you might hear about them a lot, especially if you hang around work at home forums.
Speechpad is one of them and we're going to talk about it in-depth to help you decide if it's the right job for you.
What is Speechpad?
Speechpad is a transcription company that offers a unique experience to their customers seeking to turn audio and video files into text.
The company has been around since 2008, so it's not the longest-running transcription company, but it's still going over 10 years strong.
Speechpad works with a range of companies, from Fortune 500 businesses to entrepreneurs and boutique agencies.
Speechpad uses a mix of both human and automatic computer generated transcription services.
According to Speechpad, this provides the highest level of accuracy.
Speechpad uses freelance transcriptionists to work the human side of their services.
They do not require prior experience and, as you will see later in the article, just about anyone can begin making money online using Speechpad.
The following are the types of transcription services offered at Speechpad:
Transcription for various industries
Standard and premium captioning
Foreign language translation services
Voice to text
Audio to text
Speech to text
Mp3 to text
Is Speechpad Legit?
Before you sign up as a Speechpad worker, you probably want to know if the site is a legitimate place to find work at home.
From my research, yes, it's legitimate.
Does that mean it's the best place to find transcription work?
That depends on your situation, but there does seem to be other places on the web that have better reviews from workers.
Need Easy Extra Cash?
Pinecone Research, a leading name in online survey panel honesty, absolutely guarantees $3 cash for every survey you complete!
Take advantage of their time limited New Membership drive and register NOW. Join today: 100% free!


However, most transcription companies (and any company, for that matter) come with their lists of pros and cons.
Speechpad services a number of well–known customers such as Yahoo, Amazon, Netflix, and HubSpot, and some are even repeat customers.
This in itself has seemed to solidify this transcription company as a legitimate way to make money from home.
You can also check out some reviews on trusted sites, like Glassdoor and SiteJabber.
There are some mixed feelings about Speechpad, but many current and previous transcribers say that they like the quality audio files, decent pay, and support team.
Speechpad is not accredited with the Better Business Bureau (BBB) and, although this isn't something that's required of legit businesses, it does help with the trust value when a business does have accreditation.
Still, between the decent Speechpad reviews online and its length of time in business, it's fair to say that this company is legit, but it might just not be the right choice for everyone.
The Pros and Cons of Speechpad
Almost any job you can get will have pros and cons, so in an effort to be totally transparent, let's look at some of the common positives and negatives of Speechpad:
Pros
Good starting job for transcription newbies
Bonuses available for high-rated jobs
Pays with PayPal two times per week
No payment processing fees
Flexible scheduling
No lengthy application process
Cons
Not BBB accredited
Ratings system has some flaws
So-so pay
Approvals can take up to a week
Low-paying jobs to start
Lack of level one jobs
Experience Requirements
So, what does Speechpad require of its transcriptionists?
Not much, surprisingly.
Some transcription companies are very detailed about their requirements and often require transcribers to have several years of experience in the transcription world.
This isn't so for Speechpad.
Speechpad works on a tiered level system where all transcribers start out at the bottom level, level 1.
As you get more work under your belt with high ratings, you can eventually move up to the next level.
To start, you can be anywhere in the realm of transcription as far as experience goes.
You can register on their website for free and immediately begin accepting jobs.
The catch is, at first, you will only be qualified for very low paying jobs for level 1 workers.
Most of these pay only pennies.
However, you can take qualification tests for the higher paying gigs and, of course, complete jobs and earn excellent ratings to keep moving up.
In addition to passing the qualification exams to complete higher paying jobs, you will receive a rating for your work based on your performance.
Even if you have little to no experience in transcription but want to get started, you can work some of the lower paying jobs and then test to qualify for others as you gain experience.
At level 1, unfortunately, there isn't much to choose from, so you could be stuck there for a while waiting for new work to show up.
And, another downside is that these lower paying jobs can be very time consuming for very little money, but if you can stick with it the payoff can eventually be well worth it.
Speechpad will use a combination of both your previous work ratings and your qualification tests to determine which gigs you can qualify for.
Technical Requirements for Speechpad
To start with Speechpad, you'll need the basic equipment necessary for transcription work, like:
A working, reliable computer with internet access
Headphones that keep out background noise
Although not required, a foot pedal can come in handy
Otherwise, you're free to get started without any special equipment.
It might be a good idea to set up your office in a quiet area of your home, though, so you can fully concentrate on your work.
Job Types
Speechpad has work available for both transcription and quality reviewers.
There is also work for video tagging and web video captioning as well as subtitlers and reviewers.
Earn Everything… nearly!
Join Opinion Outpost, one of the few faithful and honest survey panels and earn cash and gift cards for your opinion. Stack your points and redeem them: Simple! No hidden fees and completely free!


These jobs types may require qualification exams to be passed as well as a good rating.
You can also apply for roles on the marketing team, engineering team, and operating team, when available and if they meet your interests and experience.
The captioning and transcribing roles are, unfortunately, not open at all times.
You can click over to the Apply page to see if there are any open spots for transcribers.
If not, the website will have a message stating to come check back in 90 days.
Read More: 106 Best Transcription Jobs to Help You Start Your At-Home Career
Pay at Speechpad
A glance at the current job board shows 3 or 4 jobs that do not require any qualification.
That means anyone can take them, starting out at level 1.
The pay is very, very low, but they could be a good start for someone needing to gain experience.
There are over 100 jobs total currently on the board of varying pay grades, qualification levels, and times.
Of course, most of these are for higher level transcribers who have more work experience and ratings with the company.
Projects appear to range from $.01 to $.40 per audio minute for low levels.
Even if this is a higher than normal workload, you aren't losing anything by checking in to see if work is available since registration is free.
Higher levels can range, usually, up to $1 per audio minute, but can go even as high as $4 per audio minute for transcribers with the best work histories.
Speechpad pays every week with PayPal on Tuesdays and Fridays.
PayPal is currently the only way to get paid, so only transcribers who are eligible for a PayPal account will be able to get their payments.
What Others Have to Say About Speechpad
After doing a little reading about Speechpad and transcriptionist experience, there seems to be a lot of complaints where some people are waiting for their work to be approved and even paid.
It seems, however, that Speechpad is working diligently to resolve these issues and has even addressed a lot of concerns on other review sites like this one by Real Ways to Earn Money Online.
Reading through the comments there will tell you want you can expect before spending too much time working online at Speechpad.
Here are some common remarks about Speechpad according to real Speechpad reviews from people who have worked there:
Good: The Application Process is Simple
First, most people seem to love that the application process to get on board as a Speechpad transcriber is so simple.
There isn't much information about the process on the site, but from what I've read, it looks like you just need to fill out a form and complete a typing test.
Then, you're automatically in the database and can start picking up work.
Remember, though, that you'll only have access to the lowest-paying gigs to start and there may not be a lot of them available to you.
To keep moving up in the system, you'll need to complete some work and pass qualification tests to prove your skills.
Bad: Pay is Very Low to Start
This is, by far, the biggest complaint about Speechpad, and I'd have to agree.
To start, you're going to be faced with some low-paying gigs.
They definitely aren't anywhere near the pay you'd make at other places, which tend to pay more toward the $1 per audio minute range.
You won't make that at Speechpad until you move your way up the ranks, which could take several months after applying.
Although Speechpad is a great way for newbies to get their feet in the door and gain some experience with transcription, experienced transcribers probably won't be happy with the starting pay.
Good: Flexible Scheduling
Speechpad works similarly to Amazon Mechanical Turk (if you're not familiar with it, you can check out our review here).
It's essentially crowdsourcing, which means that Speechpad lists a bunch of available jobs and workers can choose the ones they want from the list.
Nothing is assigned to you, nor do you need to work specific hours or a minimum number of hours each day or week.
This is great if you need flexible work that you can pick up whenever you have some time to spare.
On the downside, just because it's flexible doesn't mean you should only complete an hour of work a month.
Chances are, if you don't remain active, you're going to lose your spot in the system.
Speechpad is a business, so it looks for dedicated workers who are going to be active and pick up work when they're available to meet the needs of its clients.
Fail to do so, and you might not stay approved for too long.
Bad: The Rating System Needs Some Help
Every worker on the platform gets a rating for every task they complete.
This rating relates to the quality of work you performed.
Speechpad uses a team of reviewers to rate your work.
They'll score how many errors you had on your task and your rating will reflect that. The fewer errors, the higher your rating.
These ratings can help you move higher in the system and be able to accept more work if you score high on them.
However, several Speechpad transcribers say that the rating system is extremely flawed.
Mostly, this has to do with one reviewer preferring things one way and another reviewer preferring things another way.
For example, one Glassdoor reviewer mentioned that a reviewer gave a low rating for the worker not using commas a certain way.
When the worker added those commas in the next time, the next reviewer said they weren't correct.
This and other similar comments about the review system show that it might be a little unfair and there's not much quality control governing the system.
Unfortunately, every worker for Speechpad needs to rely on the system for future work, which can make it a challenge to keep advancing.
Bad: Some Payment Approvals Can Take a While
I've seen a few reports on the web of payment approvals taking a while.
It doesn't happen with everyone, nor does it happen for every job for the same workers.
It seems to be more of a random thing, maybe having to do with specific projects or clients.
After every job, an approval team will need to approve your work.
Some transcription files are lengthier than others, so it's possible that complex and long files could result in a longer approval process.
The site states that you might have to wait up to a week to get approved, but other tasks get approved much quicker, possibly even on the same day.
When you're awaiting payment, though, those few days or a week can seem like a long time.
It would be nice if Speechpad could work out these kinks and come up with a more streamlined approval process in the future.
Good: Helpful Customer Support
It's always nice to see a company have an awesome support team, especially for its workers.
Reportedly, Speechpad has a dedicated team of individuals that's ready to answer worker questions at almost any time.
Take a look at the website and you'll notice that Speechpad has several contact methods available, including phone numbers, a contact form, a support email, and even a chat function.
Pick the one that you feel most comfortable with and ask away!
It helps to know that the Speechpad team is behind you to make your job just a little easier should an issue arise.
Where to Apply for Speechpad Transcription
To apply as a Transcription Worker at Speechpad you can visit the Apply page to see if there are any transcription jobs open.
If not, keep the page bookmarked and check back every month or so.
If positions are available, you can continue on to the application and typing test to grab your spot in the database.
Tips and Strategies for Maximizing Earnings on the Speechpad Platform
When working as a transcriptionist on the Speechpad platform, there are several tips and strategies you can employ to optimize your earnings. 
By being efficient, proactive, and strategic in your approach, you can increase your productivity and maximize your income potential. 
Here are some valuable tips to consider:
Familiarize Yourself with Speechpad Guidelines

: Before getting started, thoroughly read and understand Speechpad's guidelines for transcribing and captioning. 
These guidelines outline the preferred formatting, punctuation, and style. 
Improve Your Typing Speed and Accuracy

: Since transcription work relies heavily on typing, honing your typing skills can significantly increase your efficiency. Consider using online typing tutorials or tools to improve your speed and accuracy. 
The faster and more accurately you can transcribe, the more jobs you can complete within a given timeframe, ultimately boosting your earnings.
Select Jobs Strategically

: Speechpad offers various transcription jobs with different pay rates and difficulty levels. 
Prioritize jobs that align with your expertise and interests while considering the payout. 
Some jobs may require specific qualifications or higher ratings, but they often offer better compensation. 
Enhance Your Listening Skills

: Clear audio quality is crucial for accurate transcription. 
Invest in a good pair of noise-canceling headphones to minimize background noise and improve your ability to hear and transcribe speech accurately. 
Developing excellent listening skills will help you catch and transcribe even challenging audio segments, reducing the need for revisions and enhancing your overall efficiency.
Utilize Speech-to-Text Software

: While Speechpad primarily relies on human transcriptionists, it also incorporates automatic speech recognition (ASR) technology. 
Familiarize yourself with speech-to-text software and learn to leverage it effectively. 
ASR technology can help increase your speed and productivity by transcribing portions of the audio automatically. 
However, it's important to carefully review and edit the machine-generated transcriptions for accuracy.
Work-Life Balance and Flexibility as a Speechpad Transcriptionist
As a transcriptionist on Speechpad, you can design a schedule that accommodates your personal responsibilities while maintaining a fulfilling transcription career. 
Another key aspect contributing to work-life balance is the 24/7 job availability on Speechpad. 
The platform ensures a continuous stream of transcription tasks, allowing you to choose jobs that suit your preferred working hours. 
Additionally, there's no minimum or maximum work requirements. You have the flexibility to determine your workload based on your personal preferences and obligations. 
This flexibility empowers you to strike a balance between your transcription work and personal life. 
Training and Support for Speechpad Transcriptionists
Speechpad offers comprehensive training and ongoing support to its transcriptionists. 
This ensures they have the necessary skills and resources to perform their tasks effectively. 
The company understands the importance of providing a strong foundation for its transcribers, especially for those who are new to the field. 
Here's an overview of the training and support available:
Onboarding Process

: When you sign up as a Speechpad transcriptionist, you will go through an onboarding process. You will receive access to

training materials

and resources that cover the essential aspects of transcription work.

Guidelines and Style Guides

: Speechpad provides detailed guidelines and style guides to ensure consistency and accuracy in transcriptions. These resources outline the preferred formatting, punctuation, and specific instructions for different types of transcription projects.

Training Materials

: Speechpad offers various training materials, including

video tutorials

, written guides, and examples, to help transcriptionists improve their skills. These materials cover topics such as proper transcription techniques, dealing with challenging audio files, and enhancing typing speed and accuracy.
Opting Out of Speechpad
If you have previously used Speechpad's transcription services but have decided to opt out or no longer wish to continue using their services, you can follow these steps:
Contact Speechpad Support

: Reach out to Speechpad's customer support team to inform them of your decision to opt out. You can do this by sending an email to their support address or by using their contact form on their website.

Provide Account Details

: To ensure a smooth opt-out process, include your account details when contacting Speechpad. This may include your registered email address, username, or any other information specific to your account that can help them locate your profile and process your request accurately.

Specify Opt-Out Requirements

: Clearly communicate your opt-out requirements to Speechpad. For example, you may want to delete all your personal information, including uploaded files and any transcriptions associated with your account.

Follow-Up

: After submitting your opt-out request, it's a good practice to follow up with Speechpad's support team. This helps to confirm that your request has been received and processed.
Review Privacy Policy: Take the time to review Speechpad's privacy policy to understand how your personal information will be handled after opting out. Familiarize yourself with the policies and procedures they have in place regarding data retention, deletion, and any other relevant information regarding your account.
The Verdict: Is Speechpad Worth Your Time?
To be honest, Speechpad won't be for everyone.
Experienced transcriptionists looking for an opportunity to work from home with a transcription company will probably not be impressed by the low pay and the time it can take to move up the ladder to earn decent pay.
However, new transcriptionists who want to gain experience and see if transcription work is right for them can find a comfortable spot with Speech pad.
Since it's free to register and use the system and there's no lengthy application process, there's no harm in getting set up with an account, trying some gigs, and seeing if it's right for you.
Have you worked with Speechpad?
We love hearing real stories from people who have had experience with the companies we write about!
Feel free to leave us a comment below to let us know what you liked or didn't like.
Related Posts:
Earn Everything… nearly!
Join Ipsos iSay, one of the few Faithful and Honest survey panels and earn prizes, gift cards and donations. Stack your points and redeem them: Simple! No hidden fees and completely free!