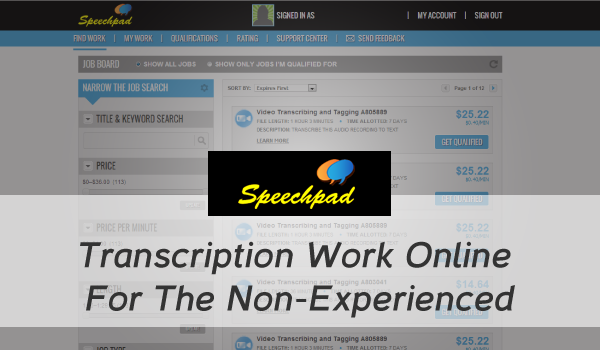 Need Easy Extra $350+/Month For Free?
Speechpad is a transcription company that offers a unique experience to their customers seeking to turn audio and video files into text. Speechpad uses a mix of both human and automatic computer generated transcription services. According to Speechpad – this provides the highest level of accuracy. Speechpad uses freelance transcriptionists to work the human side of their services. They do not require prior experience- and as you will see later in the article- just about anyone can begin making money online using Speechpad.
The following are the types of transcription services offered at Speechpad:
Insurance transcription
Video transcription
Voice to text
Audio to text
Speech to text
Mp3 to text
Speechpad services a number of well–known customers such as Yahoo, and Netflix and Hubspot are even repeat customers.  This in itself has seemed to solidify this transcription company as a legitimate way to make money from home.
Experience Requirements
You can register on their website for free and immediately begin accepting jobs.  The catch is, at first, you will only be qualified for very low paying jobs.  Most of these pay only pennies.  However, you can take qualification tests for the higher paying gigs.  If you pass the qualification exams, you will be allowed to take higher paying projects – of which there appears to be plenty.
Even if you have little to no experience in transcription but want to get started, you can work some of the lower paying jobs and then test to qualify for others as you gain experience.The downside is that these lower paying jobs can be very time consuming for very little money, but if you can stick with it the payoff can eventually be well worth it.
In addition to passing the qualification exams to complete higher paying jobs you will receive a rating for your work based on your performance. Speechpad will use a combination of both to determine which gigs you can qualify for.
Job Types
Speechpad has work available for both transcription and quality reviewers. There is also work for video tagging  and web video captioning as well as subtitlers and reviewers. These jobs types may require qualification exams to be passed as well as a good rating.
Pay at Speechpad
A glance at the current job board shows 3 or 4 jobs that do not require any qualification.  That means anyone can take them.  The pay is very, very low, but they could be a good start for someone needing to gain experience.  There are over 100 jobs total currently on the board of varying pay grades, qualification levels, and times.   Projects appear to range from $.01 to $.40 per audio minute.  Even if this is a higher than normal workload, you aren't losing anything by checking in to see if work is available since registration is free.
Pay with Speechpad is reportedly every two weeks via PayPal.
What Others have to say about Speechpad
After doing a little reading about Speechpad and transcriptionist experience- there seems to be a lot of complaints where others are waiting for their work to be approved and even paid.  It seems, however, that Speechpad is working diligently to resolve these issues and has even addressed a lot of concerns on other review sites like this one by RealWaystoEarnMoneyOnline. Reading through the comments there will tell you want you can expect before spending too much time working online at Speechpad.
Where to Apply for Speechpad Transcription
To apply as a Transcription Worker at Speechpad visit their Worker Page.
Related Posts:
Want more money?

Join Surveyo 24 #1 paid survey site. It's easy - complete a survey and receive payment. No hidden fees and completely free!


Need Easy Extra Cash?

Join e-Poll, one of the few faithful and honest survey panels and earn cash - paid via PayPal - gift cards for Amazon, Best Buy, iTunes, Starbucks, and Walmart, plus Retail e-vouchers.
The surveys are aimed at entertainment-related research, covering such things as personal TV watching habits, give feedback on new TV commercials or to review DVDs that are sent to your home.
For USA residents aged 13+. No hidden fees and completely free!