18 Side Hustles for Couples
Updated on: by Amy Kennedy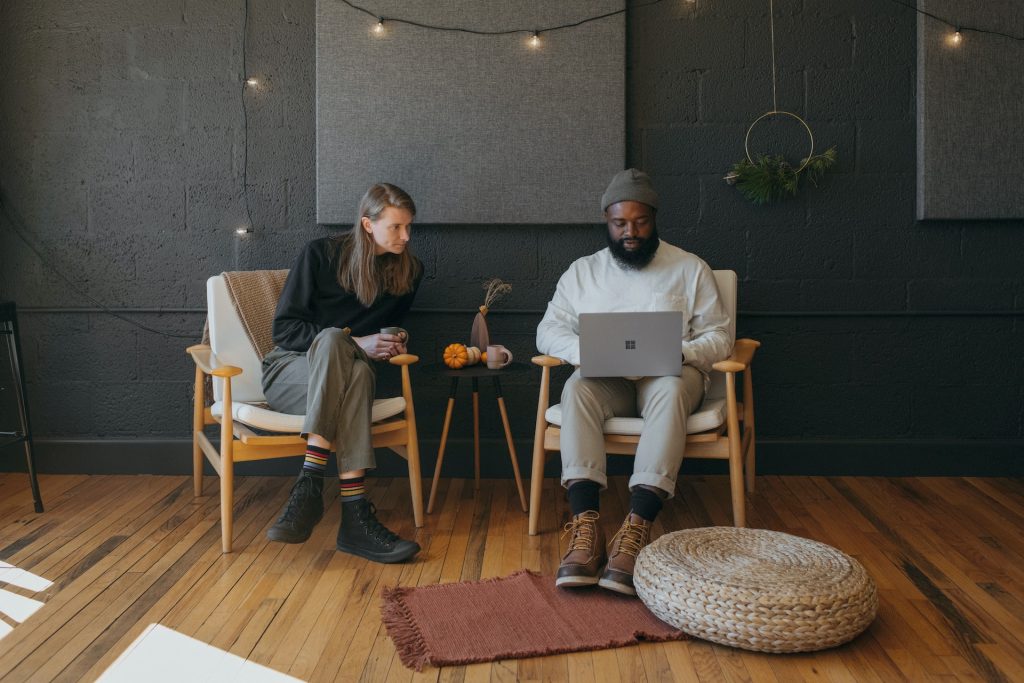 Today many couples are exploring the idea of side hustles to increase their income and achieve their financial goals.
Need Easy Extra $350+/Month For Free?
Side hustles not only provide financial benefits but also offer opportunities for couples to work together, learn new skills, and strengthen their bond.
Whether you're looking to pay off debt, save for a vacation, or simply enjoy some extra spending money, there are side hustle options that cater to various interests and skillsets.
In this guide, we'll explore 18 side hustles for couples, organized into different categories to help you find the perfect fit.
Freelancing and Remote Work
1. Freelance Writing
Freelance writing offers couples the chance to showcase their writing skills and earn income from home. Whether it's blogging, content creation, or copywriting, there's a demand for quality writers in various industries.
Websites like Upwork and Freelancer connect freelancers with clients seeking written content.
2. Graphic Design
Couples with graphic design skills can take on projects such as logo design, website graphics, and marketing materials.
Platforms like Fiverr and 99designs allow designers to showcase their portfolios and connect with businesses in need of design services.
3. Virtual Assistance
Becoming virtual assistants allows couples to provide administrative support to businesses and entrepreneurs. Tasks may include managing emails, scheduling appointments, and handling customer inquiries. Websites like Time etc offer opportunities to work as virtual assistants.
Online Ventures
4. E-commerce Store
Starting an e-commerce store can be a profitable venture for couples interested in selling products online. You can choose to sell handmade crafts, vintage items, or create your own unique product line. Platforms like Shopify and Etsy make it easy to set up an online store.
As a couple, you can combine your skills to handle various aspects of the business, from product creation to marketing and customer service.
Building a successful e-commerce store involves selecting the right niche, sourcing or creating products, setting competitive prices, and establishing a user-friendly website. You can also leverage social media platforms like Instagram and Facebook to promote your products and connect with potential customers.
As your e-commerce store grows, you may consider expanding your product range and exploring different sales channels, such as Amazon or eBay. E-commerce offers couples the opportunity to turn their creative and entrepreneurial ideas into a thriving online business.
5. Blogging and Affiliate Marketing
Couples with a passion for writing and niche expertise can start a blog together. As your blog gains traffic and authority, you can monetize it through affiliate marketing, which involves promoting products or services related to your niche.
Platforms like Amazon Associates and ShareASale offer affiliate programs in various industries. As affiliates, you'll earn commissions for every sale or lead generated through your referral links.
To succeed in blogging and affiliate marketing, couples can collaborate on content creation, SEO optimization, and marketing strategies. By providing valuable information and recommendations, you can build trust with your audience and increase affiliate earnings.
Need Easy Extra Cash?
Pinecone Research, a leading name in online survey panel honesty, absolutely guarantees $3 cash for every survey you complete!
Take advantage of their time limited New Membership drive and register NOW. Join today: 100% free!


Consistency in publishing quality content and effective promotion on social media can lead to a steady stream of passive income. As your blog grows, you may explore additional revenue streams such as sponsored content or selling digital products.
Blogging and affiliate marketing allow couples to share their expertise, connect with like-minded individuals, and generate income while working from home.
6. Online Tutoring
Share your knowledge and skills as an online tutor. Whether you excel in a particular subject or have language proficiency, platforms like Chegg Tutors and VIPKid connect tutors with students seeking assistance. Couples can collaborate to offer a wider range of subjects or languages, appealing to a broader student base.
Online tutoring provides flexibility in terms of scheduling, allowing you to set your availability and work from home. You can offer one-on-one or group tutoring sessions, providing personalized support to students.
As a couple, you can combine your teaching abilities and expertise to create engaging and effective lessons. Building a strong reputation and positive reviews on these platforms can lead to a steady flow of students and income. Online tutoring not only allows you to share your knowledge but also offers the satisfaction of helping students succeed academically while earning together.
Creative Pursuits
7. Photography
For couples with photography skills, offering photography services can be a lucrative side hustle. You can specialize in events, portraits, or product photography. Create a portfolio showcasing your work, and use social media platforms like Instagram to showcase your portfolio and attract potential clients.
Collaborating as a photography team can be advantageous, allowing you to cover multiple angles and perspectives during events or offer combined skills in photography and photo editing.
Additionally, couples often have the advantage of being more approachable and can create a comfortable atmosphere for clients during photoshoots. Building a client base through word-of-mouth, referrals, and a strong online presence can lead to a successful photography side hustle.
8. Handmade Crafts and Art
If you enjoy crafting or creating art, consider selling your creations on platforms like Etsy. Handmade jewelry, artwork, and home decor items are in high demand among online shoppers.
As a couple, you can combine your artistic skills and work together on crafting and marketing your products.
Creating a successful handmade crafts and art business involves identifying your niche, producing high-quality items, setting competitive prices, and leveraging online marketing strategies. Building a unique brand identity and telling your story as a couple can also resonate with customers.
Platforms like Etsy offer a vast marketplace, and by continuously improving your craft and customer service, you can establish a loyal customer base and turn your creative passion into a profitable venture.
9. Music Lessons
Musically inclined couples can offer music lessons to aspiring musicians in their community. Teach instruments like guitar, piano, or drums and provide valuable instruction while earning income. You can advertise your lessons locally or use online platforms to reach a broader audience.
Offering music lessons as a couple can be particularly appealing to families or individuals looking for lessons for multiple family members. Collaborating allows you to share teaching responsibilities and offer a diverse range of musical instruction.
Building a reputation for effective teaching and helping students progress in their musical journey can lead to a steady stream of students and income. Music lessons not only allow you to share your passion for music but also provide a fulfilling way to earn money together.
Shared Services
10. Pet Sitting and Dog Walking
If you both love animals, offering pet sitting and dog walking services through apps like Rover and Wag! can be a fun and rewarding way to earn money together. Take care of pets while their owners are away, providing essential services like feeding, walking, and companionship.
As a couple, you can offer additional benefits such as more attention and playtime for pets in your care. Collaborating also allows for flexible scheduling, ensuring that someone is available to care for the pets at all times.
Building a strong profile on these pet-sitting platforms with positive reviews and photos of happy pets can attract clients seeking trustworthy and reliable pet sitters. Whether it's a daily dog walk or extended pet sitting, this side hustle allows you to combine your love for animals with earning income.
11. Home Improvement and Handyman Services
Put your DIY skills to work by offering handyman services in your community. Whether it's fixing a leaky faucet, painting a room, or assembling furniture, your skills can translate into a profitable side hustle.
Collaborating as a handyman team allows you to tackle a broader range of projects and provide efficient and reliable services.
To succeed in the home improvement and handyman services business, couples can combine their expertise in different areas such as carpentry, plumbing, electrical work, and general repairs. You can promote your services locally through word-of-mouth, social media, or community platforms.
By delivering high-quality workmanship, excellent customer service, and competitive pricing, you can establish a solid reputation and generate a steady flow of projects and income.
12. Real Estate Ventures
Consider diving into real estate ventures as a couple. This can include house flipping, rental property management, or even real estate wholesaling. While it requires some capital and expertise, it can yield substantial returns.
House flipping involves purchasing distressed properties, renovating them, and selling them at a profit. It's a hands-on investment that requires careful planning and effective project management.
Couples can combine their skills in property assessment, renovation, and marketing to increase the chances of success.
Real estate investing is a long-term wealth-building strategy that can generate passive income. You can invest in rental properties, commercial real estate, or real estate investment trusts (REITs). Couples can diversify their real estate portfolio and share the responsibilities of property management.
Real estate wholesaling involves finding properties at a deep discount and selling them to investors or other buyers at a higher price.
It's a strategy that requires negotiation skills and a keen eye for investment opportunities. Collaborating as a real estate wholesaling team allows you to identify and secure profitable deals more effectively.
Real estate ventures offer couples the potential for significant financial rewards and the opportunity to build a substantial portfolio of properties over time. It's essential to conduct thorough research, seek expert advice if needed, and create a solid business plan before diving into real estate investments.
Earn Everything… nearly!
Join Opinion Outpost, one of the few faithful and honest survey panels and earn cash and gift cards for your opinion. Stack your points and redeem them: Simple! No hidden fees and completely free!


Fitness and Wellness
13. Personal Training
If you're both fitness enthusiasts, becoming personal trainers allows you to share your passion and help others achieve their fitness goals. You can offer personalized training sessions at local gyms or virtually through platforms like Zoom.
Collaborating as personal trainers can be advantageous as you can bring different areas of expertise to your training programs.
As a couple, you can provide motivation, support, and accountability to your clients. Whether you specialize in strength training, cardio workouts, or specific fitness programs, you can tailor your training sessions to meet individual needs.
Building a client base and marketing your services through social media, local advertisements, or fitness communities can help you establish a thriving personal training side hustle. It's a rewarding way to promote a healthy lifestyle while earning income together.
14. Yoga Instruction
Certified yoga instructors can teach yoga classes together, either in person or through virtual sessions conducted on platforms like Zoom. Collaborative yoga instruction can offer participants a unique experience with two instructors guiding them through their practice.
As a couple of yoga instructors, you can design classes that cater to various skill levels and yoga styles, such as Vinyasa, Hatha, or Yin yoga. Hosting workshops, retreats, or online subscription-based classes can also be part of your yoga instruction side hustle.
By combining your teaching skills and passion for yoga, you can create a welcoming and inclusive yoga community. Building a client base can involve marketing through social media, local yoga studios, and wellness events.
Event Planning
16. Wedding Planning
Couples who have a flair for event planning can venture into wedding planning. Help couples create their dream weddings by offering services like venue selection, coordination, and decor planning.
Collaborating as wedding planners allows you to share responsibilities and provide a more comprehensive service to your clients.
With attention to detail and creative input, you can assist couples in designing and executing their perfect wedding day. You may also specialize in themed weddings, destination weddings, or intimate elopements.
Building a portfolio of successful weddings, networking with vendors, and showcasing your services on wedding planning websites and social media can help attract clients. Wedding planning can be a fulfilling side hustle as you play a pivotal role in making couples' special days memorable.
17. Party and Event Hosting
Host parties and events for clients seeking memorable experiences. You can specialize in themes such as children's parties, corporate events, or milestone celebrations.
Collaborating as event hosts allows you to combine your creativity and organizational skills to plan and execute exciting events.
As a couple, you can offer a range of event services, including event concept development, venue selection, catering coordination, and entertainment arrangements. Building a network of suppliers and vendors, such as caterers, decorators, and entertainers, is essential for delivering seamless events.
Marketing your event hosting services through social media, local event planning directories, and word-of-mouth referrals can help you establish a reputable event hosting side hustle. Creating unforgettable experiences for your clients can lead to repeat business and positive recommendations.
18. Event Photography
If you have photography skills, consider offering event photography services for weddings, parties, and corporate events. Capture special moments and create lasting memories for your clients.
Collaborating as event photographers allows you to cover multiple angles and perspectives, ensuring comprehensive event coverage.
As a photography team, you can specialize in candid shots, posed portraits, and artistic event photography. Your skills in post-production editing can enhance the quality of your event photos.
Building a portfolio of event photography, showcasing your work on a professional website or photography platforms, and networking with event planners can help attract clients. Event photography is a dynamic and rewarding side hustle, allowing you to be part of joyous celebrations while preserving memories for clients.
Conclusion
Side hustles for couples offer a unique opportunity to work together, achieve financial goals, and strengthen your relationship.
Whether you choose to freelance, embark on online ventures, pursue creative passions, or offer shared services, there's a side hustle for every couple.
Start exploring these options, and you'll not only boost your income but also create lasting memories together.
Related Posts:
Earn Everything… nearly!
Join Ipsos iSay, one of the few Faithful and Honest survey panels and earn prizes, gift cards and donations. Stack your points and redeem them: Simple! No hidden fees and completely free!