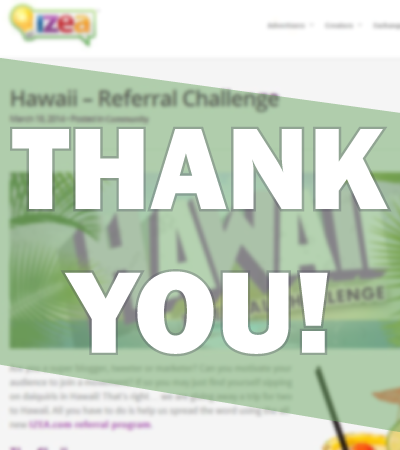 I've been participating in the IZEA Hawaii Referral Challenge and was recently told I was in 3rd place for the win! So, of course, the idea of actually going to Hawaii has me pushing even hard to win this thing!
Need Easy Extra $350+/Month For Free?
IZEA is a creative way to connect bloggers and social media marketers to big brands. Through sponsored tweets, blog posts and facebook shares- bloggers are being paid to talk about products and businesses they have a genuine interest in.
So why is IZEA giving away a Hawaiian Vacation?
The more people they have registered- the bigger brands they can reach. Which means more paid opportunities for you and I as bloggers. So, rather than putting thousands of dollars into traditional advertising- IZEA is getting creative and thanking one person (hopefully me) by paying for a trip to Hawaii as a thank you for helping spread the word and bringing in more bloggers and advertisers.
How Can You Help Me?
There's still time to help me out! IZEA is running a big campaign that will send one blogger to Hawaii! I am actually close to winning this thing but not sure where my competition stands. I know they are pushing pretty hard too, so I need more help! Here are some posts I put on Facebook explaining how you can help me secure the win for the big trip of a lifetime. Thank you guys so very much!
Related Posts:
Want more money?

Easy Extra Cash! Join the famed Nielsen Computer and Mobile Panel site, install the app and earn rewards just for using the Internet as you do today! Nielsen gives away $10,000 each month.
Guaranteed 100% free membership.