Work From Home Living In a Caribbean Country
Updated on: by Samuel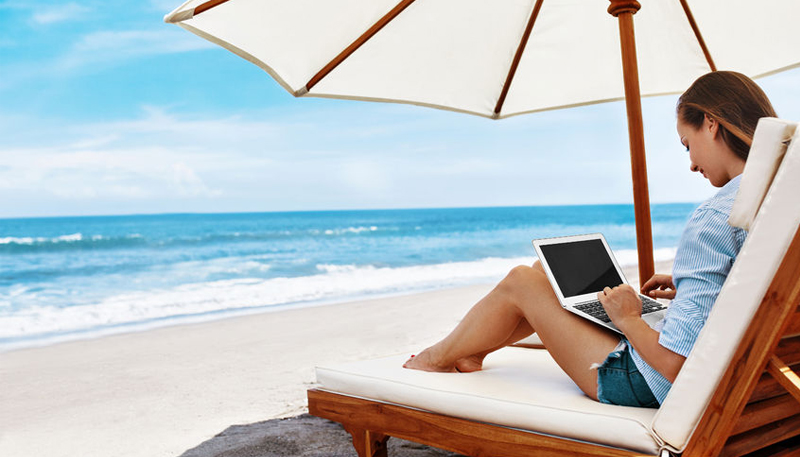 Our Caribbean followers have been asking how to make money from home when they live in a Caribbean country.
Need Easy Extra $350+/Month For Free?
Unfortunately, it's not as simple for many as it is for those in the United States.
It's not just the Caribbean; people all over the world can find it difficult to find a legit work from home job.
Quite simply, many employers who accept remote workers are based in the United States and, therefore, want United States workers.
Not only does it help the businesses avoid language barriers, but it also can help them keep their taxes and benefits straight.
But, I know how important it is for everyone to make money from home who wants to do so.
So, I went on a mission to find ways to let them do just that!
How to Make Money in the Caribbean
Some of the most common jobs I've seen for Caribbean workers are those in the IT (Information Technology) industry and customer service industry.
Many companies outsource these jobs to workers overseas because they usually can pay them less than they can United States workers, but still an ideal wage for their countries.
I'll get to some of the actual jobs in a moment.
First, I want to talk about considering a freelancing career, which can open up so many doors for people who want to work from home, wherever they live in the world.
Freelancing in the Caribbean
If you aren't aware of what freelancing is, let me explain.
Freelancing is basically a super-flexible way to work.
Another name for a freelancer is an independent contractor.
You're your own boss when you freelance.
You decide what clients you want to work with, when you want to work, and how you want to work.
Need Easy Extra Cash?
Pinecone Research, a leading name in online survey panel honesty, absolutely guarantees $3 cash for every survey you complete!
Take advantage of their time limited New Membership drive and register NOW. Join today: 100% free!


You don't have a boss or manager overseeing you.
Yes, you need to adhere to the standards that your client expects.
But, if a client was to tell you when, where, or how you should work to complete their job, then they technically break the freelancing agreement.
You may have heard of freelance writers or freelance graphic designers.
They're among the most common types of freelancers in today's gig economy, but they're not the only ones.
You can just about freelance in any way that you want to, from becoming a virtual assistant to a freelance voiceover artist.
Freelancing is all about using the skills you have to provide services to other people.
Not all freelancers are remote workers, but most are – that's one of the major perks that freelancing provides!
I mention freelancing as a great option for those in the Caribbean because many clients won't have stipulations as to where you're from, as long as you get the job done.
This is especially true if you're doing any type of freelancing that doesn't involve any language barriers, like making calls or writing.
And, you can probably even scope out some local businesses to find ones looking for freelancers!
But, I also have a few websites I want to mention that can help get you on the right path to becoming a freelancer in the Caribbean:
Fiverr is a great place to start out with, and it actually works out quite well for those in other countries than the United States.
No one really knows where you live when they go to order work from you, so it makes it less discriminatory than other sites.
With Fiverr, you choose the gigs you want to do.
You make them, choose your prices, and let others come find you for work.
And, it's very flexible.
You can set your profile to vacation mode if you need a break or have more orders than you can handle until you're ready to go again.
I've used Fiverr myself for some freelance writing work.
The pay for your gigs starts low – at $5 – but you can also bump up that price with add-ons.
So, say you want to edit videos for people, but $5 isn't enough money for a video that might take you an hour to edit.
You might use your $5 gig for a super short video, like a 30-second viral video.
Then, you can create add-ons, like 30 more seconds for another $5.
Basically, you create custom gigs for custom prices to match your skills as a freelancer.
Guru works a little differently than Fiverr.
This is a freelance marketplace in which you bid on jobs posted by clients.
So, instead of creating your own gigs, you'll respond to ones that clients post.
This means that you won't have quite as much flexibility in the type of work you do, because you'll have to adhere to the client's wishes.
Still, there are several categories you can choose from, so you can probably find something that matches your skill set.
Earn Everything… nearly!
Join Opinion Outpost, one of the few faithful and honest survey panels and earn cash and gift cards for your opinion. Stack your points and redeem them: Simple! No hidden fees and completely free!


Just beware of scams here.
Unfortunately, Guru isn't quite as good as Upwork (which I'll get to in a moment) when it comes to keeping scammers off the platform.
If anyone asks to pay you outside of Guru (its internal escrow system is very reliable) or requests to contact you outside of the platform, your red flags should go up.
Guru has a SafePay function which lets clients set aside funds for you in an escrow account to ensure that you get paid for your work, which is definitely a bonus.
You can get paid within a day or two with PayPal once your client has released those funds to you after checking your work.
Upwork is, by far, my favorite place to go to for freelance work.
I've used the platform myself for almost two years.
This freelance marketplace is becoming pretty selective in approving new accounts, though, because so many freelancers have joined recently.
I've read that completing your profile and adding portfolio work, if possible, can greatly increase your chances of getting accepted.
It also helps to complete some of the tests. If you feel you're fluent in English, taking the English skills tests can really bump up your chances of getting hired for jobs!
Once you get through the application process, you can use your Connects, which are like credits, to apply for jobs.
Send a standout proposal outlining your skills and what you can do for the client.
The client will have time to sort through his applications and will contact you if he thinks you're a good fit.
Upwork has tons of categories and subcategories for work, so you can likely find jobs that match your skills as a freelancer.
Online Jobs to Work from Home in Jamaica, or Work from Home in Puerto Rico!
Now, if you're not looking for a freelancing career, that's okay.
I have some other websites that can help you out in the Caribbean!
These sites aren't freelancing marketplaces like those I mentioned.
Instead, they're job search sites where you can find remote opportunities all over the world.
You'll have to do your due diligence to ensure that the jobs you're interested in will hire people from your country, as some specifically state that they only want remote workers from a specific country.
But, you'll likely be able to find something that fits your skills and allows remote workers from a variety of countries on one of these sites. Good luck!
Authentic Jobs says that it specifically focuses on creatives, hackers, and designers.
There are tons of engineering, developer, and visual designer jobs here.
Oh, and many of them are remote!
To find only remote jobs, click the little button on the left side of the screen to switch it to "remote."
You can click on the job of interest to read more about it and find out if there are any location restrictions.
But, most of the time, if the job says "Remote" or "Anywhere" for the location, the company will consider workers from all over the world.
Indeed is one of my favorite job search websites for finding remote jobs, although it has on-site jobs too.
You can specifically search for "worldwide" or "remote" jobs here to find ones that may potentially hire employees in your country.
LinkedIn isn't necessarily a job board, but it does have one within its system.
It's a great place to find jobs all over the world!
The platform is actually one that connects professionals from over 200 countries, and many Caribbean countries can use it.
First, sign up for a LinkedIn profile.
You'll want to make sure it's completely filled out with your previous and current work experience, portfolio items, etc.
Also, browse the suggested connections from LinkedIn.
You might find people you've worked with in the past or current co-workers.
Add them, because connections are a huge factor in your success on LinkedIn.
Then, you can start browsing jobs using the Jobs tab at the top.
It can be a little tricky to find remote jobs here, so you'll need to specifically search for them.
If you're a web designer, search for "remote web design" or something similar to find those types of jobs.
Remote.com is a newer job search site that, as the name suggests, focuses solely on remote work.
The thing I like most about this site is that you can narrow down the results you get by filling in your job preferences on your profile.
When I get emails from Remote, they tell me about the jobs I'm interested, rather than every job available.
And, when I search the site, I only see jobs I'm interested in so I won't have to sift through them.
Again, just be sure to read the job description to make sure the jobs will hire people in your country.
RemoteOK is another job site that is geared only toward those who want to work remotely, from anywhere in the world!
The board is very selective, and costs $299 just to place an ad.
So, the employers looking for employees are serious about finding their ideal candidates.
Some of the more popular categories here include customer service, software development, and marketing.
There's also a category for non-tech jobs, if you don't have any technical skills.
This is where you'll want to look if you're a copywriter, for example.
Most job descriptions will state if they're only opening up candidacies to certain countries so you won't have to waste your time applying to those who aren't looking to hire from the Caribbean.
Stack Overflow focuses on developers of software, apps, and more.
This isn't a place for just remote jobs, so you'll have to specifically look for them.
You can also write "remote" in the location search bar to help narrow your search results.
Right on the We Work Remotely front page, it says it's a place to "find and list jobs that aren't restricted by commutes or a particular geographic area."
It sounds like a good place to find some work from home jobs when you live in a Caribbean country, doesn't it?
This site doesn't have the most extensive collection of jobs, but it has some really good ones and is frequently updated.
You can find just about every type of remote job here, from copywriting to customer service.
Most jobs list any geographic restrictions (such as U.S. only remote workers) within their job descriptions.
Working Nomads is another remote-only site where you can find jobs of all types, like writing and administration work.
Since it's all remote work, you have a good chance of finding jobs that hire people from all over the world.
When you sign up, you can also set up job alerts that match your preferences.
You'll get notified via email when a new job posting matches your interests so that you can hurry up and apply!
FlexJobs is a robust job search site that focuses on remote, part-time, freelance, and other flexible jobs.
With a rigorous screening process for job postings, FlexJobs aims to provide a scam-free, ad-free, and junk-free job finding experience.
The platform covers over 50 career categories and works with employers ranging from startups to Fortune 100 companies.
Additionally, FlexJobs provides resources like career coaching, skills testing, and useful blog content to further aid the job search and application process.
Although FlexJobs requires a subscription, the quality and volume of its listings often make it worthwhile for those seeking flexible work.
Glassdoor serves as a job search platform and a review site, providing insights into potential employers through employee reviews, company ratings, salary reports, and interview experiences.
This transparent information about company culture, benefits, and internal operations allows job seekers to gain a comprehensive view of potential employers before applying.
Furthermore, Glassdoor often lists job opportunities that include freelance, part-time, and remote positions across various industries, making it a valuable resource for a wide range of job seekers.
AngelList is the platform for tech startups, where job seekers can apply privately for jobs in thousands of startup and tech companies around the world.
While it has a distinct emphasis on startup culture, it is an excellent platform for freelancers and remote workers who are looking for opportunities in the tech industry.
The platform allows job seekers to create a profile, showcasing their skills and experiences, and apply for multiple jobs with one application.
It also allows users to connect with startup founders and industry professionals, making networking an integral part of the AngelList experience.
Jobbatical sets itself apart with a unique focus on "work adventures," helping professionals find work opportunities in countries around the world, with a significant emphasis on startups and tech companies.
The platform curates job postings in various fields such as tech, business, and creative industries, often with a preference for positions that offer relocation or remote work possibilities.
Jobbatical aims to bridge the gap between talent shortage and workforce mobility, providing a solution for companies and employees willing to explore cross-border employment.
It's an excellent resource for those who are open to relocating or seeking remote work opportunities in international companies.
Conclusion: Work from Home in a Caribbean Country!
Working from home in a Caribbean country might take a little more digging than those in other countries to find the right job.
But, it's possible!
Remote work is becoming more popular all over the world.
Fortunately, the websites I mentioned above are making things easier for us remote workers to find jobs, no matter where in the world we live.
Do you know of any specific companies that hire people to work from home in the Caribbean?
If so, let us know in a comment!
Related Posts:
Earn Everything… nearly!
Join Ipsos iSay, one of the few Faithful and Honest survey panels and earn prizes, gift cards and donations. Stack your points and redeem them: Simple! No hidden fees and completely free!