A Review of Transcription for Everyone: Is TFE Legitimate?
Updated on: by Amy Kennedy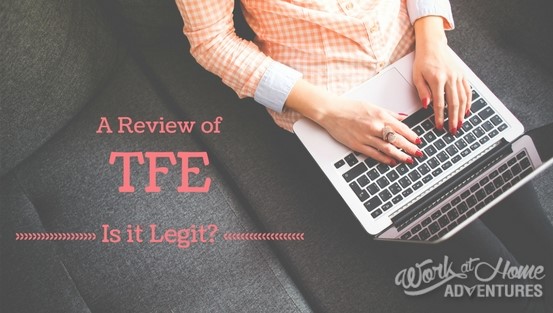 Need Easy Extra $350+/Month For Free?
If you enjoy doing transcription work, you may want to consider applying with TFE (Transcription for Everyone), a company based in Israel that provides transcription work to people all over the world.
In this Transcription for Everyone review, I'll provide a little more information about TFE, what they pay, how they pay, what you need to get started, and how to go about applying with the company.
All About Transcription for Everyone
The following information about Transcription for Everyone is what I've gathered from the site itself and other legitimate places on the web, like reviews from people who have worked there and conversations on forums between other transcriptionists.
Like any online transcription company, Transcription for Everyone has its own hiring process, rules, and expectations that may or may not work for you.
I hope this thorough guide helps you form a decision about whether you want to sign up as a transcriptionist with the company or look into alternatives, which I'll list down below.
Who Does Transcription for Everyone (TFE) Hire?
Although they are based out of Israel, TFE hires in all countries.
However, the website does state that you need to be an English-speaking transcriber.
It appears that as long as you have a reliable computer and internet connection, you can begin working with TFE.
You'll also need a quiet workspace that's distraction free, so an area away from roommates, pets, and children is ideal.
TFE doesn't require its workers to have prior transcription experience or any kind of educational background, so it could be a good place for beginners to start as long as you're enthusiastic about a career in the transcription field.
You will, however, need a good grasp on grammar, punctuation, and overall writing to excel with this work.
TFE also requires you to be an independent, motivated worker who is able to work without someone always telling you want you need to do (this is true for most work at home jobs).
What Type of Transcription Will I Do with TFE?
TFE handles a lot of different types of transcription work, like legal, general, court, video, and digital transcription.
Most often, though, it hires for the roles of general and legal transcriptionists.
That's possibly because the majority of its clients are in those fields, so that's where most of the work lies.
Need Easy Extra Cash?
Pinecone Research, a leading name in online survey panel honesty, absolutely guarantees $3 cash for every survey you complete!
Take advantage of their time limited New Membership drive and register NOW. Join today: 100% free!


And no matter what type of transcription work you end up doing on the site once you're accepted, you'll still need to pass a legal transcription test before moving forward, so it's important to at least be able to do that kind of transcription.
According to people who have worked with the company, if you do well with your beginning transcription work, there are always opportunities to move onto other transcription opportunities that the company saves for its best workers.
If there's a specific type of transcription you do well with and enjoy, you should inquire about doing that type of work when you apply.
Read More: 46 Best General Transcription Jobs from Home, No Experience Required
How Does Payment Work?
According to the website, the company pays 45 cents per page (not per audio hour or minute, as a lot of companies do). You can also make up to an additional 10 cents per page, based on the quality of your work.
Your rating score will also affect this pay.
Your pay could move up or down depending on how editors rate your work.
So even the 45 cents per page isn't guaranteed.
I won't lie and say that this rate is a good one because it's not, especially when several companies pay more than that per audio minute, which is usually less than a full page.
But remember that this is beginner's work, so if you're a true beginner to the transcription world, it could still be worth your while to get your foot in the door, gain some experience, and make some money.
If you live in Israel, the company will deposit your pay into your bank account.
If you live outside of Israel, pay will be deposited in your Paypal account.
Other positions with TFE pay different rates.
Editors make the same amount as the transcriber, but proofreaders earn 28 cents per page and compilers earn 5 to 10 cents per page.
Are There Other Positions or Promotions Available?
Yes.
Everyone who applies with TFE starts out as a transcriber.
However, if you perform well, you may be promoted to other roles, such as editing, compiling, or proofing – these roles are described in more detail on their website.
You can also remain a transcriber if you get promoted to other roles to maximize your earnings, but you'll need to make sure you have enough time to handle it all efficiently.
TFE says that, if you're good enough, you can even take on all four roles to completely transcribe, edit, proof, and compile all work yourself, which can give you up to $1.28 per page.
Still not great pay, but it's better than the salary for a transcriber alone.
Is There a Certain Amount of Work I Have to Take Per Week or Per Day?
The agreement you'll sign asks you to transcribe at least two hours of audio minutes per week, however TFE clearly states on their website that if you want to do less transcription in the beginning, that's fine.
So this is something you may want to ask about before you start training, just to make sure you're clear on the expectations of the company.
You're assigned work based on your availability, which you'll list on their website once you're hired.
The verbiage in the contract says that the two hours per week is a recommended amount, but you may want to check on that just to ensure that you won't be booted from the company if you work less in any given week.
Do they have a lot of work?
According to their website, 99% of the time they have more than enough work for everyone.
What is Scheduling Like?
When you sign up and get accepted as a transcriber for TFE, you'll be able to log in and let the company know what hours you can typically work.
You can mark how many hours you're available each day of the week, or mark zero if you aren't available on any specific days.
During the first two weeks, there are no recommended minimums for the hours you work.
Earn Everything… nearly!
Join Opinion Outpost, one of the few faithful and honest survey panels and earn cash and gift cards for your opinion. Stack your points and redeem them: Simple! No hidden fees and completely free!


After two months, you are expected to work at least three days per week for 20 minutes on those days.
However, you can choose what times you want to work on the days you do work.
You can always change your hours or give notice to TFE if anything should change in your availability, but you should try to give a few days notice if possible.
If you have an emergency or want to take off for sick leave or vacation, you can do so with notice to the company.
Will I Be an Employee?
No!
All workers for TFE are independent contractors that are free to come and go without strict scheduling and other rules.
That's the benefit of being an independent contractor instead of an employee!
On the other hand, you also won't receive benefits that an employee normally would, like health insurance, paid time off, etc.
You'll also be responsible for paying your own taxes, as they won't be coming out of your paycheck as an independent contractor.
If you make more than $600 in a calendar year with TFE, you'll get a 1099 form that will list how much you've made.
You'll need to report this form with your taxes.
All About the TFE Contract for Transcribers
When you apply for transcription work with TFE, you'll need to agree to both its confidentiality agreement and transcriber agreement.
The confidentiality agreement will outline everything that's expected of you in terms of keeping the information from clients confidential.
That means that you can't share the information you get from clients in their audio files or instructions with anyone else in any capacity.
This helps protect the client and information it wants to keep protected.
The transcriber agreement outlines everything that the company expects from you as a transcriber as well as what you can expect from the company.
This includes how to schedule your hours, what you need to know about deadlines, compensation rates and the process, taxes, client confidentiality, and more.
You'll need to have this signed and agreed to before you begin working.
What Do Others Say? Is TFE Legit and Does It Really Pay?
Before starting to work with Transcription for Everyone, it's natural to want to know if it's a legit company and find out what other people think of it.
To answer this question, I've browsed tons of online reviews on places like Glassdoor, Indeed, and online forums to search for information from real people who have used TFE to make money.
From what I've read, I'd say TFE is legitimate.
With that being said, everyone has a different experience, no matter what company you work with.
You're going to find that there are good and bad reviews of just about any online company because what works for one person won't work for them all.
There have been a few complaints and a few questions raised about certain things, such as whether you need to take a course that they offer in order to work for them.
One one person wrote a letter saying he didn't get paid, but in both cases TFE responded to the complaints and the questions.
Here's a thread on wahm.com where someone voiced a concern about having to take a course in order to work for TFE.
And here's a letter that someone wrote to complaintsboard.com stating that they did not get paid – again the CEO of TFE responded to the letter stating the person did get paid.
Here are a few more pros and cons of TFE according to people who have actually worked with the company as a transcriber and have left reviews in various places on the web:
Pros
Remote-friendly work that you can do from the comfort of your home
Flexible scheduling
Easygoing work environment
Promotions are available if you continue to excel at your job
Don't need prior experience or an educational background to start working
Cons
Low pay; some people have issues with payments
Difficult to understand training manual
No payment for training
Editors aren't always helpful, especially during the training problem
No way to track earnings for work with clients
How Do I Get Started?
If you like what you've read so far, the next step is to go to the TFE website, read their full job description, and then decide if you want to apply.
If you do decide to apply, you'll have to download their confidentiality agreement and transcriber agreement, read and sign those files and return them to TFE.
Once you've returned them, they'll send you a test file, of which you will have to complete the first 10 minutes. Once you return that to them, they'll give you feedback on it and decide whether they're going to hire you.
Transcription for Everyone Alternatives
You might think that TFE isn't the right choice for you – and that's okay.
There are other transcription sites that are good choices for beginners, offering at-home transcription work to people without transcription experience or education, just like TFE.
Here are some of the top options:
3Play Media looks for both transcriptionists and transcript editors to work on its client projects, although it doesn't always have positions open depending on client needs.
There are no educational or experience qualifications you need to start, but you will need to be able to type at least 75 words per minute and have excellent grammar, punctuation, and communication skills.
You should also know how to use common word processing software and complete internet research efficiently.
You can earn between $10 to $30 per audio hour for these projects.
GoTranscript pays up to $0.60 per audio or video minute for its transcribers, which is lower than the standard industry rate, but might be right for some beginners.
The site states that its top transcriptionists make more than $1200 a month, although there aren't any specifications about how much work or how many hours it takes them to earn that much.
The good thing about this site is that it even accepts you if you're a slow typist.
Generally, you'll have about six hours to complete a 10-minute file, which is plenty of time even if you type slow.
So you can always use this place for a while to boost your skills and get better at your craft before moving onto another place that pays better rates.
You'll get paid for your work every Friday through Payoneer or PayPal.
Quicktate doesn't have any education or experience requirements for transcriptionists.
Instead, you can take a skills test in whatever type of transcription you want to get into, like legal or medical, to make sure you can handle the jobs.
You will need three references when you apply, but the company doesn't require them to be in the realm of transcription, so they could be clients you've worked with, past employers, etc.
There is a background check fee of $20 for all new transcribers that you'll pay along with your application.
The rate of pay here is up to ½ cent per word depending on the type of transcription (medical, for example, pays higher than general transcription).
You'll get paid every Monday with PayPal.
Rev is one of the leading, most popular spots on the web to find transcription work for both beginners and expert transcribers.
There tends to be a lot of work available on the site and it pays decent rates of up to $1.10 per audio minute for captioning and transcribing, which is a typical going rate for this kind of work.
With Rev, you'll also be able to work a flexible schedule that meets your needs by logging in and claiming work when you have some time available.
Rev pays weekly with PayPal, and I've seen plenty of transcribers note how reliable and easy the payment process is.
Although some say the training process has some room for improvement, there are plenty of good reviews on the web from Rev freelancers.
Scribie may not have the best rates in the transcription world, but there are some opportunities for bonuses if you complete a lot of quality work.
This place is definitely best for beginners who want to get their foot in the door of transcribing, as it doesn't have any strict requirements for applying.
You do need to meet some computer and internet requirements, have a good grasp of the English language (native speakers aren't necessary, though), and have a verified PayPal account.
The site pays $5 to $25 per audio hour with a bonus opportunity of $5 for each three hours of audio work you complete.
TranscribeMe accepts beginners into its freelance program if they have an excellent command of the English language and know how to work quickly and efficiently with a computer.
Typing skills also come in handy, of course.
To prove that you can complete the work you'll do accurately, you will need to transcribe a few chunks of audio before you begin working on real client pieces.
After you fill out the form showing your interest in transcribing here, someone will reach out to you within a couple of days with the next steps to begin training and onboarding.
The site focuses mostly on quick audio files instead of hour-long ones, so it's a good place to try if you can only work in short blocks of time.
TranscribeMe pays with PayPal.
Rev is a leading platform that offers transcription work for both beginners and experienced transcribers.
It provides a wide range of transcription opportunities and pays decent rates, up to $1.10 per audio minute for captioning and transcribing.
Many freelancers have praised Rev for its reliability and easy payment process.
You can enjoy a flexible schedule by logging in and claiming work based on your availability.
Rev pays its freelancers weekly through PayPal.
Scribie may not have the highest rates in the transcription industry, but it can be a good option for beginners looking to gain experience.
While there are no strict requirements for applying, you should meet basic computer and internet requirements and have a good grasp of the English language.
Native English speakers are not necessary. Scribie pays between $5 to $25 per audio hour, and they also provide a bonus opportunity of $5 for every three hours of completed audio work.
TranscribeMe is another platform that accepts beginners into its freelance program.
To be eligible, you need to have an excellent command of the English language, be proficient with computers, and possess good typing skills.
Before starting client work, you'll be required to transcribe a few audio chunks as a test to demonstrate accuracy.
TranscribeMe mainly focuses on quick audio files, making it suitable if you can only work in short blocks of time.
Fill out their interest form, and someone will contact you within a couple of days to discuss training and onboarding.
Tigerfish is a transcription company that offers opportunities for beginners.
They are known for providing a supportive work environment and offering flexible work hours.
While specific payment rates may vary, they generally pay around $0.005 to $0.01 per word.
Tigerfish accepts applications from transcribers who are proficient in English and possess good grammar and punctuation skills.
To apply, you'll need to complete their online application and transcription test.
Conclusion: Is Transcription for Everyone Right for You?
If you like doing transcription work, or want to get into doing transcription work, TFE may be a good option for you.
However, it's important to remember that this site is geared toward beginners rather than experts who should be getting paid top dollar for their expertise.
The low pay might be worth the work if you're getting some experience and portfolio work under your belt, but it won't be worth your time if you already can get higher rates elsewhere.
If you have any experience working with TFE, please feel free to comment below.
Related Posts:
Earn Everything… nearly!
Join Ipsos iSay, one of the few Faithful and Honest survey panels and earn prizes, gift cards and donations. Stack your points and redeem them: Simple! No hidden fees and completely free!