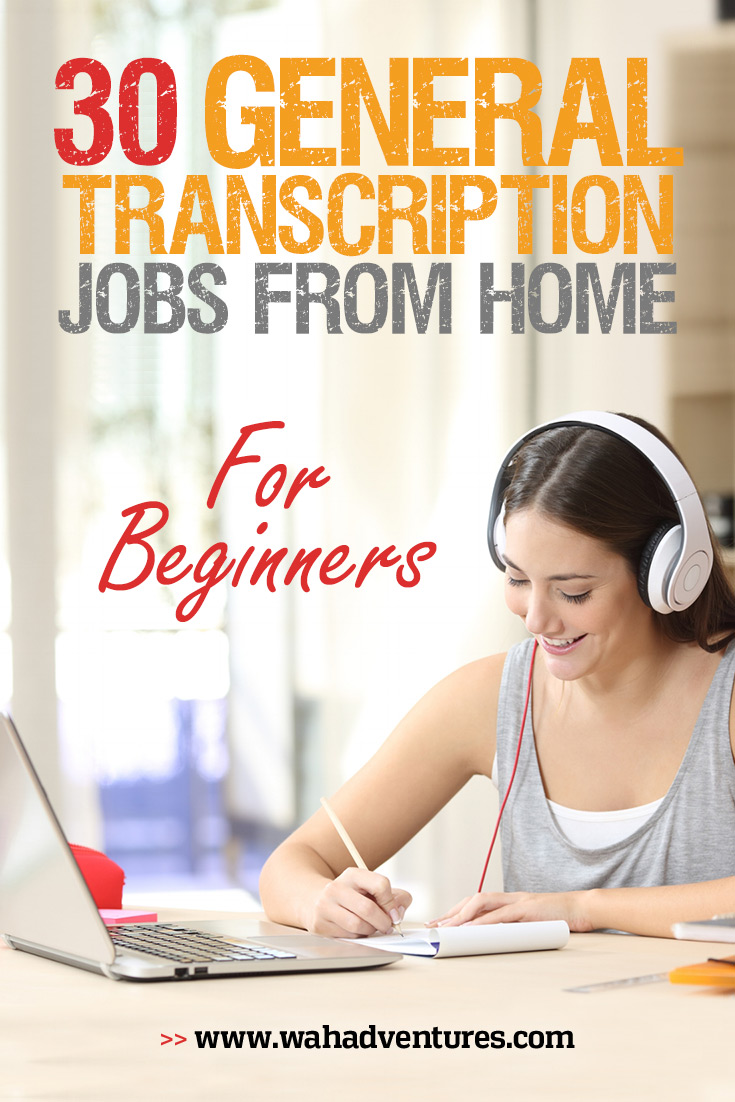 General Transcription work is where many people who work from home get their start, including myself.
Need Easy Extra $350+/Month For Free?
It's a good way to get your foot in the door, so to speak.
You learn to manage your time and your money, while gaining valuable skills that can lead you to bigger opportunities, even in transcription!
Of course, there are general requirements for you to qualify as a general transcriptionist.
Even though there are many companies who do not require previous experience.
They will all expect you to have a high level of grammar and punctuation understanding for the English language.
You must be able to type quickly, usually at least 70 WPM.
You also will need very good listening skills as audio may not always be clear.
Although Transcription is a flexible job, it is not an easy one to do while you have other responsibilities like children needing your attention at the same time.
Transcription requires focus and concentration.
Once you gain some experience at an entry level transcription job, you'll qualify for better paying opportunities.
Even if you don't want to stick with transcription for the rest of your life, you'll still gain work from home experience that many remote job employers look for.
And, transcription work can be just what you need to get you through a tough financial time.
I was in that position a few years ago, and I decided to try out a highly-rated transcription company.
I didn't make enough for a full-time income (of course, I was just a beginner, like you!), but I made enough to help my situation, which was my goal.
Whether you're looking for a pathway to full-time income, or just a little side cash, these companies can help you get there.
These general transcription jobs are all ones you can work from home, no experience necessary.
However, it may be beneficial for you to get a few key things before starting to help your transcription jobs go more smoothly:
Foot pedal. You can use a foot pedal to start and stop playback, so you can continue to type without interruption.
Quality headphones. A quality pair of headphones will drown out background noise in your home, while also helping you audio more clearly.
Transcription software. A good transcription software can help you playback audio and video files at different speeds, supports different file formats, loads audio and video files from the internet, and more. Express Scribe is one most transcriptionists recommend, and it has a free version.
You should also consider signing up for PayPal if you don't yet have an account.
The majority of these transcription jobs pay with PayPal, which is a fast, easy, and convenient way to get your money.
Earn Everything… nearly!

Join e-Poll, one of the few faithful and honest survey panels and earn cash - paid via PayPal - gift cards for Amazon, Best Buy, iTunes, Starbucks, and Walmart, plus Retail e-vouchers.
The surveys are aimed at entertainment-related research, covering such things as personal TV watching habits, give feedback on new TV commercials or to review DVDs that are sent to your home.
For USA residents aged 13+. No hidden fees and completely free!


Best General Transcription Jobs from Home, No Experience Needed:
1-888-Type-It-Up
1-888-Type-It-Up (review) has experienced transcribers on its team, but states that it looks for "new talent" as well. As long as you can pass its transcription test, follow directions precisely, and meet its accuracy, formatting, and reliability standards, you can gain a spot. You must be a United States resident to become a member of the team.
The pay ranges from $36 to $180 per audio hour, depending on turnaround time and sound quality. The company also pays bonuses that are file-specific. You'll get paid twice per month via PayPal, on the 15th and the last day of each month, but you must remember to send an invoice.
1-888-Type-It-Up requires you to have the free version of Express Scribe, headphones, and a foot pedal.
3 Play Media
To work with 3 Play Media (review), you don't need transcription experience, but you do need word processing experience. You'll also need to have an excellent command of the English language, both written and verbal, and use proper grammar, spelling, and punctuation.
This company doesn't require you to have any transcription software or equipment, but your computer should have at least a 10 Mbps download speed. Pay is project-based, but usually in the $10-$30 per hour range, depending on how fast you work.
Must be a U.S. resident who can commit to about 15 hours per week.
Accutran Global
Accutran Global (review) constantly looks for new transcribers for an entry level opportunity. The company hires U.S. and Canadian transcribers. You must be pretty flexible, as Accutran Global requires you to complete assignments with quick turnaround times.
Pay is $0.005 per word, with opportunities for pay increases, and payments are made on the 15th of each month. You'll have to complete an application and pass a transcription test to qualify for a position.
If you're interested in a transcriber position with Accutran Global, you should be able to set aside at least 3 hours per day. Peak periods through the year usually offer much more work than non-peak periods.
Appenscribe
You can apply for Appenscribe (review) transcription work with a quick form on its website and a few simple tests that examine your accuracy with English or your native language. The company hires transcribers from all over the world, and the more languages you're fluent in, the more work you can receive.
Appenscribe asks that you commit to about 10 hours per week, but tasks are fairly flexible. The exact pay isn't mentioned, but workers say they make equal to about $0.005 per word. Your transcription accuracy must be at least 85% to receive the full pay amount for a file. You'll receive pay every 2 weeks via PayPal.
Babbletype
Babbletype (review) is one of the most popular general transcription companies because it offers excellent flexibility. This company lets you sign up for any assignments you want up until 4pm each day, as long as you can complete them by 4 pm the following day. There is no hourly commitment or schedule each week.
You must have strong proficiency of your native language, be reliable, and have a computer with a good internet connection and good headphones. As part of the application process, you'll be required to complete a series of tests that can take about 3 hours total.
Although there is no specific pay rate listed on the website, pay is said to be around $40 per audio hour. Babbletype pays via PayPal every Thursday.
Bam! Transcription
Bam! Transcription (review) doesn't offer a lot of information on its website, other than it specializes in entertainment transcription. Most beginner transcriptionists can complete this type of transcription work at an entry level. And, the company only requires that you pass a basic skills test to get hired.
Project turnaround times vary between 24 hours and several days. The pay rates aren't listed on the website, but you can contact the company via its contact e-mail address for more information.
Birch Creek Communications
Birch Creek Communications (review) hires independent contractors as transcriptionists. Although it specializes in corporate and legal audio files, there is general legal transcription work that general transcriptionists can complete. For this work, you'll receive $0.75 to $1.75 per page of audio transcribed.
You can accept jobs whenever you're able to work, but most of the work comes in during normal business hours Monday through Friday. Projects have between a 24 hour to 5-day turnaround time.
You must be a United States resident to apply. You can send the company a resume via its website, along with your availability and the type of internet connection you have.
CastingWords
CastingWords (review) transcribers are independent contractors from all over the world. You can set your own, flexible schedule, only taking work when you're able to complete it.
Other freelancers or CastingWords editors will grade your work, and if it meets requirements, you get paid for your work. There are also bonuses available for some more difficult audio files. Your grades determine how much work you receive, as some work is only available for certain levels.
Pay rate depends on the quality of the file, with easier files paying about $0.60 per audio minute, and $1.20 per audio minute for more complicated files. Pays every Friday with PayPal, although funds may take several days to transfer.
Crowdsurf
Crowdsurf (review) hires freelance transcriptionists to transcribe video into captions for the deaf, hard of hearing, and language learners. The company offers short transcription tasks that let you create a flexible working schedule.
CrowdSurf used to use Amazon Mturk to post its jobs, but now uses Work Market, a marketplace for companies to manage their workers. Once you sign up on Work Market, you can join the Crowdsurf team by completing some questions and a brief assessment.
Payment for these tasks will be low, since they are very short tasks, mostly under a minute. Pays via direct deposit or PayPal.
Daily Transcription
Daily Transcription (review) specializes in legal, corporate, and entertainment transcription, with entertainment clients making up the majority of its client base. It requires most of its transcription work to be required within 24 hours, which is the reason behind the company name.
Work fluctuates with Daily Transcription and it assigns its work on an "as-needed" basis. You are required to have a foot pedal and headset. To apply, you just have to fill out a short form on the website and take a quick assessment to prove you have the transcription skills necessary for the position.
Payment rates are not listed on the website, but workers report getting paid every two weeks via PayPal.
GMR Transcription
GMR Transcription (review) hires general transcribers with medical backgrounds or for a variety of other topics, like academics, legal, or business. It offers a quick quiz you can take before you apply to ensure that you're a good fit for the GMR Transcription team.
Pay rates are not disclosed on the website, but it does state that they're based on turnaround time, quality of audio, the number of speakers, and difficulty.
To apply, you can send your resume to the contact listed on its careers page. After you submit, you'll receive an e-mail to take the qualification test.
GoTranscript
GoTranscript (review) only requires that you have excellent English skills to become a transcriber. The company hires transcribers from all over the world to work a flexible, choose-your-own assignments schedule.
GoTranscript is one of the best for entry level transcribers because it has very little requirements, including typing speed. The company will give you 6 hours to transcribe 10 minutes of audio, which is plenty, even for new transcribers who are still learning.
You'll get paid up to 60 cents per audio minute, depending on the difficulty level of the audio. Pays via PayPal or Payoneer every Friday.
Hollywood Transcriptions
Hollywood Transcriptions (review) has clients in the entertainment, academic, legal, and corporate fields. It doesn't require you to have transcription experience, but you must be able to type 65 WPM and have a reliable computer with internet connection. You must also have a foot pedal and transcription software, but you don't have to purchase these until you are hired.
Pay rates aren't listed on the website. However, some transcribers who do several hours of work for Hollywood Transcriptions each month report making between $100 and $500 per month.
You can apply via a quick form on the website, where you can also attach your resume.
Neal R. Gross
If you have some experience with legal terminology, you can become a transcriber for Neal R. Gross (review). This company specializes in court transcriptions, where you'll need to transcribe audio files verbatim for court reports.
This position will require a 30-hour commitment per week, so it may not be the best option for those looking for a very flexible schedule. You also must be able to transcribe at least 5 hours of audio within your 30-hour workweek.
To inquire about pay rates or a position with Neal R. Gross, you can e-mail the company with the address listed on its website. You will be required to take a transcription test before you're hired.
Quicktate
Quicktate (review) hires independent contractors to transcribe voicemail messages, letters, phone call recordings, conference calls, and more. The company requires you to follow instructions precisely and have an excellent command of your native language.
You'll have to pass a series of tests to become a transcriber for QuickTate. You'll also need to provide 3 references along with the submission form.
Quicktate pays ¼ cent per word for general transcription. As you gain experience, you may be able to earn ½ cent per word for more difficult transcription work. Pays every Monday via PayPal.
Rev
Rev (review) is one of the most popular places for work from home transcription jobs. With Rev, you can work as often, or as little, as you want, with an entirely flexible schedule. It's a great place for beginners because you'll receive regular feedback from Rev editors on your work.
Rev pays between $0.40 and $0.65 per audio minute with average earnings of $241 per month. You'll receive payouts every week via PayPal. Rev suggests setting aside one hour for the application process, as you'll be required to complete a test at the end of your application.
RNK Productions
RNK Productions (review) hires at-home transcribers to transcribe audio from video files to create captions. RNK Productions works with a number of TV shows and movies, so you could be transcribing some of your favorite pieces of entertainment.
The company requires that you are very accurate and reliable, although the website mentions no specific schedule or hour requirements each week. You'll also need to be able to control audio and video playback simultaneously to transcribe.
To inquire about pay or submit your resume, locate the e-mail address in the Job Opportunities section of the RNK Productions website.
Scribie
Scribie (review) lets you work from home on your own schedule with no monthly hour commitments. With Scribie, you'll be typing or dictating your audio transcriptions of very short files of 6 minutes or less.
Pay is between $5 and $20 per audio hour, which is lower than many other transcription companies. However, you get to pick and choose what you want to work on, so you don't have to accept a file that you think will be too difficult for you.
After every 3 audio hours you transcribe, you're eligible for a $5 bonus. Scribie also has a referral system allowing you to make money by referring your friends. You can withdraw from your account to your PayPal account once per day.
SpeechPad
Formerly SpeechInk, SpeechPad (review) offers flexible, general transcription jobs with no set schedule or number of hours. SpeechPad requires you to be able to type at least 40 WPM, and be fluent in English, with good grammar and understanding of dialects. You'll also need a reliable computer with internet connection and headphones. A foot pedal is recommended, but not required.
The more qualifications you acquire through SpeechPad, the more jobs will be available to you and the more you can earn. You'll also be rated for the quality of each of your jobs.
Pay ranges between $0.25 and $1.00 per audio minute. High ratings can earn you bonuses. Pays every Friday via PayPal.
Tigerfish
Tigerfish (review) offers flexible transcription positions to those who want to create their own schedules. Although you don't need to have experience, you'll be required to study the Tigerfish style guide and adhere to it as you transcribe three files as part of the application process. You'll also have to fill out a form with your information, availability, etc.
Tigerfish offers turnaround times of a day or more for most projects, but will assign those available with rush projects due quicker than 24 hours.
You must have a foot pedal and transcription software to work with Tigerfish. You'll find out more about pay rates after you apply.
Transcribe.com
Although Transcribe.com (review) mentions on its website that "experience is a plus" and may move you along faster within the system, it's not a requirement. As long as you have an excellent command of the English language and can pass the transcription assessment, you can gain a spot on the team.
Typical turnaround times range between 24 hours and 7 days, and you are allowed about 20 hours per week to work. Pay rates are not listed on the website. However, it does state that you'll only get paid for acceptable work that meets the guidelines. Transcribe.com pays via PayPal daily.
You'll need a foot pedal and transcription software if you're accepted to work with Transcribe.com. You must reside in the U.S. and speak English to get approved.
Transcribe Team
Transcribe Team (review) accepts new transcribers to work from home with a flexible schedule, working as much or as little as you want. The only things it requires you to have are a computer and reliable internet connection.
The audio files you'll transcribe vary greatly, so you can potentially have a new experience every day. The website states that the company usually has steady work available for you. The pay rate ranges from $0.40 to $1.25. Pays weekly via PayPal.
TranscribeMe
TranscribeMe (review) states on its website that it welcomes beginning transcribers as long as they have excellent English and typing skills. For this company, you'll be transcribing very short audio files, between 8-10 seconds, so it's an excellent start for the entry level transcriber.
TranscribeMe hires from all over the world. You won't need special equipment, but it does require you to have the Google Chrome browser.
You'll get paid $20 per audio hour, which can take a while to reach, considering you'll transcribe such short pieces of audio. Still, it's an excellent way to gain some experience and make some side income. Pays weekly with PayPal.
Transcript Divas
You are not required to have any experience to join Transcript Divas (review). However, it does specify that it holds its transcriptionists to high standards and expects the utmost quality for each job. You'll also need to be available for quick turnaround times, as fast turnaround is one of their most important company features.
Pay rates are not listed on the website, but transcribers for the company report pay equivalent to between $11 and $18 per hour. You can complete a short form online to apply and, if approved by human resources, you'll receive a phone call for more information.
Transcriptions 'N Translations
Transcriptions 'N Translations has its team complete transcription work for popular television shows. No experience needed, but you'll have to pass a basic skills test to qualify. This website has very little information about the job, but you can inquire about more information when you apply via the short form on the website.
Ubiqus
Ubiqus (review) has a wide range of clients who submit transcription projects to the team, from medical to corporate. It's not required that you have any experience, but if you have excellent availability and can provide quick turnarounds for projects, you may gain preference over others.
Ubiqus hires U.S. residents who can type at least 70 WPM. Payouts are made every two weeks via PayPal. The company reportedly pays between $0.005 and $0.007 per word.
Verbal Ink
Verbal Ink (review) doesn't provide a lot of information about its transcription jobs on its website. However, it does state that it is "always looking" for people to join the team, as long as they are "highly skilled linguists". So, having an excellent command of your language will land you a spot more easily. You also need to be computer savvy and be available for quick turnaround times.
You can apply via the e-mail address on the website. Send a resume and your availability, along with a cover letter. If you move onto the next part of the application process, you'll be required to take a test, which applicants have reported as being difficult.
Get Transcribed
Transcribers and Reviewers are often hired by Get Transcribed (review). They pay every month via PayPal as long as you have $100.
Transcription work is paid at a rate of 23 cents per audio minute and reviewers are paid 12 cents an audio minute. If you do review your own transcription work then you will be paid 35 cents per audio minute.
Caption Matrix
Caption Matrix (review) is an international company that hires English transcribers as well as bilingual workers in a variety of languages. Caption Matrix is highly interested in you if you speak multiple languages.
Most of the work completed is in the form of transcribing videos such as documentaries, presentations and instructional videos.
TSI
TSI Transcripts (review) hires transcribers who have a high level of understanding of computers. Multilingual abilities is a plus and of course it is expected that you can type at a speed of at least 70 WPM.
How To Make Serious Money from Home with Online Transcription Jobs?
These transcription companies are excellent places to get your feet wet in the transcription career.
Not only can you do them in the convenience of your own home, but most are very flexible, so they can work around the schedules of you and your family.
If you're very serious about getting your transcription career running quickly, I highly recommend Transcribe Anywhere (review).
This company's focus is to help beginner transcribers gain the skills needed to move forward with their careers. Transcribe Anywhere even offers a free, 4-day course to help you understand the basics of transcription.
If you know of any general transcription jobs for beginners I missed in this article, please let me know in a comment below!
Related Posts:
Want more money?

Easy Extra Cash! Join the famed Nielsen Computer and Mobile Panel site, install the app and earn rewards just for using the Internet as you do today! Nielsen gives away $10,000 each month.
Guaranteed 100% free membership.