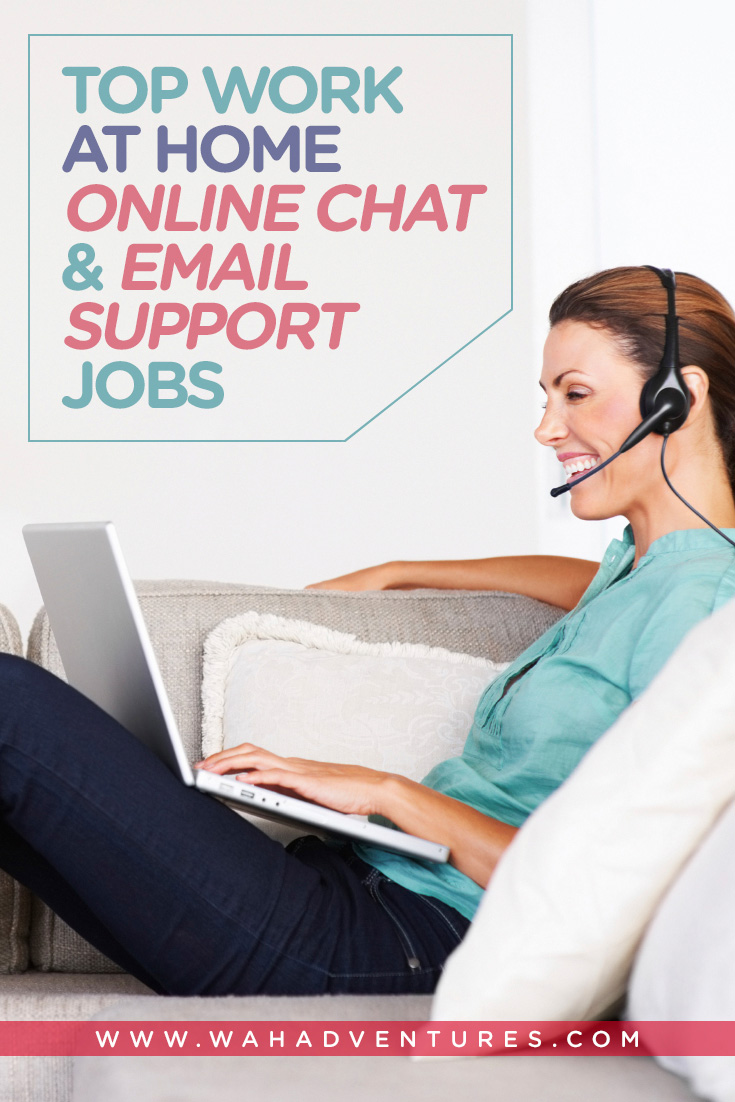 Email and online chat jobs from home are extremely popular for those searching for a work from home job.
Need Easy Extra $350+/Month For Free?
Not only are they usually somewhat flexible, but they're also perfect for those who can't have a noise-free environment at home.
If you don't have a dedicated office or you have pets or children at home, email and chat jobs can be the perfect solution.
But, you have to stay on top of them! Email and chat jobs go quickly since they're in such high demand.
Fortunately, there are several companies who hire frequently for email or chat agents, so you may be able to snag a job if you check back often for openings.
I compiled this list of all known companies that are proven to hire work from home email and/or chat agents so you don't have to do any digging!
Email Customer Service Jobs and Online Chat Jobs
Please note that these companies may not be hiring at this time. Instead, these are companies who do, indeed, hire email or live chat agents on an as-needed basis.
So, your best bet is to pick one or two days per week to check each company's listings for new openings.
Good luck!
Apple
Apple hires chat agents for customer service and technical support positions.
However, there is a strong demand for these jobs and they go quickly, so it helps if you've had plenty of live chat or customer service experience. You should also be familiar with Apple products.
If Apple offers you a chat support position, it will send you an Apple computer for free.
The rate of pay varies depending on your experience, location, and performance.
For this job, you'll have a specific schedule, usually including at least one weekend day.
Search and apply to Apple chat jobs.
Arise
Arise hires independent small business owners to work with them through contracts with its clients, some of which need email and live chat services.
Need Easy Extra Cash?

Pinecone Research, a leading name in online survey panel honesty, absolutely guarantees $3 cash for every survey you complete!
Take advantage of their time limited New Membership drive and register NOW. Join today: 100% free!


The pay depends on the client and project, but is said to range between $9 and $19 per hour.
You'll benefit from a flexible schedule by choosing the clients and projects you want to work with, but you need to commit to at least 15 hours per week.
Learn more about and apply to the Arise chat support position.
Automattic is the brains behind WordPress, the leading blog management tool, plus several other important tools that help you optimize your site and your web experience.
One of the positions that Automattic has available at times is for customer support.
Reportedly, these positions are mostly email and chat-based, so minimal phone work would be required.
Automattic has an awesome benefits package for employees, too, that includes paid sabbaticals, company-sponsored life insurance, an open vacation policy, and hardware and software reimbursement for things you use on the job.
Automattic's open positions are listed here.
Best Buy
The electronics giant, Best Buy, hires for tech support agents to work from home.
You'll provide support for Apple and Microsoft products and some mobile apps as part of its "Geek Squad".
You must be available at least 35 hours per week and have at least one year of technical troubleshooting experience with these types of products.
This position requires that you reside in any of the United States, except California, Alaska, Washington, and Puerto Rico.
Pay is said to be around $11 per hour.
Search and apply to Best Buy chat jobs.
Buffer has been named one of the best companies to work for in the world.
That's because it offers perks like a $500 bonus to set up your home office, stocks, family leave, health insurance, and company retreats.
The Buffer team works 100% remotely.
There are sometimes positions for customer service specialists, who will help current and prospective customers manage their Buffer app and accounts, which provides solutions for managing social media.
Learn more about Buffer jobs here.
Capital Typing offers online business services, like research, data entry, translation, and transcription.
In addition to finding online transcription and translation jobs with the company, you might also be able to score a chat position.
Customer Service Representatives for Capital Typing will take care of clients and prospects by answering their questions via email and live chat.
You can find the positions, when open, on the jobs page.
Concentrix (Formerly Convergys)
This company is all about helping businesses thrive by giving them what they need, like financial consulting, IT help, analytics, marketing, and more.
Concentrix looks for customer service specialists to handle email and chat tickets, and it also has other positions – like claims specialists – that would require online chat and email support roles.
The open positions depend on what current clients Concentrix has, so it could change frequently.
Concentrix offers fully paid training, retirement plans, incentives, medical benefits, paid holidays, and more for its employees.
Find out more about open gigs on the Careers page.
As a Fancy Hands worker, you'll be an independent contractor providing virtual assistance to the company's many clients.
Earn Everything… nearly!

Join Opinion Outpost, one of the few faithful and honest survey panels and earn cash and gift cards for your opinion. Stack your points and redeem them: Simple! No hidden fees and completely free!


As a virtual assistant, you could be doing a variety of tasks, like setting appointments, researching, writing, and more.
However, you can also have control over your business and decide that you only want to take on clients who offer email or chat jobs.
Sign up for Fancy Hands and you'll have access to its pool of clients. Indicate when you're available for work and the type of work you do, and Fancy Hands will help keep you matched with relevant work.
Freshdesk is a maker of online customer support software, so it only makes sense that it hires online customer service agents too!
Freshdesk typically posts its open chat positions on Upwork, but you can also browse the Careers page.
GearLaunch is an online platform that helps online business starters design and print their own products for sale, all in one convenient spot.
GearLaunch even connects to Shopify to make it as simple as possible for store owners to sell items and process payments.
The company looks for Customer Service Agents to provide internet-based support to people who use its service.
You'll need a dedicated computer with a reliable internet connection, a quiet work area, and a headset, as some phone work (minimal) may be required.
You can find out more about the position, and other open jobs, on the GearLaunch Careers page.
Ginger.io is an app dedicated to the mental health of anyone who uses it.
The app offers on-demand coaching, therapy, personalized self-care and more.
You can become an important part of the brand's mission by becoming an online health coach for Ginger, where you'll be responsible for chatting with members in a text-like setting.
Coaches must have at least six months of experience as a coach or therapist and a MA in psychology or other related field.
There are both part-time and full-time positions available, which you can indicate your preference for when you apply.
There are also other positions for therapists and psychologists.
You can click here to find Ginger.io live chat positions.
GitHub
GitHub helps developers manage their projects with an all-in-one software solution.
The company usually has open positions for chat-based support specialists to work remotely.
ICUC is a social media management company for businesses and individuals.
The company looks for social media content moderators to help people manage their social media accounts by responding to and engaging with their followers.
Positions and requirements will depend on the needs of current clients, so you might find varied job descriptions based on when you look.
Browse ICUC's open jobs on its Careers page.
I suggest keeping it bookmarked and checking back occasionally for new positions, as they change frequently.
Indeed is one of my absolute favorite places for finding at-home work because it's easy to browse through thousands of remote listings just by including 'remote' or 'home-based' in the location bar during your search.
You can typically find online chat jobs for other companies not listed here who use Indeed for their job listings.
Search for a variation of 'chat support' or 'chat agent' and fill in the location piece.
You should find several chat agent positions that you can do from home!
Indeed also lets you create alerts for your searches, so if one leads to several results, you can set an alert for it and Indeed will let you know when new jobs pop up with that criteria by sending you an email.
Iubenda is a service that helps business and website owners generate a working privacy and cookies policy for their sites to ensure that they're working within the law.
Basically, it's a one-stop shop for you to get all the legal stuff out of the way without having to draw it all up from scratch.
The company indicates on its website that it's looking for a remote customer service agent in the US or Canada to work solely on emails and live chats.
You must be native in English and write and understand it fluently, and previous customer service experience is necessary.
It's also preferable to have some selling experience, as you'll need to occasionally upsell to customers or prospects.
There are also Italy and Germany-based customer service roles listed on its careers page.
Kelly Connect provides customer service solutions to businesses all over the world and looks for at-home agents to provide that service.
Tier 1 advisors can make up to $15 per hour to start and can be eligible for a $500 training bonus upon completion of the program.
You'll need a minimum of a high school diploma to start, plus some experience in a customer service role.
Scheduling is fairly flexible, and you'll get weekly pay!
Search the Jobs page for open positions to apply for.
Live Sales Staff
Live Sales Staff provides support to its clients through email, live chat, and online ticketing systems.
It hires at-home agents to provide online help to its clients with customer service or sales positions.
You'll be an independent contractor with Live Sales Staff, so pay may not be regular.
However, some agents report making about $500 per month via their contracts, but some also say that they're required to work long hours per shift.
Learn more about the position and send resume to Live Sales Staff.
LivePerson hires customer service agents to work from home for its various clients, via chat, email, or instant messaging software.
There isn't much information on the website, but it has a "Remote" listing section on its website that you can check occasionally for new chat support job listings and their descriptions.
Search open chat support positions with LivePerson.
MyLivePro hires chat agents to work from home responding to visitor inquiries via text chat.
You must be at least 18 years old and reside in the continental United States (no Alaska or Hawaii).
You'll be hired as an independent contractor, so you'll be responsible for your own taxes and expenses, including a required background check.
MyLivePro has scheduled hours that are dependent on each client, so you may work evenings, weekends, or holidays if needed.
Pay is said to be between $8 and $15 per hour, which also depends on the client and responsibilities.
Search open chat support positions with MyLivePro, or check its Facebook page, where they sometimes post job openings.
As a "Needler", you'll be responsible for helping online shoppers find exactly what they're looking for.
This opportunity is more for those looking to gain a side income, since it no longer pays hourly like it did in the past.
Instead, you'll earn points for helping shoppers via live chat, which you can redeem in the store for merchandise or VISA gift cards.
Read more about and apply to the Needle chat position.
Operator
Operator hires agents, known as "Experts", who help users of the Operator mobile app with their shopping experiences.
Operator will send you live chat requests based on your areas of expertise, and recommend the perfect products for that shopper.
These products will be from companies that partner with Operator, and you'll get plenty to choose from.
Operator Experts claim to make an average of about $10, plus commissions if people do end up buying the recommended products.
Think of it almost as a referral system.
You'll need to commit to 20 hours per week, in shifts of 4 to 8 hours.
If your application is accepted, you'll be asked to take a skills test to make sure you're a good fit.
Become an Expert with Operator.
Paperless Pipeline (review)
Paperless Pipeline is a software that helps real estate businesses go paperless by scanning and storing their paperwork.
Paperless Pipeline hires chat and email representatives, known as a Customer Advocate, to assist current customers with questions about the software.
The pay rate isn't disclosed, but a representative for Paperless Pipeline has stated that your rate depends on your position and experience, and is subject to change.
You'll sign on as an independent contractor, so you'll be responsible for your own taxes.
Search open chat positions with Paperless Pipeline, or follow on Twitter for job updates.
Pressable offers managed hosting plans for WordPress users to help them make the most out of the platform.
Customer Success Engineers work for the support team, providing tech and customer support to Pressable users.
You'll be responsible for chatting with current and prospective customers, handling order issues, migrating sites, and other things that come along with the service, so basic knowledge of hosting and websites is a must.
There are two shifts you can apply for depending on when you're available for work.
Applicants will usually need to go through a paid trial before they're signed on permanently.
Find chat jobs with Pressable on its Careers page!
Presto Experts comes from Live Person and is a company that's devoted to helping people find professionals, experts, and tutors to help them with their needs online.
As a Presto Expert, you'll only need to contact people via the internet using the online platform that helps you connect to those who need your help.
When someone requests your expertise, you can answer through the platform and get paid.
You'll also have control over your schedule. Just sign on whenever you're available for work and others can contact you.
You can learn more about the process of becoming a Presto Expert here.
Sedgwick CMS hires for both phone jobs and non-phone jobs, such as chat and email agents.
It serves a wide range of clients, from American Red Cross to PetSmart.
You'll get hired on as an employee with benefits, like medical insurance and income protection. It also offers training and tuition reimbursement.
If you're hired for an e-support position, you may still have to make a few phone calls, although workers say phone calls are minimal for this position. Pay is said to be at least $10 per hour, bi-weekly, via direct deposit.
You must have a high school diploma or GED, at least one year of experience in the customer service field, and have strong communication and computer skills.
Learn more about and apply to the Sedgwick CMS e-mail support position.
Site5 is a web hosting service that uses live chat for technical and customer support.
It occasionally hires agents to fulfill its needs for live chat agents and its online ticketing system. You must have some knowledge of web hosting, particularly the products that Site5 provides and a basic understanding of how to use them.
Site5 does require you to have some previous live chat experience.
You must be able to commit to 15 to 20 hours per week, and you will be on scheduled shifts.
You'll be considered a part-time employee, but will have some benefits like paid vacation days and medical insurance.
Pay is said to be between $13 and $15 per hour, with the possibility of pay raises.
E-mail Site5 for more information about its chat support positions.
Site Staff says it always accepts applications for its positions, even if it's not currently hiring.
The company provides phone, chat, and email support for its variety of clients.
The work you'll be doing is mainly answering inquiries about clients' products or services, and selling them.
Shifts are between 4 and 5 hours each, and you must be available for at least one weekend shift per month.
Pay looks to be around $10 per hour, but may depend on the client and its needs.
Learn more about and apply to Site Staff chat jobs, or you can search on Craigslist, where Site Staff sometimes publishes job openings.
You can work as a Remote Services Technician or a Personal Technology Expert with Support.com, which provides technical support for consumers and small businesses.
For either of the positions, you'll need some tech support experience, and the Personal Technology Expert position is said to require more knowledge.
You'll have a set schedule with the ability to switch shifts with other workers if needed.
There is a mandatory training period and background check before you are hired on as an employee.
Pay is said to start at about $11 per hour.
Search open chat positions with Support.com.
Square helps businesses and individuals get paid no matter where they are in the world, just by using a handy plug-in card reader for their phones or tablets.
The company has an app, called Cash App, that works to process payments through the Square system.
You can work as a customer support specialist for users of the app, responding to customers via social media channels, email, chat, and more.
There may be some phone requirements, but most of what you do will be internet-based work.
You'll need at least a bachelor's degree to start and relevant experience is required.
Search open customer service positions for Square.
Take2Telecom provides live chat services to its clients.
You must reside in the United States, have a college degree or equivalent, and have previous call center or customer service to become a chat agent with this company.
Take2Telecom hires independent contractors for this position.
Take2Telecom provides an extremely flexible schedule where you can log in and work when you're available.
However, it only pays you for talk time, so it's best to log in during its peak hours, which you'll learn more about after you get hired.
Pay is $18 per hour of talk time.
Search for open Take2Telecom positions on Indeed.
Talk2Rep hires Sales Chat Agents to assist current and potential customers of telecommunications companies.
You must have excellent communication skills, typing speed of at least 50 WPM, multi-tasking abilities, and be able to conduct efficient research independently.
You also need a high school diploma or GED and sales or chat experience is a plus.
Pay is said to be commission-based, so the more you work and better your performance, the more you're able to get paid.
Search for and apply to open Talk2Rep chat positions.
TeleTech hires customer service and tech support agents to phone, email, and chat support.
If your application is accepted, a recruiter will work with you to determine the best project for you, and you can indicate your preference for an email or chat position.
You must be at least 17 years old and have a high school diploma or GED.
You'll be required to complete a series of MatchPoint tests to prove you have the necessary qualifications for the job.
If you do not pass, you can take them again after 60 days. TeleTech hires you on as an employee, so you'll need to pass a drug test and fill out an I-9.
Shifts will range from 4 to 6 hours and vary depending on clients' needs. Most clients require you to work a minimum of 20 hours per week.
Pay is said to range between $9 and $11 per hour.
Learn more about and apply for a TeleTech@Home position.
Televated provides work from home jobs for phone, email, and chat agents across the United States.
Its client base focuses on small to mid-size businesses in need of call center solutions.
Each of its clients has different requirements for its agent, so your tasks may vary between each.
Schedules also vary with clients, but most are typically 6 to 8 hour shifts.
The pay is said to be around $8 per hour, which is based on per-minute of talk time.
Pays twice per month with PayPal. You'll be an independent contractor with Televated, so you're responsible for taxes.
E-mail Televated about its live chat agent position.
The Chat Shop
The Chat Shop provides websites with their own chat agents who work remotely.
The Chat Shop provides you with the proper training for each of the possible jobs you'll be doing, including sales, customer service, or technical support.
This is a full-time position for 35-40 hours per week.
You must have a typing speed of at least 80 WPM, error-free, excellent organization and communication skills, and be able to multi-task.
Pay is said to start at $10 per hour.
Learn more about and apply to become part of The Chat Shop team.
The popular rideshare agency, Uber, hires email and chat support agents to handle its vast amount of inquiries.
Uber hires you as an employee, and you must be available for 40 hours a week.
However, you'll receive benefits like Uber service discounts, 401(k), paid time off, and more.
A college degree is preferred, but not required. You must have excellent written communication skills, be able to work independently, and multi-task with several chat windows at one time.
A 3-day paid training is required before you're hired full-time.
Pay is said to be at least $10 per hour to start.
Search for and apply to open Uber e-mail support positions.
Companies with Seasonal or Temporary Email or Online Chat Jobs
If you don't mind a seasonal or temporary email or online chat job, these companies provide them. They normally hire for phone work in customer service year-round, but if you're lucky enough to catch them before their seasonal peaks hit, you may be able to get one of their email or chat support jobs.
Amazon (review) – The online retail megastore typically searches for new chat support representatives in preparation for their busiest holiday shopping months, usually between September and January. If you perform well enough, you may be able to get hired on permanently.
Sutherland Global (review) – Sutherland Global usually hires phone representatives for customer service and tech support, although some clients require email or chat agent services. Check back frequently for new openings.
Find More Email and Online Chat Jobs from Home
Remember, you don't always have to scour the listings on company websites and get discouraged when you can't find email or chat jobs.
Some companies prefer to use job listing websites, like Indeed, or freelance marketplaces, like Upwork and Guru.
In fact, simply by searching "email support", "chat support", or "live chat agent", you can find even more companies that are currently hiring for email and online chat jobs.
Make sure your resume or profile reflects any relevant experience you have so it stands out among the other applicants!
And, as always, beware of scams on Upwork and Guru.
Never set up work or payments outside of the platforms, and do your research on the companies before applying.
Related Posts:
Earn Everything… nearly!

Join Ipsos iSay, one of the few Faithful and Honest survey panels and earn prizes, gift cards and donations. Stack your points and redeem them: Simple! No hidden fees and completely free!