Top 29 Legitimate Ways to Earn Free Google Play Money
Updated on: by Amy Kennedy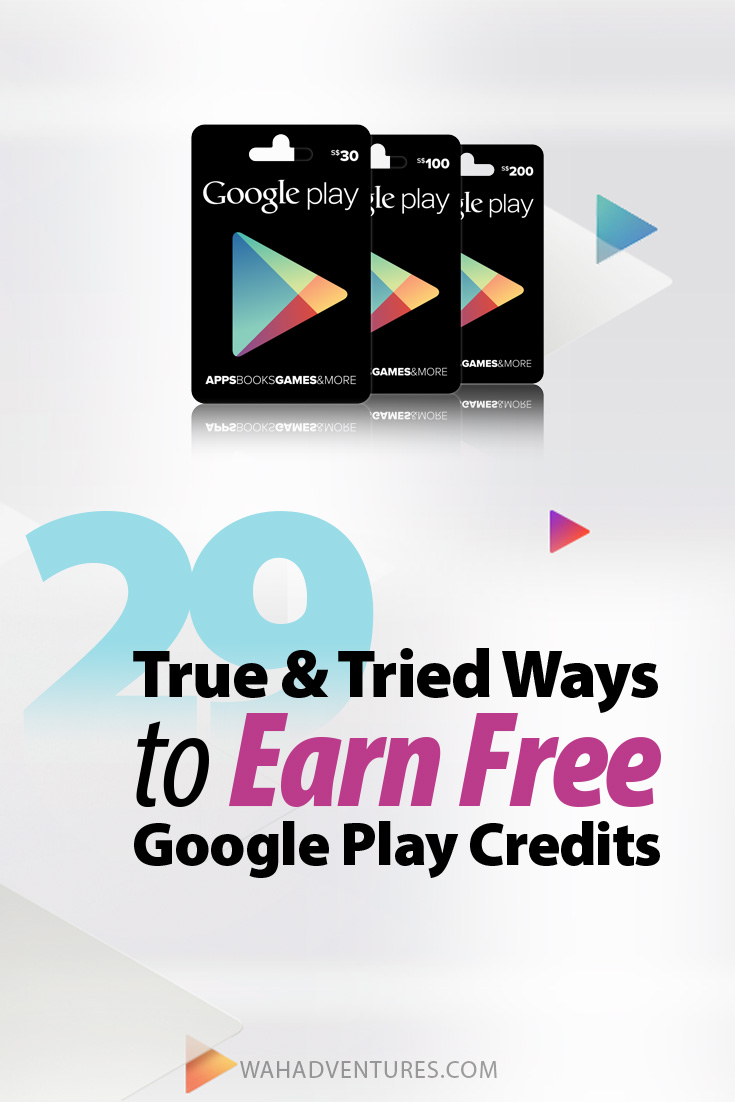 Google Play and Apple's App Store have been in a constant battle with each other since both began in 2008 (Google Play was known as Android Market at the time).
Need Easy Extra $350+/Month For Free?
It was once way behind the App Store in terms of downloads and available apps, but Google Play has made a comeback.
In 2014, it finally beat the App Store for most apps and downloads.
As more people are switching over to Android devices, it's no wonder the demand for Google Play credits is on the rise!
Let's delve into how you can get some of these coveted credits. Forget about getting them for cheap – you can get them for free!
What are Google Play Credits?
Google Play credits are like virtual currency for the Google Play store.
When you want to purchase a song, app, book, or anything else on Google Play, you usually use an account, like a bank account or PayPal, to complete the purchase.
You can also use Google Play credits, if you have them, in lieu of using money from your account.
Basically, Google Play credits are like gift cards.
However much you have in credit is what will be applied to your purchase first, if you choose to use them.
Then, if there's a balance due, the rest will be deducted from your linked account.
The best part is they'll never expire, so as long as you want them to sit in your account, they'll be there!
How Do You Redeem Them?
You can purchase (or receive as a gift) a Google Play gift card, which is available in several stores, in-store and online.
I'll also discuss the many FREE ways you can earn them in this post!
You can add Google Play credits to your account by linking a Google Play gift card or code to your account.
First, find your account in the app.
Need Easy Extra Cash?
Pinecone Research, a leading name in online survey panel honesty, absolutely guarantees $3 cash for every survey you complete!
Take advantage of their time limited New Membership drive and register NOW. Join today: 100% free!


Click 'Redeem' and enter the promotional code or gift card code.
Press Redeem, and it will instantly be applied to your account!
When you go to purchase anything from Google Play, you'll be asked how you want to pay.
You can then choose to use your credits balance or save it for another time and use your linked account instead.
Google Play Credit Hacks! How to Get Free Google Play Money
Swagbucks
Swagbucks is my favorite rewards app for so many reasons!
It's super easy to earn rewards in so many different ways through Swagbucks that it never gets boring. And, rewards add up quickly!
I've cashed out gift cards every couple of weeks when I use it frequently, and it couldn't be easier.
You can take surveys, play games, shop online for cash back, watch sponsored videos, refer your friends, learn about new products and companies, and more.
It's a rewards site that's – dare I say it – fun!
And, if you meet your daily Swagbucks goal, you earn free Swagbucks, just to give you a little more motivation to earn.
Don't forget to check your Swagbucks Inbox every day too. This has tons of great ways to earn small to large amounts of Swagbucks!
Once you reach 1,000 Swagbucks (which isn't difficult to do!) you can cash out for $10 in Google Play credits.
There's another gift card amounts available too, and Swagbucks often has promotions where it discounts the number of Swagbucks needed to redeem a prize!
Join Swagbucks now or read review.
AppLike
Download AppLike for free Google Play money.
This app is a fun way to discover new games to play on your mobile device.
Every day, it will list a few new apps to try. You'll earn credits when you download one of the apps, install it, and start playing it.
The more you play, the more you can earn through points and bonuses. Every few minutes, you can earn another bonus.
There are usually 3 or 4 new apps available each day, so continue to check back and download what interests you.
Once you earn enough credits, you can exchange them for your choice of gift cards, one of which is a Google Play card.
AppNana
AppNana is a rewards app for both iOS and Android that earns you credit toward your system's app store.
You will earn 'Nanas' every time you download and play apps that you find through AppNana. When you earn enough Nanas, you redeem them for free Google Play credits!
Become a Costco Member
If you don't already have a Costco membership, you may want to grab one.
Apparently, the wholesale store sometimes puts its gift cards on sale for lower prices than their worth – and that includes Google Play gift cards!
Earlier this year, Costco ran a promotion where its members could score $50 and $100 Google Play gift cards for less.
The store already marks down its Google Play gift cards frequently when you buy e-codes, but its occasional promotions can save you even more.
During this particular promotion, the price for a $100 Google Play e-code was only $82.99! So, that's $17.01 in Google Play credits for free.
The membership will cost about $50 a year, which is worth it if you plan to purchase Google Play codes frequently.
Become a Google Local Guide
If you've ever searched for local places or attractions on Google, you've probably seen information come up on the sidebar about a business that includes things like the address, phone number, reviews, and a question and answer section.
Earn Everything… nearly!
Join Opinion Outpost, one of the few faithful and honest survey panels and earn cash and gift cards for your opinion. Stack your points and redeem them: Simple! No hidden fees and completely free!


The question and answer section consists of questions posed by people wanting to know about the business and answers from "Local Guides" that help Google with the information.
These local guides live in the are and know a lot about the different businesses there, giving them the authority needed to answer questions.
As a local guide, you'll be assisting Google, so Google will reward you for your time.
As you become more active with the program, you can earn points and level up. Once you reach level 4, you'll receive your first badge, making you somewhat of an "official" guide.
The gig comes with perks and prizes, like Google Play gift cards for leveling and helping out!
Bing Rewards
This one is a bit of a roundabout way to get Google Play credits for free, but it works!
Sign up for Bing Rewards, which is a rewards system from Microsoft that lets you earn rewards from using the Bing search engine.
One of the most popular rewards you can redeem is an Amazon gift card.
And guess what Amazon sells? Gift cards to other places, including Google Play.
And, most sellers sell the gift cards for LESS than they're worth, so you're saving money this way!
You just need to be at least 13 years old and you can become a member of Bing Rewards.
If you want more ways to get Amazon gift cards you can use to purchase Google Play credits, check out these 43 ways to earn FREE Amazon gift cards!
Updated 7/2023: In case you haven't heard, Bing Rewards has rebranded as Microsoft Rewards, which is now an even better rewards program than it was before.
To earn points, you can search the web, complete fun games, and participate in daily bonus tasks. It's easy to earn every day here, and the more you play, the faster you earn.
Boom Gift
Boom Gift is an app for iOS and Android devices that pays you to download and try out other apps.
Basically, Boom Gift advertises the apps on its app, so you get credit for trying out its partner's apps, which are usually games.
You won't get paid a lot here, but you can earn some money toward Google Play credits, which is one of the things you can redeem your earnings for.
The app also has a referral program where you can earn a percentage of your friends' earnings who sign up below you.
Updated 7/2023: Boom Gift's site is still up, but it seems like its links for the app now point to Gift Wallet.
Cubic Reward
Cubic Reward is a rewards app that pays you in Google Play credits.
You can earn rewards by downloading apps and playing games, or by referring your friends to the app.
There are also daily events to join that give you an opportunity to win bonus points.
Updated 7/2023: This app is no longer available.
Exchange Your Other Gift Cards
This is an indirect method of getting a Google Play gift card when other options aren't working for you.
But, it works, so it's worth tucking away in your back pocket for when you need it.
Amazon sells just about anything, including gift cards to other places.
Google Play gift cards are available on the site in both physical and electronic form.
Unfortunately, Amazon won't let you use your gift card balance to purchase other gift cards, so you need to use gift card exchange services to sell or trade your other gift cards you don't need.
Cardpool is one place that lets you sell your unwanted gift cards and then use that money toward the purchase of other gift cards.
You likely won't get the full value of your gift card, but rather a portion of it, because Cardpool will need to make money off reselling the card.
Still, if it's a card you have no use for, it might be worth getting docked a couple of dollars to get a card you really want.
The site usually has discounts and sales for some gift cards, too, so you can keep checking back to see if a Google Play gift card sale is happening.
There are also some physical locations that can help you get the job done quicker if you don't want to wait for the money to arrive.
Turn around and use the cash you make to purchase Google Play credit!
FeaturePoints
FeaturePoints is another rewards app that lets you try out apps for free.
App developers often partner with these types of apps to get exposure to their new apps and help work out the kinks.
You can also refer friends for more points, which you can redeem for several different prizes, including Google Play gift cards.
FreeMyApps
FreeMyApps is very similar to FeaturePoints, rewarding you for downloading and using new apps and games.
There are tons of gift cards to choose from for rewards, like Amazon, CVS, or even Minecraft currency, but Google Play credit is among the most popular.
Fronto
Fronto is an app that pays you to unlock your phone.
Sounds simple, right? It is!
Fronto puts everything you like right in the front of your screen before you unlock it.
You can get updated news, coupons, app advertisements, and more right on your lock screen.
If you're in a hurry and you don't want to look at anything Fronto places on your screen, just unlock it as usual and use your phone.
However, when you interact with articles, ads, or anything else on the Fronto screen, you can earn points.
Fronto has PayPal cash, Amazon gift cards, coupons, and Google Play credit available as some of its prizes.
Gameflip
Gameflip sells gift cards for discounted prices.
One of the cards it sells is Google Play gift cards.
Yes, you'll need to spend some money to get Google Play credits here, but you'll essentially get some credits for free because you'll get the card at a discount.
If all other methods fail you, then, this could be a good backup!
Gift Box
Gift Box is a rewards app with Google Play gift cards as redeemable prizes.
You can earn points just by visiting the app daily, playing Spin the Wheel games, downloading apps, watching videos, and referring your friends.
Gift Card Granny
Gift Card Granny is one of my go-to places for all things gift cards.
It's great for finding discount gift cards, special promotions, selling your own gift cards, and staying on top of all gift card news.
But, you can also sign up for a Gift Card Granny account, which will let you earn your own free gift cards, including Google Play!
You'll get access to giveaways and contests to win gift cards.
But you can also earn them by sharing gift card promotions you find, purchasing gift cards through a Gift Card Granny partner, and even just for signing up for an account.
Refer your friends and get an easy 1,000 points for each one!
Gift Wallet
Gift Wallet is another popular rewards app that mostly focuses on redeeming offers. Some will cost some money (and earn more points), but some are free.
You can also earn points by sharing the app with your friends on social media, and even more if you get them to join too!
Your gift card gets delivered via e-mail, so make sure it's an address you check often.
Google Opinion Rewards
Google Opinion Rewards is my absolute favorite way to earn Google Play credits.
It really couldn't be easier.
Since I first got my Android device about a year ago, I've earned over $40 in Google Play credits just by taking simple 1 – 3 question surveys.
And I haven't even done it consistently (silly me, right?).
Google Opinion Rewards can be downloaded from Google Play if your device doesn't already come with it.
The app will notify you when there's a new survey available.
They're super quick surveys, usually no more than three questions, and they pay, on average, about $0.25 each!
I've gotten anywhere from $0.10 to $1 per survey, for about 10 seconds of my time.
Your earnings automatically get applied to your Google Play account, so you won't even have to redeem any codes.
And, they show up immediately after taking a survey!
Have Friends Gift Them Through PayPal
Did you know that you can use PayPal for more than just giving and receiving money from other PayPal users?
You can also use the site or app to send and receive gift cards, and Google Play money is one of the options.
Click here to go directly to the page where you can send Google Play gift cards. You can send this link directly to others.
If you have a birthday, anniversary, or another special day coming up and people have been asking what you want, this can be a great option.
It's quick and easy and others can simply choose the amount they want to send you, enter your PayPal email address, and have it delivered electronically within minutes.
If you have PayPal money sitting in your account, you can even gift Google Play cards to yourself via PayPal!
InstaGC
InstaGC is an easy way to earn some Google Play credit (and other gift cards!) just by doing what you normally do on the web.
The website offers rewards for watching videos, taking surveys, conducting web searches, shopping, and more.
To date, over 915,000 gift cards have been claimed!
JunoWallet
JunoWallet is almost like InstaGC in app form.
You can earn JunoCredits by completing small tasks, like watching short videos and advertisements, taking surveys, and even making phone calls.
Google Play gift cards is an option for rewards.
Own a Chromecast
If you have Google Chromecast, you might be in luck.
If you don't have one and are considering purchasing one, you might be able to get free Google Play credits when you do!
The media streaming device lets you play your favorite TV shows, games, music, and more on your TV.
You can download and install Google Home on your Android device to check what offers are available for registering your Chromecast through the app.
They change from time to time, but I've seen reports of customers getting anywhere from $6 to $25 in Google Play credit just for registering their Chromecast through the app!
PocketFlip
This app is kind of like a reward site for your phone or tablet.
PocketFlip offers a variety of tasks, like downloading apps, filling out surveys, completing free or paid offers, or watching videos.
You'll earn points for every completed tasks and you can see how much you can earn before you start.
The app even offers regular giveaways where members can earn more.
Steam, Xbox, and PlayStation gift cards are some of the available rewards, but of course, you can always opt for Google Play credit.
Points2Shop
Points2Shop is a GPT site that offers a variety of ways for you to earn points that you can redeem for gift cards. Google Play credits are one of the prizes!
You'll receive an e-code when you redeem your points for a Google Play gift card.
This site mostly focuses on earning points with surveys, but you can also complete offers, shop, watch videos, play games, and more.
There are even games and contests in which you can compete to earn lots of points!
Register Your Device
If you have a Samsung tablet or smartphone, register it with Samsung.
These promotions also change from time to time, but there are sometimes offers for $25 in Google Play credit just for registering!
Just remember to fully set up and activate your account to be eligible.
Use an e-mail account you check often so Samsung can send you offers of new promotions.
S'More
S'More is an app that pays you to unlock your phone screen, kind of like Fronto and other lockscreen apps.
It works with advertisers to show ads on your phone's screen. You can choose to interact with them or not, but you can get paid even if you don't.
The app won't make you tons of money. Most people say they earn about $50 a year, on average, with S'More.
Still, it's $50 more in Google Play credits that you could get every year just by keeping it installed and using it to unlock your phone instead of the default system.
You get 10 cents per day just for keeping it installed and unlocking your phone.
You can also get an extra $0.50 just for installing it!
There are a variety of available gift cards as rewards, and Google Play cards are one of them.
Slidejoy
Slidejoy is a mobile app on Google Play that basically pays you to view ads on your phone via your lock screen.
The best part is that the app starts to learn your preferences, depending on what you do with them, to provide more relevant ads for your interests.
You can swipe on ads any time you want to show you're not interested in them. You can also click on them when you do have an interest to be taken to a landing page for the advertiser.
Either way, the app will learn what you like and don't like so that it can find more relevant ads for you.
Even if you never interact with the ads, you can still earn cash just for having it on your phone!
You can choose to redeem your saved up cash with PayPal, or with one of several gift cards.
One of the options, of course, is Google Play credits!
Take Surveys for Google Play Credit
As with earning other gift cards, survey sites can be the ideal way to go.
They may not be the most fun way to earn cash and prizes, but they work!
Toluna
Toluna is a popular survey site with several gift card rewards.
It doesn't include a Google Play credit option, but it does have a PayPal cash redemption option available in $30 increments.
You can always take surveys on Toluna, redeem PayPal cash, and then use it to buy yourself some Google Play gift cards through PayPal.
Join Toluna now or read review.
PrizeRebel
PrizeRebel is one that offers Google Play gift cards as rewards for taking surveys.
Since 2007, it's paid over $11 million in rewards.
Join PrizeRebel now or read review.
QuickThoughts
QuickThoughts is a mobile survey app that lets you earn Amazon gift cards in exchange for surveys, which you can then turn into Google Play gift cards!
There is plenty to do on QuickThoughts besides taking surveys, too.
The app also lets you browse the local map and see what activities are nearby that might allow you to get paid.
For example, you may need to visit a store and look at a specific product and provide feedback after your visit.
You can redeem your rewards when you have at least $10 in your account.
PointsPrizes
PointsPrizes is more than a survey site; it's a full rewards site that has free and paid offers, daily bonuses, paid videos, and more opportunities for you to make money online.
There are other rewards besides Google Play gift cards, but they're one of the most popular options.
For every task you complete on PointsPrizes, you'll earn points that you can exchange for your prize. You can even refer others and earn 10% of everything they earn!
Grabpoints
Grabpoints is another rewards site that pays you to complete various online tasks to help out their partnered advertisers.
The tasks can range from taking surveys to watching advertisement videos.
You might even find some new apps to download and play and get paid to do so.
Grabpoints pays in either PayPal cash or your choice of gift card, one of which can be for Google Play.
Tap Cash Rewards
Tap Cash Rewards is similar to other rewards apps that give you rewards for downloading and playing other apps.
You can connect your Facebook account to open up other offers and earn more rewards.
The app offers several rewards for redemption, including Google Play gift cards.
Whaff Rewards
Whaff Rewards is yet another app-downloading rewards app.
This one, however, will give you Google Play credit just by connecting your Facebook account and entering the code that pops up on your screen.
To get more, you can download other apps, with each one paying between 10 to 70 cents.
The longer you keep apps on your device without deleting them, the more you can earn to redeem for Google Play credits.
Getting Discounted Google Play Cards
If all else fails and you can't seem to rack up points or rewards fast enough to qualify for a free Google Play card, then you can always bite the bullet and pay for one.
But why pay full price when there are plenty of options out there for scoring several types of gift cards at discounted prices?
First, you can try eBay, Craigslist, or any of the other many selling sites on the web.
I've seen several listings on both eBay and Craigslist for discounted gift cards to a variety of stores and online retailers, and Google Play credits are sometimes included.
People sell their unused cards when they don't have a need for them or want something else more, and they'll usually sell them for cheaper than they're worth to entice people to buy them quicker.
Local Facebook groups are also an option.
Just be sure when looking locally that you take proper precautions to avoid scams.
Meet people in a well-lit, open location, and never pay for the gift card online before seeing it and verifying that there is, in fact, money on it.
Gift card exchange sites, like CardCash, Cardpool, and Gift Card Granny can also help you spend less money on Google Play credits than you would if you bought them from Amazon or another retailer.
Most of the Google Play cards on CardCash are discounted between 2% to 4% off, so you can save about $4 on a $100 card.
It's not a lot, but it's $4 free.
Watch Out for Google Play Credit Scams!
As with most gift card hunts, you're bound to run into some scams along the way.
With Google Play credits, there seems to be an abundance of them.
Google Play Credit Generators are all over the web, claiming to generate you a code that you can use to redeem free credits.
They claim to have found some loophole that hacks the Google Play server to deliver you free gift card codes at no cost to them.
Unfortunately, all they'll do is cause harm to your computer or steal your information.
Some have been known to be very aggressive viruses or malware that can compromise your safety and identity online.
So, I suggest staying away from any of these "generator" websites.
Quite simply, they absolutely will not do what they promise and can cause serious damage to your information instead.
If you think you found, or have fallen victim to, one of these scams, feel free to report it to the Federal Trade Commission or Internet Crime Complaint Center.
The two agencies can investigate possible scams and get them removed from the internet for good.
6 Crucial Tips to Help You Earn Free Google Play Money
If you're looking to earn free Google Play money to use for apps, games, movies, or other digital content, here are six crucial tips to help you get started.
1. Participate in Online Surveys and Rewards Programs
Join reputable online survey platforms and rewards programs like Google Opinion Rewards or Swagbucks, which offer opportunities to earn Google Play credits by completing surveys, watching videos, playing games, or shopping online.
2. Use Cashback Apps for Google Play Purchases
Install cashback apps like Rakuten or Ibotta that offer cashback or gift cards for shopping at select online stores, including Google Play.
By using these apps for your purchases, you can accumulate cashback or earn credits to redeem for Google Play funds.
3. Try AppNana for Gift Cards
Consider using AppNana, a mobile app that rewards users with points called "Nanas" for trying and downloading new apps. You can exchange these points for various gift cards, including Google Play gift cards.
4. Join GPT (Get-Paid-To) Websites
Sign up for GPT websites like Swagbucks, PrizeRebel, or InstaGC, which provide multiple earning opportunities such as completing offers, taking surveys, watching videos, and more.
These platforms often offer Google Play gift cards as a redemption option.
5. Explore Referral Programs
Many apps and services offer referral programs where you can earn credits or rewards for referring friends or family members.
Look for referral programs related to Google Play, such as referral programs for mobile network providers, digital wallet apps, or online gaming platforms.
6. Participate in Online Contests and Giveaways
Stay active on social media platforms and follow official accounts of Google Play, app developers, and other tech influencers.
They often host contests and giveaways where you can have a chance to win Google Play gift cards or promotional codes.
Want to know what apps can make you money that you can then use for purchases on Google Play? Try these out!
If you know of any other LEGITIMATE ways to earn Google Play credits, let us know in the comments!
Related Posts:
Earn Everything… nearly!
Join Ipsos iSay, one of the few Faithful and Honest survey panels and earn prizes, gift cards and donations. Stack your points and redeem them: Simple! No hidden fees and completely free!