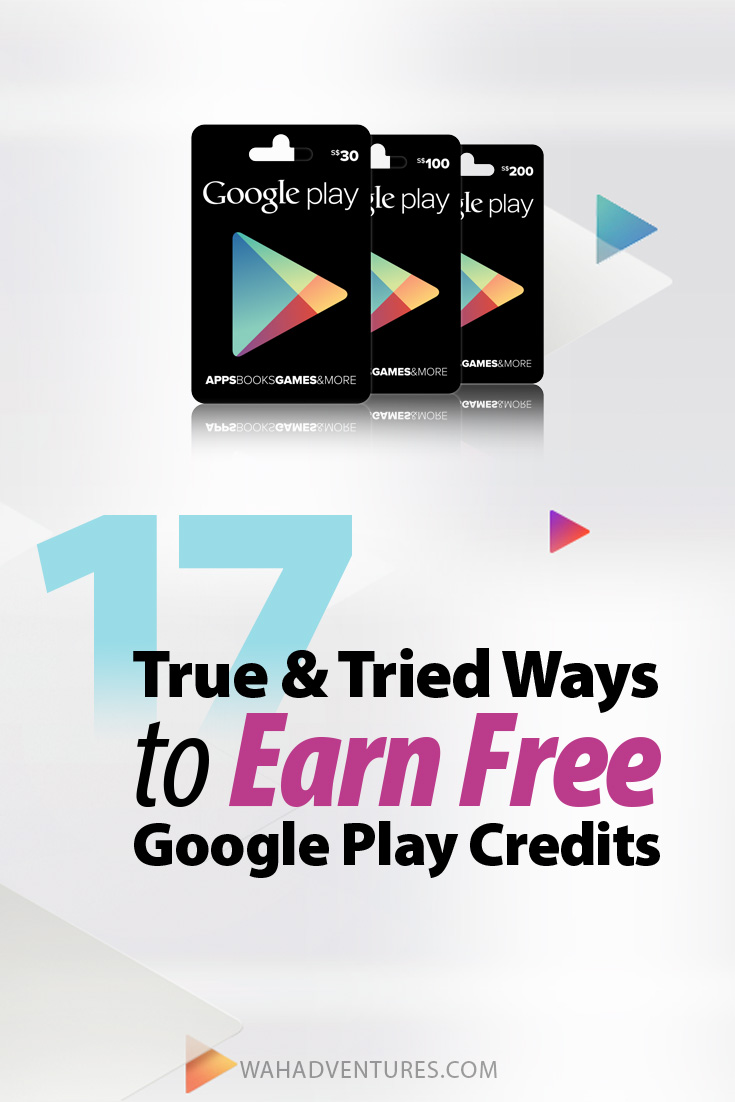 Google Play and Apple's App Store have been in a constant battle with each other since both began in 2008 (Google Play was known as Android Market at the time).
Need Easy Extra $250+/Month For Free?
It was once way behind the App Store in terms of downloads and available apps, but Google Play has made a comeback.
In 2014, it finally beat the App Store for most apps and downloads.
As more people are switching over to Android devices, it's no wonder the demand for Google Play credits is on the rise!
Let's delve into how you can get some of these coveted credits. Forget about getting them for cheap – you can get them for free!
What are Google Play Credits?
Google Play credits are like virtual currency for the Google Play store.
When you want to purchase a song, app, book, or anything else on Google Play, you usually use an account, like a bank account or PayPal, to complete the purchase.
You can also use Google Play credits, if you have them, in lieu of using money from your account.
Basically, Google Play credits are like gift cards.
However much you have in credit is what will be applied to your purchase first, if you choose to use them.
Then, if there's a balance due, the rest will be deducted from your linked account.
The best part is they'll never expire, so as long as you want them to sit in your account, they'll be there!
How Do You Redeem Them?
You can purchase (or receive as a gift) a Google Play gift card, which is available in several stores, in-store and online.
I'll also discuss the many FREE ways you can earn them in this post!
You can add Google Play credits to your account by linking a Google Play gift card or code to your account.
First, find your account in the app.
Click 'Redeem' and enter the promotional code or gift card code.
Press Redeem, and it will instantly be applied to your account!
When you go to purchase anything from Google Play, you'll be asked how you want to pay.
You can then choose to use your credits balance or save it for another time and use your linked account instead.
Google Play Credit Hacks! How to Get Free Google Play Money
Swagbucks
Swagbucks is my favorite rewards app for so many reasons!
It's super easy to earn rewards in so many different ways through Swagbucks that it never gets boring. And, rewards add up quickly!
I've cashed out gift cards every couple of weeks when I use it frequently, and it couldn't be easier.
You can take surveys, play games, shop online for cash back, watch sponsored videos, refer your friends, learn about new products and companies, and more.
It's a rewards site that's – dare I say it – fun!
And, if you meet your daily Swagbucks goal, you earn free Swagbucks, just to give you a little more motivation to earn.
Don't forget to check your Swagbucks Inbox every day too. This has tons of great ways to earn small to large amounts of Swagbucks!
Once you reach 1,000 Swagbucks (which isn't difficult to do!) you can cash out for $10 in Google Play credits.
Earn Everything… nearly!

Join Opinion Outpost, one of the few faithful and honest survey panels and earn cash and gift cards for your opinion.
Stack your points and redeem them: Simple! No hidden fees and completely free!


There's another gift card amounts available too, and Swagbucks often has promotions where it discounts the number of Swagbucks needed to redeem a prize!
Join Swagbucks now or read review.
AppNana
AppNana is a rewards app for both iOS and Android that earns you credit toward your system's app store.
You will earn 'Nanas' every time you download and play apps that you find through AppNana. When you earn enough Nanas, you redeem them for free Google Play credits!
Bing Rewards
This one is a bit of a roundabout way to get Google Play credits for free, but it works!
Sign up for Bing Rewards, which is a rewards system from Microsoft that lets you earn rewards from using the Bing search engine.
One of the most popular rewards you can redeem is an Amazon gift card.
And guess what Amazon sells? Gift cards to other places, including Google Play.
And, most sellers sell the gift cards for LESS than they're worth, so you're saving money this way!
You just need to be at least 13 years old and you can become a member of Bing Rewards.
If you want more ways to get Amazon gift cards you can use to purchase Google Play credits, check out these 43 ways to earn FREE Amazon gift cards!
Cubic Reward
Cubic Reward is a rewards app that pays you in Google Play credits.
You can earn rewards by downloading apps and playing games, or by referring your friends to the app.
There are also daily events to join that give you an opportunity to win bonus points.
FeaturePoints
FeaturePoints is another rewards app that lets you try out apps for free.
App developers often partner with these types of apps to get exposure to their new apps and help work out the kinks.
You can also refer friends for more points, which you can redeem for several different prizes, including Google Play gift cards.
FreeMyApps
FreeMyApps is very similar to FeaturePoints, rewarding you for downloading and using new apps and games.
There are tons of gift cards to choose from for rewards, like Amazon, CVS, or even Minecraft currency, but Google Play credit is among the most popular.
Gift Box
Gift Box is a rewards app with Google Play gift cards as redeemable prizes.
You can earn points just by visiting the app daily, playing Spin the Wheel games, downloading apps, watching videos, and referring your friends.
Gift Card Granny
Gift Card Granny is one of my go-to places for all things gift cards.
It's great for finding discount gift cards, special promotions, selling your own gift cards, and staying on top of all gift card news.
But, you can also sign up for a Gift Card Granny account, which will let you earn your own free gift cards, including Google Play!
You'll get access to giveaways and contests to win gift cards.
But you can also earn them by sharing gift card promotions you find, purchasing gift cards through a Gift Card Granny partner, and even just for signing up for an account.
Refer your friends and get an easy 1,000 points for each one!
Gift Wallet
Gift Wallet is another popular rewards app that mostly focuses on redeeming offers. Some will cost some money (and earn more points), but some are free.
You can also earn points by sharing the app with your friends on social media, and even more if you get them to join too!
Your gift card gets delivered via e-mail, so make sure it's an address you check often.
Google Opinion Rewards
Google Opinion Rewards is my absolute favorite way to earn Google Play credits.
It really couldn't be easier.
Since I first got my Android device about a year ago, I've earned over $40 in Google Play credits just by taking simple 1 – 3 question surveys.
And I haven't even done it consistently (silly me, right?).
Google Opinion Rewards can be downloaded from Google Play if your device doesn't already come with it.
The app will notify you when there's a new survey available.
They're super quick surveys, usually no more than three questions, and they pay, on average, about $0.25 each!
I've gotten anywhere from $0.10 to $1 per survey, for about 10 seconds of my time.
Your earnings automatically get applied to your Google Play account, so you won't even have to redeem any codes.
And, they show up immediately after taking a survey!
InstaGC
InstaGC is an easy way to earn some Google Play credit (and other gift cards!) just by doing what you normally do on the web.
The website offers rewards for watching videos, taking surveys, conducting web searches, shopping, and more.
To date, over 915,000 gift cards have been claimed!
JunoWallet
JunoWallet is almost like InstaGC in app form.
You can earn JunoCredits by completing small tasks, like watching short videos and advertisements, taking surveys, and even making phone calls.
Google Play gift cards is an option for rewards.
Own a Chromecast
If you have Google Chromecast, you might be in luck.
If you don't have one and are considering purchasing one, you might be able to get free Google Play credits when you do!
The media streaming device lets you play your favorite TV shows, games, music, and more on your TV.
You can download and install Google Home on your Android device to check what offers are available for registering your Chromecast through the app.
They change from time to time, but I've seen reports of customers getting anywhere from $6 to $25 in Google Play credit just for registering their Chromecast through the app!
Register Your Device
If you have a Samsung tablet or smartphone, register it with Samsung.
These promotions also change from time to time, but there are sometimes offers for $25 in Google Play credit just for registering!
Just remember to fully set up and activate your account to be eligible.
Use an e-mail account you check often so Samsung can send you offers of new promotions.
Take Surveys for Google Play Credit
As with earning other gift cards, survey sites can be the ideal way to go.
They may not be the most fun way to earn cash and prizes, but they work!
PrizeRebel is one that offers Google Play gift cards as rewards for taking surveys.
Since 2007, it's paid over $11 million in rewards.
QuickThoughts is a mobile survey app that lets you earn Amazon gift cards in exchange for surveys, which you can then turn into Google Play gift cards!
Tap Cash Rewards
Tap Cash Rewards is similar to other rewards apps that give you rewards for downloading and playing other apps.
You can connect your Facebook account to open up other offers and earn more rewards.
The app offers several rewards for redemption, including Google Play gift cards.
Whaff Rewards
Whaff Rewards is yet another app-downloading rewards app.
This one, however, will give you Google Play credit just by connecting your Facebook account and entering the code that pops up on your screen.
To get more, you can download other apps, with each one paying between 10 to 70 cents.
The longer you keep apps on your device without deleting them, the more you can earn to redeem for Google Play credits.
Watch Out for Google Play Credit Scams!
As with most gift card hunts, you're bound to run into some scams along the way.
With Google Play credits, there seems to be an abundance of them.
Google Play Credit Generators are all over the web, claiming to generate you a code that you can use to redeem free credits.
They claim to have found some loophole that hacks the Google Play server to deliver you free gift card codes at no cost to them.
Unfortunately, all they'll do is cause harm to your computer or steal your information.
Some have been known to be very aggressive viruses or malware that can compromise your safety and identity online.
So, I suggest staying away from any of these "generator" websites.
Quite simply, they absolutely will not do what they promise and can cause serious damage to your information instead.
If you think you found, or have fallen victim to, one of these scams, feel free to report it to the Federal Trade Commission or Internet Crime Complaint Center.
The two agencies can investigate possible scams and get them removed from the internet for good.
Want to know what apps can make you money that you can then use for purchases on Google Play? Try these out! If you know of any other LEGITIMATE ways to earn Google Play credits, let us know in the comments!
Related Posts: