How to Get a Free or Cheap Car for Single Moms
Updated on: by Amy Kennedy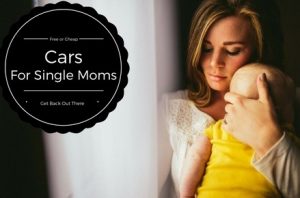 Single moms have the weight of the world on their shoulders.
They have to take the kids to school, pick them up, feed them, help them with homework, make sure they are able to take advantage of as many opportunities as possible, ensure they get the sleep they need, and on and on the list goes.
Even if there is strong support system or co-parenting agreement, the brunt falls on the single mom's back.
Why Cars Matter
Without a working, reliable car, much of this becomes nearly impossible.  There is no way to the grocery store.
There is no way to pick up a sick child at school.  Perhaps the most devastating, there is no way to work.
While public transportation is available for some, there are many areas that do not have a public transportation system.
In addition, it is difficult to handle children and maneuver public transit systems at the same time.  The alternative options become either to stay home, or pay money that may not be available for a taxi service.
What Can be Done?
There are ways for single moms to get a free or cheap car however.  Programs are available that realize the need, and work hard to put these hardworking moms in reliable vehicles to lessen the load and help them take steps to get their family into a better position.
Where to Start
Working Cars for Working Families
If you are a single mom trying to figure out how to get a free car for single moms, this should be your first stop.  The site offers a searchable database of programs by area.
Programs include those that offer free cars, as well as those that help moms find cheap cars or low-interest loans and grants that can be used on transportation.
Each program varies, as does the number of programs in any given area.  There may be a way to apply for a truly free car, or the options may be limited to guaranteed loans with low interest rates.
A quick search can help you find what is available for you.
Read more:
Examples of Charity Cars Programs
This is perhaps one of the most popular sites for finding free cars if you are in need.  It is easy to get started.  All you do is create a free account and share your story.  The story is made public on the site, and participants work to promote their story.
The goal in promoting the story is to get votes from those visiting the site.  The more votes your story has, the higher you move up on the waiting list.
When a car is donated, the list of applicants in the area where the car is available is reviewed, and a recipients is selected based on votes and individual situation and need.  Friends and family can vote for you!
This program is currently only available in Chicago and the surrounding areas, but they are accepting requests for new chapters on their website.  While they do offer cars free of charge, this is not a giveaway.
Eligible applicants are required to make a two year commitment to the program in exchange for the vehicle.
Programs participants take part in a variety of activities that can help better themselves and the lives of their families.  These may include job training and counseling, among other things.
The Vehicles for Change program is available in Maryland, Washington, D.C., and Virginia, but it is an excellent example of the types of programs available in various parts of the country.  Since 1999 they have helped provide 5,190 cars for low-income families.
Cars received in this program cost the family around $750, and they come with a low-interest guaranteed loan.
Wheels4Hope repairs donated vehicles to sell as program cars to recipients.  They also offer these cars for sale to the general public as a way to cover program costs.  The cars offered to program participants are valued at $2,000 to $4,000 dollars.
Recipients pay $500 and cover the cost of title and transfer fees.  Wheels4Hope offers a 6-month warranty.
Good News Garage is an organization that provides donated vehicles to individuals and families in need, including single moms.
They accept vehicle donations from the public, which are repaired and distributed to eligible recipients.
Single moms can apply for a free or cheap car through this program, helping them overcome transportation challenges and improve their mobility.
Good News Garage understands the specific needs of single moms and aims to support them in gaining access to reliable transportation, enhancing their ability to take care of their children, find employment, and pursue other opportunities.
While Vehicles for Veterans primarily focuses on assisting military veterans, single moms who have served in the armed forces can also benefit from this program.
By partnering with organizations and individuals who donate vehicles, Vehicles for Veterans provides free cars, trucks, and other vehicles to eligible veterans, including single moms.
This opportunity enables single moms to secure a free or affordable vehicle, helping them navigate their daily responsibilities such as taking their children to school, running errands, and accessing employment opportunities.
1-800-Charity Cars is a national nonprofit organization dedicated to helping individuals and families in need, including single moms, acquire free or low-cost vehicles.
Through their vehicle donation program, they accept donated cars and distribute them to deserving recipients.
Single moms facing financial hardship can apply for assistance through 1-800-Charity Cars, providing them with the opportunity to obtain a free or affordable car.
This support allows single moms to overcome transportation barriers, ensuring they can fulfill their parental duties, access education and job opportunities, and improve their overall quality of life.
Other Options: Automobile Grants and Loans
Other options include local community and state grant or loan programs.  A local community services agency can help you find these types of programs.
Many offer grants to single moms that can be used to purchase reliable transportation, and others offer low-interest loans with a guarantee that allows for financing even with bad credit.
Am I Eligible for a Free Car, Grant, or Loan?
While the eligibility requirements for individual programs vary, there are many that are standard throughout these types of programs. These include but are not limited to:
Verifiable job or job offer
Ability to pay for insurance and continuing maintenance
Eligible for a driver's license
Drug free
No extensive criminal background
No other vehicle
Accepting other state benefits is okay and sometimes required (such as WIC or food stamps)
Meets income guidelines set forth by specific program
Except for FreeCharityCars.org, most programs require application through a caseworker at a partner agency. These may include religious organizations, non-profits, or community services agencies.
In today's society, having access to reliable transportation is essential to living a productive, successful life.  That is not to say it is not possible to do these things without a car, but having a car makes it much easier and much more likely a single mom will be able to provide a better life for her children.
If for no other reason than the ability to actually get to work, this is a hard truth.  In addition, owning a car opens up many more opportunities for both parent and child.
Parents can accept better jobs that pay more, even if they are further away.
Children have a better chance of being allowed to participate in extracurricular activities because their moms are better able to transport them to and from these activities.
If you are a single mom looking for a free or cheap car to help you get back on your feet and offer your children and yourself more and better opportunities, these resources can be a great help.
A quick note though: beware of scams.  Thoroughly research all offers, and always work through a certified agency if possible.
Related Posts: