20 Best Legit Work from Home Jobs for Stay at Home Moms
Updated on: by Amy Kennedy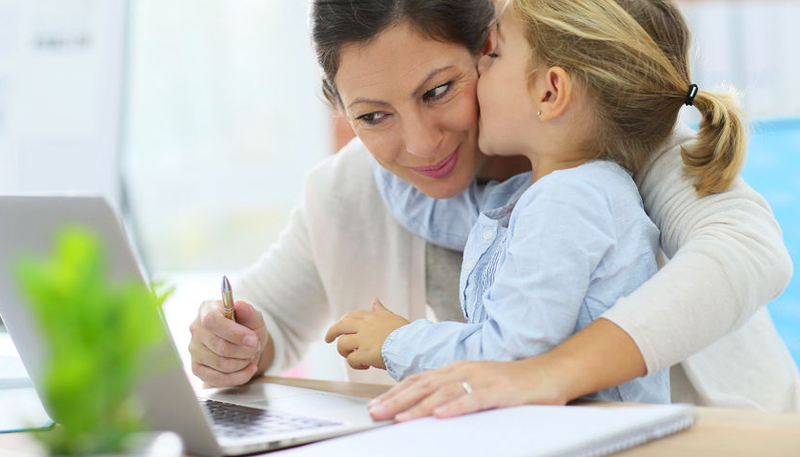 Being a stay at home mom is certainly a job in itself!
Need Easy Extra $350+/Month For Free?
But, if you want to help contribute to the household income with a part time work at home job, we've got the article for you!
There are real jobs out there that let you work from home while taking care of the kiddos full time.
A work from home job is a great way to balance your parenting with a career.
These easy stay at home jobs are perfect for moms who want some income without sacrificing the flexibility they need when raising children.
Supplementary Sources of Income
The following jobs are perfect for extra cash.
If you don't have the time to devote to a real job, you can still make money online with these super-flexible money makers!
Swagbucks is my favorite way to earn extra money online.
I check in with Swagbucks daily to see what else I can earn each day. With so many ways to earn SBs as rewards, it's virtually impossible to run out of options!
Swagbucks is a leading Get Paid To (GPT) site. People love it because you can earn SBs fast to redeem for tons of prizes, like PayPal cash and other gift cards.
Here, you can complete paid and free offers, take surveys, watch videos, play games, search the web, check e-mail, and refer your friends – all of which give you SBs, the Swagbucks point system.
One of the fastest ways to earn SBs is by cash back shopping. If you shop online frequently, this one is for you!
Check Swagbucks to see if your favorite retailer is a partner.
If so, you click the Swagbucks link to take you to the retailer and you'll earn the specified number of Swagbucks for your purchase.
Some retailers offer 10% cash back or more, or 10 SBs per $1. If you spend $100, you get 1,000 SBs!
That's enough to get you a $10 gift card as a reward.
Need Easy Extra Cash?
Pinecone Research, a leading name in online survey panel honesty, absolutely guarantees $3 cash for every survey you complete!
Take advantage of their time limited New Membership drive and register NOW. Join today: 100% free!


Of course, you can also take advantage of the many other ways to earn SBs here.
There's always something to do in your spare time, making it the perfect way to earn extra cash as a stay at home mom.
InboxDollars comes in at a close 2nd behind Swagbucks.
InboxDollars is another GPT site that offers many of the same things that Swagbucks does, but it takes a little longer to earn cash here.
And, you have to wait until you reach $30 to cash out.
Still, InboxDollars is a great way to earn rewards and cash when you use it in conjunction with other money makers, like Swagbucks.
When you sign up with InboxDollars and fill out your profile, you immediately get $5!
Then, I recommend checking out the free and paid offers. Paid offers usually pay you bigger rewards, but only use them if they offer something you would've bought anyway.
Free and trial offers are the best way to go because you don't have to pay anything to get rewards.
Some even offer $1 or more just for signing up for a website or a trial.
InboxDollars usually has a lot of paid surveys available, too, so try your hand at them and you could make a few dollars per day.
If you like voicing your opinions, then perhaps you can try MySurvey.
This market research site lets its members take surveys in exchange for rewards.
You get points that you can exchange for a variety of rewards, including PayPal cash. And, you get to influence some top brands with your feedback.
You need 1200 points, the equivalent of $10, to cash out your account, which is one of the lowest thresholds for these types of sites.
You may also get occasional invites for high-paying focus groups or product testing opportunities!
MySurvey is completely flexible, since you can take surveys whenever you have some spare time.
The site is currently open to US (16+) and Canada (14+) residents.
Taking Paid Surveys
Speaking of paid surveys, you can sign up for a few paid survey sites to maximize your supplemental income!
The more you sign up for, the more opportunities you'll have to earn some extra money.
Not all survey sites are created equal, and some may even disqualify you after spending several minutes answering questions about your household.
I suggest browsing our article on the best paid survey sites to narrow down your options.
Choose a few of your favorites from our recommendations and maximize your earnings!
Read more: 39 Legitimate Online Survey Sites That Actually Pay Cash
Mystery Shopping
Mystery shopping is one of the best ways for stay at home moms to earn some extra income.
You can take your kids into stores to perform mystery shops, or even perform telephone mystery shops.
The good thing is that being with your kids as you work isn't a drawback – it's encouraged!
The whole point of mystery shopping is to act like a normal customer.
Basically, you perform specific tasks as provided by a client.
Earn Everything… nearly!
Join Opinion Outpost, one of the few faithful and honest survey panels and earn cash and gift cards for your opinion. Stack your points and redeem them: Simple! No hidden fees and completely free!


Usually, businesses want to see how some of their offices and stores are performing in terms of inventory, pricing, customer service, and overall customer experience.
You do the tasks, provide your feedback in a follow-up survey, and get paid.
Telephone mystery shops are similar, except they only involve you making phone calls and asking specific questions.
Check out our list of 19 mystery shopping jobs to find the best opportunities for you and your family!
Read more: How to Become a Mystery Shopper and Work Remotely (+ 19 Companies!)
Search Evaluator
Search evaluation is a flexible job where you can get paid to evaluate web searches, ads, or even social media ads.
Most search evaluation jobs pay between $12 and $15 per hour, but there may only be a few hours of work per week.
While they do require evaluators to commit to a certain number of hours per week, you can choose when you want to complete your tasks.
The sign-up process for most of these jobs is rather lengthy, as it typically requires exams to make sure you understand the guidelines and evaluation process.
So, make sure you set aside a few hours of distraction-free time to get that out of the way so you can focus on reading the guide and taking exams.
Here are a few of our favorite search engine evaluator jobs to consider.
Read more: Comparing Top 5 Search Engine Evaluator Jobs That Pay $12 – $15 Per Hour
Baby Gear Rental
If you have some baby gear items in excellent condition but your baby's outgrown them, you can make money renting them out to others!
This unique form of supplemental income can happen on Babierge.
You can become a Trusted Partner by setting up your account and uploading photos and descriptions of your baby gear for rent.
Those new to the area, visiting, or who want a cheap way to get baby gear for short-term use can find your listings and rent your stuff.
You have control over your pricing and other terms.
Customers can rate their experience with you so you can get more business from high ratings.
Each reservation will take 20% of your commissions, so you still earn 80%!
To get started, visit the Trusted Partner information area.
Read more: How to Get a Free or Cheap Car for Single Moms
Personal Stylist
Do you have an eye for fashion? If so, you can become a personal stylist with Stitch Fix!
Personal stylists work 100% remotely, so you can do it from home, the library, or wherever you want, with your kids in tow!
Stitch Fix focuses on sending personalized style pieces to customers. You can help be a part of that by matching customers with the perfect pieces based on their preferences.
You'll go through continuous training to keep up with Stitch Fix standards, all of which is paid for by the company.
The position is flexible, so you can find a schedule that will fit best with your family.
For more information, click here.
Jobs for Stay at Home Moms with No Degree
If you're looking for flexible jobs that can provide more than just a supplemental income, but don't require extensive experience or degrees, then find what you're looking for here!
In-Home Child Care
One of the most obvious choices for stay at home mom careers is probably an in-home day care provider.
This job is perfect because you can have your kids with you in addition to your clients' kiddos.
In-home child care can be a lucrative business as well. Most providers can charge $5 and up per child, per hour.
So, 40 hours per week for one child equals at least $200.
Regulations for how many children you can have in your home depends on your location and the children's ages. And, your children count.
Even if you have 3 paying children 40 hours per week in your home, that's $600 a week minimum.
Of course, there are expenses involved, like toys, food, and outdoor activities. But, you can cut some costs by asking parents to pack a lunch and provide their own diapers, wipes, and extra clothing.
Read more: 22 Top Online Jobs for Pregnant Stay at Home Moms
Selling Crafts
Are you crafty?
Many stay at home moms make a living by finding a craft they really love, perfecting it, making it different from the rest, and selling it online or locally.
Etsy is a great place to get ideas for things you might like to make, and then tweak them to create your own business.
Hair accessories, clothing, and jewelry tend to be some of the hottest sellers, but there's virtually no limit here.
Here are several places to sell crafts online, and most of them are free!
Freelance Blogger or Writer
If you blog already, then this is the perfect opportunity for you because you already enjoy writing!
If you don't own a blog, that's okay – you can still become a freelance blogger or writer. But, it does help to have a blog where you showcase your writing style and interests.
Join freelance marketplaces, like Upwork, Guru, or PeoplePerHour.
You can narrow down your searches to find jobs related to writing.
As a freelance blogger, you'll write blog posts for other bloggers.
As a freelance writer, you can also do this, but you can branch out to write press releases, web content, product descriptions, white papers, and more.
If you're interested in learning how to start a freelance writing career, read this!
Data Entry
Data entry can also be in the form of a freelance position, offering flexibility for you to work when you're able.
You can find plenty of data entry positions on freelance sites like Upwork.
For these types of jobs, you'll need good typing skills and the ability to research and multitask.
One good place to start is Amazon Mechanical Turk, which offers a variety of small tasks – many of which are data entry tasks – that pay from a few cents to a few dollars each.
Since you should be able to do several within a few minutes to an hour, you can earn decent pay on your own time.
Here's a huge list of at-home data entry jobs!
Customer Service/Reservation Agent
If you love helping people, customer service is right up your alley.
Many at-home customer service or reservation agent jobs do require some previous experience, but some will train the right candidate to perform the job perfectly.
If you're at home with younger kids, you may want to find email or chat jobs that don't require you to use the phone, since background noise can be an issue.  
Virtual Assistant
A virtual assistant helps clients with tons of different tasks, from setting appointments to making phone calls to writing blog posts.
Your activities could change from day to day with the same client, offering good variation so you don't get stuck in a rut.
Plus, most virtual assisting can be done somewhat flexibly, depending on the needs of the client.
For these positions, you should have excellent typing and phone skills, the ability to research efficiently, and an ability to multi-task and stay organized.
It also helps to have awesome computer skills and know the ins and outs of programs like Microsoft Word, Excel, and more.
Here's a list of 27 virtual assistant companies to apply for.
Web/Graphic Designer
If you want to go the freelance route and have awesome web or graphic design skills, you can become a freelance designer.
Even people on Etsy offer their designing services here because their designs are technically handmade.
You can sell things like pre-made blog themes, custom logos and headers, or even design brand logos to place on t-shirts, hats, and more.
Or, check freelance marketplaces for clients in need of your services.
You could earn hundreds to thousands for building one website for an individual or business.
Online Tutor
You can tutor students from home without a degree!
Some online tutoring companies do require a degree, while others simply require their tutors to be in pursuit of one or have equivalent experience.
So, if you've ever had teaching experience or are currently pursuing a college degree, you can earn part-time income by tutoring students from home.
Read more: 26 of the Best Online Tutoring Jobs to Make Money from Home
Transcription Work
Transcription work doesn't usually require a specific degree or experience, unless it's for a specific industry, like the medical field.
General transcription can be flexible and a good way to earn money from home.
There are plenty of general transcription companies on the web that offer a good amount of work for transcriptionists.
Sign up for a few of them so you can have steady work available!
Read more: 30 General Transcription Jobs from Home, No Experience Required
Social Media Manager
If you love keeping up with social media and have good knowledge of how to engage an audience and gain new followers, this job is for you.
As a social media manager, you can help individuals and businesses manage their social media accounts.
Social media manager salaries average around the $50,000 range, although this is more typical of a full-time staff member.
As a freelancer in this industry, you'll likely earn somewhere in the range of $20,000 to $40,000 per year, depending on whether you have a full-time or part-time schedule.
The good thing about this career is you can manage several accounts at once, so you can potentially pick up several clients.
Search on places like Upwork or Freelancer to find clients in need of this service.
Direct Selling
Direct selling companies – you know, like LuLaRoe, Younique, Paparazzi, and AdvoCare – are hot right now.
They're also known as MLMs, or multi-level marketing companies, because you can make more money by signing people up under you, creating levels.
These are perfect opportunities for stay at home moms because they essentially give you your own business while creating the products for you to sell.
You order what you want from the company, then sell it to your friends and family.
A lot of people are using Facebook as a way to sell their products now because they can reach so many people fast through groups and live sales.
Of course, you will need to put some money up front to start your business and learn some tricks and tips for marketing your stuff.
If you're find with that, check out Wikipedia's huge list of MLMs to find one you're interested in becoming a part of.
PR Representative
Public relations representatives are like the spokespeople for individuals and businesses.
PR reps help spread the word about a person, business, product, or service by reaching out to others, like bloggers, journalists, and other media personnel.
Some companies and individuals look for freelance PR reps to help them out when needed by writing and delivering press releases, researching potential blogger partnerships, and more.
Since most of the work can be done via e-mail and social media, working from home is often viable for this career.
It helps to have experience in the area, but experience and a degree are not always required, especially for freelancers.
Tips for Landing Best Legit Work from Home Jobs for Stay at Home Moms
1. Define Your Skills and Interests
Identify your strengths, skills, and areas of interest.
Determine the type of work you would enjoy doing from home.
This could include areas such as writing, graphic design, virtual assistance, customer service, or online tutoring.
Understanding your skills and interests will help you narrow down your job search and focus on opportunities that align with your abilities.
2. Research Legitimate Work-from-Home Opportunities
Conduct thorough research to find legitimate work-from-home opportunities.
Look for reputable job boards, freelance platforms, or remote job websites that specialize in connecting remote workers with employers.
Be cautious of scams and never pay money upfront to access job listings. Reading reviews, checking ratings, and verifying the legitimacy of the companies can help you avoid potential scams.
3. Build an Online Presence and Network
Create an online presence to showcase your skills and attract potential employers.
Build a professional LinkedIn profile and highlight your relevant experience and skills. Consider creating a personal website or portfolio showcasing your work samples or projects.
Networking with professionals in your field of interest, joining relevant online communities, and attending virtual industry events can also help you find job opportunities and gain insights from others who are already working remotely.
4. Polish Your Resume and Cover Letter
Tailor your resume and cover letter to highlight your remote work experience, relevant skills, and achievements.
Emphasize any previous remote work experience, freelance work, or transferrable skills gained from previous jobs that would be applicable to remote work.
Highlight your ability to work independently, manage time effectively, and communicate remotely.
Customizing your application materials for each specific job you apply to will demonstrate your genuine interest and attention to detail.
5. Prepare for Virtual Interviews
Virtual interviews have become increasingly common for remote job positions.
Familiarize yourself with popular video conferencing tools such as Zoom or Microsoft Teams.
Ensure you have a professional and well-lit space for the interview, with minimal background distractions. Dress professionally, just as you would for an in-person interview.
Practice answering common interview questions and prepare examples of how your skills and experience make you a strong candidate for remote work positions.
Read more: 26 Entry Level Jobs That Pay Well – No Degree Required
Conclusion: Best Legit Work from Home Jobs for Stay at Home Moms
Who knew there were so many perfect work from home jobs for stay at home moms?
Hopefully, you now have some ideas to get you started earning some money while you're at home with the kids.
Do you have other ideas to share? Please let us know in a comment below!
Related Posts:
Earn Everything… nearly!
Join Ipsos iSay, one of the few Faithful and Honest survey panels and earn prizes, gift cards and donations. Stack your points and redeem them: Simple! No hidden fees and completely free!