30 Top Online Jobs for Pregnant Stay at Home Moms
Updated on: by Amy Kennedy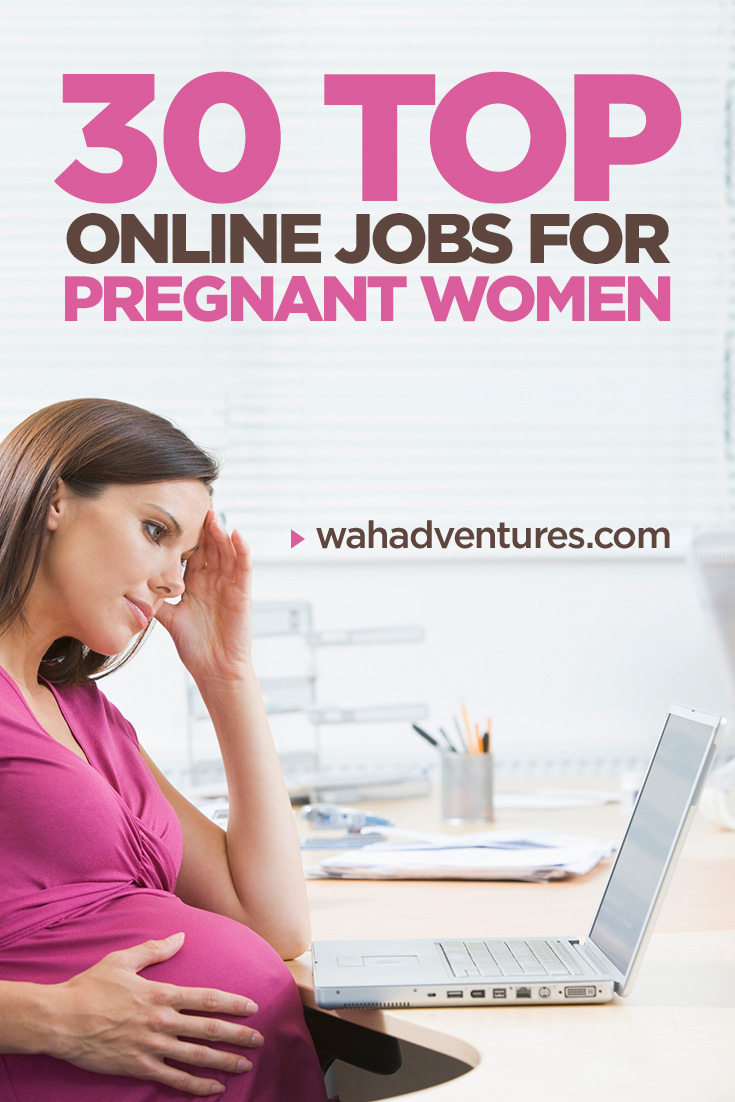 If you're a mom-to-be, you might be considering leaving your current job to work from home.
Need Easy Extra $350+/Month For Free?
And, why not?
Pregnant women should absolutely be allowed to work if they choose, without the added stressor of a full-time job outside of the home.
Fortunately, the internet provides a ton of opportunities to make money from the comfort of your own home without worrying about your health.
What are the Best Online Jobs for Pregnant Women?
No matter your talents or interests, there is sure to be an online job that suits you.
Or, you can choose to create your own business.
Several of these jobs are ones that YOU can make a business from to create your own path for yourself and your upcoming bundle of joy.
 1. Paid Survey-Taker
Ok, so income from taking paid surveys doesn't quite equal the income of a full-time job, but if you are pregnant and looking for some extra income during maternity leave, paid surveys can be a great source of cash or gift cards!
And, if you create an efficient system for yourself of checking your e-mails from paid survey companies every day and taking surveys for a few hours per day, you can start to see some results pretty quickly.
Some surveys can be time-consuming, but these are the ones that usually reward better.
If you stay consistent in filling out the majority of surveys you're offered every day, you could possibly earn at least a couple hundred dollars per month.
Below are good high paying survey websites to begin making quick money with:

Read more: 39 Real Online Survey Jobs That Pay Cash
2. Website Tester
Website owners like to know what works and doesn't work for their visitors. What kind of experience does the visitor have? What needs to be improved?
If you want to share your opinions on websites, consider website testing through companies like UserTesting (review) and WhatUsersDo. You'll have to have a quiet area for testing because you'll provide audio recording as you walk through a website.
Most tasks take about 20 minutes, and you can make $10 or more for these tasks.
Need Easy Extra Cash?
Pinecone Research, a leading name in online survey panel honesty, absolutely guarantees $3 cash for every survey you complete!
Take advantage of their time limited New Membership drive and register NOW. Join today: 100% free!


The better you become at using a testing system and providing thorough opinions, the more tasks you can qualify for to up your earnings.
If you want to make a steady income testing websites, sign up for a few website testing systems and accept assignments quickly – they can be snatched up by someone else if you're too slow!
Read more: Get Paid for Your Feedback on Websites with These 20 Companies!
3. Blogger
Blogging has become huge the last few years. Who knew you could make money just by writing about things you enjoy on your own blog? Top bloggers are making upwards of hundreds of thousands of dollars each year.
Bloggers can make income from their blogs by advertising, using affiliate sales, or selling helpful products to their readers.
They beauty of blogging is that you can make a solid passive income by only working on your blog a few hours per week. It usually takes some time to get your blog to the point of making passive income. So, starting toward the beginning of your pregnancy could yield some results by the end.
4. Tutor
If you have expert knowledge in certain fields (or, better yet – have teaching certification and experience!), you may qualify to become an online tutor.
There are several online tutoring websites available, from elementary school through college.
Some require teaching licensure and experience, whereas others require you to have some type of expertise in a specific field.
You will usually have to qualify through a testing system to ensure you have appropriate knowledge.
Once qualified, you typically can choose how much work you want to take on each day or week.
Read more: 28 Best Places to Find ESL Teaching Jobs Online
5. Transcriptionist
Transcription work requires some skill and a quiet, distraction-free environment. So, if you have other kids in the home, this may not be the best choice for you.
A transcriptionist translates audio files to text.
The pay typically starts out pretty low.
Once you get more experienced, though, you get faster and can transcribe more in a shorter time.
More audio + less time = more money for you!
This guide offers a thorough look at the transcription career so you can see if it's right for you.
Read more: 30 General Transcription Jobs from Home, No Experience Required
6. Writer
If you love writing but don't want to get into setting up your own blog, don't worry. There are plenty of writing jobs available on websites like Upwork and Guru. You could also score writing jobs for specific blogs by e-mailing the editor some article ideas!
Or, you can start work on your own book with the goal of completing it by the end of your pregnancy. Passive income from book sales would be awesome, right? Save on publishing costs by creating an eBook to sell on Amazon!
Freelance writing is one of the most flexible careers, and one you can also turn into a business.
Many freelance writers are making close to $30 per hour!
Read more: These 28 Freelance Online Writing Jobs are Perfect for Beginners
7. Call Center Representatives
Do you enjoy talking on the phone and helping others? Many companies are outsourcing their customer service departments to call center representatives who work out of their homes.
Usually, all you need to get started is an updated computer and dedicated phone line. But, make sure you also have a private, quiet space dedicated to work hours.
Call center representatives don't usually have the flexibility of other jobs. Instead, you are usually required to work a specific shift. Still, you get to work from home in your jammies. You can't really beat that.
Read more: Nine Virtual Call Centers with Flex Scheduling
8. Chat Agent
If you have kids at home or simply hate talking on the phone, you can become a chat agent instead of a call center representative.
Earn Everything… nearly!
Join Opinion Outpost, one of the few faithful and honest survey panels and earn cash and gift cards for your opinion. Stack your points and redeem them: Simple! No hidden fees and completely free!


Chat agents usually have to stick to a schedule, too, but you won't have to worry about the background noise in your home throughout the day.
Chat agents do much of the same type of work as call center representatives, like providing customer support and answering questions. Usually, all you need is internet access and a working, updated computer with the software your company requires.
Popular companies like Apple and Best Buy sometimes have customer service chat agent positions open.
Read more: Top 22 Email & Online Chat Jobs from Home
9. Virtual Assistant
The opportunities for virtual assistants are virtually endless! This is an awesome job for pregnant women because it allows you to show off your virtual skills in several areas and is extremely flexible.
Virtual assistants do everything from scheduling appointments to writing articles to making phone calls for their clients. You could help someone set up a blog one day. The next day, you could be searching for the best grooming clinic for someone's pooch.
If you love all things internet-related and the ability to have variety in a job, virtual assisting is one of the best career choices for you. Once you get the hang of it and build up a client base, you can even turn it into a business!
Freelancer and Upwork have plenty of jobs listed by people looking for virtual assistants.
Read more: An Epic List of Companies Hiring Virtual Assistants
10. Data Entry Clerk
Data entry is one of the oldest work-from-home jobs, but it's still going strong today. Why? Because it's flexible and doesn't require much skill.
If you know your way around common computer applications, like Excel and Word, you can be a data entry clerk. As a data entry clerk, you'll be entering electronic information into different programs or applications. It's not difficult, but it can be tedious.
Many data entry jobs don't require experience, so start with some of those to gain experience before working your way up to better-paying jobs.
Read more: 30 Best Entry Level Typing Jobs for Beginners
11. Graphics or Web Designer
Are you searching for a creative job while you're pregnant? If you are able to work graphics programs like Photoshop, you may be able to sell graphics to website owners.
Or, if you're skilled with WordPress and other blogging platforms, consider developing unique blog themes and selling them on Etsy or your own webstore.
Graphics and web-designing is a growing career as more people are starting up their own websites and need design services.
It can be a lucrative business if your customers are happy and refer their friends to you! And, you can design completely on your own time.
Read more: 11 Contest Sites for Designers
12. Search Engine Evaluator
Search engine evaluation is actually one of the most important jobs on the web, yet many still don't know about it. You can have a say in helping search engines like Google understand what people want and what results work best for them.
Places like Appen and Leapforce contract avid internet users to evaluate web search results to better tailor results to the average user. To do this job, you should have good knowledge of the internet and how to use search engines.
The onboarding process for these jobs can be tough.
You are usually put through a testing series to make sure you understand the job completely. If you make it past initial testing, you can make between $12-$15 per hour, though the work isn't always steady.
Read more: Comparing Top 5 Search Engine Evaluator Jobs That Pay $12 – $15 Per Hour
 13. Moderator
A lot of pregnant women already participate in online forums to discuss their pregnancies. Why not become a moderator for an online forum and get paid to do it?
Moderators are the people who respond to others with questions, clarify information, move or delete threads, and keep the online community clean and safe. They're also responsible to leading conversations and engaging those in the community.
As a moderator, you could also get involved in clients' social media to up engagement and answer questions. Check out ModSquad, one of the most popular online moderation services, for possible job openings.
14. Online Direct Sales
Do you ever see your friends promoting their direct sales businesses on Facebook? You know, doTerra, LuLaRoe, or Younique, for example.
Some of these companies require you to sell products in person rather than online. Others let you run a web office to sell products solely online, if you choose. For pregnant women who don't want to travel around to events to sell products, you can opt to join a direct sales opportunity that lets you sell from home.
Team Beachbody and Avon are two companies that let you sell online, no face-to-face selling necessary. Grab a website and market your favorite products through your social networks and you can build a business while being preggo.
15. Social Media Manager
Do you use social media daily and know the basic ins and outs of how they work? Many businesses and bloggers outsource the management of their social media networks because they can get time consuming.
That's where you can come in. As a social media manager, you will create posts, share content of others within your client's niche, and engage with followers.
This is an incredibly flexible job, especially if you know a lot about scheduling social media content to post at specific times.
You might also consider applying for social media customer service roles through your favorite companies. Come armed with a resume and examples of engaging social media posts you've created.
16. Photographer
If you're pregnant, you certainly can become a local photographer offering sessions for newborns, families, businesses, or more. But if you are looking for strictly online jobs, your photo-taking skills can still come in handy.
Consider creating a stock photo gallery online, where you charge members for access to the photos each month. Or, you can charge a fixed fee per photo.
Bloggers pay for beautiful, stylized photos that fit within their brand image. Food, tabletop, and portraits are among the most-desired types of stock images.
You may need to spend a little money at first for special equipment, but you can make money quickly once you get the word out about your business. Or, start by adding your photos to an online stock photo gallery, like Shutterstock, to get your income moving.
17. Seller of Handmade Items
Handmade items make unique, personalized gifts. Because of their popularity, Etsy has become a popular place in the last few years.
This is where people can sell handmade items, like clothing, jewelry, craft supplies, and more. Do you knit blankets? Sew stuffed animals? Paint? This is the place to finally make an income off your creative side.
With Etsy, you set up your own online shop, add in your products, and take orders from shoppers. You can even choose to create custom orders to further personalize your products for your customers.
18. Consignment Seller
Online consignment shops are growing as online shoppers look for deals. Places like thredUp and Swap let you send in new or gently used clothing and other items to sell. So, if you like to shop around, this could be for you.
If you have local thrift shops where you can score awesome clothing deals, spend a few hours a week combing through them to look for very low-priced items. Then, send them in to an online consignment shop to make a profit!
With online consignment sales, be diligent about what you spend and what you make. If you find that a shop has too many fees for you to make a profit, you might want to consider starting up your own online consignment shop to sell your finds.
19. Accountant
Pregnant women with a love for math can consider an accounting career. Yes, this is something you can do completely online, no face-to-face or out-of-home meetings required!
And, the best part is you don't need any specific licensees or training to be an accountant. Of course, if you're looking to turn it into a business, check with your local business office for requirements!
The average full-time accountant makes about $40k per year, so even if you choose to do it part-time while pregnant, you can make a decent income by managing the finances of individuals or small businesses.
Read More: Top 13 Legitimate Work From Home Accounting and Bookkeeping Jobs
20. Test Grader
Women with an education background can consider becoming an online test grader. Test grading opportunities usually peak through the normal school year, but you may be able to find some through the summer.
To become an online test grader, you usually have to pass a series of training tasks and tests, and may also need to complete calibration tests before each grading segment.
You may also be required to have a bachelor's degree or higher and have teaching experience to become an online test grader.
21. Researcher
There are actually several ways to become an online researcher, so this career offers a lot of potential for flexibility and variety, if that's what you seek.
Several online platforms, like Wonder and JustAnswer, recruit people with excellent online research skills to answer questions posed by individuals or businesses with important questions.
On these platforms, you can answer anything between industry-specific questions to what the most popular restaurant is in a specific tourist location.
Or, if you have specific experience within a particular industry, like medical care or insurance, try searching for companies who can use your research skills for web content or marketing.
22. Editor
Is the English language your "thing", or do you have an educational background in English? You may find a rewarding online career in editing.
Authors, business owners, and individuals seek editors to proofread their content for errors and make it interesting. You could edit everything from books to product descriptions to blog content.
Editing can be pretty flexible, depending on whether you want full-time or freelance employment. Check places like FlexJobs, Indeed, and Upwork for editing jobs. You might also consider joining a proofreading service, like Scribendi, as a telecommute editor for an entry-level position.
23. Online Coach
A lot of men and women – especially bloggers – are turning their skills and everything they've learned from what they do into knowledge that helps others through online coaching.
You may have stumbled across courses or eBooks from your favorite bloggers that have super-helpful information in them.
You can do the same, and it's something that can bring you passive income once you get through creating the course or eBook!
Or, you can even offer online coaching sessions via Skype or another video chat platform.
Price your coaching session per 15-minutes, or whatever makes sense for you and your time.
The good thing is that it's totally flexible. You can schedule coaching sessions whenever you have a free block of time.
You can also sign up for middle-man sites like Ingenio, which help connect you to those in need of your coaching services.
24. Reservation Sales Agent
Reservation sales agents are people who help customers set up reservations for vacations, rental cars, and more.
Many big companies are starting to hire people to work from home to fill these positions, since they aren't really anything that requires a person to show up at an office.
A home office will do just fine, as long as you have a quiet and distraction-free spot.
American Airlines, for example, hires remote agents to help book flights over the phone.
You can also work with AAA to help AAA customers with the various travel options they have available to them according to their membership.
Or, help prospective U-Haul customers book car rentals for $10 per hour, plus the chance of bonuses based on performance.
If you're interested in becoming a reservation agent while you're pregnant, check out this list of companies that hire work from home reservation agents.
25. Video Editor
Are you handy with video editing?
If so, this could be the perfect opportunity for you to use your skills in a freelance setting.
Videos are becoming just as popular for businesses and bloggers to use as blog posts are, so there's plenty of need for professional video editing services.
You can sign up for Upwork or other freelance marketplaces to search for jobs, or use job search sites that offer a lot of flexible jobs, like Indeed.
26. PR Specialist
Contrary to popular belief, you don't need a college degree to become a public relations specialist.
It does help if you want to work with large companies, of course.
But, if you want to do it as a freelancer, simply look for startup companies or bloggers to work with.
You can create press releases, promote company news via social media, and contact bloggers or journalists about featuring the person or company you represent.
Again, you can find jobs like this on Indeed or various freelance marketplaces.
Or, simply reach out to some of your favorite bloggers and business owners to see if they're in need of some help!
27. Online Course Instructor
As an Online Course Instructor, you have the opportunity to share your expertise and teach others in a virtual setting.
You can create and deliver online courses on various subjects, ranging from academic topics to specialized skills and hobbies.
Online platforms such as Udemy, Coursera, and Teachable provide a space to host and promote your courses to a wide audience.
By leveraging your knowledge and creating engaging educational content, you can earn income while accommodating your pregnancy and stay-at-home mom responsibilities.
28. Virtual Event Planner
As a Virtual Event Planner, you can utilize your organizational and creative skills to plan and coordinate events remotely.
With the rise of virtual events, businesses and individuals are seeking professionals to help them execute successful online conferences, webinars, workshops, and more.
As a virtual event planner, you can assist clients with tasks such as managing event logistics, coordinating speakers and attendees, creating engaging event programs, and ensuring a seamless virtual experience for participants.
Platforms like Zoom, Eventbrite, and Hopin offer tools and features to facilitate virtual events.
29. Online Language Translator
If you have proficiency in multiple languages, you can work as an Online Language Translator.
Companies, organizations, and individuals often require translation services to bridge language barriers and communicate effectively with a global audience.
You can offer your services as a freelance translator, translating written documents, websites, or even providing real-time interpretation in virtual meetings or conferences.
Platforms like Upwork and ProZ.com can help you find translation opportunities and connect with clients seeking language translation services.
30. Virtual Personal Stylist
As a Virtual Personal Stylist, you can leverage your fashion sense and style expertise to assist clients remotely with their wardrobe choices.
Using video calls, online communication, and digital tools, you can offer personalized fashion advice, create outfits, and help clients curate their ideal looks based on their preferences, body type, and lifestyle.
Virtual personal stylists often work with clients who are seeking fashion guidance for special events, professional attire, or simply want to enhance their everyday style.
Social media platforms like Instagram can serve as a visual portfolio to showcase your fashion expertise and attract clients.
How to Find Online Jobs for Pregnant Women
Fortunately, finding an online job for you has become pretty easy in this internet-infused world.
You can bookmark and visit work from home job websites, like Rat Race Rebellion, daily to catch new and interesting jobs.
Make sure you sign up for e-mail newsletters of your favorite work from home websites, which usually update you by e-mail daily or a few times per week.
Read more:
And don't forget to look toward your favorite local businesses for online job opportunities.
Just because a business exists in a building doesn't mean it won't need some online help.
Does your favorite business lack a website or social media following?
Offer to build the business a website and help it create and grow its social media networks!
Or, offer to be an accountant for the small, local florist.
Just because you're pregnant doesn't mean you can't get out there and hustle your services so you can make a sustainable income from home!
Related Posts:
Earn Everything… nearly!
Join Ipsos iSay, one of the few Faithful and Honest survey panels and earn prizes, gift cards and donations. Stack your points and redeem them: Simple! No hidden fees and completely free!