58 Best Ways to Get 100% Free Furniture for Your Home (Online and Locally)
Updated on: by Amy Kennedy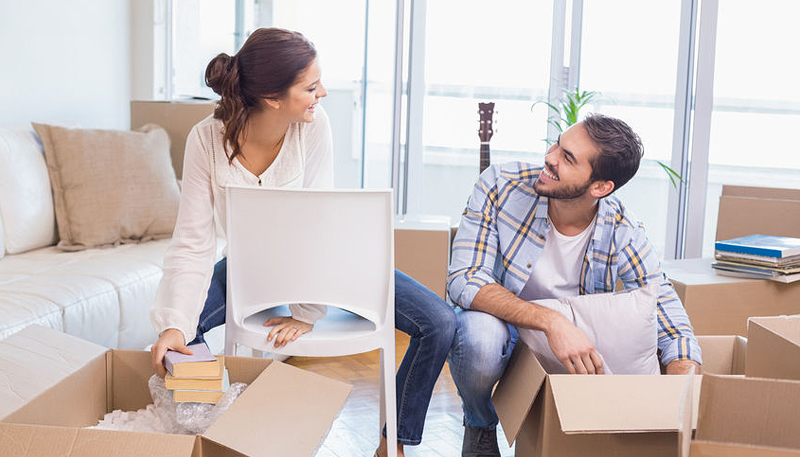 Want to know where to get free household items for your home?
Need Easy Extra $350+/Month For Free?
That's right – no money-spending here.
This article is all about finding 100% free furniture for your home, online and locally.
Furniture is expensive, especially when you need a full room set or already have moving expenses to deal with.
These tips can potentially stock your house with free furniture to save you a lot of money.
Get Free Furniture for Your Home
No tricks or gimmicks involved, guys!
Here are 54 ideas for getting your home stocked with free furniture.
Test Furniture for Your Blog
I know a lot of people have blogs nowadays, which is why I'm putting this tip first on the list.
If you do have a blog with an engaged audience, then you could potentially have some product review opportunities on it.
Reach out to some of your favorite furniture companies and see if they'd mind sending you a free piece of furniture in exchange for a thorough blog review and beautiful pictures of it in use.
Ask Parents or Family Members
No one really likes begging their parents or relatives for things.
But, when times get tough, sometimes it's the best choice.
See if your parents or relatives have any furniture they don't really need, or maybe some that they were already considering giving away.
Ask Friends…
Your friends may have just what you need, too, so there's no harm in asking.
The next time you see them, see if they might have extra of something you need.
Or, post a status on Facebook letting your friends know what you're looking for to see if you have any bites.
Need Easy Extra Cash?
Pinecone Research, a leading name in online survey panel honesty, absolutely guarantees $3 cash for every survey you complete!
Take advantage of their time limited New Membership drive and register NOW. Join today: 100% free!


…And Have Them Ask People They Know!
Asking your friends almost always ends up in a response like, "I don't have one of those, but I'll see if anyone else does!"
That's why not being too shy to ask for something you need can really help.
If you do put a Facebook status up about the furniture you need, be sure to make it shareable.
Chances are that your friends – even if they don't have what you need – will be more than happy to share your status to find someone who can help.
Borrow Furniture on a Temporary Basis
You might even have luck asking someone you know if you can borrow an extra bed, couch, or desk that they have in a guest bedroom that rarely gets used.
See if you can borrow it for a couple of months until you can save for a new one.
You could even get lucky and be able to keep it once your friend or relative realizes how little they needed it.
Newspaper Classifieds
Most newspapers have a classifieds section that's perfect for finding freebies.
In fact, most classifieds sections have a section dedicated solely to freebies from the community.
People place these ads mostly for furniture and appliances that they might not be able to move or ship easily, hoping that someone can take them off their hands quickly.
Pay Attention to Sidewalk Items
If you drive around your neighborhood, it's likely that you'll find some large items out on the curb that people are throwing away.
On any given day, I typically see bikes, large toys, and couches just sitting there to go to the trash.
Most of the time, those people won't mind if you take what they're throwing away.
In fact, sometimes you'll see a "Free" sign on the item.
If you're not sure, you can ring the doorbell and ask.
Check the Neighborhood Before Trash Trucks Come
Some people don't put their trash out until the early morning hours before the trash truck arrives.
You might want to wake up a few hours before the truck usually pulls through your neighborhood to see if anyone put furniture out in their trash.
Dumpster Dive
Of course, there's always dumpster diving!
It's not glamorous, but you might be lucky enough to find smaller furniture pieces, like lamps or end tables, in someone's trash can.
This method can get a little tricky, though, because you have to be sure that you're not violating any laws.
Some localities have strict rules against dumpster diving through people's trash.
So, before you do it, give a call to your local government office to learn the rules.
Gather Your Friends to Declutter
Round up some of your friends who are interested in doing a house clutter purge.
Have everyone put their items they don't want in their garage or outside and take turns visiting each other's homes.
You could end up with some furniture pieces you need from your friends' decluttering sprees!
Enter Contests or Giveaways
I regularly enter blog giveaways and know a lot of other people who do too.
There are all kinds of prizes you can win, from kids toys to clothing to – you guessed it – furniture!
Furniture is actually rare for a prize because it takes a lot of money to ship furniture somewhere.
Still, I've seen mattresses and beds and recliners as prizes before.
Earn Everything… nearly!
Join Opinion Outpost, one of the few faithful and honest survey panels and earn cash and gift cards for your opinion. Stack your points and redeem them: Simple! No hidden fees and completely free!


You might even have a chance to win a gift card for Overstock.com, Lowe's, and even PayPal, all of which can help you buy some furniture for free.
Earn Gift Cards Online
Are you a member of any reward sites?
Reward, or Get Paid To (GPT), sites are excellent for earning gift cards that you can use to purchase furniture.
I love InboxDollars because it's easy to earn points to redeem for gift cards and there are tons of card options.
You can also check out this list of GPT sites that pay with PayPal cash so that you can use your money anywhere!
eBay
Some eBay sellers use eBay like an online yard sale to get rid of some larger items for free for local people willing to pick them up.
You might get lucky and find one of these listings near you by searching for the type of item you need.
On the left side, you can narrow the listings to local ones by searching for items within a certain distance from your zip code.
Read Also: 8 Alternatives to Online Auction Sites Like eBay (PLUS How to Use Them!)
Scour the Web for Freebies
Check out these online coupon sites that can help you save money at your favorite online retailers.
You might even find some deep discounts that, when combined with your store or credit card discounts, gets you some furniture for free!
Don't Forget Specialized Freebies
Sometimes, you can find more specialized freebies online beyond searching generic coupon sites.
Search for freebies that relate to your personal situation.
For example, "Freebies for parents," "freebies for college students," and "freebies for single parents" may all lead to different results that are more applicable for your situation.
Buy Nothing Groups
There are actually groups known as Buy Nothing Groups.
There are local groups all over the place, so you might have one near where you live.
You can search the Buy Nothing website and find one near you.
They typically have a Facebook group that you'll need to join which lets you find things for free from other members, or sometimes with a swap involved.
Store Cash Coupons
If you have store credit or reward cards for some stores that offer cash back for purchases, then take advantage of them!
For example, I have a Kohl's credit card that not only gives me special discounts, but also lets me rack up some reward dollars to further discount my purchases.
Plus, Kohl's sometimes has Kohl's Cash offers where you can get something like $20 for every $40 spent.
Other stores, like Target and Office Depot, have their own rewards programs that let you rack up points or gift cards when you make purchases.
Save up your rewards and use them for your furniture!
BOGO Coupons
BOGO coupons don't come often with furniture purchases, but they are occasionally out there.
Be sure to sign up for emails from your favorite online furniture stores so that you can be alerted when any new coupons and deals are available.
Craigslist
Craigslist is an awesome online classifieds site that lets you find just about anything you want to buy locally.
But, every area on Craigslist also has a Free section where you can find local freebies.
Larger cities typically have more free listings than small towns, but you can search however far away you're comfortable traveling to find some free furniture.
Read Also: 24 Websites Like Craigslist: (Most Let You Sell for Free!)
Kijiji
Kijiji is almost like a Craigslist for Canada.
You can post and browse ads for free, so if you live in Canada, this can be a great site for finding some local furniture for free.
Geebo
Geebo is a site similar to Craigslist that also has a free section.
It's not as active as Craigslist, but it's still a good option to save as a backup.
Backpage
Backpage is another simple classifieds site to find free stuff in the United States.
Search the listings closest to you and choose the Free section there.
Check out this list of sites like Craigslist to find similar sites to browse for free furniture.
Put Out the Feelers on Social Media
Sometimes, all it takes to find what you need is sending out a couple of social media messages.
I recently sent out a tweet to my followers asking for book recommendations and immediately got a bunch of responses.
Things work fast on social media!
Post a status on Facebook, send out a tweet on Twitter, or add a photo to your Instagram that shows the furniture you're looking for.
You might find someone who can help within minutes!
Use Old Gift Cards
If you're like me, then you probably find random gift cards that haven't been used laying around the house.
You might be able to pool them together and sell them as a bundle to someone and use the cash for furniture.
Or, use the remaining balances to purchase some small furniture pieces, like lamps or pillows.
Read Also: 21 Best Apps That Give You Free Gift Cards
Do Some KonMari
KonMari is a method to cleaning that involves getting rid of anything that doesn't make you feel happy.
You can opt to do this with a group of friends – kind of like the decluttering spree that I mentioned earlier.
Before any of you throws anything away, let each other check out all the items to see if something might be happier with someone else!
Refurbish Old Furniture
If you're just tired of your old furniture, then maybe a quick facelift is all your pieces need for you to fall in love with them again.
Get a bold slipcover for the couch.
Stain your coffee table.
Paint your kids' bedroom set.
You won't have to buy any new furniture, and the cost of refurbishing materials can be minimal.
Upcycle Furniture into Something New
Or, make your furniture into something completely new!
Take an old crib you no longer need and create a bookshelf using the crib rails.
You can even morph a bed into a sofa.
Pinterest has tons of options. Just search "upcycle furniture" and you'll have plenty of ideas to work with.
Talk to the Current Tenant
Are you moving into a new home or apartment?
If the landlord is willing to give you the name of the current tenant, then you can call and ask if they mind if you keep some of the furniture.
There's a possibility they won't mind leaving some behind just to ease the burden of moving.
Ask for a Furnished Place
You could also offer to your landlord to pay a little extra every month for fully furnished place.
If buying all new furniture to furnish your home is way out of the question, then perhaps an extra $50 per month is more doable.
Check Your Apartment's Bulletin Board
Many apartment buildings have a common area where they put a bulletin board, so tenants can communicate with each other and get community news.
Sometimes, tenants will post notes when they have free stuff they want to get rid of.
Check every day to see if there's anything new.
Online Forums
Are you a member of any online forums?
If so, and there are any relevant boards, you might consider dropping a note to see if anyone has furniture they're giving away or resources to find some free stuff.
Get Donations Through Furniture Banks
If your household is low-income, then you may be able to find some help through a furniture bank.
The Furniture Bank Association of North America is a nonprofit organization that helps individuals and families find free or low-cost furniture.
You can search for a location near you that might be able to help.
The organization operates in the United States and Canada.
FreeCycle
FreeCycle can help you locate just about anything for free just by searching the site.
You can search your city and state to find a FreeCycle group near you that might have some free furniture available.
See People Moving? Ask Them!
If you spot anyone in your neighborhood moving, then ask them if there's any furniture you can take off their hands.
They might be more than willing to have less big stuff to move.
Find Some Newlyweds
Newlyweds have a lot going on and combining households can be stressful.
But, that also means that they'll likely have two of everything when they only need one.
If you know any newlyweds, then they can be the perfect people to ask if they have any furniture they wouldn't mind giving you.
Churches
Many churches are quick to help people in the community who are in need.
If you're having financial problems, local churches might be able to raise money for your furniture or provide donations from church members.
Salvation Army
The Salvation Army has locations all over the United States.
The nonprofit offers vouchers to individuals and families in need for things like housing, clothing, and furniture.
If you find yourself in a situation where you can't afford furniture you need, this can be a great option.
Goodwill
Goodwill stores typically sell things that people donate.
However, my local Goodwill sometimes places things like furniture and clothing outside for free to people who need them.
They aren't always in excellent shape, but free is free.
Head to College Campuses
At the end of college semesters when students head home for break, there's usually a lot that gets left behind in dorms.
Drive by your local campuses and see if any furniture is out by the dumpster after students clear out for winter, spring, or summer break.
Facebook Groups
I'm a member of several local Facebook groups.
They're technically buying and selling groups, but so many people offer things for free just to get rid of them.
I've seen free couches, beds, bedroom sets, bookshelves, recliners, and more – some of them even in excellent shape!
Join as many of these active groups that you can find.
If it's not against the rules, post a "Looking For" post to see if anyone has the furniture you need for free.
Just be sure you have a way to pick it up!
Visit Yard Sales in Late Afternoon or Evening
Most people head to yard sales early in the mornings to try to get all the good deals.
People who host yard sales know that, so they may not be as open to bartering with you in the morning.
Instead, go later in the day when the yard sale is about to end.
If there's any leftover furniture, see if you can barter with the host to get it for free if you pick it up, or swap it for something you have.
Swap Furniture
Speaking of swapping…that's always an option if you want something for free.
Maybe you have something that a friend or relative might want or need more than their extra couch.
Swap Other Household Items
Or, you might be able to swap other household items, like a lamp for an end table.
Browse the Facebook groups you joined to see what other people need.
You might have something similar that you can offer as a trade for a piece of furniture.
Visit a Free Store
Some locations around the United States have free stores available to the community.
You can take whatever you need from them.
The Baltimore Free Store in Baltimore, Maryland, for example, is a nonprofit designed to help those with low incomes get things they need.
Ask for Gift Cards for Your Birthday
In lieu of birthday or Christmas presents, maybe you can tell everyone that usually gets you a gift to make it a gift card for a particular furniture store.
You can likely rack up enough of them to make a big furniture purchase.
Spring Community Cleanups
Some communities have community-wide cleanups for spring.
If yours does, then take a look around the neighborhood when it occurs to see if any furniture is getting tossed out with the trash.
Create a Wishlist
Head to Amazon, Target, or another favorite online retailer that sells furniture to create a wishlist.
That way, anytime it's a special occasion where gift-giving is involved, you can point people in the direction of y
Set Up a Housewarming Registry
If you're moving to a new place, then you should consider setting up a housewarming registry.
Target and Bed Bath and Beyond offer housewarming registries for customers.
Now, everyone you know will know what furniture you need!
Set Up a GoFundMe
If worse comes to worse and you really can't afford furniture, then setting up a GoFundMe account might help.
This site lets others donate money to you.
Set your goal at the amount you need to cover the furniture you need to buy.
Reddit
You can use Reddit to browse subreddits of your town or city.
You might find people giving away some furniture for free.
Visit Your Local Welfare Office
A lot of states and counties offer assistance for low-income individuals and families.
If you fall into that category, then you can visit your local office to see what's available for assistance.
I know a family who was able to get some money to buy a bed and couch for their home due to their income.
Live in Income-Based Housing? Ask the Manager
If you live in income-based housing, then you could also qualify for some free furniture.
There's an assisted living community in my town, for example, that helps its residents purchase beds, couches, and even television sets if they can't afford them.
Explain Your Need to Local Schools
I've known a lot of school districts that will band together to help out community members in need.
You might be able to have a fundraiser set up in your name through your local school district to get some help with furniture, provided that you've had some type of hardship that prevents you from affording it.
Habitat for Humanity ReStore
Habitat for Humanity ReStore is a nonprofit home improvement store and donation center operated by Habitat for Humanity. 
They accept donations of new and used furniture, appliances, building materials, and more from individuals and businesses. 
The donated items are then sold to the public at a discounted price, with the proceeds supporting Habitat for Humanity's mission of building homes for those in need.
ReStores are an excellent resource for finding affordable furniture for your home. 
They often have a wide range of furniture options, including sofas, chairs, tables, and bedroom sets. 
The prices are typically much lower than retail, making it a cost-effective way to furnish your home while supporting a charitable cause.
College Dormitories
College dormitories can be a great source of free furniture, especially towards the end of the academic year when students are moving out. 
Many students are unable to take all their furniture home and choose to give it away instead.
To find free furniture from college dormitories, you can check with the housing office or student services department of local colleges and universities. 
They may have information on furniture donation programs or be able to connect you with students looking to give away their furniture.
Local Moving Sales
During local moving sales or estate sales, people often sell or give away furniture that they no longer need or want. 
These sales usually occur when individuals are relocating to a new home or downsizing their possessions.
To find local moving sales, you can look for advertisements in local newspapers, community bulletin boards, or online classified platforms. 
Attending these sales can be a great way to discover free or low-cost furniture options for your home.
When attending local moving sales, it's important to arrive early for the best selection and be prepared to transport the furniture yourself. 
Additionally, be respectful of the sellers' terms and conditions and negotiate prices if applicable.
University Surplus Sales
University surplus sales are an excellent resource for finding free or inexpensive furniture. 
Many universities and colleges regularly hold surplus sales to get rid of furniture, equipment, and other items that are no longer needed. 
These sales are typically open to the public and offer a great opportunity to find high-quality furniture at affordable prices or even for free.
During these sales, universities sell or give away items that have been replaced, are outdated, or are surplus to their needs. 
This can include office furniture, desks, chairs, bookshelves, filing cabinets, tables, and more. 
Sometimes, you might also find electronics, laboratory equipment, or even gym equipment.
Use Mobile Apps
Some mobile apps on your phone may even be the key to finding free furniture!
Nextdoor is an app that lets you keep up with any news around your neighborhood.
But, it's also a great way to find out what your neighbors are selling – or giving away for free!
You can also use OfferUp, which is a handy marketplace to find things locally.
Some people list things for free provided that you can pick them up.
Read Also: Huge List of 93 Android and iPhone Apps That Really Pay You Money!
Conclusion: Get a Free Couch, Chairs, and More for FREE!
See how many possibilities there are when it comes to getting furniture for free?
Whether you just want to save some money on furniture or have a financial hardship that makes it impossible to purchase some, there are a lot of options for you.
Have you scored free furniture with any of the above methods?
Can you think of any other ways to get free furniture?
Leave us a comment and let us know!
Related Posts:
Earn Everything… nearly!
Join Ipsos iSay, one of the few Faithful and Honest survey panels and earn prizes, gift cards and donations. Stack your points and redeem them: Simple! No hidden fees and completely free!