35 Free Legit Ways to Get Paid Instantly to Click Ads
Updated on: by Amy Kennedy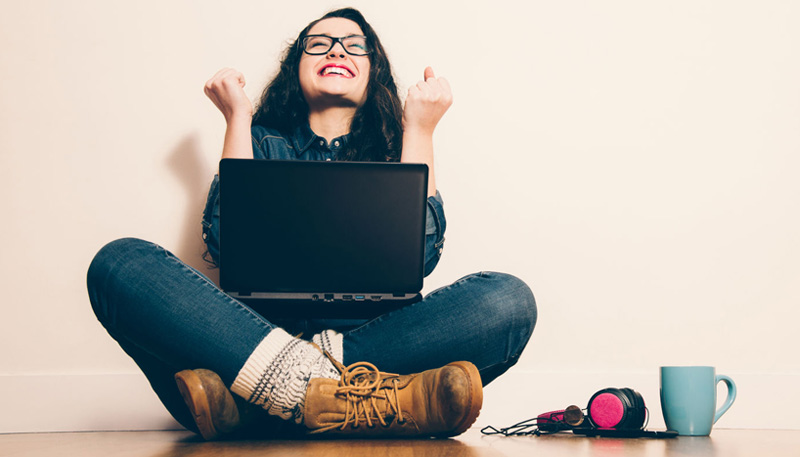 Getting paid to click on advertisements is a legit form of making money online, although it likely won't make you rich.
But, you can make some extra money in your spare time!
If you're not sure if this money-making method is right for you, I encourage you to read this article.
I'll tell you all about how the process works, how you can earn more in addition to clicking ads, and how to avoid scams (unfortunately, there are a lot in this industry!).
How to Earn Money from Clicks
When you visit just about any website nowadays, you'll likely see advertisements in the form of images or text.
Website owners use ads as a way to monetize their sites.
Monetization is just a fancy word for the process of making money.
Sometimes, the ads are placed by private ad networks. Other times, web owners will use Google Adsense to earn some cash through impressions and clicks.
An impression is counted each time someone visits the website and sees that advertisement.
A click, however, is when someone actually engages with the advertisement by clicking through to the landing page.
Clicks make people more money that impressions, so it's no wonder, then, that people will pay for clicks.
Sometimes, advertisers also pay to have people click on their ads simply to get more traffic and potential customers to their sites.
Where you come in is through Paid to Click (PTC) sites.
These sites act as the middle man between website owners or advertisers and ad clickers.
The PTC site will give you ads to click on and you'll get paid a specific rate per click!
The process benefits you, the website owner, and the advertiser, so it's a win-win for everyone.
How Much Can I Make?
Unfortunately, this form of making money won't make you a lot.
It can give you enough to be worth your time, but don't quit your day job, because it won't give you a full-time income.
Most clicks will pay you only $0.01 per less, so you'd need 100 of them just to earn $1.
And, many sites won't let you go above a certain number of clicks per day. If you're capped at 50 clicks that pay one cent, you'll only earn 50 cents per day.
If you sign up with more than one site, you'll have more opportunities to earn.
Think of PTC earning as something you can do in your spare time, maybe for an hour or so on your days off.
If you consume yourself with it, you'll likely be wasting your time earning more money in more valuable ways.
Other Ways to Earn with PTC Sites
Here is the trick to earning more with PTC sites.
Some sites will allow you to refer your friends.
You may get bonus simply for referring someone, and you may even earn a percentage of your friends' earnings!
If you have a lot of Facebook friends or blog followers, post every once in a while about your experiences with your favorite PTC sites.
Link your referral URL and show proof that you've earned money. This will entice some people to join who were hesitant.
If you think you can convince several people to sign up to your favorite sites, you'll have a good chance of earning more money.
Some PTC sites even base their bonuses on a ladder structure, where you'll earn a percentage of each person beneath you – even your own friends' referrals!
Avoiding Scams
If you're looking into how to earn money from website clicking, you've likely come across scams or sites that look like scams.
Whenever you're making money on the internet, it's normal to be skeptical. Unfortunately, a lot of internet scams do exist.
The PTC industry seems to be hit hard with them.
Scammers know that some people are looking to make quick, easy money, and target them with the promise of making a fortune by clicking ads.
If you see any websites that promise a high payout for each click, or that you can earn hundreds or thousands in one month, it's likely a scam.
If it sounds too good to be true, it probably is!
In particular, avoid sites that offer a high hourly rate for clicking on ads or a per-click payout of $0.50 or more.
You should also spend some time browsing any PTC sites. Read their Terms of Service and FAQ pages to learn more about the company and how it may use your information.
And, avoid any PTC site that requires you to pay for a membership.
You shouldn't have to spend money to make money with a PTC site.
As a side note, some PTC sites have premium memberships that you can purchase.
But, those on the list offer these as an option to make more money and are never a requirement for joining or making money.
Best PTC Sites That Really Pay
These sites have been reviewed several times online and many say they're legit.
Do your own due diligence, of course!
InboxDollars is another GPT site that pays you to click ads, although not in the traditional way that many others on this list do.
Instead, with InboxDollars, you can earn cash through clicking on paid emails, which have advertisements from InboxDollars partners.
All you need to do is click on the graphic in the email that says you've read it and you'll earn a few cents for your click!
You can also earn money from surveys, games, watching videos, completing offers, and more. Cash out for a check once you earn $30!
Join InboxDollars here or read the review.
Swagbucks is an excellent GPT site offering various ways to earn cash, including through clicking advertisements.
The way you'll do that on this site is through reading paid emails that come in your Swagbucks inbox.
Some emails will have offers that will require an action or purchase on a partner's site, but others will simply pay you SBs just to read the email and click the advertisement to be taken to the advertiser's site.
Most pay between 15 and 30 SBs simply for reading them, so you don't want to miss this easy opportunity to earn from clicking ads!
Swagbucks has a wide variety of gift cards to redeem your SBs for, and PayPal cash is also an option.
Join SwagBucks here or read the review.
Fusion Cash is a GPT site that pays you in more ways than just clicking ads, but this is one of the ways you can earn money here.
You earn $5 just for signing up and filling out your first survey, so you'll already start with some money in your account!
In addition to clicking ads, you can earn cash for referrals, downloading mobile apps, playing games, and more.
Join Fusion Cash here or read the review.
ClixSense is one of the most trusted PTC sites.
This one's been around since 2007 and has paid members over $28 million.
ClixSense is more like a money-making community than other PTC sites. The site has a forum where you can bounce ideas off other members and get some tips for the best ways to earn.
And, it's similar to a Get Paid To (GPT) site, too!
Here, you can take surveys, complete offers, play games, and more, in addition to clicking on paid advertisements for cash.
You'll earn up to $0.02 per clicked ad, which is above the rates of many other similar sites.
And, if you refer your friends, you can make 20% of everything they earn on the site.
When you reach $10 in your account, you can cash out with a check, Skrill, Payoneer, Tango Card, or Payza, but some methods have associated fees.
Aticlix pays up to $0.04 per website click, and the same amount for each of your referral's clicks!
The site guarantees that new ads will be available every day, so your opportunities shouldn't run dry.
You can also make money from the offer wall, playing games, entering contests, and completing daily bonus tasks.
Aticlix pays via Payoneer, Perfect Money, Bitcoin, and various other payment methods.
Ayuwage has been around since 2009, making it one of the longest-running PTC sites online.
The website also has a Payment Proof Forum, where members can prove that they've received payments.
This site is good for people who don't want click caps, since there's no limit on how many times you can click ads each day.
You'll earn up to $0.015 per ad clicked.
You only need $1 in your account to cash out, which you can send directly to your PayPal account and see it within a few business days.
If you're more interested in earning Bitcoin than cash, you can use BTC Clicks to do it.
The site works similarly to other PTC websites, but pays solely in Bitcoin instead of PayPal and other payment methods.
You'll earn up to 0.0006 Bitcoin per click and you can get up to 80% of everything your referrals earn.
You can opt for a premium membership to earn more per click, but there's no obligation to join; you can sign up and use the site for free.
This site looks similar to a few other ones on our list and is likely a sibling of some of them.
BUX Inc will list its available paid-to-click opportunities on its homepage, which members can use to get paid.
There are only a few listed at a time.
The site requires you to only click on one link, and have only one site open, at a time.
Opening any more than one may make you forfeit your earnings for those sites, so it's important to follow this rule.
Once the advertisement is done playing, you'll need to click a button to prove that you've watched it in its entirety.
Once you cash out, you'll need to wait up to 60 business days to get your payment via PayPal or Payza.
BuxP is one of the most talked about PTC sites on the internet.
Members say it pays on time and is very easy to use. So, this looks like a great PTC site to start with if you're still a little skeptical.
You earn up to $0.006 per click, which is less than other PTC sites.
But, the referral program here is great. You can earn up to 100% of your friends' earnings, so your account may add up quickly.
You'll also earn a commission from any sales made with your referral link.
You can also choose to purchase a premium membership (but it's not required!) to earn more per click, up to $0.011.
You need $6.99 in your account to cash out, which will be paid to a NET30 card for your first payment. After that, you can get your earnings instantly transferred to PayPal.
Coinbulb is another site that pays only in Bitcoin, so it's a good one to try if you're into this payment method.
Make up to 0.00100 mBTC per click, plus up to 17.5% of your referrals' bonuses.
Once you have 0.1 mBTC in your account, you can cash out for an instant payment to your Bitcoin account.
The site also offers daily bonuses when you sign in each consecutive day, which will reset when you miss a day, so it pays to be active here!
This site has had many members prove that they pay, but it'll take you much longer to earn here than other sites.
Instead of paying per click, this site pays per 1,000 clicks. Your pay will be $0.30 for this number of clicks.
It may not be ideal, but it's still a site to consider if you want another option.
On the plus side, you'll earn up to 30% of everything your referrals make, which can help boost your earnings.
You'll need a minimum of $3 to cash out with Payza.
Does your family want to get in on the paid-to-click action too?
Then this is the site for you.
FamilyClix is much like the other sites on this list, only it focuses on having you, your spouse/partner, and your kids join in on the fun.
The site offers up to $0.02 per advertisement click and the same amount when your referrals click ads.
Plus, you can make up to $10 per referral upgrade, and earn up to ten times more than ads when you use the offer wall.
You can click ads once every 24 hours, and they'll reset every midnight for you to start again the next day.
You are allowed to withdraw up to $2 every week, but there are some upgrades available to help you cash out more money more frequently.
Get-Paid is a GPT site I first learned about a few months back, and it's one that I've heard a lot of good things about since.
In addition to the usual paid surveys, videos, games, and other online tasks, this site has some different stuff you usually don't see, like text transcription and, of course, clicking ads for cash.
Get-Paid offers payments in the form of Amazon gift cards, Bitcoin, PayPal, and WebMoney.
Make more by referring friends and moving up the levels, which offer you more money for each task you complete.
GPTPlanet has over 420,000 members, so it must be doing something right!
This PTC site only requires a minimum of $1 in your account to cash out with PayPal or Payza, and you'll get your earnings instantly.
You'll earn up to $0.01 per click and up to 100% of your referrals' earnings!
You can check the site's Proof of Payments section to see the recent payments that have been made.
Innocurrent is a site that pays you to visit websites of advertisers.
You aren't obligated to purchase anything or sign up for any services.
Just click the links, visit the sites, and get paid!
In some cases, you'll need to watch a video advertisement and wait until it's over to click a button to ensure your payment.
Unlike some other sites, this one is 100% free to use and you can cash out with as little as $5.
Innocurrent pays with several payment methods, like PayPal, Amazon, Payza, and Walmart gift cards.
Using your computer, tablet, or smartphone, you can make money with Makeculous, a GPT site with several paying tasks available.
Here, you'll find paid offers, data entry tasks, surveys, a referral program, and paid-to-click advertisements.
Makeculous also has various contests available for members to win a chance at earning more.
There are multiple payment options, like PayPal, Bitcoin, and Payza, which makes it possible for international members to get paid.
Neobux is another PTC site that gets a lot of praise from its members.
This site is interesting because it provides a calculator for you to see about how much you can earn each day or month, depending on your number of clicks, referrals, and level of membership.
As a Standard (free) member, you can earn up to $0.015 per click and commissions for each of your referrals' clicks and earnings.
You'll only need $2 to cash out for your first time, and the cash out amount increases by $1 each time, capping at $10.
Receive your money instantly with PayPal!
OfferNation is a Get Paid To site that focuses mostly on paid surveys, but also has other money-making opportunities for members.
The site features free and paid offers, a referral program, and some paid clicking opportunities for advertisers and their ads.
You get $0.25 just to sign up, and then you can start taking surveys or completing other paid tasks.
The site partners with several other survey companies, so there are almost always available surveys.
Get your payment from PayPal, Skrill, Bitcoin, or Amazon Payments once you've reached the payment threshold.
Ojooo is a mobile app for Android and iOS devices that works similarly to websites offering cash for watching and clicking on ads.
Instead of doing it on the web, you can do it on the go with your smartphone!
When you click on an ad and watch it, you'll earn up to $0.04 per click.
There are other opportunities, too, to earn with paid offers, referrals, watching videos, and completing other tasks.
The app pays with either Ethereum or Bitcoin.
PaidToClick pays up to $0.01 per click and up to 50% of referral earnings.
And it only requires $0.01 in your account to cash out with Payza!
You can even get paid 20% to refer an advertiser who purchases an advertising package.
Every month, PaidToClick also hosts a contest where the top referring members can receive between $10 and $50.
Plus, you can earn money from other methods too, like paid emails.
Paidverts is a paid-to-click program that offers a little something different for members.
Basically, the more active you are with the platform, the more you can earn because your clicks are worth more!
Paidverts pays out bonuses in the form of points to the most active members, so you'll maximize your earnings more quickly.
There's even a mobile app in Google Play and the App Store that'll help you make easy money on the go using Paidverts.
Paidverts pays members with several payment methods, like Payza, Bitcoin, and Perfect Money.
PrizeRebel has become one of my favorite GPT sites recently because of how many paying tasks it offers that are also fun to do.
It's quick and easy to sign up and get started. Plus, it's free!
Surveys are popular here, so they're a great way to make money, but the site also provides members with opportunities to get paid for their clicks.
You can earn points for every task you complete, and turn them into gift cards to iTunes, Amazon, PayPal, Walmart, and more.
Probux is like a GPT and PTC site combined.
Here, you can earn points for paid clicks, referrals, signups for offers, and more.
5000 points equals $1 for Standard members, and you get 1 point per click, which equals $0.0002 per click.
It's much lower than other sites, but still one to keep in mind if you want to sign up for more than one.
You can earn more with referrals and signups. Signups give you different point values depending on the value of the offer.
Once you earn $2, you can withdraw using PayPal, Payza, or Perfect Money.
PTC Bank pays out up to $0.10 per click of each ad.
You'll need to stay on the website or view a video for a few seconds, and then click a button to confirm that you've done so.
You can cash out when you've reached $100 in your account, but you can get there faster with referrals.
Get your cash with PayPal, Payza, or other payment methods.
Scarlet Clicks is a site I found out about recently that seems to be one of the most popular ones in the industry right now.
Part of the reason for this is because you can cash out with only $2 in your account.
You get paid only $0.01 per click, but you can also make money with your referrals.
In fact, you get paid up to 100% of what your referrals make, so referring friends is definitely the way to go here.
The site offers payments in the form of Skrill, Bitcoin, PayPal, Perfect Money, and more.
With Seven Dollar Click, you'll need to watch advertisements on the site and click the link to get paid.
The site says you can make $7 per click, but the downside is that you'll need to earn a lot to be able to cash out.
There is a premium upgrade that allows you to cash out faster, but I always advise paying for any of these "upgrades" because they usually don't offer enough of a benefit to be worth your money.
The site does offer a referral program for members to help them reach their minimum balance needed for cashing out quicker.
There's also Two Dollar Click and Four Dollar Click, both of which look very similar to Seven Dollar Click.
I've seen these three sites talked about in Reddit threads, but have not yet seen payment proofs, so you'll want to be careful about paying anything in until you're sure you'll get paid.
Star-Clicks is a site that pays you to publish and click advertisements.
Unlike other sites, this one says that it'll pay you instantly for your clicks.
You can get paid directly to your PayPal account, or opt for Western Union, Bitcoin, or your bank account instead.
The payout is a minimum of $0.01 per click, and the ads reset daily so you can make money on them once each day.
Members can pay for memberships if they'd like, which can boost earnings, plus get paid for referrals.
Timebucks is a site that helps you get paid in your spare time.
The site offers paid surveys, videos, selfies, and more fun tasks.
You can also make money by clicking on advertisements!
The site pays once each week with PayPal, Bitcoin, and Payeer, and the minimum payment is only $10.
There's also a multi-level referral program that can help you make money from your friends' earnings, and even their friends' earnings.
YouGetProfit is an advertising company that partners with various brands to help get the word out about their products and services.
The company's been around since 2013, allowing members to sign up and get paid to view the ads its partners produce.
Of course, you'll get paid to see and click on them!
It's free to join and you can earn $0.03 per click, which is more than most similar sites offer.
Plus, you can refer friends and make $0.01 per click they make.
You only need $2 to cash out, and YouGetProfit utilizes instant pay methods to help you get your money fast.
Zebmesh is an advertising platform that rewards members for viewing and clicking on its partners advertisements.
There are new ads available daily, so you can earn a consistent stream of income.
Like most similar sites, you can earn more when you refer people to the platform.
Payments here are processed instantly when you cash out, and it appears that Zebmesh uses only PayPal.
ClickSense is a popular PTC site that has been around since 2007.
It offers various ways to earn money, including clicking on paid advertisements, taking surveys, completing offers, playing games, and more.
With ClickSense, you can earn up to $0.02 per clicked ad, which is higher than many other similar sites. Additionally, you can earn 20% of your referrals' earnings.
The site offers multiple payment options, including checks, Skrill, Payoneer, Tango Card, or Payza.
AdBTC is a PTC site that allows you to earn Bitcoin by clicking on ads. It offers a user-friendly interface and a straightforward way to earn cryptocurrency.
You can earn up to 0.00002 BTC per clicked ad, and you can also earn from your referrals' clicks.
AdBTC has a low minimum payout threshold, and you can withdraw your earnings directly to your Bitcoin wallet. It's a good option for those interested in earning Bitcoin through PTC activities.
Paidverts is a unique PTC site that offers a different approach to earning money.
The site assigns a value to each advertisement based on various factors, such as the user's activity level. The more active you are, the higher the value of the ads you receive.
Paidverts also has a referral program that allows you to earn commissions from your referrals' clicks and earnings.
You can cash out your earnings through payment methods like Payza, Bitcoin, and Perfect Money.
GPTPlanet is a well-established PTC site that has gained a positive reputation among its members.
It offers multiple ways to earn, including paid clicks, paid emails, paid sign-ups, and more. You can earn up to $0.01 per click and up to 100% of your referrals' earnings.
GPTPlanet has a low minimum payout requirement, allowing you to cash out with just $1 in your account.
The site provides fast and instant payments through PayPal or Payza.
Another Option: Get Paid When Others Click YOUR Ads!
If the above sites aren't working out for you, or you're just not interested in getting paid this way, there could be an alternative method that could work even better for you.
You can get paid to have other people click on your ads!
The way you'll do this is by creating a blog.
You can place advertisements through Google Adsense or other advertising networks and get paid when people see, and click on, those ads.
Google Adsense is the network I'd recommend using because Google makes it easy to set up your ads and display only ads that are relevant to your audience.
There's even a plugin for WordPress that can install the codes for you in the best places on your site to give you the best chance for people to click on the placed ads.
You can also sign up for affiliate marketing networks and place ads from your favorite brands on your site.
These networks also offer text links that you can use to create links within your blog content to products and services from different brands.
You'll get a commission or a flat fee, depending on the network and program, when someone signs up for a service or makes a purchase using your links.
Amazon Associates is a network that lets you get paid to promote products on Amazon's website, for example.
There's also Share-A-Sale, Commission Junction, and several other affiliate networks that can help you do this.
For affiliate marketing, you don't even necessarily need a website.
Some networks allow you to promote products and services by other methods, like email newsletters or social media posts!
Both ad placing and affiliate marketing can make you a lot more money than clicking on ads, which can be time-consuming.
Utilizing paid ads this way is a form of passive income, meaning that it takes time, in the beginning, to set up, but can lead to generating income on its own over time.
Conclusion: Free Legit Ways to Get Paid Instantly to Click Ads
PTC sites won't replace your day job, but once you get the hang of them, they can provide you with some decent side cash.
I suggest not overdoing it by signing up for all of them. Instead, pick two or three that jump out at you and start referring your friends!
The more referrals you have, the better your chances of racking up cash fast and making your time more worthwhile.
Are you a member of any of these PTC sites? Are there any we didn't mention that you use? Let us know in a comment!
Related Posts: