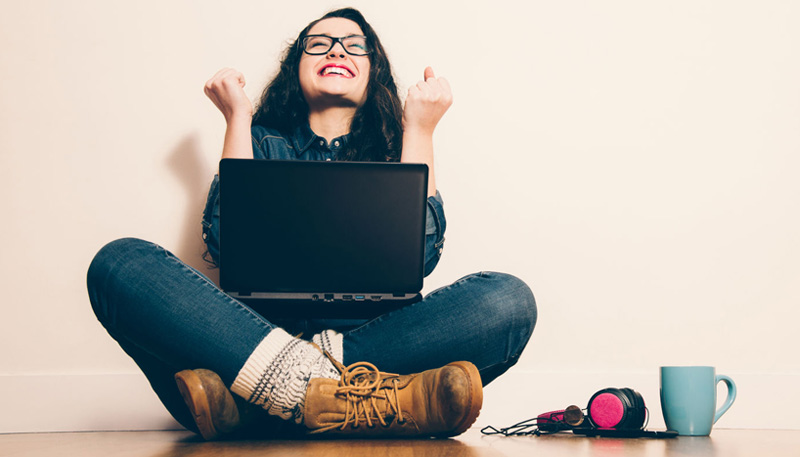 Getting paid to click on advertisements is a legit form of making money online, although it likely won't make you rich.
Need Easy Extra $250+/Month For Free?
But, you can make some extra money in your spare time!
If you're not sure if this money-making method is right for you, I encourage you to read this article.
I'll tell you all about how the process works, how you can earn more in addition to clicking ads, and how to avoid scams (unfortunately, there are a lot in this industry!).
How to Earn Money from Clicks
When you visit just about any website nowadays, you'll likely see advertisements in the form of images or text.
Website owners use ads as a way to monetize their sites.
Monetization is just a fancy word for the process of making money.
Sometimes, the ads are placed by private ad networks. Other times, web owners will use Google Adsense to earn some cash through impressions and clicks.
An impression is counted each time someone visits the website and sees that advertisement.
A click, however, is when someone actually engages with the advertisement by clicking through to the landing page.
Clicks make people more money that impressions, so it's no wonder, then, that people will pay for clicks.
Sometimes, advertisers also pay to have people click on their ads simply to get more traffic and potential customers to their sites.
Where you come in is through Paid to Click (PTC) sites.
These sites act as the middle man between website owners or advertisers and ad clickers.
The PTC site will give you ads to click on and you'll get paid a specific rate per click!
The process benefits you, the website owner, and the advertiser, so it's a win-win for everyone.
How Much Can I Make?
Unfortunately, this form of making money won't make you a lot.
It can give you enough to be worth your time, but don't quit your day job, because it won't give you a full-time income.
Most clicks will pay you only $0.01 per less, so you'd need 100 of them just to earn $1.
And, many sites won't let you go above a certain number of clicks per day. If you're capped at 50 clicks that pay one cent, you'll only earn 50 cents per day.
If you sign up with more than one site, you'll have more opportunities to earn.
Think of PTC earning as something you can do in your spare time, maybe for an hour or so on your days off.
If you consume yourself with it, you'll likely be wasting your time earning more money in more valuable ways.
Other Ways to Earn with PTC Sites
Here is the trick to earning more with PTC sites.
Want more money?

Easy Extra Cash! Join the famed Vindale Research site and earn rewards by doing nothing more than sharing your experience of using the internet. Guaranteed 100% free membership.


Some sites will allow you to refer your friends.
You may get bonus simply for referring someone, and you may even earn a percentage of your friends' earnings!
If you have a lot of Facebook friends or blog followers, post every once in a while about your experiences with your favorite PTC sites.
Link your referral URL and show proof that you've earned money. This will entice some people to join who were hesitant.
If you think you can convince several people to sign up to your favorite sites, you'll have a good chance of earning more money.
Some PTC sites even base their bonuses on a ladder structure, where you'll earn a percentage of each person beneath you – even your own friends' referrals!
Avoiding Scams
If you're looking into how to earn money from website clicking, you've likely come across scams or sites that look like scams.
Whenever you're making money on the internet, it's normal to be skeptical. Unfortunately, a lot of internet scams do exist.
The PTC industry seems to be hit hard with them.
Scammers know that some people are looking to make quick, easy money, and target them with the promise of making a fortune by clicking ads.
If you see any websites that promise a high payout for each click, or that you can earn hundreds or thousands in one month, it's likely a scam.
If it sounds too good to be true, it probably is!
In particular, avoid sites that offer a high hourly rate for clicking on ads or a per-click payout of $0.50 or more.
You should also spend some time browsing any PTC sites. Read their Terms of Service and FAQ pages to learn more about the company and how it may use your information.
And, avoid any PTC site that requires you to pay for a membership.
You shouldn't have to spend money to make money with a PTC site.
As a side note, some PTC sites have premium memberships that you can purchase.
But, those on the list offer these as an option to make more money and are never a requirement for joining or making money.
Best PTC Sites That Really Pay
These sites have been reviewed several times online and many say they're legit.
Do your own due diligence, of course!
Swagbucks is an excellent GPT site offering various ways to earn cash, including through clicking advertisements.
The way you'll do that on this site is through reading paid emails that come in your Swagbucks inbox.
Some emails will have offers that will require an action or purchase on a partner's site, but others will simply pay you SBs just to read the email and click the advertisement to be taken to the advertiser's site.
Most pay between 15 and 30 SBs simply for reading them, so you don't want to miss this easy opportunity to earn from clicking ads!
Swagbucks has a wide variety of gift cards to redeem your SBs for, and PayPal cash is also an option.
Join SwagBucks here or read the review.
InboxDollars is another GPT site that pays you to click ads, although not in the traditional way that many others on this list do.
Instead, with InboxDollars, you can earn cash through clicking on paid emails, which have advertisements from InboxDollars partners.
All you need to do is click on the graphic in the email that says you've read it and you'll earn a few cents for your click!
You can also earn money from surveys, games, watching videos, completing offers, and more. Cash out for a check once you earn $30!
Join InboxDollars here or read the review.
Fusion Cash is a GPT site that pays you in more ways than just clicking ads, but this is one of the ways you can earn money here.
You earn $5 just for signing up and filling out your first survey, so you'll already start with some money in your account!
In addition to clicking ads, you can earn cash for referrals, downloading mobile apps, playing games, and more.
Join Fusion Cash here.
ClixSense is one of the most trusted PTC sites.
This one's been around since 2007 and has paid members over $28 million.
ClixSense is more like a money-making community than other PTC sites. The site has a forum where you can bounce ideas off other members and get some tips for the best ways to earn.
And, it's similar to a Get Paid To (GPT) site, too!
Here, you can take surveys, complete offers, play games, and more, in addition to clicking on paid advertisements for cash.
You'll earn up to $0.02 per clicked ad, which is above the rates of many other similar sites.
And, if you refer your friends, you can make 20% of everything they earn on the site.
When you reach $10 in your account, you can cash out with a check, Skrill, Payoneer, Tango Card, or Payza, but some methods have associated fees.
Ayuwage has been around since 2009, making it one of the longest-running PTC sites online.
The website also has a Payment Proof Forum, where members can prove that they've received payments.
This site is good for people who don't want click caps, since there's no limit on how many times you can click ads each day.
You'll earn up to $0.015 per ad clicked.
You only need $1 in your account to cash out, which you can send directly to your PayPal account and see it within a few business days.
BuxP is one of the most talked about PTC sites on the internet.
Members say it pays on time and is very easy to use. So, this looks like a great PTC site to start with if you're still a little skeptical.
You earn up to $0.006 per click, which is less than other PTC sites.
But, the referral program here is great. You can earn up to 100% of your friends' earnings, so your account may add up quickly.
You'll also earn a commission from any sales made with your referral link.
You can also choose to purchase a premium membership (but it's not required!) to earn more per click, up to $0.011.
You need $6.99 in your account to cash out, which will be paid to a NET30 card for your first payment. After that, you can get your earnings instantly transferred to PayPal.
This site has had many members prove that they pay, but it'll take you much longer to earn here than other sites.
Instead of paying per click, this site pays per 1,000 clicks. Your pay will be $0.30 for this number of clicks.
It may not be ideal, but it's still a site to consider if you want another option.
On the plus side, you'll earn up to 30% of everything your referrals make, which can help boost your earnings.
You'll need a minimum of $3 to cash out with Payza.
GPTPlanet has over 420,000 members, so it must be doing something right!
This PTC site only requires a minimum of $1 in your account to cash out with PayPal or Payza, and you'll get your earnings instantly.
You'll earn up to $0.01 per click and up to 100% of your referrals' earnings!
You can check the site's Proof of Payments section to see the recent payments that have been made.
Neobux is another PTC site that gets a lot of praise from its members.
This site is interesting because it provides a calculator for you to see about how much you can earn each day or month, depending on your number of clicks, referrals, and level of membership.
As a Standard (free) member, you can earn up to $0.015 per click and commissions for each of your referrals' clicks and earnings.
You'll only need $2 to cash out for your first time, and the cash out amount increases by $1 each time, capping at $10.
Receive your money instantly with PayPal!
PaidToClick pays up to $0.01 per click and up to 50% of referral earnings.
And it only requires $0.01 in your account to cash out with Payza!
You can even get paid 20% to refer an advertiser who purchases an advertising package.
Every month, PaidToClick also hosts a contest where the top referring members can receive between $10 and $50.
Plus, you can earn money from other methods too, like paid emails.
Probux is like a GPT and PTC site combined.
Here, you can earn points for paid clicks, referrals, signups for offers, and more.
5000 points equals $1 for Standard members, and you get 1 point per click, which equals $0.0002 per click.
It's much lower than other sites, but still one to keep in mind if you want to sign up for more than one.
You can earn more with referrals and signups. Signups give you different point values depending on the value of the offer.
Once you earn $2, you can withdraw using PayPal, Payza, or Perfect Money.
Conclusion: Free Legit Ways to Get Paid Instantly to Click Ads
PTC sites won't replace your day job, but once you get the hang of them, they can provide you with some decent side cash.
I suggest not overdoing it by signing up for all of them. Instead, pick two or three that jump out at you and start referring your friends!
The more referrals you have, the better your chances of racking up cash fast and making your time more worthwhile.
Are you a member of any of these PTC sites? Are there any we didn't mention that you use? Let us know in a comment!
Related Posts:
Earn Everything… nearly!

Join e-Poll, one of the few faithful and honest survey panels and earn cash - paid via PayPal - gift cards for Amazon, Best Buy, iTunes, Starbucks, and Walmart, plus Retail e-vouchers.
The surveys are aimed at entertainment-related research, covering such things as personal TV watching habits, give feedback on new TV commercials or to review DVDs that are sent to your home.
For USA residents aged 13+ No hidden fees and completely free!