30 Best Ways to Make Money Delivering in Your Spare Time
Updated on: by Amy Kennedy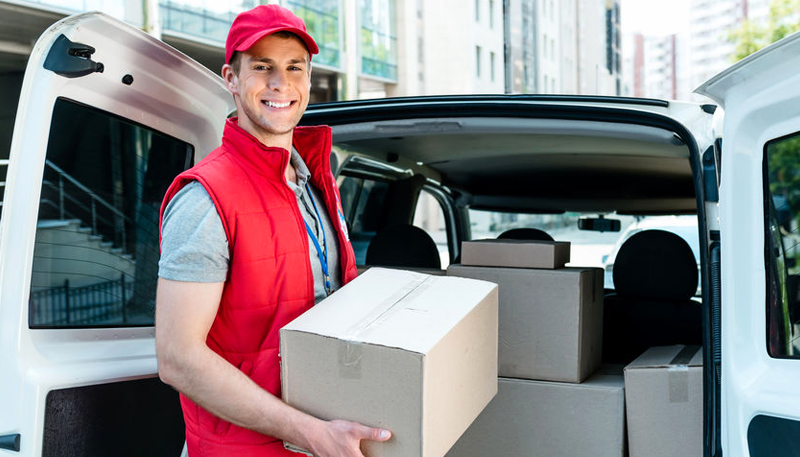 One of the hottest ways to make money right now is by becoming a delivery driver.
Need Easy Extra $350+/Month For Free?
But not just any delivery driver.
A freelance delivery driver that can work whenever they want to and make $20 or more an hour!
That's right.
You can get paid to deliver food, packages, and even furniture to people or businesses in your area by partnering with one of several companies that use independent contractors for their delivery services.
If you want to learn more about how – and where – to get started, keep reading!
How Can I Get Paid to Deliver Food and Packages?
Yes, this is a real job!
If you've been looking for flexible jobs that you can work around a schedule you choose, then you might have come across delivery as an option.
With these companies, you'll work as an independent contractor to provide delivery services for their customers.
You might be delivering things like food, packages, alcohol, furniture, and other stuff people order from a store or online.
What does it take to become one of these delivery drivers? Here are a few requirements:
You'll usually need to be at least 18 years old, or 21 if delivering alcohol
You must have a valid driver's license if a vehicle is required (some allow you to walk through!)
Drivers need to have a working smartphone because most services use an app for delivery people to find their customers
You might need to pass a background check
Some delivery or customer service experience might be required
Each service will, of course, have its own list of requirements.
You can usually find them by browsing the FAQ section of the website or viewing the requirements on an application page.
How Much Can You Make to Deliver Stuff?
How much you make as a delivery driver for the companies below will vary greatly depending on the company.
In most cases, though, you should treat these jobs as part-time gigs rather than full-time jobs.
Those who work in busy areas, like cities, will likely find more opportunities to make money than people who live in more rural areas.
Need Easy Extra Cash?
Pinecone Research, a leading name in online survey panel honesty, absolutely guarantees $3 cash for every survey you complete!
Take advantage of their time limited New Membership drive and register NOW. Join today: 100% free!


Since you can also create your own schedule with most of these companies, your availability will also make a difference.
However, most companies do promise an hourly rate of about $20 or more.
For only five hours a week, that's still an extra $100 in your pocket!
What's the Best Delivery Service to Work For?
This is a question that people will answer differently, of course.
The answer depends on several factors like:
The kind of delivery you want to do
The area in which you live
How much time you have to devote to delivering
How much the company pays you
What kind of experience you have
The above factors are going to influence how much you can earn and how successful you are with a delivery company.
So, we're going to let you form your own opinions here!
But we're also going to make it easier for you by breaking up delivery companies into categories by delivery type and explaining the differences between each company.
Make Money Delivering Food and Groceries
The following companies focus on helping customers get food fast from their favorite restaurants and grocery stores.
Burpy is a grocery delivery company whose customers order groceries online to have them delivered conveniently to their homes.
As a delivery person for Burpy, you'll get the details of customer orders on your smartphone.
Head to the store to shop for the items and then deliver them to the customer!
Drivers must have a valid license and a reliable vehicle to make trips.
You'll also need to be able to lift at least 30 pounds to make sure you can get everything your customers need.
Burpy says that drivers can make about $25 an hour.
Earn up to $25 per hour as a Caviar Courier.
This app helps customers order from their favorite restaurants for pickup or delivery.
If they choose delivery, you'll get a notification via the app instructing you where to go pick it up and deliver it.
Caviar's Cash App for drivers allows them to get paid instantly whenever they make a delivery, so you won't have to wait a few days to see your cash.
You also get to keep 100% of the tips you make!
DDI is another company that sends food to customers with the help of delivery persons like you.
You can work either the lunch or dinner shift picking up food from local restaurants and delivering it to homes or businesses.
You must have a reliable car, valid license, and be at least 18 or 21 in some areas.
Doordash is a flexible delivery service that partners with restaurants all over the country to offer home delivery for food.
When new orders come in, you'll find them available on the Doordash app.
You can choose whatever ones you'd like to fulfill, complete the job, and get paid.
The service is currently available in large metropolitan areas, like Washington, DC, Detroit, Pittsburgh, and Boston.
Favor delivery persons are called Runners, but they basically do the same thing as they would with similar services.
As a Favor Runner, you'll pick up food from restaurants and bring them to the customers that ordered them.
Earn Everything… nearly!
Join Opinion Outpost, one of the few faithful and honest survey panels and earn cash and gift cards for your opinion. Stack your points and redeem them: Simple! No hidden fees and completely free!


Keep 100% of your tips and work when you have time.
You'll need an iPhone or Android smartphone to be able to download and use the app.
GrubHub is quickly becoming one of the most popular delivery services for restaurants to partner with.
In fact, GrubHub has taken over several of its competing food delivery apps in recent years!
As a GrubHub driver, you can choose when you want to work, keep all your tips, and even borrow delivery gear from the company if you don't have your own.
Drivers need at least 2 years of experience and must be at least 18 years old to apply.
Those who wish to bike don't need a valid driver's license, but will need to have a state ID.
Instacart is a full-service grocery shopping and delivering company.
Shoppers can choose if they'd rather just shop or shop and deliver, with the latter, of course, having more earning potential.
Work when you want and get paid weekly for everything you worked the previous week.
You'll need to have a reliable vehicle for delivering with Instacart.
According to Indeed, the average driver for Instacart earns around $17.60 per hour.
Postmates is probably one of the most well-known food delivery services out there.
The company lets you deliver just about anything from local food places, grocery stores, and more.
It currently services cities like Los Angeles, Miami, Denver, and Charlotte.
As part of the Postmates Fleet, you'll take home 100% of what you make, can sign on to work when you want, and have access to weekly or instant cashouts.
Shipt customers subscribe monthly to the service, which provides them with grocery shopping and convenient delivery to their homes.
The app partners with places like HEB and Meijer for same-day grocery delivery.
As a shopper, you can earn about $22 per hour and can work full-time or part-time with no set schedule.
Shipt even has an inspiring community full of other shoppers and occasionally has events that you're welcome to attend!
Tapingo is similar to other food delivery apps, except that its focus is on delivering to college campuses instead of homes.
You can become a Courier for Tapingo if you have a valid driver's license, a bike or car, a reliable smartphone, and a clean background check.
Tapingo offers drivers bonuses and "pay boosts" for excellent performances too!
Yes, Uber has even taken over the food delivery world!
Instead of delivering people, you can deliver food from restaurants to customers' homes or businesses.
You can handle every job from inside the app, including finding new customers and managing your cash flow.
UberEats drivers tend to be more successful if they live in busy cities with plenty of dining options.
Earn Cash by Delivering Packages
With these companies, you'll help companies get packages to their customers as fast as possible!
Amazon Flex promises that you can make between $18 and $25 an hour delivering Amazon packages to customers!
The service uses the Amazon Flex app, which helps drivers sign on for work and track their customers and earnings.
You'll work in blocks of time that you can choose, depending on when you have availability.
You can even deliver packages on Sundays!
Amazon Flex also works with Prime Now, Amazon Restaurants, and Amazon Fresh services to help you deliver more to customers if those services are available in your area.
Deliv partners with places like PetSmart, Walmart, and Best Buy to give their customers convenient delivery when they need stuff fast.
You can earn up to $22 an hour fetching and bringing packages to people!
Becoming a Doorman driver is similar to working with places like UPS and FedEx, except that you're your own boss!
You choose the schedule you want and drive when you're available to take customer orders.
Doorman offers a steady hourly rate for its drivers and pays weekly with direct deposit.
The company also has a rewards program with tiers that you can complete to earn even more with your side gig.
Shyp was a package delivery service that temporarily left the business, but recently returned under new management.
It's currently unclear how the delivery system will work for independent contractors, but the new Shyp has a similar business model as it did before, so it's likely going to be recruiting drivers soon.
You can contact the email address listed on the website to inquire about delivery positions.
Get Paid to Deliver Alcohol
Yes, you can even deliver alcohol straight to your customers' homes!
Drizly is a company that partners with local stores in your area that sell alcohol.
Unlike other delivery companies, you'll need to inquire about becoming a Drizly driver by visiting a store that partners with the company.
You can find a list of stores that use Drizly to deliver here.
Customers can shop on Minibar Delivery's website to order alcohol delivered right to their door.
The company promises quick orders in 30 to 60 minutes.
You can keep an eye on the Careers page to see when new driver positions open.
Pikfly is a quick service delivery company that promises to have alcohol delivered in an hour or less.
You, of course, will be the person to deliver it!
Pick up a customer's order from a local liquor store and deliver it to their residence.
You'll have guaranteed pay plus tips for your service.
Pikfly lets you use any form of transportation you want, so long as you uphold its promise of an hour or less.
Saucey Couriers can drive whatever vehicle they want to deliver alcohol to customers.
Work when you want and deliver only where you want; you can keep tabs of all your work on the Saucey app.
Miscellaneous Delivery Services
The following companies are a little different than others in the services they offer.
Burro gives people with pickup trucks the chance to earn even more money than they would from regular delivery driving.
With Burro, you'll be handling bigger tasks, like hauling and moving.
You can earn about $45 an hour just by driving your truck!
There are some requirements for your truck though, like having a bed that's at least 9 feet long with the tailgate down, and it must be clean and in good condition.
The most money a driver for Burro has made in one day of delivering is $610, which is much more than most full-time jobs pay!
How's this for an interesting business model?
Eaze lets you deliver cannabis products to customers in California, a state where the plant is legal.
You'll get a guaranteed hourly rate, plus Eaze will even reimburse your gas expenses.
Some people find it challenging to even make it to the convenience store when they need to.
That's where GoPuff drivers come in handy.
You can deliver stuff from local convenience stores to your customers!
You'll need a high school diploma or equivalent, good customer service skills, and you'll need to be at least 21 years old.
The starting pay is low, but you'll also get to keep your tips and commissions.
Earn up to $71 per hour with GoShare, a company that needs drivers with large trucks to handle their jobs, which may require moving, towing, and hauling.
Your truck size will determine your pay.
Vehicles must be at least from 2004 or newer and able to pass an inspection.
If you frequently travel, then Grabr might be the best delivery company for you.
You can use the app to find customers in the areas in which you're traveling.
Accept the jobs and deliver them all over the world.
Grabr even pays out a $100 bonus if you're able to make at least 10 deliveries in one trip.
This is a great way to help you continue to afford your awesome vacations!
Roadie is an app that lists various delivery gigs to choose from.
You can see how much a delivery is worth before you accept it, and the app even lets you see deliveries in other locations, which is great if you're going to be traveling and want to plan your route.
Roadie drivers even get the perk of getting special discounts at restaurants, repair shops, and more!
Roadie drivers must be at least 18 and have a valid driver's license.
Once you've made the team, you'll need to maintain a feedback rating of at least 4 stars to stay in the program.
TaskRabbit is a bit different than the other apps on this list.
It's not just for deliveries.
Instead, it's an app that helps you find all kinds of work near you, from small tasks to big jobs.
However, one of the more common gigs is delivering stuff from restaurants or stores.
You might also be able to find several jobs that ask for moving help.
When you sign up for the app, you'll be able to see all the jobs within a certain radius from where you are.
Pick whatever ones interest you, complete them, and get paid.
You can even choose your own rates by negotiating with your customers and not accepting offers that are too low.
Postmates is a courier service that operates in a large number of cities across the U.S.
As a Postmate, you would use your own vehicle (car, bike, scooter, or even on foot in some areas) to make deliveries from a variety of local businesses to customers.
These can range from food deliveries from restaurants to delivering goods from local stores. The platform is app-based, which allows you to sign in to work when it's convenient for you.
Payment is per delivery and is deposited weekly, but there's also an instant cash out feature if you need your earnings sooner.
Deliveroo is a UK-based company that operates in several countries around the world.
As a Deliveroo rider, you would deliver food orders from a variety of local restaurants to customers.
Deliveroo gives riders the flexibility to choose when and where they work, using the app to sign up for delivery slots that suit them.
The company also provides insurance for all riders while they're on the road making deliveries.
Lugg is a service that focuses on helping customers move large items, such as furniture or appliances, whether it's for a short move (like picking up a purchase from a store) or for a full home move.
As a Lugg mover, you would use your own vehicle (typically a truck or van), and you would need to be capable of physically moving large items.
Pay rates are per job and are deposited weekly. This could be a good fit for someone looking for a more physically active job.
Rappi is a delivery service with a strong presence in Latin America.
Rappi delivers everything from restaurant orders and groceries to cash withdrawals and retail goods.
As a Rappi courier, known as a Rappitendero, you can choose when and where you work, using the app to pick up available deliveries.
Pay rates are per delivery and tips are kept by the courier.
Read More:
All About Car Wrap Advertising: Earn Up To $1,000 Per Month To Drive!
How Much Can You Make Driving for Uber? Find Out from Real Drivers!
Best Way to Become a Dump Truck Driver and Be Your Own Boss
The Best Delivery App Jobs to Make Money in Your Spare Time
We've listed some of the very best delivery jobs you can sign up for to make extra money in addition to your regular job.
Work them in the evenings or on the weekends and you could find yourself consistently earning the extra money you need for paying debt, saving, or vacationing.
Since you're not an employee of any company, you're not tied down to working with one company, either.
You can always sign up for more than one to boost your earning potential.
Just remember that spreading yourself too thin may hinder your earnings!
Good luck!
Have you worked with any of the companies we mentioned?
We love hearing real stories and experiences, so let us know how it worked out for you in a comment below.
Related Posts:
Earn Everything… nearly!
Join Ipsos iSay, one of the few Faithful and Honest survey panels and earn prizes, gift cards and donations. Stack your points and redeem them: Simple! No hidden fees and completely free!