Money-Making Tips: How to Make 1000 Dollars a Day
Updated on: by Amy Kennedy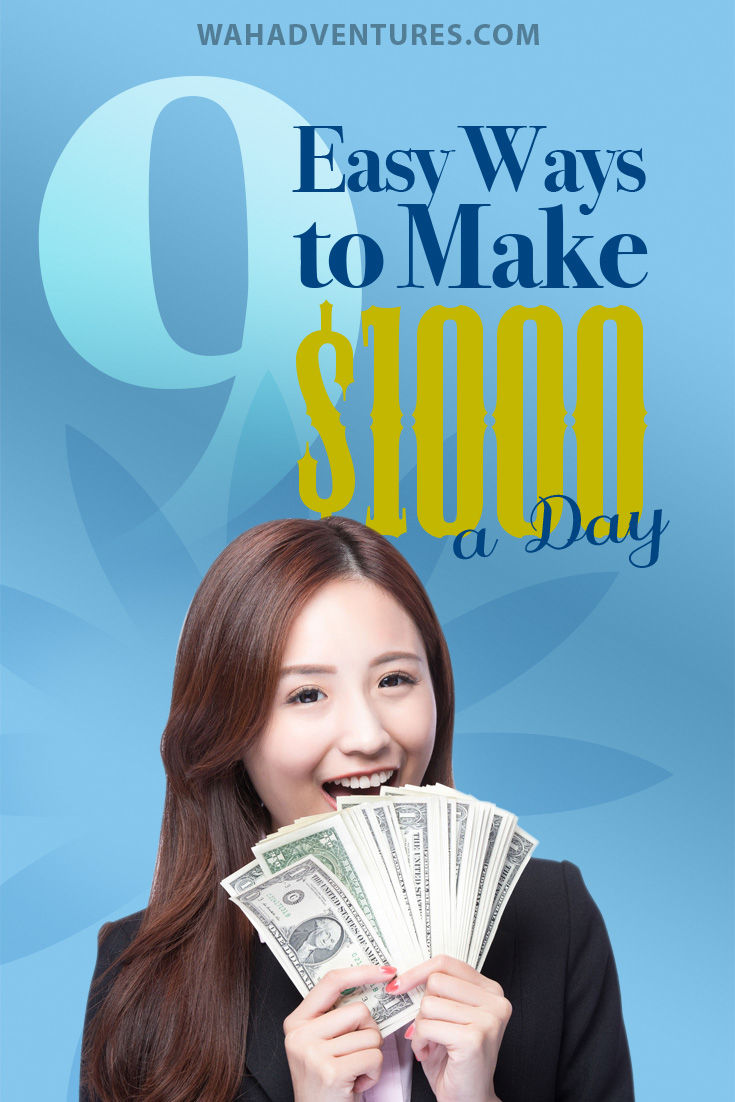 Make 1k a day online or offline?
Need Easy Extra $350+/Month For Free?
Sign me up!
Okay, let's back up a bit.
It's not that easy and I don't want to make it seem like it is.
But, it's also not out of the question because people have certainly found ways to do it.
Just remember that these methods will take some time to start earning $1000 a day, so you shouldn't expect it to happen overnight.
If there's one thing I've learned from my freelancing business it's that slow and steady wins the race.
Once you start earning money, it's easier to keep pushing forward and learning new ways to make more money.
So, don't expect to make $1000 today, but instead focus on making that your goal within the next few months.
If you're persistent enough in doing what you do, it can happen.
Here are a few of the best ways to earn $1k a day!
How to Make 1000 Dollars a Day Offline
Get a High-Paying Job
I'm listing this first because it's the most obvious.
But, it's not always easy figuring out what jobs pay the highest, especially if you're starting at entry-level.
And, if you're looking to enter a high-paying field fast to start earning a lot of money each day, you'll want high-paying entry-level careers.
So, don't worry if you didn't go to college or spend years moving up the chain to get a high-level position.
There may be more money-making entry-level jobs than you realize.
Need Easy Extra Cash?
Pinecone Research, a leading name in online survey panel honesty, absolutely guarantees $3 cash for every survey you complete!
Take advantage of their time limited New Membership drive and register NOW. Join today: 100% free!


For example, did you know that an air traffic controller earns close to $97,000 each year?
There are medical and background checks and FAA certification, but no college degree is necessary.
Or become an installation and maintenance technician supervisor for $85,000 a year.
It's still not $1,000 a day, but they're both excellent salaries – especially for not having a college degree.
You can even add some lucrative side hustles into your spare time to earn more.
Learn to Flip Stuff
You've seen the house-flipping shows on TV, right?
Couple buys a worn-out home for a lower price than similar ones on the market, spends tireless months rebuilding and revamping it to make it move-in ready, and earns thousands to hundreds of thousands when they sell it.
The process has come to be known as "flipping" a house, because you're essentially turning it into something new for a profit.
But the process of flipping applies to more than just homes.
You can technically do the same to vehicles, appliances, furniture, electronics, and more.
It's all about refurbishing things to earn a profit.
And if you get into this field, you can earn a lot of money.
Of course, flipping homes can give you the most profit – but it also takes the most time.
In 2016, 5.7% of homes and condos sold were the result of flipping.
Most flips can earn you between 20% and 33% of your initial cost in profit, but they can take months to complete.
If you're looking to get into the industry, you can start small with a home that doesn't need too much extra to make it gorgeous.
Use your profit to put into other homes to build your business steadily.
Sell High-Price Items
The sales business can always be a risky venture, but if you're an outstanding salesperson, you could make a large profit from big ticket items that pay you on commission.
Think: vehicles, homes, boats, insurance, etc.
Real estate is among the most profitable because you can venture out in many different ways, from specializing in selling huge apartment complexes to commercial properties to earn more.
But, the people who tend to do great in these types of businesses are natural, outgoing salespersons.
You have to be able to convince people that they want to go through with a sale, and that's not always easy.
And, you need to do it without being pushy.
Most realtors charge about 6% commission of the sales price of the home and then split that cost with the listing broker, listing agent, and buyer's broker.
So, on a $350,000 home, the commission is $21,000, with each person walking away with $5,250 commission.
Not bad for a day of selling homes, right?
Start a Lawn Care Business
Lawn care is a lucrative business?
Apparently so!
The good thing about this business is that it's diverse.
Earn Everything… nearly!
Join Opinion Outpost, one of the few faithful and honest survey panels and earn cash and gift cards for your opinion. Stack your points and redeem them: Simple! No hidden fees and completely free!


There are tons of ways you can grow it because there are so many services you can include.
If you spread out your services as much as possible without spreading yourself too thin, you could end up with a very diverse business that can drive in all kinds of customers.
For example, focus on the things you can do each season for both residential and commercial customers.
Leaf-blowing in the fall, landscaping and mowing in the spring and summers, blowing snow and making sidewalks and stairs ice-free in the winter. Your possibilities are virtually endless.
As you grow your business, you'll want to maximize profit by doing as much as you can by yourself.
Then you can start bringing on new team members as you grow.
Use up-selling your services to increase profits and offer discounts for combined services to your most loyal customers.
You can even start a referral program to convince your current customers to refer some new ones your way.
Manage Multiple Businesses
This isn't an easy way to go, but if you think on the side of small businesses, it can be more attainable.
After all, the best way to have consistent income is to have multiple streams of it.
If one way fails, you'll always have a backup.
Think about things you can do in your neighborhood that can be started quickly, like:
Babysitting/day care
House sitting
Pet sitting
Rideshare driving
Large load hauling
Home repair/handyman services
Buying and selling for a profit (flea markets, yard sales, consignment shops)
Car maintenance and repair
Large item installation/moving/set up (appliances, outdoor equipment like tables or trampolines, moving furniture to a new home)
These are just a few legitimate side hustle ideas that you can combine to put yourself in business.
The best part about these ideas is they can be as big as you want them to be.
Start off small and build them up as you gain more experience and customers.
How to Make a Thousand Dollars a Day Online
Start a Blog
Blogging.
You know it's something that can make you money, since thousands of bloggers blog about how to make money with their blogs!
But, does it really work?
Yes!
Not everyone makes $1,000 a day from a blog.
In fact, a very, very small fraction of bloggers will ever make that much.
But, once you start thinking outside the blog, more money can come into play.
There's a lot of money that can come from using your blog, but actually comes from different sources.
For example, you can create sponsored posts on your blog from large advertisers, use affiliate links for your favorite products to earn commissions, and sell courses through your blog.
You might notice more bloggers turning to selling things through their blogs, like courses, tutorials, and in-depth guides.
Food bloggers sell cookbooks on Amazon.
Photography bloggers sell some of their best photography and stock images.
Bloggers create courses that cost $100 or more per person that teaches newbie bloggers how to earn money.
Focus your blog on something in which you have a lot of expertise.
Use your skills and knowledge to create a digital product that others can benefit from to take your blog income to a whole new level.
Don't forget to work on building your social network through social media, too.
You can also get sponsored opportunities through your networks, in addition to gaining a larger audience.
It all circles back to your blog by making you an expert in your niche and earning you more money.
PerezHilton.com, for example, started as one blogger who loved to gossip about celebrities.
He's now a star himself and is earning a comfortable $575,000 per month.
Of course, those results aren't typical. But, earning a full-time income from your blog that exceeds your expectations is. It all depends on how much time and effort you put into it.
Become a Freelancer
Freelancing is becoming more mainstream than ever, with 1 in 3 U.S. workers having a job different than the typical 9 to 5.
The great thing about freelancing is there are so many ways to do it.
From photography to designing to programming to writing – there's a freelancing job for virtually anyone with any skill out there.
Freelance marketplaces online are making the process of becoming a freelancer a cinch for most people.
You sign up to a marketplace like Guru or Upwork, create a profile that will attract clients, and search for jobs that relate to your skills.
Some websites, like Fiverr, even let you create your own gigs.
Set your own rules and your rates and other people can "buy" your gig.
Your freelance income is basically up to you:
How much do you want to work?
How fast can you work?
Do you want to freelance on the side or turn it into a business?
Do you do everything you can to satisfy your client and get awesome testimonials for future clients?
The more you freelance, the better you become.
The more you work, the higher your income.
And, the more experience you get, the higher your potential rate, which can give you more income with less work time.
Have More Than One Stream of Income
Just like you can create multiple offline businesses to have multiple income streams, you can do the same online.
It's a smart habit to get into so you'll always have income rolling in, even if one avenue doesn't take off as well as you wanted.
Suppose you're a freelance photographer.
Do you stick with photographing for only one client?
Or do you spread your services to several clients?
You spread your services out to maximize your time and income, right?
You can also sell stock photos, create a website to showcase your portfolio and draw in clients, and find potential customers in your neighborhood through friends, family, and businesses.
The same should go for anyone who wants to earn a high income online.
The internet is great, especially, for passive income.
This is the income you receive for doing minimal work, like affiliate link commission.
Some writers earn a passive income by selling e-books through Amazon.
Sure, it takes them time to write the e-book, but they could potentially earn commission on every sale for years after they write it.
That's the beauty of passive income.
Make a list of all your skills that could help you online.
Can you create and edit videos? Set up a YouTube channel and monetize it.
Can you write helpful articles? Write articles on HubPages, which pays you per your articles' views every month.
Combine as many of your skills as you can, realistically, do create multiple avenues of online income, and you may start seeing $1k a day soon!
Get into Selling Online
Have you thought about selling on eBay or Amazon?
If not, you might want to start.
Selling online can almost be easier – and more profitable – than selling items in person.
More and more shoppers are switching to the internet to find what they need, and you may just have it.
Unique items sell well online, especially eBay.
It's usually the first place people go to find a missing piece for a collection or something they can't find anywhere else.
If you have a knack for finding things at flea markets and yard sales that can turn a profit online, you may have a future business in online sales.
Or, you can make your own stuff and sell them on Etsy or similar craft-selling websites.
Online tutoring is a rapidly growing field that allows individuals with expertise in a particular subject area to teach others who wish to learn.
If you are knowledgeable in areas like mathematics, science, or languages, you can offer your services as an online tutor.
This can be done through various platforms such as Tutor.com or Chegg Tutors.
The income you make can vary depending on your area of expertise and the time you put into it.
As your reputation grows, you can potentially earn more money per session.
Affiliate marketing is a strategy where you promote the products or services of a company, and in return, you earn a commission for each sale made through your referral link.
For example, you could create a website or blog in a particular niche, recommend relevant products to your audience, and then earn income when your audience makes a purchase using your affiliate link.
Amazon Associates is one of the most popular affiliate marketing programs, but there are many other companies with affiliate programs you can join.
Your potential earnings in affiliate marketing are largely determined by your ability to attract and engage an audience.
Trading stocks online can be a profitable venture, but it does come with significant risks.
It involves buying and selling stocks to capitalize on daily price fluctuations.
Platforms such as E*TRADE, Robinhood, or TD Ameritrade provide you with the tools to start trading.
It's crucial to educate yourself about the stock market before diving in to minimize losses.
Successful stock trading requires a significant investment of time to monitor the markets and make informed decisions, and it's important to note that it is possible to lose money in stock trading as well.
Always do your own research and consider seeking advice from a financial advisor.
Conclusion: Earn 1K a Day!
I don't want to make it seem like earning $1,000 every day is easy, because it's not.
But, it's still possible and these are some of the best ways to at least attempt it.
Remember not to give up.
It takes most people a while to start seeing the steady income they hope for.
As long as you have the motivation and drive to keep moving forward in your business, you're likely to succeed.
What are you currently doing to earn more money?
Let us know in a comment!
Related Posts:
Earn Everything… nearly!
Join Ipsos iSay, one of the few Faithful and Honest survey panels and earn prizes, gift cards and donations. Stack your points and redeem them: Simple! No hidden fees and completely free!