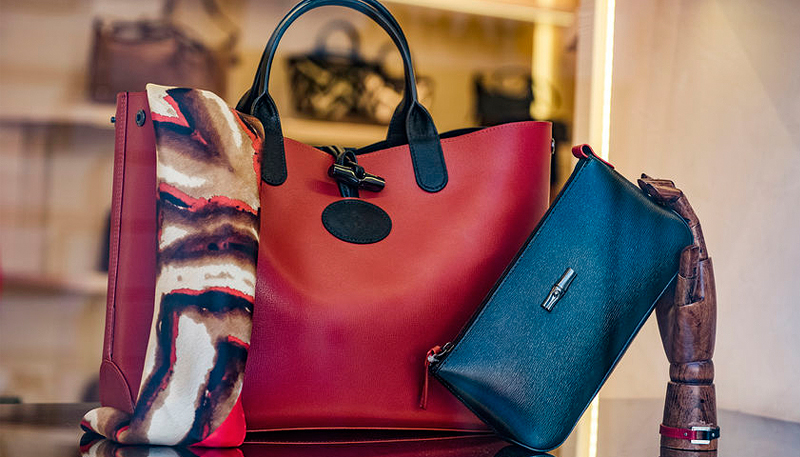 On Work at Home Adventures, we've talked about everything from selling used laptops to selling handmade jewelry.
Need Easy Extra $350+/Month For Free?
But if you're looking for the best way to sell Coach purses, then you're going to want to switch gears and read this post.
Whether you want to find people to sell to locally, or try your hand selling handbags to people all over the world, I have you covered!
This post features 24 of the best places to sell designer handbags online and offline, whether you have some brand-new pieces or ones that are gently used.
Designer handbags can rake in the big bucks, too, depending on their condition and brand.
You won't want to just leave them sitting in the closet when you no longer use them.
Since this particular industry can be full of scams and low-ball prices, then I also wanted to give you some helpful information for pricing your bags and maximizing your handbag sales.
Let's roll!
Pricing and Preparing Your Bags for Sale
When you're new to selling in this industry, it can be tough to know how to price your bags and how to become a successful seller.
The last thing you want to do is sell yourself short by selling a bag worth hundreds of dollars for less than $100 in excellent condition.
These tips and tricks should help you get it right:
How Should I Price My Bags?
Pricing your designer bags can get a little tricky.
You might have paid $1,000 for it three years ago and know that, in its condition, it's still worth about $500.
Unfortunately, that doesn't automatically mean you'll be able to sell it for $500.
Think about used cell phones, for example.
When you look for a used one that's a few years old, you're probably hoping to save a lot of money.
Need Easy Extra Cash?

Pinecone Research, a leading name in online survey panel honesty, absolutely guarantees $3 cash for every survey you complete!
Take advantage of their time limited New Membership drive and register NOW. Join today: 100% free!


After all, there are new, faster, better versions available now.
People looking for a used designer bag want a great bargain.
Chances are, they're not looking to buy yours for its full value.
That's the way used item selling and buying works, even for designer handbags.
You can, however, still get a good price from it if you find the right buyer.
But the key to that is keeping your prices competitive so that people will want to buy your bags.
The best way to do that is by checking out the completed listings on eBay for your specific bag in a similar condition.
These listings are ones that people have actually sold the bag through, so you'll be able to see the average prices that your bag is selling for.
To do it, click here to go to eBay's advanced search.
Then, click the box labeled "Completed listings."
Type some keywords for the exact bag you want to search and click the search button.
Scroll through the results, and you'll be able to determine the best price for your bag to sell anywhere – eBay included!
There's one other option if you don't think eBay's results are giving you what you need: the Resale Calculator from Vestiaire.
This calculator lets you select the brand and model of your designer handbag, along with any special features, like color, size, limited edition, etc.
Once you have all the details entered, the calculator will give you the current resale value of that bag!
The thing that's great about this tool is that you'll get a price range so that you can price your bag according to its condition and your sales goal.
How to Maximize Your Sales
Now you'll want to make sure you do everything you can to get that price from your designer handbag!
Two main things you'll want to focus on are your photos and descriptions for the bags.
Description
In your bag's description, you'll need to be detailed.
People want to know exactly what they're buying.
The more information you spell out now, the less headache you'll have later from not being truthful with your buyer.
Be honest about things like:
The condition
Where you purchased it (this can prove that it's authentic)
Whether or not you have the original packaging
If there are any defects
How long you've had it
If it was new when you bought it
The brand, model, serial number, color, etc.
The reason you decided to sell your bag
Photos
This is probably the most important part of your listing.
Photos not only give buyers a visual for your bag, but they also back up everything you just said in your description.
Photos can be enough to sell your bags if you do them right!
Take several photos of your bag in natural lighting and showcase it from a variety of angles.
You should also take one or two of you using the bag with your favorite outfits.
In your photos, show things like:
Any defects
The serial number
Original packaging, if you have it
The bag's logo and hardware
Authenticity card, if you have it
Beautiful, Instagram-worthy photos tend to do a great job selling designer handbags.
Earn Everything… nearly!

Join Opinion Outpost, one of the few faithful and honest survey panels and earn cash and gift cards for your opinion. Stack your points and redeem them: Simple! No hidden fees and completely free!


Make sure your bag isn't surrounded by clutter or has anything distracting nearby.
Where Can I Sell Luxury Handbags Near Me?
Some people aren't super excited about dealing with complete strangers online when it comes to high-priced items.
I completely understand, which is why I researched some consignment shops that accept designer handbags.
You could have one near you!
I've also included some other ways to sell locally so that you'll have plenty of options in your arsenal!
A Second Chance Resale is a consignment shop located in New York that buys and sells luxury clothing and accessories.
But you don't have to live in New York to sell your handbags to the company.
You can choose to fill out your information online and then wait for a custom quote.
If you do choose to sell, A Second Chance will pay for the shipping to send over your bags!
You can earn up to 70% of the selling price for your designer handbag either way you choose.
Buffalo Exchange is another second-hand store that has locations all through the United States (you can find one near you by clicking here).
To sell your handbags, you can stop by one of the locations during their open hours – bring your photo ID along.
You can receive a quote for your bags on the spot as either cash or a store credit.
Or, you can even trade your bags for something of similar value in the store!
Crossroads Trading is a buy/sell store that has locations across the United States.
You have a few options for selling here that make it pretty versatile for anyone to make money from their handbags:
Selling directly to the store
Consignment, which will give you up to 70% of your sales
24-hour drop-off, where you can drop your handbags off, fill out a form, and then pick up the cash at another time
Mail-in service if you don't live close enough to a brick-and-mortar location
FashionPhile allows you to either sell or consign your items to one of the locations (NYC, San Francisco, Carlsbad, and Beverly Hills) or mail them in for cash.
You can earn up to 70% of the item's selling price for either option.
The company accepts several designer brands, like Miu Miu, Louis Vuitton, and Givenchy.
Plato's Closet is a popular second-hand store with several locations in the United States.
You'll need to visit one of the stores with your handbags to receive a quote.
You could be eligible for up to 70% of the selling price!
Or, if you're feeling entrepreneurial, you can even start your own Plato's Closet in your neighborhood.
Craigslist can be a good option for some people.
But, beware – there are a lot of scammers, so do your due diligence when responding to interested buyers.
Make sure you meet in a public location and have a friend go with you for your safety.
Read Also: 24 Websites Like Craigslist: (Most Let You Sell for Free!)
Facebook Groups
Perhaps the quickest way to get your handbags sold locally is by posting them in local Facebook groups for buying and selling items.
I've seen several in my local groups that sell for $300 or more, depending on the brand and condition.
It's always worth a try, anyway.
FB groups are typically very active, so be sure to check on your listings a few times a day to make sure you're responding to any questions or interested buyers in the comments.
Yard Sales and Flea Markets
Yard sales may not give you top bucks for your handbags, but who knows – you could get lucky!
You might have better luck at a flea market, where some people go to get those once-in-a-lifetime finds that they're looking for.
Either way, they can be viable options for people who want to sell quickly and locally.
Read More: The Ultimate Guide to Profiting from Flea Market Sales
Best Places to Sell Designer Handbags for Cash Online
When you sell things online, you instantly open yourself up to buyers all over the world.
It's possible that you'll sell your handbags for top dollar when you use an online store as your platform like the ones below.
First, you may want to consider signing up as a seller on Amazon.
If your handbags aren't new with tags, then you might find it a bit difficult to sell here, though.
You'll also only be able to sell bags that already have listings on Amazon, so that may rule some of yours out.
eBay is my go-to selling spot for a lot of things, including sports equipment, clothing, and yes – even handbags!
I've sold a couple of my own here.
The thing I like about eBay is you're totally in control of your pricing.
You can choose to make an auction or sell with a fixed price to make sure you get the amount you want from your bag.
As long as you're 100% honest in your listing and are quick to answer any customer questions, you'll likely receive excellent feedback which can make you more trustworthy to other customers.
Read More: How to Make a Living Selling on eBay: Step-By-Step Guide
This site is a really unique online shop that lets you buy or "borrow" – kind of like renting – designer handbags.
All of them are from a pre-owned collection.
You can consign your handbags here for up to 70%.
Or, sell them directly to the company. You can earn a little more with this method when you choose to receive store credit instead of cash.
You can fill out a form on this site to receive a quote for your used handbags.
The site sells bags from several designers, but you'll need to upload required photos to get your quote.
Then you can ship the bags for free, and you'll receive a check soon after the company checks over everything!
Christie's Handbag Shop lets you sell handbags online through direct selling or an online auction.
You can receive a free quote for your bags before you start selling.
Couture is a designer resale online boutique that makes it simple to sell your bags.
You can request a quote and then ship the bags for free if they have a value over $500.
You can choose to sell directly to Couture or opt for a consignment sale and receive up to 75% of the sale price.
Heritage Auctions is an online auction house where you can sell several different types of items, including handbags.
You can get a free appraisal before you start to find out how much your handbag might sell for.
LePrix is an online consignment store that allows you to sell your designer handbags from a variety of top brands.
You'll need to fill out a form to receive a consignment kit with more information and shipping materials to get started.
LH Exchange is an online luxury marketplace that deals with everything from clothing to furniture.
You can upload your handbags to the site to sell with the help of an expert and the online tools.
Poshmark is both a website and app where you can take control of your own shop and sell handbags and clothing.
You can use the app to take pictures of your handbags and upload them within minutes.
Poshmark is somewhat of a social app too, allowing you to like and share other listings and shops (which means other people can do the same for yours!)
Rebag is a site that lets you list your handbags yourself.
The only downside is you'll need to create an account to browse the site and get more information about selling.
The RealReal is a popular online consignment shop where you can choose to consign, sell, or get store credit back for your handbags.
The RealReal has brick-and-mortar stores where you can drop off your items if you don't want to go through the hassle of shipping them.
You can even have someone come to your door to pick them up for you if you live close enough to one!
ThredUp is a great place to sell clothing online, but you can also sell your designer handbags.
Everything here must be in excellent condition if used, so make sure that there aren't any defects with your bags.
You can use the handy Tradesy app to take photos of your bags and upload them to the website with your listings!
It's sort of like an eBay for fashion items.
When someone buys your bag, you ship it directly to them.
You can earn more than 80% of the selling price for most items.
Get your payment via PayPal once it's approved in your account!
This is the same site that brought you the handy Resale Calculator I mentioned before.
If you do happen to use that calculator, you'll also get an option to sell the bag directly through Vestiaire Collective.
This site accepts many of the most coveted designer brands, like Dior, Prada, and Valentino.
Yoogi's Closet is a luxury online consignment shop that will give you a free quote before you sell or consign.
Direct sale will get you your money quicker, but you may be paid less than you would if you choose to consign.
Yoogi's Closet sends you a prepaid shipping label to send your handbags to the company!
Read Also: 
22 Best Places to Sell Your Custom T-Shirts Online
10 of the Best Places to Sell Clothes Online and Get Cash Quickly!
Conclusion: Sell Your Designer Handbags!
Ready to start selling your designer handbags you no longer want and make some cash?
Hopefully, you found a few places from this list that interest you.
Have you sold designer handbags online?
What do you think of the places we mentioned above?
Let us know your thoughts in a comment.
Related Posts:
Earn Everything… nearly!

Join Ipsos iSay, one of the few Faithful and Honest survey panels and earn prizes, gift cards and donations. Stack your points and redeem them: Simple! No hidden fees and completely free!