30+ Best Entry Level Typing Jobs for Beginners
Updated on: by Amy Kennedy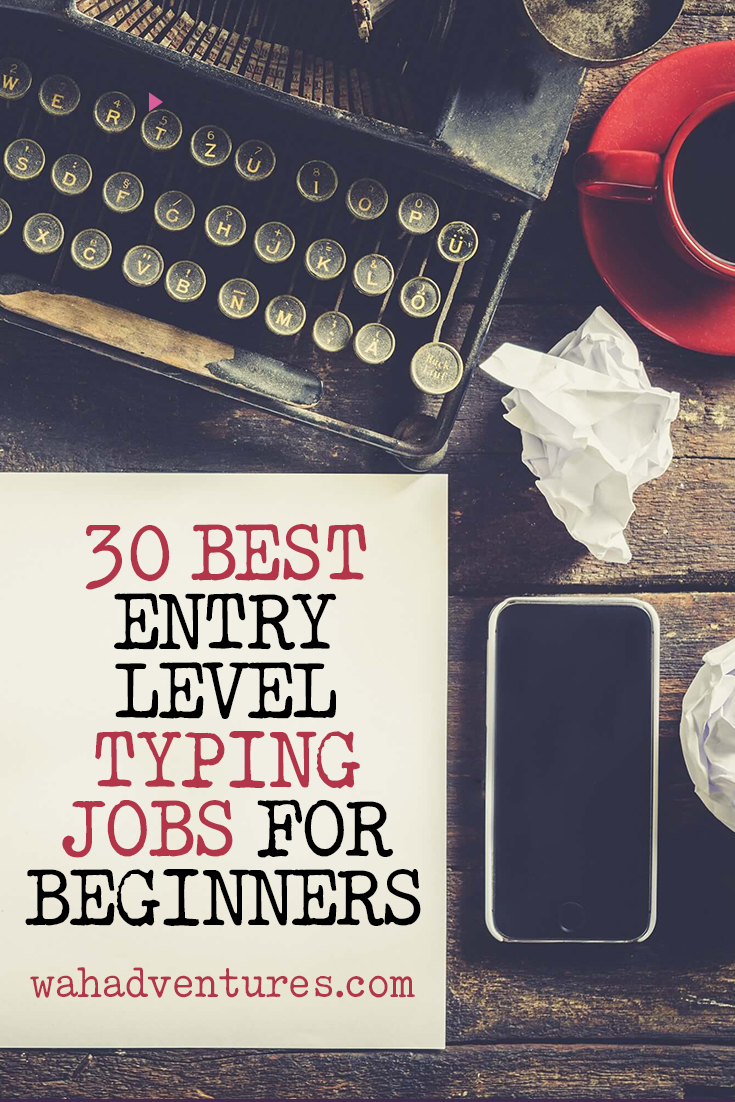 Pursuing a career as a typist can be very lucrative if you are reasonably good at touch typing with accuracy.
Need Easy Extra $350+/Month For Free?
If you're not looking for a full-time opportunity right now, it can also be a great way to make some extra cash on a regular basis.
According to research conducted by staffing expert Teresia R. Ostrach, the average person has a typing speed of between 38-40 words per minute (wpm); or 190-200 characters per minute (cpm).
Which isn't exactly bad, but it isn't exactly great either.
This makes fast typing a bit of a specialized skill, which in turn creates a high demand for fast, accurate typists.
There is Work Available for Typists of all Skill Levels
You can still find a variety of companies that are willing to employee you at an entry level position as an average typist.
You probably won't earn a living wage as a beginning typist, but you can make steady, extra income on a monthly basis.
The more that you utilize your typing skills, the better you will become at fast, accurate typing. It's an inevitability.
As your skill level progresses, more opportunities- with better pay rates- will become available to you.
If you already type upwards of 60 wpm with good accuracy, the opportunities available to you are practically endless.
To find out your personal wpm average; as well as your accuracy; you can take a completely free test at typingtest.com.
They offer tests ranging from 1 to 5 minutes in length, with your choice of 7 different typing samples; as well as a comprehensive scientific test.
Popular Positions Available Now
There are 2 major job categories that you qualify for as a quality typist, that typically have no other per-requisites.
We're going to break this list of 30 companies down into these 2 categories so that you can see which companies are hiring for which positions. We'll also go over what each job position actually entails, so that there are no surprises when you get started on your first typing job.
Transcription
Transcription positions are the most readily available to you, if you are looking for an opportunity to make good money as a typist. It is quickly becoming the largest industry for those who wish to work from-home.
The following is a list of 20 companies that will hire you to transcribe from home.
Need Easy Extra Cash?
Pinecone Research, a leading name in online survey panel honesty, absolutely guarantees $3 cash for every survey you complete!
Take advantage of their time limited New Membership drive and register NOW. Join today: 100% free!


Tigerfish is a transcription-focused company which provides employment opportunities to US citizens and residents with good typing skills.
Their only requirement is that you use the popular Express Scribe Pro software in order to perform your transcriptions. It can be purchased for around $40, but you can also download a free 14-day trial of the software to get you started.
QuickTate is another great company to work for that offers transcription work to at-home or freelance workers.
Their tasks typically include typing the content of recordings of calls, messages, conferences, and other audio recordings.
AccuTranGlobal specializes in transcription work and employees good typists from anywhere in the US, Canada, or the UK.
They offer other typist job positions such as real time captioning as well.
This company hires typists of all levels, from beginners to experts.
Scribie offers some of the most laid back, flexible jobs available to typists. You can work wherever and whenever you want, there are no pre-requisites, etc…
Pay is roughly $10/hour of audio transcribed, which isn't very high. It is however a good place to start.
This is yet another great company to work for as a transcriptionist. They accept typists of all levels, and beginners can work at their own pace.
Pay is usually between $.40 and $.50 per audio minute; making it a much better paying gig than many other entry level jobs.
Get Transcribed offers both transcription and reviewer/editor positions, however your best bet as a skilled typist is in transcription.
The pay for transcription is much better; at $.23/audio minute transcribed; than the $.12/audio minute reviewed by proof-checkers/editors.
The only drawback is that you must wait until you have received a minimum of $100 in pay before this site will let you cash out. Sounds reasonable enough though, right?
This company offers a variety of job opportunities to those who prefer to work from home, but their main business is in transcription.
Clickworker uses a unique system with access to very short tasks, which are completed a few lines at a time, rather than in lengthy blocks of time.
SpeakWrite is one of the largest companies offering major transcription work opportunities to typist such as yourself.
If interested, you should make sure that you qualify and that you're typing speed is up to par before applying. Only Canadian and US citizens are eligible. Also, you must have a typing speed of 65 wpm minimum.
While you might not be ready to tackle the requirements of this company just yet, it's an excellent opportunity to keep in mind for when you do have a bit of experience.
Cyber dictate requires their applicants to have a head set, pedal, transcription software, and- most importantly- 3 years of prior experience.
Yet another company that is willing to take on newbies to the job, their only requirement is that you have good English grammar and skills.
Pay can be up to $20/hour of audio transcribed. Not bad, right?
Another company with no problem taking on entry-level typists with good English skills, Transcribe Team has a high volume of work available on a regular basis.
Pay is typically around $.45/minute of audio transcribed. It is an excellent rate for beginners.
Do transcription work for high profile companies such as Google, Zynga, and Buzzfeed through Rev.com.
They hire transcriptionists from all over the world, and don't have any special requirements.
This is about as good as it gets- beginning transcriptionists can make up to $.60/minute of audio if the quality of the recording is high.
The real money, however, is in the audio files with poor quality. These pay up to $1.20 per audio minute transcribed.
A reputable company to work for, Nuance Transcription Services specializes in medical transcription.
Earn Everything… nearly!
Join Opinion Outpost, one of the few faithful and honest survey panels and earn cash and gift cards for your opinion. Stack your points and redeem them: Simple! No hidden fees and completely free!


Jobs such as this one require you to have some experience and/or knowledge of the medical field.
Pay varies, but is rather high.
Aberdeen Captioning is a smaller, less-known company that provides several services, including transcription.
This company prefers applicants with some prior experience.
Another transcription company that specializes in medical transcription, Accentus is said to pay very well. They do require not only experience, however, but also certification.
Accentus system is set up a bit differently than the average transcription job. It is set up in shifts, and only hires from the US and Canada.
Birch Creek Communications also offers their employment in regular shifts, from Monday to Friday. They specialize in legal transcription, so if you have legal field experience this could be a great opportunity.
GoTranscript hires transcriptionists of all levels.
The pay is relatively low, but it is a good site to establish yourself on and gain some experience in transcribing both audio and video.
This site is a great resource for transcriptionists who are new to the field. If you don't have much experience, this may be a great place to start.
Pay varies, and will be determined after the application and assessment process.
Capital Typing is a popular company amongst professional typists and data entry techs. Although, there application process can take some time. It's a great place to work if you're just starting out in your typing career.
Data Entry
The second most popular job available to online typists is data entry. Data entry varies from transcription in that the information provided will need to be entered in to a provided format in a categorized and organized manner.
Data entry is relatively easy to do if you are a quick typist, and it pays fairly well. Pay is typically determined by keystrokes.
Below is a list of 10 of the companies that will hire you to perform data entry tasks right now.
The Smart Crowd is a highly reputable company to work for. Their only requirement is that you take an assessment test to ensure the quality of your typing speed and accuracy.
Pay starts between $.40 and $.50 per 1000 keystrokes. You can only cash out if you have a minimum of $50 in earnings in your account.
This company offers very reasonable pay for data entry technicians. There only requirement is that you can type a minimum of 60 wpm accurately.
They provide training for their data entry tasks, so even beginners may apply.
SigTrack only offers data entry positions seasonally, to US residents.
They specialize in handling voter's petitions and pay weekly.
This data entry handling company hires data entry techs of any level, including anyone who can type 30 wpm or more.
Pay can be up to $10.50/hr.
Mechanical Turk is Amazon's job board site. There are regular listings for quick data entry tasks.
DataPlus+ offers employment opportunities to data entry techs of all levels. Their application process takes time, but it pays off to apply and sign up for notifications.
Recognized as an up and coming online monkey-making site by G4TV's Attack of the Show, ShortTask is a great site to look into for data entry positions.
This company may not be very well known, but they have enough incoming work to spread it around to freelancers and work from-home professionals.
They pay fairly and payment is issued weekly.
Axion hires typists like yourself for general, medical, and legal transcription services.
Depending upon what type of transcription you would like to work on, you may need some prior experience in either the legal or medical fields.
Crowd Surf specializes in optimizing online media for the hearing impaired.
They hire freelance and work from-home transcriptionists with varying degrees of experience.
Microworkers is a popular online platform that offers various micro jobs, including data entry tasks.
Users can sign up and complete small tasks posted by employers, such as data categorization, image labeling, form filling, and more.
It provides an opportunity for beginners to earn money by completing short and straightforward data entry assignments.
Upwork is one of the largest freelancing platforms that connects businesses with freelancers from around the world.
While Upwork offers a wide range of job categories, it also includes data entry opportunities.
Freelancers can create a profile, showcase their skills, and bid on data entry projects posted by clients.
Upwork provides a platform for beginners to find data entry work and gain experience.
Virtual Bee, previously known as Key For Cash, is a company that specializes in data entry services.
They hire independent contractors to complete various data entry tasks, such as typing information from scanned documents, transcribing audio files, and more.
Virtual Bee offers flexible working hours and allows beginners to start their data entry career.
Smart Locating is a company that provides data entry and apartment locating services.
They hire individuals to enter apartment listings and related information into their database.
Smart Locating offers opportunities for beginners to gain experience in data entry while providing valuable services to clients in the real estate industry.
Find a Job in the Next Hour
Whether you want to earn a living, or simply earn a little extra income each month, putting your typing skills to use can earn you a lot of money.
Now that you have the resources and information to find well-paying jobs for typists, all you need is a little effort!
Check any sites listed above that caught your eye. You may very well find your dream job in the next hour.
Related Posts:
Earn Everything… nearly!
Join Ipsos iSay, one of the few Faithful and Honest survey panels and earn prizes, gift cards and donations. Stack your points and redeem them: Simple! No hidden fees and completely free!