8 Best Ways to Win Real Cash Online And How to Avoid Scams
Updated on: by Amy Kennedy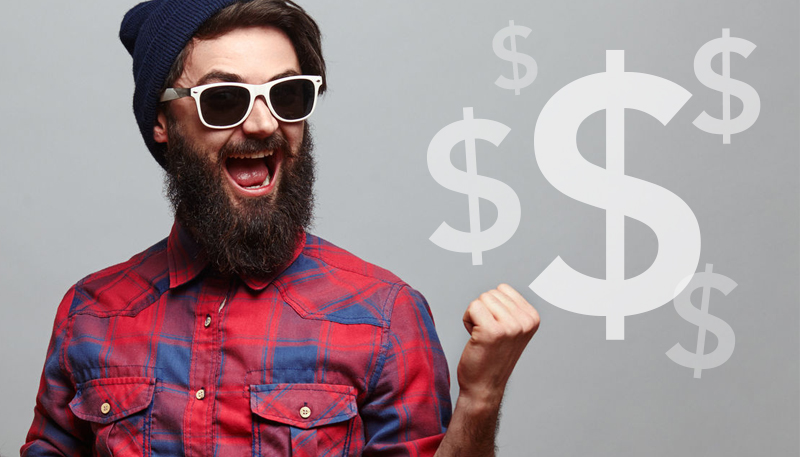 On Work at Home Adventures, we cover a lot of ways to make money online.
Need Easy Extra $350+/Month For Free?
Most of them involve doing some actual work, though.
Today, I'm going to let you relax a bit.
This article is all about winning money online – no work involved!
Sound good?
I thought so!
The big question of the day is, "Where can I win cash online?" and I'm going to answer it.
I've rounded up all the ways that I know of (that aren't scams, of course!) to win some real money online, provided that you're a lucky duck!
Winning cash online is much like winning cash in the real world – sometimes you win, sometimes you lose.
But, if you're willing to spend a little time entering contests or playing games to win money, some real cash could be yours.
Let's get started!
Win Money Online Starting Today!
I'm going to give you 8 ways to try to win some money online, but my top 3 favorites are the ones I'll list at the top.
Why?
Because these give you the best potential to earn some real cash online.
The other ways are contenders, but if you only want to spend your time trying your luck with places that will give you the best chance of making some money, I completely recommend the first 3 options.
Wait – Here's How to Avoid Scams!
Unfortunately, the "making money online quickly" thing can bring up a lot of scams.
Need Easy Extra Cash?
Pinecone Research, a leading name in online survey panel honesty, absolutely guarantees $3 cash for every survey you complete!
Take advantage of their time limited New Membership drive and register NOW. Join today: 100% free!


I've personally had a few friends and family fall victim to these scams, which claim to give you good chances of winning money, but instead steal your personal or financial information.
These scams prey on those who need money most, and they aren't always as obvious as you might think.
So, I think it's smart to have this section here, in the hope that I can save all of our readers from falling victim to an online money scam.
Here are a few things to watch out for:
A site asks for personal or financial information, such as your social security number or credit card number.
A site says you'll have to pay or give up personal or financial information, before you receive your prize.
You get a "check" via postal mail or email randomly. Legitimate sweepstakes require sending you an affidavit if your prize is $600 or more.
The site contacts you with a free email address, like a Gmail address, rather than a business email.
You have to go through hoops and leaps to get your prize, like signing up for several other websites.
You get emails about winning prizes you've never tried to win.
You feel pressured by the site or email to enter your information quickly.
There is no identifying information or contact information on the website.
You can't find any legitimate information about the company or website after doing a quick search online (look for reviews and testimonials from people who have actually won money).
If any of the above apply to the site you're on, it's best to stop what you're doing and leave the site.
Legitimate companies will never ask you to give personal or financial information, especially over the internet. Be safe!
Now, let's get started earning some money!
Best Way to Win Online Cash #1: Use Swagbucks
If you're a Swagbucks user, you're in luck.
If you don't know what it's all about, I encourage you to read our Swagbucks review, which details everything you can do with this awesome money-making site!
One way to make money here that most people tend to skip over is the Swagbucks sweepstakes.
This is a part of the site where you can spend a small amount of your SBs to try to win a gift card.
One of the options you can win is PayPal cash!
You only need just a few SBs to enter yourself into a random drawing, so you'll spend a lot less doing this and trying your luck than you will redeeming a gift card directly with your points.
There are usually lower entries here than on other sweepstakes around the web, too, so your chances of winning are much better.
If sweepstakes aren't really your thing, you can always try out one of the several other free ways to earn SBs on Swagbucks, which you can redeem for PayPal cash!
Best Way to Win Online Cash #2: Enter Blog Giveaways
I love, love, LOVE blog giveaways!
Not only are blogs fun to read, but many bloggers have frequent giveaways that give their loyal readers a chance to win prizes – including real cash.
How does it work?
Well, bloggers typically partner with companies to bring you giveaways.
They might partner with a cookbook publisher, for example, and write a post that details some of the recipes from the cookbook as a promotion for the book.
One of the best ways that brands and bloggers have found to bring attention to sponsored posts is through giveaways.
People love getting free stuff, so they'll tend to come visit that blog more if they see that something is being given away for free.
So, the publisher might offer the blogger a free copy of the cookbook for a reader giveaway.
But, to make it even more enticing – because, as we know, money sells! – the publisher might also offer a $50 PayPal gift card with the cookbook as a prize.
The extra cash can help the blog post get seen and shared, for more exposure for the cookbook and the blogger.
And, someone gets a chance to win a free book and cash!
It's a win-win for everyone.
I've seen huge cash giveaways on blogs, especially near the holidays.
Some bloggers even contribute their own cash for giveaways just to get some more traffic and followers.
Earn Everything… nearly!
Join Opinion Outpost, one of the few faithful and honest survey panels and earn cash and gift cards for your opinion. Stack your points and redeem them: Simple! No hidden fees and completely free!


In fact, a lot of bloggers join together for massive giveaways in which they pool their money together to create a huge prize.
Seriously, these prizes can go to $1,000 or more!
Usually, the entries are very easy.
You'll often need to comment on the blog post, follow social media accounts, visit pages of the blog, re-tweet some tweets, etc.
It takes me just a few minutes to enter each giveaway for a chance to win a lot of cash – that's worth it to me!
I suggest taking a couple hours each week to enter new cash giveaways. Two hours on a Saturday morning is what I choose to do!
Most giveaways last at least a week or two, so this ensures that you're not missing out on any new ones.
Where can you find all these great giveaways?
Well, you can start with the blogs you usually read, if any. Search the site for "giveaway" to see if the blogger participates in giveaways.
If not, you can search blog giveaway directories.
These curate tons of blog giveaways from all over the web and keep the list updated and handy for you!
Here are a few of my favorites:
Best Way to Win Online Cash #3: Enter Sweepstakes
I know sweepstakes aren't for everyone.
Many sweepstakes turn out to be scams, and others grab up all your information to spam you with calls and emails.
I get it.
But, if you want to win cash online, sweepstakes are one of the best ways to go – provided that they're legitimate ones that won't waste your time!
Sweepstakes are one of the easiest ways to win money.
You don't have to do anything to enter, other than give your name, phone number, address, or some other way to reach you.
You just enter and wait for someone to get randomly picked.
It couldn't be easier!
But, since they're so easy to enter, that also means that competition is very high.
Lots of people enter sweepstakes hoping that they'll win cash, just like you.
Still, they usually take no more than a minute or two to enter, so it's not like you're wasting valuable time to win a shot at some money.
Since it can be difficult distinguishing some legitimate online sweepstakes sites from scams, I did some of the hard work for you.
Here are ones that have proven to be legit:
Bet Money Online
First and foremost – it's important for me to mention that online gambling is illegal in some areas.
It's important that you check with your area of residence to ensure that participating in online gambling won't get you into trouble.
With that being said, betting money online is a viable option for some.
Of course, to win money, you'll need to spend money, so this isn't an ideal option for everyone.
This industry is also ripe with scams, so it's extremely important that you do your due diligence and research any online casino that you're considering spending money on before you do so.
I recommend checking out Casino.org's list of blacklisted online casinos and browse some of the other articles so you can get an idea of what's real and fake.
The website is in place to prevent you from getting scammed out of your hard-earned money.
Play Games
Bet you didn't know that you could get paid to play games online!
This method of winning cash does require you to get pretty good at the games you play, since you'll usually need to win tournaments to win any cash prizes.
Still, it's a viable method of winning cash that should be mentioned.
After all, for most games, you don't need to spend a dime to start playing them.
Many of them are 100% free and make their money off advertising rather than anything you spend.
Here are a few sites that will pay you to play games for free and give you a chance to win cash just for playing:
Play Your Hand in Online Lotteries
Much like the lottery in real life, you can win money in an online lottery.
Yes, this gives you a very low chance of winning and definitely isn't one of the best options.
But, since we're talking about winning money online, it's still an option that I should mention.
Again, this is another method of winning cash that tends to promote a lot of scams, so it's important to learn about a site before you enter any information.
I recommend sticking with The Lotter, which has proven to be a legitimate online lottery site that even has a decent rating on TrustPilot.
If you're looking for a few other options, though, these lotto sites are also the real deal:
Lose Weight (And Bet on It!)
For a very different way to win some cash online, you can bet on yourself.
Or, on your weight loss, that is.
Yes, there are now websites that will pay you to reach your weight loss goals.
How's that for motivation to get to your ideal weight?
This one won't provide instant gratification like other methods of winning will, since you'll have to do some tough work with exercise and dieting to reach your goals.
But, if you do happen to win, you'll not only have the satisfaction of winning money, but you'll also have the satisfaction knowing you reached your weight goal!
HealthyWage is one site that will pay you for your weight loss.
You take part in team challenges by signing up for a monthly subscription (this goes toward the team's prize money).
Then, join a team and lose weight to win cash!
The three top prizes are $10,000, $5,000, and $3,000.
You can even get all your money back if you lose 10% of your weight in 9 months.
DietBet is another similar site that pays cash for weight loss.
You can choose which "games" to join, each having a different bet amount, goal, and pot amount.
If you meet the goals for the game, you win cash!
Use Money Croc
Money Croc is a seriously ingenious site.
The owners are quite transparent, letting you know that they make money from advertisements on the site.
That money goes toward awarding the winners with their cash prizes – well, some of it. They keep some, of course.
Basically, you refresh the page to see if you're a winner.
You can do it as often as you want.
Since the page gets more views by you doing this, the web owners get more views on their ads, which gives them more money.
They give away half their advertising income toward cash prizes, which you can win!
You choose whether you want to win $5, $10, or $50, keeping in mind that the lower amounts are easier to win.
Then, just keep refreshing the page to see if you're a winner.
There isn't much on the web from actual winners who've used Money Croc, but there also isn't anything stating it's a scam.
Since you don't have to enter any personal or financial information to play (and you don't even have to register!), you don't have anything to lose.
Conclusion: How to Win Money Online
Now that you know how to win some cash on the web, I hope you'll use the information I've given you to your benefit!
There's nothing like spending a few minutes of your day entering sweepstakes and giveaways or playing games, only to wind up a little richer when the day is done.
If you live in the United States, you can report any online scams you might come across with the Internet Crime Complaint Center (IC3).
If you live in another country, check with your local law enforcement to find out who you can submit reports of fraud to.
Good luck!
Do you know of other legitimate places or ways to win some money online?

Please let us know in a comment below!
Related Posts:
Earn Everything… nearly!
Join Ipsos iSay, one of the few Faithful and Honest survey panels and earn prizes, gift cards and donations. Stack your points and redeem them: Simple! No hidden fees and completely free!