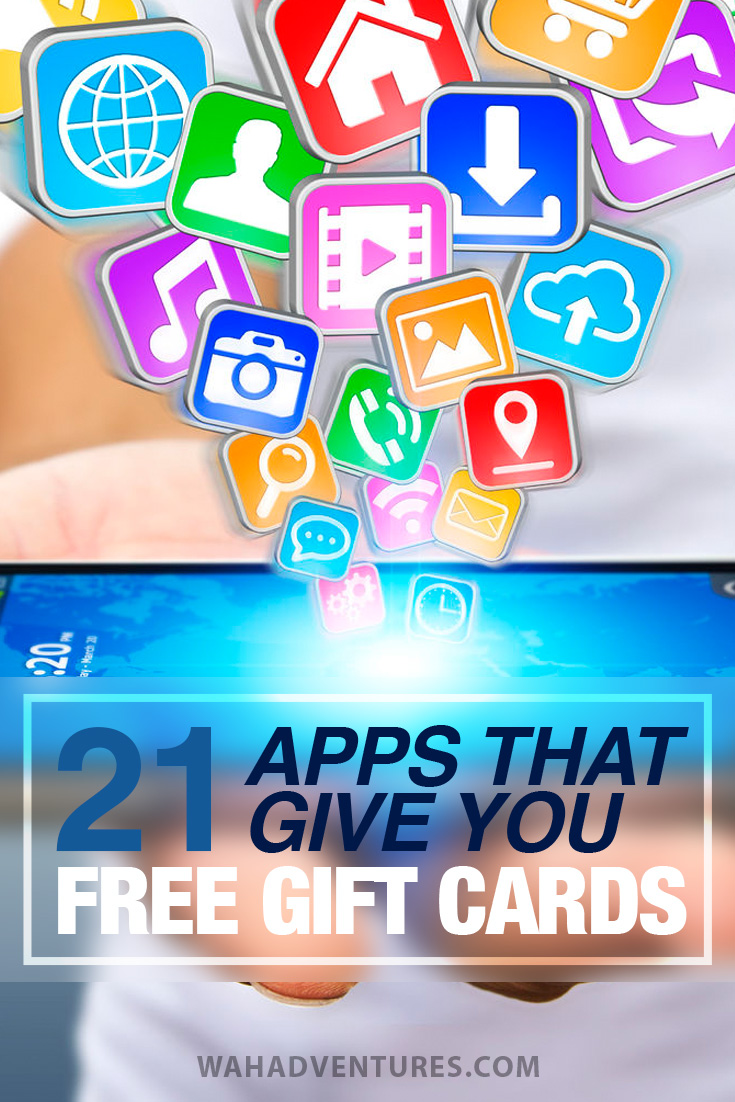 Gift cards are just about the next best thing to cash.
Need Easy Extra $250+/Month For Free?
You can use them for whatever you want at the store they're for, so they come in handy when you need them – or just want to splurge!
Did you know that apps for your mobile device can actually pay you in gift cards just for using them?
It's true; I'm a user of some of them myself!
We've covered plenty of money-making apps on Work at Home Adventures, but this post will focus specifically on apps that pay you in gift cards from Amazon, iTunes, Google Play, and more.
While these apps won't necessarily help you pay the bills each month, they certainly can help you afford things you want and need.
And, they're perfect ways to earn some gift cards during your down time.
Use your lunch break or a few minutes after you get home from work to play around with the apps.
You may rack up enough points to turn into gift cards in just a couple of weeks!
Apps That Earn You Free Gift Cards
Swagbucks is my favorite rewards site because it gives you so many ways to earn Swagbucks to redeem for PayPal cash and tons of other gift cards.
It's even better now that it's on mobile and I can earn rewards wherever I go!
Even if you shop online with your mobile device, you can visit Swagbucks first to check its cash back offers. Click on them before you shop to earn a percentage of your purchase order back in the form of Swagbucks!
There are several gift cards to choose from to please just about any interest, like like Walmart, Target, and Visa.
The Swagbucks app is only available on Android devices.
Join SwagBucks here or read review.
Ipsos i-Say has been one of the most popular survey websites for years, and it now has a mobile app for iOS and Android.
You can check in on your account and earnings and take more surveys conveniently through the app – so now you can earn anywhere!
One of the best things about Ipsos is it gives more rewards to loyal members who remain active. The more you use it, the more you can earn.
Ipsos offers both prizes and gift cards as reward options. You'll need 500 points in your account before you can redeem points.
Join Ipsos here or read review.
MyPoints started out as a reward website back in 1996, but it now also has a rewards app for iOS and Android users.
You can earn rewards by taking surveys, watching videos, reading paid e-mails, playing games, and more.
Some of its gift card options are Amazon, Starbucks, and Walmart!
As a bonus, you can even get a $10 Amazon gift card when you make your first $20 purchase on a MyPoints offer.
Want more money?

Easy Extra Cash! Join the famed Vindale Research site and earn rewards by doing nothing more than sharing your experience of using the internet. Guaranteed 100% free membership.


If you don't want the Amazon gift card, read this article about ways to trade or sell Amazon gift cards!
Join MyPoints here or read review.
Cash Crate is one of the longest-running rewards sites.
It's now getting with the times by offering an app for Android that lets you earn rewards in a variety of ways.
The app is much like the website, but gives you a way to earn rewards easily on the go.
Take surveys, play games, search the web, and complete offers to earn points that you can redeem for gift cards.
You need $20 in your account to cash out, and you'll be able to redeem your rewards the following month.
Currently, Cash Crate's app is only available for Android.
Join Cash Crate here or read review.
iPoll lets you take surveys and complete tasks whenever you're out and about using your iOS or Android device.
iPoll will even use your current location to find location-specific tasks and surveys.
You can gain entries into the $10,000 quarterly prize draw and save up your rewards for iTunes, Amazon, or PayPal gift cards.
What better way to earn gift cards through an app than by simply watching trailers of new apps?
That's how you can earn with App Trailers.
Earn points by watching trailers of apps and even more points for downloading and using them.
Most trailers are about 30 seconds long, so it's not like you'll waste your days away on the app.
App Trailers offers gift cards to Sephora, Amazon, iTunes, and more.
The app is available on iOS and Android.
Bing Rewards is one of the best ways to monetize your use of the web, simply by searching the web using Bing or downloading apps from the Microsoft store.
But, Bing has also gone mobile with its iOS and Android app so you can earn on the go!
Use it the same way as you would on your computer by searching the web through the app.
You'll earn points for each search, which you can redeem for gift cards!
CheckPoints is similar to other rewards apps that give you the option of gift cards as rewards.
You can take quizzes, watch videos, search the web, complete paid offers, and do other tasks with the app to earn rewards.
Gift card options include Amazon, Target, Walmart, and more.
CheckPoints is available on iOS and Android.
CoSign is like the affiliate marketer of apps.
If you upload a lot of photos of specific products to social media – like electronics or clothing, for example – CoSign can make you money every time a follower makes a purchase of the items you showcase!
It works a lot like affiliate links for bloggers.
You tag the products in your photos and CoSign will link them to the appropriate product page.
You make money off the sales!
As a bonus, you don't even need to enlist your friends to purchase.
You make money off ANY follower who purchases from your image (so now would be a good time to learn all about those Instagram and Twitter hashtags!).
You can track all of your clicks and earnings through the app, which is currently only available for iOS.
You'll need $40 in your account to trade in for rewards, which include gift cards or PayPal cash.
The app is available for Android and iOS
Here's an app that will reward you with gift cards for downloading other apps!
FreeMyApps partners with other sponsored apps and acts as an advertising platform.
So, when you download a sponsor's app, FreeMyApps rewards you with a set number of points.
There are over 50 types of gift cards to choose from when you redeem your points, so you have plenty of options!
You can also earn more points by referring your friends to use the app, entering contests, and completing other offers on the web.
This app is available for iOS and Android devices.
Gift Wallet is an app for Android and iOS.
It works a lot like similar reward apps by paying you to complete simple tasks through the app.
You can even earn points by sharing the app to your social media accounts and referring new users.
Gift Wallet offers Amazon, iTunes, and Google Play gift cards as rewards.
JunoWallet is your basic reward app, but people seem to love it.
Inviting friends is one of the best ways to earn rewards, since it has different levels of referrals.
The more you refer, the more you can make (especially if your friends end up using the app a lot, too!).
You can also take surveys, make calls through the app, play games, and watch videos to earn extra rewards.
JunoWallet also has a raffle feature where you can spend your points to earn entries into giveaways for prizes like gaming consoles or laptops.
Your points are known as JunoCredits, and you can turn them in for gift cards to Fandago, Lowe's, Google Play, Steam Wallet, and tons more.
The app is currently only available for Android.
Lucktastic is like a virtual scratch-off ticket.
Download the app and you'll get free tickets to play every day.
Use your tickets to try to win huge cash prizes, like $5,000, $10,000 or more!
If you win anything between $1 and $100, you can redeem it with a Dwolla account.
The best thing about this app is that, even if you don't win a cash prize, you still earn points every time you play.
Those points can later be redeemed for gift cards to Amazon, Restaurant.com, and more.
Are you interested in mystery shopping?
If so, Mobee is the app to download. You can earn gift cards just by visiting stores and reporting your feedback via the app.
As long as you complete your tasks correctly by adhering to instructions, you'll get your rewards in less than 24 hours in most cases.
Mobee offers cash and prizes as rewards, in addition to gift card options.
The app is available for Android and iOS.
Panel focuses much of its rewards for users from taking surveys, but you can also complete offers and refer friends.
You can even make 10% off anything your referred friends earn!
Use your points to enter sweepstakes or redeem them for a variety of gift cards.
Panel is available for both iOS and Android.
There are several ways to earn points with Perk, and it's quickly become one of the most popular reward-earning apps.
Watch TV, shop, play games, complete promotions, search the web, and more to earn points.
Perk has an extensive collection of gift cards to choose from, like eBay, Amazon, and iTunes, or you can convert your points to the Perk Plastik card if you'd rather have the cash.
Perk is available for Android and iOS devices.
Points2Shop is an iOS and Android app that pays you to play games, search the web, complete offers, and more.
The app lets you complete all the tasks that you would on the website conveniently through the app wherever you go.
You can earn 250 points (the equivalent of $2.50) just for signing up with Points2Shop!
Receipt Hog makes earning gift cards as simple as scanning your receipts using your smartphone.
Seriously.
Your receipts are used for market research to find out what consumers like you are buying and spending.
You can also play slots and take surveys to earn more points.
The app recently added a feature that lets you connect your Amazon account to it so it can learn what you buy on Amazon.
You earn extra bonus coins, survey offers, and tickets for sweepstakes as long as you keep it connected.
Receipt Hog offers Amazon gift cards, magazine subscriptions, and PayPal cash as redemption offers.
Receipt Hog isn't always accepting new users, but you can always download the app for iOS or Android and wait your turn in line.
It will send you an e-mail notification when it's opening up its enrollment.
Shopkick partners with certain stores to let its users earn rewards by taking photos of in-store displays, scanning barcodes for price checks, and more.
But, you can also earn points by interacting with the app.
Watch videos from advertisers, check out new recipes, scan your receipts, and make qualifying purchases to earn more points.
You can redeem them for gift cards to Best Buy, Target, and more, or enter contests for a chance to win awesome prizes.
When you invite your friends, you can earn more points every time they do!
The app is available for iOS and Android.
There are a lot of apps like Slidejoy, but this seems to be the most popular (and legit!) way to earn gift cards.
Slidejoy partners with advertisers to bring great promotions to your smart phone.
Every time you check your phone, you'll see a promotion, known as a "card".
Slide left to learn more about the card, slide up to see a different one, or slide right to go to your home screen.
Eventually, the app will learn your preferences based on swipes and will tailor its content to your interests.
You get paid regardless of how you swipe, simply because you saw the card.
Cash out with PayPal or choose a gift card.
Slidejoy also gives you the option of donating your rewards to charity!
This app is available for Android devices only.
Did you ever think you could get paid to watch TV?
That's a dream come true, right?
Well, it's reality with Viggle! This app operates with advertisers who create ads for you to watch through the app as you watch your favorite shows.
You just have to "check in" to your favorite shows or movies – they can be live or streaming – and every few minutes, you'll need to interact with the app to show that you're still watching to collect your points.
Sometimes, networks will promote certain shows through Viggle and you'll earn more points for watching them.
You may even discover a new show you love!
You can also participate in Quests and Streaks to earn more points.
Redeem your points for one of over 800 gift cards, or convert them to cash with the Perk Plastik card.
Viggle is available for iOS and Android.
Conclusion: Best Apps That Give You Free Gift Cards
It's important for me to note that there are a lot of scam apps out there that claim you can download apps for free gift cards or earn cash by using them.
Be smart and check reviews before you download and start using reward apps.
Most users are very honest when they review apps on the App Store or Google Play and will let others know if the app does what it promises.
The apps I mentioned here are ones that have had a proven track record for actually paying their users.
But, remember, these should only be used as a fill-in for some extra money, not as a full-time job (if you treat them that way, you'll be disappointed!).
Test several out and keep two or three that you really enjoy.
You'll overwhelm yourself and find all your time going to your apps if you try to juggle them all.
Plus, think about how much more you can earn if you spend your time focusing on just a few and maximizing your earnings there instead of spreading your time among several.
What apps do you love that give you gift card rewards? Let us know in a comment!
Related Posts:
Get Money: Cash In!

Pinecone Research, a leading name in online survey panel honesty, absolutely guarantees $3 cash for every survey you complete!
Take advantage of their time limited New Membership drive and register NOW. Join today: 100% free!