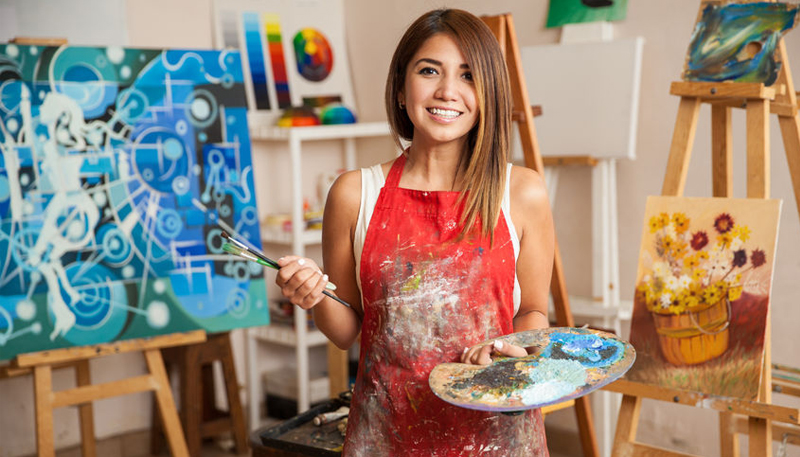 Are you an artist or do you want to become a painter or designer?
Need Easy Extra $350+/Month For Free?
You've likely been told countless times that you can't make money as an artist.
Don't let the naysayers get to you.
There are ways to make cash and a living from selling your art.
If you want to turn your art directly into cash, you don't even need to go to a crafts fair.
Now that the Internet has become widespread and a large number of people have access to a computer, you can sell your paintings or designs for cash online.
Sometimes you can barter online for different products as well.
Selling artwork online is becoming more and more popular so you might want to jump on this bandwagon soon.
Online art sales are expected to blossom over the coming decades.
In fact, a study conducted by the organization Invaluable found that 22.7 percent of art buyers are finding designs and art work through social media today, according to Forbes.
The same study found that only 20 percent of art buyers are finding painting and other art work through museums and only 15.9 percent are using galleries when buying art.
This shows that online sales and social media marketing for your art could be a more relevant way to make money as an artist when compared to galleries or museums.
Whatever type of art you take part in, there are multiple ways to make money.
You can sell originals or prints and usage rights as well as have your designs printed on t-shirts, mugs, pillows, and more.
You can even use the Internet to work with children's book authors and other authors to create designs for book covers and drawings in kids' books.
How to Make Money with Your Art Online
If you're wondering where to sell drawings online, I have gathered 32 websites where you can make cash selling your artwork and actually make a living as an artist.
Soon you'll be able to tell those naysayers that you're living off of your artwork.
Take a look at the list below and get started selling those paintings!
1. WallSpace Exchange
The website WallSpace Exchange is a great resource and place for artists, brokers, and venues to coordinate.
This website lets artists sell their drawings and designs to venues while requiring a small $5 membership fee every month.
Need Easy Extra Cash?

Join Opinion World #1 paid survey site. Take paid surveys anytime and anywhere via PC or Mobile App and earn PayPal credit, gift cards and more! No hidden fees and completely free!


Often, the venues looking for artwork include restaurants, coffee shops, and concert venues.
You as the artist will be able to negotiate on various issues like the length of time your artwork will be up in the venue, what vendor will handle shipping or printing, and the payment you'll receive.
The website is very user-friendly and makes it really easy for artists to upload their designs.
You can upload up to 10 images at once for a quick and easy process.
You can also choose a $10 Featured Membership per month through this website.
The Featured Membership allows you to access a newsfeed, a special account through Facebook, and a "Feature Member Rotation" of your artwork.
2. Saatchi Art
One of the most popular online galleries is Saatchi Art.
You can access it by clicking here.
This gallery goes above and beyond in terms of the type of art it displays.
This isn't only meant for paintings.
Saatchi Art also displays sculptures.
To learn more about how to use this website to sell your art, be sure to check out the "Why Sell?" section.
This area of the website will provide you with lots of information such as a guide on pricing your designs, image resolution, and shipping details.
3. ArtWeb
If you're an artist looking to connect with buyers directly, be sure to check out the site ArtWeb.
Here you can sell your artwork directly to a buyer.
Some of the benefits of ArtWeb include a website tailored to you and a community of fellow artists to connect with. Best of all, ArtWeb will handle the payment details with buyers such as credit card information.
On top of this, the company does not have a monthly cost to join and doesn't charge their artists a commission.
4. AbsoluteArts
The company AbsoluteArts has been around for quite a while.
This business was first begun in 1995.
Artists can sell both prints and originals through this site. Click here to see the website.
You can join the community of artists by signing up for one of the three levels they offer.
The first level is free while the second is called mid-level and the third is the Premiere Artist account.
If you want to access the features of the Premiere Artist account, you'll need to pay a one-time fee of $25 and a yearly fee of $100.
This website is very large and offers lots of opportunities for artists, so it might be worth it to spend the money in order to make even more cash for your artwork.
5. AllArtists Among the Best Sites to Sell Art
AllArtists is another website you can check out if you'd like to showcase your work and sell art.
In order to have an account through AllArtists, you'll need to pay a £35 fee for a yearly membership.
After you sign up and pay the yearly fee, you'll have access to their marketplace to display your work.
All shipping, printing, and payment details are handled by the company.
You can set up a profile through the site and display as many pieces of art as you want.
You'll be able to keep as much as 85 percent of the money that buyers pay for your artwork.
Are you interested in this website but aren't sure if it will work for you?
You don't have to pay the membership fee to try out the site.
AllArtists offers a free trial account where you can upload up to three works of art.
If you like it, you can sign up for a full account once the trial period is over.
6. Pond5
Are you a filmmaker?
Then you'll want to check out the site Pond5.
Pond5 sells video clips and stock footage.
The website actually holds more than 4.5 million video clips in a library storage system.
The main theme of this website is video.
However, the company also sells music, sound effects, and stock images.
If you join this community, you'll be able to make a 50 percent royalty payment.
7. VideoHive
Have you heard of the Envato marketplace?
The site VideoHive is part of it.
The marketplace includes a number of other sites including 3d Ocean for 3d models, ThemeForest for website templates, and GraphicRiver for vectors and graphics.
Programmers can use the CodeCanyon website through the marketplace while audio artists can use AudioJungle and photographers can use PhotoDune.
There are two levels you can sign up for: non-exclusive or exclusive. You'll have to pay extra for the exclusive level, though.
8. Alamy
If you're looking to sell your work to a stock image website, Alamy is a great choice.
Alamy uses images from designers worldwide as well as news reporters and publishers.
Through this site, you'll have access to more than 100,000 registered buyers.
The site also includes around 40,000 contributing artists.
So there are plenty of sales taking place every day through this website.
You should be able to make a good profit using Alamy.
Additionally, this company offers 50 percent royalties to contributing artists.
9. Displate
Displate is a very different type of company.
The type of art it sells is completely set apart from other websites.
Displate sells original art that has been printed in metallic sculptures or images.
Click here and you can make your own profile in order to upload your artwork and sell your designs.
You will earn 25 percent of the price for every sale you make.
While this may not seem like a lot, you will not be responsible for many of the aspects of selling your work such as shipping and production of the metallic prints.
Best of all, you'll keep all rights to your artwork through this site.
This means you can sell your designs anywhere else you desire.
10. Hey Prints
Artists and designers can also benefit from trying to sell their work to the website Hey Prints.
You can submit your artwork here to have it displayed on posters and prints.
The website requires you to send a portfolio of work before being approved.
If you have a good portfolio, you'll likely get approved and can get started doing business with the site owners.
There is a fixed base price for your designs so you will need to set a higher price if you want to make a profit on top of the poster production price.
The retail price you set will need to subtract the base price to see what type of profit you'll make on each design.
Otherwise, you should be able to make some extra cash through this site!
11. Artist Rising
If you are solely looking to sell your original artwork, check out Artist Rising.
This company sells original prints.
This is one of the most famous websites for selling artistic designs.
The company excels at handling art dealing.
For every print that is sold, you'll make 30 percent of the profit from the sale.
The company will manage the sale, the payment details, and the shipping of your original artwork.
You will get paid on a monthly basis. You need to have sold a minimum of $50 in profits in order to get paid.
12. ArtPal
The website ArtPal sells all types of different, creative products.
You'll find jewelry, photographs, and drawings sold on this site.
It's completely free for you to create an art gallery through this site for buyers to peruse.
You can showcase your work through the gallery and sell prints of your designs using their print-on-demand service.
If you sell your original artwork, you can keep 95 percent of the profits of your sale.
The site will only take 5 percent in this case.
However, if you use their print-on-demand service, you'll only get the profits on top of the production costs.
Make sure to have a PayPal account since this is how the company pays their artists.
13. FineArtAmerica
FineArtAmerica is an excellent website to promote yourself as an artist.
This is not merely a place to just sell your artwork.
Through this website, you can post blogs about your art.
You can also publish your portfolio of designs.
If you choose their premium membership, you can even create your own website under their name.
The site also lets you take part in contests.
Do you have any press releases you want to post?
FineArtAmerica is a great place to publish media newsletters and press releases.
When selling your work through FineArtAmerica, you'll need to add a markup to their base price in order to make a profit.
14. ArtFire
Another great site where you can sell your designs and illustrations is ArtFire.
There are three type of membership plans you can choose from.
These include:
1) Shop – free level with a 9 percent commission fee and no more than 24 listings active through the store.
2) Webstore – This level costs $20 per month. You will have only a 3 percent commission fee for all artwork sold.
3) Commercial Store – This is the most advanced membership level and costs $60 per month. However, this type of membership will let you have as many as 5,000 active listings at a time. All sales will be subject to a 3 percent commission fee.
15. Dreamstime
Lots of marketers, website designers and bloggers online need stock photos for their work.
So you can expect stock photo sites to get plenty of business.
Dreamstime is one of the best stock photo websites you'll find online.
If you're a photographer, you should definitely consider selling stock photos through this website.
Dreamstime will give you some of the highest payouts you'll find online for photography.
If you have an Exclusive Dreamstime membership, you'll get to keep 60 percent of your sales price.
Other regular contributors keep anywhere from 25 to 50 percent of their sales.
You need at least $100 in your account to get paid.
There are multiple ways to receive payment including through PayPal or mailed check as well as Skrill and Payoneer platforms.
16. Zazzle
Artists can also benefit from selling their designs through Zazzle.
This company creates and sells all types of products including pillowcases, mugs, hats, shoes, t-shirts, holiday cards, welcome mats, and more.
Your designs can be displayed on these items.
You can set your own royalty price for each item you sell.
The website includes a royalty calculator to help you find out how much money you can make on a particular sale.
17. Fiverr.com
You can earn cash as an artist by selling your work online through sites like Fiverr.com.
The services available through Fiverr.com cost a minimum of $5.
It costs extra for those that want more than the base service and add extra benefits.
This may be the least you'll make selling your artwork at a price of only $5, but you'll be able to build more contacts and resources through this site in order to expand your career.
18. The Book Cover Designer
Do you want to work with an author to create a cover for a book?
Have you ever wondered what it would be like to have your art on a book cover?
If you answered yes, then you might want to check out the company The Book Cover Designer.
You can become a book cover designer and start selling your artwork to authors.
The website offers you a flat rate of 70 percent on each sale you make.
You can decide on the price of the book cover by yourself without interference from the company.
19. SelfPubBookCovers
Another website you can use if you want to sell book cover designs is SelfPubBookCovers.
If you're a book cover designer, you'll need to sell only originals through this company.
You'll need to sell just one cover to one author and not sell any copies to other book authors.
This keep books more original.
If you sell your book cover for $69 through this site, you'll be able to keep $50 of the sale.
Any costs above that will leave you with 70 percent of the sales price.
If you're selling to a new author, your rate will go down to 65 percent.
20. VectorStock
Do you like to draw cartoons and small or simple illustrations?
If so, you can sell your artwork to VectorStock, which is a place for selling clip art and vectors.
You'll need to have sold at least $100 in order to receive your payment.
You can get paid through PayPal or Moneybookers.
You'll get at least 25 percent of the sales price but this can rise to 45 percent if you've had more than 25,000 images downloaded.
If you're selling a unique and exclusive image, you can get an extra 5 percent in the sales price.
21. Printful
Much like Zazzle, the company Printful will use your designs to create all sorts of products such as t-shirts, posters, mugs, pillows, pants or leggings, phone cases, and canvas prints.
The profit you make will depend upon the product you're selling your designs on.
The best part is that there is no minimum number of orders you need to reach before selling items with your design.
22. DeviantArt
If you want to sell prints of your designs or you want to sell photographs via stock images, you should check out DeviantArt.
You can also sell your images on calendars, mugs, greeting cards, magnets, postcards, and mouse pads.
This community is very popular among artists so you'll be able to make some great contacts through DeviantArt and possibly grow your career.
For any stock images or prints that you sell, you will get 20 percent of the retail price.
Check out their guide on retail prices by clicking here.
23. CafePress
Another place you can sell your designs on various products is at CafePress.
CafePress allows you to print your designs on more than 250 different items including mugs and t-shirts.
Best of all, the company ships worldwide so you should always be able to find a customer.
The CafePress shop will handle all sorts of details for you like payment or credit card transactions as well as shipments or returns.
The amount you make will greatly depend on the type of products you end up selling.
24. Artplode
Do you want to sell directly to art dealers and galleries?
Then you definitely should take a look at the website Artplode.
Here you can work directly with art galleries and dealers.
Also, you'll get to keep 100 percent of your profits from the sales.
Additionally, you will get help in deciding how to price your art.
There is a one-time fee for advertising your work through the site.
25. Stocksy
Are you a photographer?
Another place you can sell your photos is through Stocksy.
This site sells stock images to customers.
You will need to first submit your images for approval.
Once you're approved, you can start selling to receive a 50 percent royalty payout.
Your images will need to be exclusive to this site, but the pay rate for this requirement should be worth it.
26. 123RF
The website 123RF holds a library of more than 55 million images and you can add to it by selling your illustrations or photos.
Your royalty pay rate will be anywhere from 30 to 60 percent for each photo you sell.
This will all depend upon how many contributions you make.
Click here to learn more about the commission rates.
27. CanStockPhoto
At CanStockPhoto, you can submit your photographs to be sold as stock images.
First, you have to create an account and provide three images for approval.
Once you're approved, you can sell your images and make cash based on their payment schedule.
Custom licenses get a 50 percent payout while prints and posters get a 20 percent payout.
Check out their payment schedule to learn more about the rates.
28. TurboSquid
Are you a sculptor or do you like making 3D models?
If so, TurboSquid is a great place for you.
TurboSquid is essentially a marketplace where you can sell 3D models.
If you become an exclusive seller through TurboSquid, you can make as much as 80 percent of the sales price due to your seller membership level.
29. CGTrader
Another excellent place for artists to sell their work is through CGTrader.
This is a relatively popular site.
You can sell 3D models through this marketplace much like TurboSquid.
Best part is that you'll get up to a 90 percent royalty rate when selling your artwork through this website.
The company connects artists directly with clients to form stronger relationships.
30. Etsy
Do you sew or knit?
Do you make handmade crafts like jewelry or other knick-knacks?
If so, you can sell these items through Etsy.
If you enjoy making handmade items and can make high-quality products, it only makes sense to make money by selling them online.
Etsy is the fastest-growing website for selling handmade products.
For example, have you ever created homemade candles?
If not, this could be a great way to make plenty of cash through Etsy.
And if you want an alternative to Etsy, check out these 20 places where you can sell handmade crafts online.
31. I Am Attitude
Do you like fashion design and have you created clothes in the past?
Then this marketplace is made just for you!
If you make personalized and creative apparel, I Am Attitude is the perfect place to sell your items.
Some of the benefits of this website is that it is 100 percent free to join and sell your products.
There are no yearly fees.
You can also upload and sell as many items you want.
In fact, this company doesn't even charge you a commission fee.
32. Artnet
Are you a painter who wants to connect with collectors, buyers, and gallery owners?
If so, check out the site Artnet.
You will need to apply and be approved in order to create a gallery member page through Artnet.
This website is very popular and holds 25 million yearly users.
You'll benefit from Artnet tools that will drive the sales of your paintings and illustrations.
Your work will be listed on a page under trending artists.
You may even see your work under featured sales.
Conclusion: You can Make a Living as an Artist!
The multitude of websites out there for artists, photographers, and designers is huge.
As you can see from these 32 options, you'll be able to make enough cash to pay your bills and essentially make a living as an artist!
Have you ever made money from selling your art online?
Is there a different website you used?
Do you have any tips for selling your paintings or illustrations?
If so, let me know by commenting below!
Related Posts:
Want more money?

Join EarningStation, he highest paying site out there, where users get paid to Take Surveys, Watch Videos, Play Games, and Shop Online. No hidden fees and completely free!