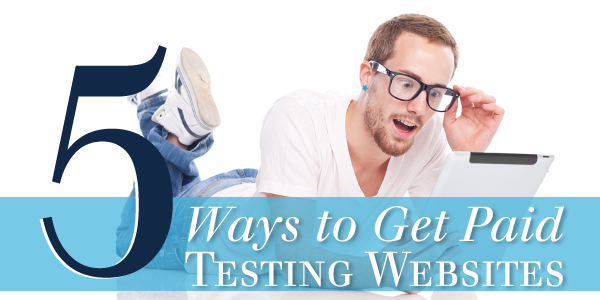 Usability Testing sites are one of my favorite sources of extra income online. These companies pay everyday online users to visit a site and complete a task (such as finding the contact section of the website) or browse the site while sharing how user-friendly you found the site to be. Usually these require you to use your computer's microphone and you speak out loud what you are thinking as you use the client's website. Most of these usability sites pay an average of $10 a test and take 15-30 minutes to complete.
Unfortunately, the work can be sparse as there is a lot of competition to grab projects the moment they become available. Therefore, anyone who wants to keep this method of making extra money online should without-a-doubt sign up for as many of these usability companies as possible. It is within reason that someone could bring in an extra hundred dollars a month, many would most likely say even more, by utilizing all of the companies available to them. Here are the Top 5 usability testing sites:
Userlytics
Userlytics-  my personal usability company of choice. The reason for this is because of two things:
1. They do not have an application process (last I checked) and therefore, anyone can simply sign up and see what is available.
2. It requires a webcam. Therefore, because many people are not comfortable with being visually recorded, do not have a webcam or are not ready to work the moment the tests are available, it gives me a better chance to find available tests. However, this does mean that this particular company is not for everyone!
Need Extra Cash for Free?

Join Vindale Research, the famous survey site where you earn rewards to share your experiences about how you use the internet.


UserTesting
UserTesting- While I do not have personal experience with UserTesting it is a very popular choice of many finding usability testing work. UserTesting does require you to fill out an application and even complete a sample test. However, this gives you an opportunity to try out one of these projects and see what the fuss is all about. UserTesting, does NOT use visual recording and therefore does not require a webcam. However, as with all the usability sites, you will need a microphone. (If you are using a computer with a built-in webcam, most likely it already has a microphone installed.)
UserFeel
UserFeel- In regards to how this site works and how you can get started with UserFeel, it is very much like UserTesting. In order to apply you will have to answer some basic questions about you that will help UserFeel match you to tests and you will have to do a sample test. The higher you score on the sample test, the more likely you are to receive invites to test. As with all the usability sites we have discussed so far, the pay is $10 a test.
TryMyUI
TryMyUI-  is just like the others. The pay is $10, it requires only a microphone and you must apply to be a user. While TryMyUI is another great company to add to your list and increase your chances of being available for a test and making extra money, I don't believe there has been a lot of work at TryMyUI compared to others. So, if you are only in the mood to sign up for one, I would not start with TryMyUI but one of the others mentioned above for the higher earning potential. Just be sure to come back later when you are ready to add more of these companies to your basket.
What Users Do
What Users Do- I had not heard of this company until recently. They are based out of the UK and therefore, the tests are often for sites out of the UK. But they hire as long as you speak English and can receive payments through PayPal. Again, you just need a microphone with this one.  But the pay is not the same as all the others. While all the above pay $10 a test, this pays an average of $8 and the pay can actually vary from test to test. Again, not my first choice for usability sites, but definitely one to consider if you are just wanting to add more opportunity for work.
Do you know of any other Usability Testing Sites or Do you have experience with this line of work? Please share in a comment below!
Related Posts: