10 Unique Ways to Make 300 Dollars in a Week – Quick & Easy Tips!
Updated on: by Amy Kennedy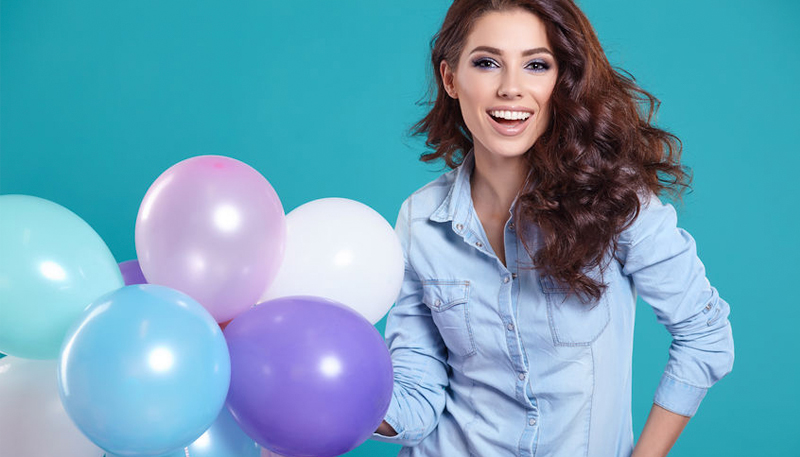 I'm sure you can find plenty of things to do with 300 dollars.
Need Easy Extra $350+/Month For Free?
That can pay for groceries for one or two people for a full month!
Or, maybe it'll pay off your student loan bill for the month.
Perhaps it covers your car payment for a month.
Whatever the case may be, just about everyone can use an extra $300.
You might even find yourself in an emergency situation where a quick $300 can help, like paying for a medical bill or an unexpected car repair.
Extra money always comes in handy, but it's not very easy to come by.
Until it is.
In this post, I'm going to outline some ways where you can come up with a quick $300 in a week or less.
Be sure to read and consider the first method – you'll never believe it, but it really works for some people!
Ways to Make 300 Dollars Fast
Ready to start earning?
I'm going to start with the main reason I created this article: selling balloons.
It sounds crazy, but for some people, it's been the magic needed to bring them some extra income every week or month.
So, it's totally worth mentioning.
Let's get to all the interesting ways to make an extra $300 in your pocket quickly.
#1 Method: Sell Balloons!
Seriously, money balloons are a thing!
Need Easy Extra Cash?
Pinecone Research, a leading name in online survey panel honesty, absolutely guarantees $3 cash for every survey you complete!
Take advantage of their time limited New Membership drive and register NOW. Join today: 100% free!


Who would have thought that one of the simplest toys known to man, the balloon, could pull in an extra $300 in a week?
I always try to find some unique ways of making money to appeal to people who visit Work at Home Adventures.
That way, everyone can find their perfect money-making opportunity!
During my research, I came across something I had never heard of: selling balloons for cash.
There were a couple of articles about people finding success with it and even an online course from a man teaching others how to profit from selling balloons!
I haven't paid for the course to get all the details, but this guy says that he can pay his rent each month just from his balloon sales.
That's pretty interesting if you ask me!
So, I pieced together the information I could find around the web from those who have tried this type of small business opportunity.
What's it All About?
The basic idea here is that you'll be selling balloons to local, privately-owned bakeries for a profit.
You can purchase helium balloons at your local dollar store for $1 each.
Sometimes, there are even sales where you can get two for $1!
Have the store blow them up for you.
Make sure you choose balloons for a variety of occasions, like birthdays, anniversaries, or graduations (if it's around that time of year).
Then, take your balloons to local bakeries.
The idea behind the local bakery is that they'll be more willing to purchase your balloons.
Large chain bakeries usually already contract with companies to get things like balloons and other supplies they might sell.
But, local bakeries could have more of a need.
You might need to sell the idea of the importance of having some balloon inventory in the bakery.
For example, people coming in to buy birthday cakes may see the balloons sitting there and remember that they haven't bought them yet.
It's a last minute upsell trick that could work often!
How do you profit?
Come up with some kind of contract with the bakery that outlines how often you'll restock (which should be at least once per day), how much the bakery receives from the sale, and how much you receive.
Make each balloon worth $3 or so, which gives $2 profit.
Let the bakery keep $1 and you keep the other $1, and you'll make $1 off each balloon.
You could, alternatively, lower the bakery's cut on each balloon to make more money.
But, even selling 50 balloons a day, which is easy if customers purchase bundles, you'll get $250 for a Monday through Friday business venture.
Up your price a bit, and you could easily get $300 for the week.
What to Do if You Aren't Getting Enough Interest
It's true that not every bakery you enter is going to bite on this business deal.
Some bakeries may already be selling balloons.
Earn Everything… nearly!
Join Opinion Outpost, one of the few faithful and honest survey panels and earn cash and gift cards for your opinion. Stack your points and redeem them: Simple! No hidden fees and completely free!


Others just won't be interested in adding something else to their list.
If you have several bakeries in town, don't be afraid to try them all.
However, if you have only one or two, this unique business idea may not work well for you.
You could, alternatively, come up with some bundle prices to make your idea more appealing to bakery owners.
Or, purchase your own helium tank and balloons to create bundles at home.
You'll be able to make them in your own time, save gas money from going to the dollar store all the time, and it could work out to being cheaper in the long run.
Having an awesome selection of balloons could even be more appealing to bakery owners.
Just be sure to keep accurate records of everything you spend so that you can adjust your prices accordingly to turn a profit.
How Much Can I Make Doing This?
This isn't necessarily a quick way to make money, unless you're blessed with several bakeries in town.
For most people, the profit will depend on how serious you are and how much of an interest you find at your local bakeries.
Your pricing really matters the most, both in terms of profit and in owner and consumer interest.
If you price your balloons too low, you'll make barely any profit.
Priced too high, your balloons just won't sell. No one wants to spend $5 on one balloon, especially when they're probably already spending $50 on a cake.
It's a good idea to see where you can cut costs, such as blowing up balloons at home, to maximize your profits.
Realistically, if you're serious about your business, you can expect somewhere between $200 and $300 per week.
Expect that number to increase around certain times of the year, like Christmas, Valentine's Day, and graduation time.
#2 Method: Sell Stuff
When all else fails, sell your stuff!
This is probably the best option for anyone who is really in a pinch and needs a couple hundred extra dollars as quickly as possible.
Almost everyone has stuff lying around their home that they no longer use or need.
Movies, video games, old cell phones, and furniture are among the hottest sellers.
There are so many ways to sell, some of which are quicker than others.
Craigslist is a good place to try if you want to find local buyers who might even be able to buy your stuff that day.
Or, here's a list of websites like Craigslist!
You can also sell electronics online and locally.
And, this list of places to sell your furniture will help you get rid of big-ticket items fast.
Facebook is another good option for selling things fast.
Use local Facebook buying and selling groups to get rid of the things you don't need anymore.
If you're not in a huge rush and want to get top dollar for your things, you can use Gone.
Gone is an app that lets you text pictures of what you want to sell.
Someone from Gone will respond to you with a price and a marketplace that might be interested.
If everything goes smoothly, you can get paid within 30 days.
It's not the quickest option, but it could give you more money if you're willing to wait!
Read More: 30 Best Things to Sell to Make Money (You Have to See Number 26!)
#3 Method: Rent Your Car or Space
Thankfully, the sharing economy has made it easier than ever to earn some quick cash by using things you already have to make money.
For example, Turo is a service that lets you rent your car to others who need it.
You'll earn money according to your car's market value and how long it's rented for.
If you have a car worth $10,000 and rent it out for a full week, it's possible that you earn about $250.
If your car's worth more than that, you could meet your $300 goal.
Turo even covers you with insurance in case your car gets stolen or damaged in the process.
Or, you can turn to Airbnb to rent your space.
Bunk with a friend for a week and rent your apartment.
Depending on the size and condition of it, and the area you live in, you can easily earn $300 or more for a full week.
If you don't want to give up your whole space, you can check out SpareRoom.
Use it to find a temporary roommate for a week or so who needs a place to crash in a spare bedroom and reap the rewards.
#4 Method: Check if Anyone Owes You Money
One thing most people forget to do – but should probably do first when they need money! – is check if anyone owes them money!
There could be $300 or more waiting for you that you don't even know about.
Here's where to check to see if you're missing money from companies or the government:
org: Locate money the government owes you, from unclaimed assets to insurance claims and more. Use the map to search for your state or other states you've lived in.
Missing Money: Missing Money also helps you locate unclaimed property and assets for participating states. Data is added weekly.
Class Action Rebates: You could be eligible for money from class action rebates for specific products or services you've used. Fill out the claim forms, provide your proof of purchase, and get your check in the mail.
This isn't a very quick way to get money.
In some cases, you'll need to wait several weeks to get your cash.
But, it could make it easier for you knowing that the money you're owed is coming soon.
#5 Method: See If You Overpaid for Anything
Paribus is a completely free tool that helps you find out if you paid more money than you should have for anything.
What it does is sit in your email inbox.
That's all – you don't have to do a thing.
Paribus scans your email for any receipts of things you paid for online.
Then, it stores those purchases in its system and alerts you if it finds a lower price somewhere else.
Not only does it alert you, but it pays you the difference!
The savings will usually go straight to your original payment method via the retailer that offers the refund.
You might have to wait up to 7 business days, and you're not guaranteed $300 a week.
But, it's possible with big purchases, like TVs and other electronics, to get a hefty refund back!
And, if not, every little bit helps you get closer to your goal.
#6 Method: Trim Your Wallet
Trim is another helpful tool that can save you money every month, forget weekly!
Trim connects to just about any financial account you have, including credit card accounts, subscriptions, and your account with the electric company.
It then monitors all your accounts to ensure that you're getting the best prices.
For example, if you pay $200 every month for cable, but your company has a special for $150 per month, Trim will do what it needs to do to negotiate your bill and give you an extra $50 every month.
And, it can quickly and conveniently cancel any subscriptions you no longer need, like music or magazine subscriptions that you forgot about.
You'll probably be surprised by how much you save once you start using Trim.
#7 Method: Sit
No, I don't mean sit on your bottom.
I mean sit for things, like a caregiver.
If you want to make money fast, you're going to need to do something to make it.
Saving money is great, but it won't give you additional money.
That's where sitting can come in.
Housesit, babysit, pet sit – you name it. If it needs a caregiver, offer your services!
Check out Caretaker.org and SitterCity for sitting opportunities near you.
You can easily make $300 per week by walking neighborhood dogs or watching the neighbor's kids a few times per week!
#8 Freelance
The gig economy has been steadily growing over the years and freelancing has become a popular way to make money.
Freelancing offers the opportunity to use your specific skills and provide services on a project-by-project basis.
In the freelancing world, you have the opportunity to work in a variety of fields such as writing, graphic design, web development, virtual assistance, digital marketing, and more.
Platforms like Upwork, Fiverr, and Freelancer serve as marketplaces that connect freelancers with businesses and individuals who need their services.
One of the benefits of freelancing is the flexibility it offers. You can work from home or anywhere you have an internet connection.
Plus, you have the ability to set your rates and choose the projects you want to work on.
However, success in freelancing also requires self-discipline, excellent communication, and the ability to market yourself effectively.
You'll need to build a strong profile, collect positive reviews, and consistently deliver quality work to attract and retain clients.
#9 Tutor Online
If you're proficient in a particular subject, online tutoring can be a profitable way to make some extra cash.
You could be helping students with subjects like math, science, English, or a foreign language.
Alternatively, you could teach something more specialized like computer programming or playing a musical instrument.
Online tutoring platforms like Chegg Tutors, Tutor.com, and VIPKid connect tutors with students who need assistance.
These platforms usually require you to have a degree or be pursuing a degree in the subject you want to tutor.
Once approved, you can set your availability and students can book sessions during your available times.
The pay varies from platform to platform and is usually determined by the subject and grade level you're teaching.
Some platforms also offer the opportunity to earn more by teaching more lessons or getting high ratings from students.
#10. Participate in Paid Surveys
Online paid surveys can be an easy way to make some extra cash.
Companies are willing to pay for consumer opinions to help with market research and product development.
By participating in these surveys, you can earn cash or rewards like gift cards.
There are numerous online platforms where you can sign up to take paid surveys.
Websites such as Swagbucks, Survey Junkie, and Vindale Research offer a variety of surveys about different topics.
However, it's worth noting that while taking surveys can be an easy way to earn money, it's not likely to provide a large income.
The amount you can earn depends on the number of surveys you complete and the compensation for each survey.
It's also important to avoid survey sites that seem too good to be true, as there are many scams out there.
Conclusion: How to Make 300 Dollars in a Week
Now you know how to make $300 a week fast, and I bet you never, ever thought of selling balloons to do it.
But, as you can see once I explained it, it's a viable opportunity for people who live in areas where there's interest.
It's worth a shot.
If you don't get enough interest, then go onto the next opportunity!
What do you think about these money-making ideas?
Have you tried any of them yourself?
Let us know in a comment!
Related Posts:
Earn Everything… nearly!
Join Ipsos iSay, one of the few Faithful and Honest survey panels and earn prizes, gift cards and donations. Stack your points and redeem them: Simple! No hidden fees and completely free!