Need $500 Fast? Check Out These 38 Ways to Make $500 in a Week (Or a Day!)
Updated on: by Amy Kennedy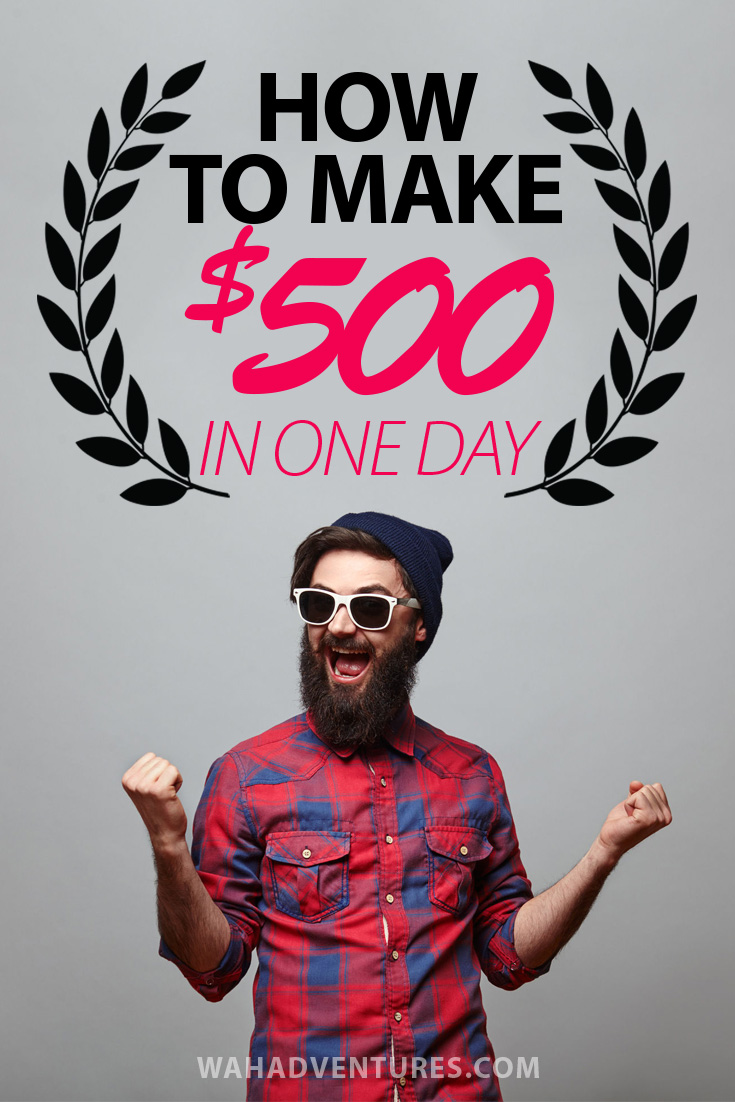 Need $500 fast?
Need Easy Extra $350+/Month For Free?
Don't we all!
If you're looking for a quick 500 dollars, look no further.
I have plenty of ways for you to rack up the cash in a month, a couple of weeks, or even a day if you hustle enough.
The truth is, I've been in this position myself.
I've waited for my next paycheck, which was still a week or so away, wondering how I'd pay my electric or phone bill before then.
So, I've learned to be creative in a pinch, and am now sharing some of my best ideas with you.
Get ready to earn an extra $500 fast!
Want to Know How to Make $500 Fast Online & Around the Home?
Here are some of the best ways to make money fast – and some could even get you $500 in one day!
How to Get 500 Dollars in One Day: Sell, Sell, Sell!
Selling isn't my favorite thing, either. But, it gets the job done.
Thanks to the internet, you no longer have to rely on yard sales to get stuff sold quickly.
In fact, it's even quicker to use the internet because you can reach more people and find buyers in a matter of seconds!
When I've needed it most, selling has always come through for me, regardless of the platform I use.
You can always find things lying around your home that haven't gotten used for years and sell them to someone who needs them.
I've made over $600 in one day doing this – no yard sales necessary.
Sell/Trade on Amazon
Amazon has an amazing trade-in program that I utilize often.
Need Easy Extra Cash?
Pinecone Research, a leading name in online survey panel honesty, absolutely guarantees $3 cash for every survey you complete!
Take advantage of their time limited New Membership drive and register NOW. Join today: 100% free!


Depending on the types of products you want to trade in and their condition, you can realistically earn hundreds immediately.
The catch is that your items have to be checked over by Amazon.
If Amazon determines that your items don't match the condition you described, then you'll owe back the money.
So, be sure to only mark the condition that best describes your items – be honest!
Here's how it works:
Search for the item you want to sell. If it's eligible for trade-in, Amazon will let you know on the right side of the screen.
Mark its condition and Amazon will tell you the price it'll pay for your trade in.
Once you accept the price and complete all fields, you can ship the item to Amazon for free.
Amazon will pay you immediately if you choose via an Amazon gift card. Would you rather have cash? Here are ways you can get cash for your Amazon gift card!
Wait a few days for Amazon to look over your items and make a final decision. As long as they match the condition you marked, you keep the trade-in money.
Amazon makes the process incredibly simple.
I've found that electronics, books, and video games tend to do the best for trade-ins.
Alternatively, you can set yourself up with an Amazon seller account to get some extra money out of your items.
But, this process does take longer.
You usually won't see your funds from sold items for about 14 days.
Sell to Consignment Shops
You have two choices here: local or online consignment shops.
I personally love online consignment shops because they're convenient and I don't have a lot of decent consignment shops in my area.
But, local consignment shops – provided you have some in your neighborhood – will often pay on the spot for your items, so no waiting for cash is required.
Online shops tend to pay bi-weekly or monthly, so it'll take a little longer to get your cash.
Of course, they're not as convenient for bigger items either, like baby gear and furniture.
If you do have a decent selection of local consignment shops, visit a few and get some quotes for the items you want to sell.
Clothing, toys, and other kids and baby gear do great at consignment shops.
If you're like me and would rather go the online route, I suggest Swap.com and ThredUp.
ThredUp is great for selling like-new, brand-name clothing and accessories.
It's picky, so make sure your stuff has great value.
I've sold kids clothing on Swap for the past three years and continue to receive PayPal cash every two weeks.
It takes a month or so to process your items, but if you get into the routine of continuously sending clothing, you'll get a steady check like I do.
It may prevent you from having to scrounge last-minute for some extra cash!
Visit the Pawn Shop
Do you have things lying around that you don't need?
Maybe some jewelry or electronics?
The pawn shop might be a good place to get some money out of them, even if only temporary.
Pawn shops allow you either to sell your stuff or pawn it.
Selling lets you give away your item in return for cash from the pawn shop.
Pawning, on the other hand, gives you a loan for your item.
Earn Everything… nearly!
Join Opinion Outpost, one of the few faithful and honest survey panels and earn cash and gift cards for your opinion. Stack your points and redeem them: Simple! No hidden fees and completely free!


You can pay off the loan by a specific date and get your money back.
If you don't pay off the loan in time, the pawn shop will keep your item and resell it.
If you're really desperate for money, you could always pawn a high-value collection, as long as you're sure you'd have the money available to repay your loan in time.
Sell on eBay
People get intimidated by eBay. I'm not sure why. It's actually pretty simple to get started selling there – I've been doing it for years and got myself set up in a couple hours!
You truly can make a living selling on eBay. But, if you want to earn $500 fast, start looking in your house for stuff to sell quickly.
Electronics, like phones, gaming systems, and laptops, usually sell at great final prices on eBay.
If you don't want to risk selling for a low price, create a fixed-price listing.
You can also clean out your closet and sell bundles of clothing, shoes, or accessories.
If you're ready to part with any collections of items, this will likely bring you the most money.
Unique and rare items tend to sell the best on eBay.
Sell on Online Classifieds Sites
Online classifieds sites like Craigslist can get a lot of eyeballs on your items you need to sell in a short amount of time.
If you have bigger items, like TVs, furniture, or appliances, that you can't easily sell online, this is the way to go.
You'll find local buyers who you can meet in a public location to buy the item (safety is important!).
Just make sure everything is working so you won't have to worry about angry buyers later.
Sell Used Furniture
You can sell used furniture online and locally, but locally is usually the quicker way to earn a few hundred dollars.
The good thing about selling used furniture is it can easily net you a couple of hundred dollars, at least, from selling one piece.
I've seen people selling small used sofas in Facebook groups for an easy $300 to $500, depending on brand and condition.
For convenience, try OfferUp or Close5, which both have apps you can use to list your furniture and find buyers in your area.
Local Facebook selling groups and Craigslist are also good options for selling furniture.
Sell Electronics
Do you have electronics lying around that don't get used?
Laptops, tablets, or cell phones, perhaps?
Try selling them to Gazelle.
Once it receives your item (which you can ship free if it's worth more than $1!), you can get paid fast via PayPal.
Some other sites worth trying if you have old smartphones to sell are SellCell and USell.
Sell Unwanted Gift Cards
Ah, the many gift cards we receive that we never use!
I'll admit I still have some lying around from my birthday last year that I haven't touched yet.
You can turn your gift cards in for cash on several websites.
I personally like Gift Card Granny and CardPool.
I've used them both and can attest that they're legit!
They also pay some of the best prices for gift cards – usually between an 80% to 90% return of the value.
Sell Jewelry
If you have real gold or silver jewelry, you may be able to sell it for a decent price at a pawn shop or local gold buyers.
Try to stay away from the ones you find in shopping malls though – they'll rarely pay you anything close to what your jewelry is worth!
You can also ask jewelers in the area if they're interested in buying any.
Of course, your jewelry may sell better on eBay, so I would try that first!
Sell Stories, Designs, or Photos
Creatives make money from their talents by selling the things they create.
So, if you have writing, web design, or photography skills (or any other type of creative skill), now's the time to put it to use.
I have several photographer friends who are able to make $500 a day after three or four photography sessions.
Longer sessions, like wedding photography sessions, can command at least $500 on their own.
Writers can sell valuable stories to magazines, blogs, and online publications and make anywhere from $100 to $1,000 or more, depending on the publication and how in-demand their story it.
And, web designers can easily make $500 or more setting up and designing a website for an individual or business.
If you don't have an online platform available for selling and marketing your services, consider setting up a LinkedIn profile or a website to get you started.
Over time, you'll probably start getting more eyes on your projects and find it easy to make money quickly.
Other Ways to Earn Some Cash
Don't have anything to sell?
Don't worry – there are plenty of other ways to make a few hundred dollars quickly without selling everything you own!
Empty Your Drawers
It seems far-fetched that you'd find money lying around your house, but don't count it out.
I'm a bit embarrassed to admit I do frequently!
I'm good at leaving cash in my purse in a hurry instead of putting it in my wallet and finding it weeks later.
So, scrounge around your purse, closet, drawers, pockets, and even your couch cushions to see what you might have left behind.
Every little bit helps!
Donate Plasma
People make $400 to $500 per month donating blood plasma!
Not bad for giving away something your body makes for free, right?
Most donation centers pay between $20 and $50 per plasma donation.
The process usually takes up to two hours from start to finish.
You can donate at most centers up to twice per week, so if you're getting $50 each time, that's an easy $100 per week extra in your pocket.
If you have anyone else in your household who is in good health to donate, get them on board too!
The more donors, the more extra income you'll have for only a few hours of your time each week.
Odd Jobs
Search for odd jobs around your neighborhood or from your friends and family.
I'm a member of several local Facebook groups, and I often see people create posts asking if anyone needs any odd jobs done, like lawn mowing, cleaning out gutters, clearing sidewalks, or even working on cars.
You might even find elders in your community who need rides to doctor appointments or prescription pickups.
Really, the possibilities are endless.
You can pick up a few smaller jobs that pay about $50 and quickly earn your way to $500!
Search for "Get Paid Today" Jobs
Check out job search sites, like Simply Hired and Indeed.
Use the search function to search for the term "get paid today" and see what comes up.
You may actually find a part-time gig that will pay quickly.
For example, a quick search I just did on Simply Hired shows a job for a flatbed owner to get paid up to $300 to remove loads from a site the same day.
Another listing advertises a same-day payment for computer installation.
So, keep an eye out and you may find something right up your alley that will pay quickly!
Online Gigs
You can create your own "gigs" on Fiverr if you're skilled at doing things on the computer, like writing for blogs, web design, or editing videos.
Or, use a freelance marketplace like PeoplePerHour, Guru, or Upwork to find gigs that relate to your skills.
You can narrow down your search to show only gigs of interest and for the rate you desire.
As a freelancer, you have control over your schedule and gigs, so it's a great way to earn some money using your skills whenever you have some spare time.
Find Unclaimed Money
Many people don't know that there could be some unclaimed money in their name just waiting for them to claim it.
Check out Unclaimed.org.
Click your state and then enter your details.
The site will search the database to see if there's any money lying around in your name.
It might take a couple of weeks to get the money you have from old retirement plans, settlements, and other things you forgot about, but the sum could be worth it!
Recycle
Gather up your cans, cardboard, plastic, and paper items and take them to your local recycling center.
You may not get a lot, but every little bit can add up!
You can use Earth911 to find a place near you to drop everything off.
You can even search for locations that might pay you to recycle cell phones, computers, and whatever else you need to get off your hands.
Deliver Stuff
Make some extra cash by delivering things to people using Postmates.
The service contracts regular people who want to make some money by delivering what others ask for, like dinner from a restaurant or morning coffee to their office.
Postmates says you can earn about $25 an hour doing this!
You can also deliver the Yellow Pages to people in your neighborhood by signing up with Product Development Corporation (PDC).
You have to attend a 20-minute info session, but then can get started delivering.
It even pays up to 5 times per week!
Find Facebook Bugs
Apparently, Facebook pays some users who find major security flaws with its system.
Facebook prides itself on being a safe place for its users to spend their time, so security bugs are a big issue.
You can report a security issue here.
As of 2013, Facebook paid users over $1 million to report these bugs as part of the Bug Bounty program.
The largest bounty so far has been $20,000, and Facebook says there's no limit to how much you can make.
It all depends on the type of bug and whether it's already been reported.
So, it's worth it to keep your eyes peeled when roaming Facebook!
Rent Your Extras
Do you have an extra room in your house?
Maybe some extra baby gear?
What about a parking spot you don't use?
You can make money off almost anything extra you have when you rent it to someone who needs it, so start renting away!
HyreCar helps you loan your car to rideshare drivers when you aren't using it.
SpotHero finds people who want to pay for your parking spot.
With Babyquip, you can loan unused baby gear for extra cash.
The options are virtually endless.
Just use Google to type in "rent [insert your stuff here]", and you'll likely find a home for all your extras, which can easily pull in $500 within the first couple of days.
Paycheck Advance
Honestly, this is the last thing I'd advise you to do to get a quick $500, but if you're really in a pinch, it comes in handy.
That's why the services are there – some people just need them sometimes.
Just be aware that the average payday loan comes with a finance charge, plus about a  400% annual percentage rate.
If you're really struggling before your next paycheck, use it.
But, don't get caught in the cycle.
Make sure you'll have plenty of money on your next paycheck to pay it back plus pay your bills.
Get a Credit Card Advance
Credit card advances are kind of like paycheck advances in that they're not something I'd recommend you do first, but they can be helpful.
You usually use credit cards to pay for something now and then finance it over time by making monthly payments.
But, some credit cards allow advances, which means that your credit card company will let you withdraw cash from an ATM to use against your credit card limit in lieu of a purchase.
However, the interest rates on cash advances are usually higher than they are for regular purchases.
You'll pay more interest on a $500 cash advance than you would a $500 purchase.
Use it wisely and keep it only as a last resort when you need money fast.
Use Your Phone
Find gigs in your neighborhood using your cell phone!
Zaarly is a good app to find people in your area in need of your services.
But, it's only available in a few select cities.
If you want a more well-rounded option for other areas, try Gigwalk.
You'll get paid quickly with PayPal once your gig is completed and approved.
Return Purchases
If you need some cash fast, try returning items you haven't used to the store they came from.
Christmas gifts that haven't been taken out of the package are doing you no good if they're just sitting there.
Many large retailers, like Walmart and Target, have helpful return policies that let you return items within a certain time period as long as you still have the original packaging.
Sell Trees
Do you have a large property with a lot of trees? SellYourTrees.com will pay YOU for them to come cut them down.
The company then turns around and sells them to lumber companies for a higher price, so it's a win-win for everyone.
You can contact them to receive an offer.
As long as there are no bans on this type of service in your area, someone will come out within 5 business days and you'll get paid the same day they cut your trees.
Set Up an Upwork Account
I mentioned before that you can do some online gigs for fast cash.
I want to go a little more in-depth with this tip, though, by suggesting Upwork as a go-to source for more long-term work instead of one-off gigs.
Upwork has a lot of jobs listed daily, and in several different categories.
Basically, anyone with some type of techie skill can find a gig that works for them on Upwork.
You get 60 connects (bids) a month, and each job costs 2 of them. That means you'll have 30 chances every month to land a gig.
Be selective in what you bid on and make your proposals stand out. Explain to the client why you're the best person for the job.
It's possible to land a gig that pays $500 and complete it in a day or so, especially if you have in-demand skills like app development, web design, writing, etc.
As you get more jobs on Upwork, you'll also get more ratings, which can help you land even better jobs.
You might even end up with consistent work on the platform, helping you avoid the last-minute scramble for extra cash.
Build a Passive Income Stream
Passive income is all the rage right now, and it should be.
Passive income is a form of earning money that requires work upfront, but then its source continues to make money for you with little to no continuous work.
Affiliate marketing is one example of passive income.
If you understand how affiliate marketing through social media or websites works, you can keep practicing with it and get better at it, eventually helping you increase your income in a passive way.
Writing an ebook is another example.
Sure, it requires upfront work.
But once the book starts selling, it could take off and provide you with consistent income from sales.
Some people use downloadable content as their passive income tools, creating and selling their content on their website.
There are literally hundreds to thousands of ideas floating around for passive income.
While it won't make you money today, it definitely could solve your money issues in the future, so now's the best time to start.
Flip Stuff
You've heard of house flipping right?
There are a lot of other things you can flip to make money, too.
Basically, anything that you can buy at a low price and fix up to sell at a higher price is something you can flip.
Some examples are:
Furniture
Electronics/computers
Websites
Home décor
The best place to start looking for things would be a local thrift store, or possibly a yard sale or flea market.
However, you might come across items on the web that are being sold at a deep discount off their usual price.
You could buy them low and essentially "flip" them, reselling them on another platform like Amazon or eBay.
I recently read about someone who does this on eBay with Disney Infinity game pieces.
He buys the ones that come in sets and then separates them, selling the separate pieces at a higher cost to make money.
Ingenious!
Walk Dogs
Walking dogs can be surprisingly lucrative.
You can realistically charge between $10 and $30 per ½ hour to walk dogs, depending on the area in which you live (wealthy, large cities usually have higher rates than smaller, less wealthy towns).
So, let's say you charges $10 for a ½-hour walk and had six dogs to walk each day. That's $60 for just three hours, and that's the low end of the pay spectrum.
Some customers are so grateful for your help that they tip you after your walks.
It shouldn't be difficult to find people who need their dogs walked, either, especially when you use an app like Wag! to help.
You can sign up as a walker, create a profile, and find people near you that need your dog walking services.
Owners can rate you, which can help you land more gigs if you do an awesome job.
House Sit
Find a neighbor or two who need you to watch over their houses while they're gone for a long weekend or a vacation and get paid.
House sitting is a full-time job for some people, and it's not at all tough to do.
Every homeowner will have different rules and may want you to do different things, like watering plants or caring for pets, while they're gone.
Just make sure that the pay is worth the extra tasks.
You could earn $50 or more a day just for checking in, doing some cleaning, and making sure everything is safe and sound while the owner is gone.
Other people earn hundreds of dollars each week or month by doing house maintenance and other "chores" while they housesit.
Either way, it's a way to make money without needing to grab another job.
Babysit
The average hourly rate in the United States for babysitting for one child is about $10, depending on where you live. For three or more children, you could make $20 or more an hour.
Round up some of your friends' and family's kids and offer to watch them while they go out or work.
It's a good gig to do on evenings or weekends when you're free from work to make some extra pocket money.
Repair Stuff
It's not tough to find work if you're a handy person.
Ask neighbors if they need anything fixed for a reasonable cost.
There are likely some things they need but have been putting off.
You could also put a post on Facebook letting others know that you're available for some weekend hours for small home or car repairs.
Become a Rideshare Driver
Uber gives drivers a flexible way to make money just from driving their cars.
Turn on the app, let others know you're available for rides, and take them where they need to go.
You're in control of the hours you work and where you go, so you have a lot of control over your earnings.
It's very possible for people in large cities to earn hundreds of dollars in a day, but it might take you a few days or a week to earn that in small towns and cities.
If it's something you've been considering, though, maybe now is the time to sign up.
At least you'll have this extra income earner in your back pocket when you need it.
Tutor Kids Online
Not all online tutoring companies pay well, but VIPKID does.
In fact, it's not only one of the top-rated tutoring companies, but it's also one of the top-rated companies for remote work.
This company is known to pay up to $22 an hour to tutor Chinese students in English, right from your home.
The work is flexible because you get to set your schedule!
In as little as 5 hours, you can make more than $100 a day here, so you can get your $500 in a week or less.
The best part is that VIPKID takes care of the lesson plans and grading for you, so all you need to focus on is the teaching part.
Rent Your Car through Car-Sharing Platforms
If you have a vehicle that you don't need to use for a day, consider renting it out through car-sharing platforms like Turo.
Turo allows you to set your own rental rates and availability, giving others the opportunity to rent your car for a specified period.
Make sure to review the insurance requirements and take necessary precautions to protect your vehicle.
Create and Sell Digital Products
Leverage your creativity and expertise by creating digital products that people would find valuable.
This could include e-books, online courses, templates, stock photos, or digital artwork.
Platforms like Etsy, Gumroad, or Teachable enable you to sell your digital products directly to customers, providing a source of passive income.
Identify a niche or topic you're knowledgeable about, and craft high-quality digital products to attract customers.
Offer a Specialized Service to a Targeted Audience
Identify a niche or specialized service that you can provide and market it to a specific target audience.
For example, if you have expertise in a particular software, offer personalized training or consulting services for businesses or individuals.
By focusing on a specific skill set, you can command higher rates and attract clients who value your expertise.
Create a professional online presence through platforms like LinkedIn or your own website to showcase your services and attract potential clients.
Participate in Paid Clinical Trials
Some medical research facilities conduct paid clinical trials and studies.
These trials often require participants to test new drugs or medical procedures.
While it's essential to carefully evaluate the risks and potential side effects, participating in these trials can provide a substantial payment in a short period.
Research local clinical trial centers and reach out to see if they have any ongoing studies suitable for your eligibility.
I'm sure there are other ways people earn $500 fast, but these are the ones I know of that seem to work!
So, tell me in a comment: What do you do to earn a quick $500?
Related Posts:
Earn Everything… nearly!
Join Ipsos iSay, one of the few Faithful and Honest survey panels and earn prizes, gift cards and donations. Stack your points and redeem them: Simple! No hidden fees and completely free!